In a similar spirit here is a brief character sketch and description of the history of the biographies of Ferrante Francesco d'Avalos, the Marchese of Pescara, followed by a brief description of where he and where Vittoria were said to have been born.
Pescara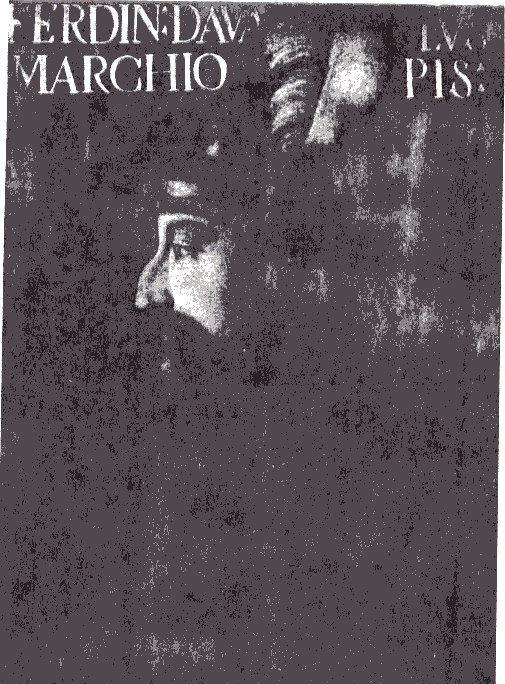 Ferrante Francesco d'Avalos, Marchese of Pescara
There has been no modern study of the man Vittoria Colonna was married to, Ferrante Francesco d'Avalos, the Marchese of Pescara. Since Giovio's mid-sixteenth century seven-book life written originally in Latin (and then abridged and translated into Italian with Giovio's approval by Ludovico Domenichi), no-one appears to have been interested in the once famous hero of Pescara. He makes it into print (barely) in a few paragraphs here about Hispanized Italians in Naples in the Renaissance, or in a few paragraphs there as a minor player in the wars of Charles V, or perhaps a name-drop in a discussion of this Renaissance battle or of a clever use of a new kind of Renaissance strategy based on technological improvements. One learns most of what can about what later people thought about him from books on Vittoria Colonna where he is usually granted at least parts of this or that chapter. There one is led repeatedly to conclude that here we have the unedifying spectacle of a woman who mourns the death of a man who never spent much time with her and abandoned her once he decided she could not perform her envisioned function of providing him with a male heir who was half-Colonna. Viewed through modern eyes, Pescara also emerges as a man who (although presented in Vittoria's sonnets as one to whom the motto of Sans Peur and Sans Reproche is unqualifiedly appropriate), appears to have been a treacherous thug who rent-racked or robbed (depending on whether you decide the property was justly his as a present from this or that king) poorer priests and peasants and made the earth run with blood. The exquisitely beautiful espistle he is said to have written in response to Vittoria's one epistle to him in which she bitterly reproaches him is said to have been lost. I doubt any such poem was ever written by this man; nothing in all his few writings suggests this is at all probable. And Giovio's portrait is so obviously biased in Pescara's favor and so narrowly about Pescara as a great military captain that it fails to provide any counterweight at all.
Pescara suffers because in the Renaissance documents written about powerful people fall into two types: the eulogy of a person so noble by blood and deed and word, so good or intelligent or wonderful in so many other ways; or the smarmy attack, filled with malicious fairytale-like and otherwise undocumentable and detracting snide gossip. The truth is of course, somewhere inbetween. Pescara did not love Vittoria as she loved him, but in later life he was actually more true to their bond than he had been in their earlier years together, and she became someone he listened to even when he did not like what she told him because he recognized she was utterly loyal and usually right. He betrayed people, but when he died, it was in a mood of painful self-reproach and remorse; he tried to reach out beyond death to undo some of things he had done and to protect those to whom his first responsibility should have been: according to his own code, his soldiers, his cousin, his wife, his tenants--in that order.
I cannot (as who can) pluck out the heart of Pescara's mystery, but one way to discuss and understand the man, why his wife wrote about as she did, and their relationship is to focus upon what everyone at the time noticed about him. He was more Spanish than the Spanish. He dressed in the Spanish style (and aped the more ridiculous of their mannerisms); he married into a powerful family with an almost unbroken history of pro-Spanish activites; he is said to have spoken Spanish at home with Vittoria (but not, apparently, outside, with lesser mortals--his extant letter are in Italian); he made it a point to let everyone know he read Spanish chivalric romances;, and he led Spanish soldiers. But try as he did to become more Spanish than anyone who (from his point of view) had been so lucky to have been born and brought up in Spain, still Ferdinand the Catholic and his grandson after him, Charles the Fifth were not fooled: to them, he was indigenously a not altogether trustworthy Italian; born in Abruzzi, brought up in the realm of Naples, a member of a family minor in comparison with the Colonna, dependent upon the Aragonese staying in power (and the Anjou never stopped trying to retrieve the property they thought stolen from them), his kings would not promote him to be the general.
Guicciardini's sentence about Pescara is often quoted because it is so harsh; what has not been recognized is that Guicciardini is playing upon (needling) Pescara's own way of expressing his frustration: Pescara was a man who was "extremely haughty, deceitful, malign; completely without sincerity and worthy, as he was so often said he desired, to have had his place of birth in Spain instead of Naples."(McAuliffe 57). Ferrante Francesco d'Avalos died young because he consumed his energy in a quest for recognition which Charles V would not grant to anyone not Spanish (or, to be accurate, Burgundian). Pescara is in all his letters and actions driven by the notion that he is not being properly valued. Vittoria saw him as he saw himself and pitied him.
Birth Information
Ferrante Francesco was born in 1490, probably in Abruzzi, perhaps at Aquino, his family's central property in the southern countryside of Italy. His father, Alfonso d'Avalos d'Aquino, his mother was Diana or Ippolita di Cardona.
Vittoria Colonna was born on an April morning in 1492 in the primary family patrimoney, the fortress of Marino in the Roman campagna just outside Rome. Her father Fabrizio (he had proved his worth, originally destined for Church, now one of two male leaders of clan), her mother, Agnesina, married off in the same year as Guidobaldo.
There are several alternative childhoods for VC: she grew up at Marino in the Roman campagna, Rome at the time; she grew up in Ischia or Naples, Aragonese Naples. She was because of her father important to her cousins, the Montefeltro-Gonzaga-d'Este and (later ) Francesco della Rovere in Urbino. There is later the important childhood story of Alfonso d'Avalos, cousin to Pescaro and whether he had some sort of breakdown. Lead up to wedding and pictures of them in Giovio and by G. Muziano.
---
Home
Amaro Lagrimar
A Dark Voyage
Contact Ellen Moody.
Pagemaster: Jim Moody.
Page Last Updated 22 January 2004