A Review of Peter Borsay. The Image of Georgian Bath, 1700-2000: Towns, Heritage, and History
The text is an earlier version of a review that appeared in Scriblerian, 37:1 (Autumn 2004): 89-90. I have added a select bibliography (beyond the books cited in the review) below.
Peter Borsay. The Image of Georgian Bath, 1700-2000: Towns, Heritage, and History by Peter Borsay. Oxford, 2000. Pp. xv + 434. Illustrations, appendices, bibliography, index. £60.00 (hbk). ISBN 0-19-820265-2.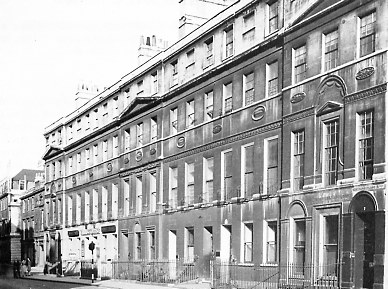 Northumberland Buildings, Wood Street, Bath (ca. 1980)
In this learned and intelligent book, Mr. Borsay shows that illusory representations of Bath's Georgian past (1700-1830) helped various elites determine their own present and preserve "substantial parts of the eighteenth-century urban landscape." He argues this "mythic material" has been generated and still dominates popular media because it is needed by those who disseminate and accept it. He covers five epochs of researched work to show that scholarship and antiquarianism produces its own distortions of history.
A Hegelian idea that publicly-accepted stories about the past are what transform the present controls the way Mr. Borsay organizes and discusses Bath's historiography. The body of the book is a compendium of literary texts; biographical legends; innovative architectural, sociological and economic studies; and literary histories. Mr. Borsay investigates which ones changed "prevailing" ways of imagining Georgian Bath. Thus while R. S. Neale's Bath: A Social History (1981) has led the inclusion of the working residents in the city in historiography and is a "dominant" text, it has failed to affect popular media because the late twentieth century's "conservative Zeitgeist" found Neale's "inflexible Marxism" unpalatable. Reprinted popular iconography and descriptions of spectacles (including the ceremonies surrounding the placing of mural tablets on buildings) are analyzed from a generalized aesthetic or class-inflected view Mr. Borsay imagines typical viewers and participants to have had.
The book's lack of agency extends to Mr. Borsay's way of covering telling political battles in Bath from the later nineteenth through the mid-twentieth century between conservationists and the city's governing councils, and opposing classes of residents and visitors over what to do with ruins, and buildings in bad states or meant to function in now obsolete ways. He records many decades of indifference and reluctance to rebuild the Georgian "shrines." It was an aggressive campaign to restore these by a number of well-funded pressure groups in the 1970s ("spearheaded" by Adam Fergusson's The Sack of Bath [1973]) that led to the present prestigious way all of Georgian Bath is treated by the heritage industry and its commercial reinforcements. Reconstructions of places destroy and replace what exists with materials and internal organizations of space that allow for new uses of space which, like the earlier Georgian interiors, don't correspond to uniform facades, but now can function as "time-capsules." But while people active in these forms of conservation are named and described, there is no analysis of the political and economic background of a given era nor of the party allegiances or personalities of the people who sat on the different city councils or were influential in the trusts, press and business communities.
An allegiance to the beauty of classical architecture colors the text. Mr. Borsay treats as passing trends and "sheer effrontery" irreverent but also serious suggestions on the part of unnamed people whose letters appeared in the local Bath press that money to renovate "elite" structures (the Assembly Rooms) should instead be used to improve life for the average person in Bath (for example, to fix pavements and build affordable decent housing). The adversarial criticism and strong distaste for the eighteenth-century spa in numbers of key eighteenth-century texts is simply dubbed "somewhat surprizing." Mr. Borsay repeatedly quotes as authoritative and balanced Horace Annesley Vachell's novel, Golden House (1937), whose point of view is narrowly bourgeois and genteel, because Vachell argues that "[Georgian] Bath belongs to the world."
At the same time, much evidence reveals that the image of Georgian Bath "encodes" a complicated cult, participation in which bestows high-status. We see that characters and images cherished by some groups of people for others symbolizes their own or a previous generation's deprivation and remembered and hidden injuries of class. Mr Borsay catalogues historical personages chosen and omitted from representations and retells quarrels over what elements in Bath's history to present and when. He describes how the organization of space in Bath works to separate, stigmatize, exclude, and elevate people. A "storm of protest" erupted when in 1934 a proposal to use the Assembly Rooms as a public library was altered to place the library in a separate building on the "lordly" Lansdown Crescent, a part of the city which "it was argued" was far away from where "the working and industrial men and women of Bath and their children" lived.
This book is a post-modern encyclopedia of almost all the sources of the historiography of Georgian Bath. (Oddly, it does not cover radio, TV shows and movies.) Mr. Borsay decided to explore Georgian Bath's image when he concluded the daunting mass of materials connected to Georgian Bath is important. We are shown how difficult it is to alter popular romance, guidebooks and "common knowledge" by accurate information gleaned from primary documents. In today's guidebooks John Wood is still said not to have been born in Bath. Jerome Murch, a nineteenth-century liberal politician and mayor of Bath seven times who did much to preserve and create Bath's art heritage and heathliness, appears only in academic studies of nineteenth-century Bath. Thus Mr Borsay came to think that Bath today is the product of the images through which people have experienced it -- although he introduces his subject with accurate history because without this we cannot understand how the stories have functioned psychologically, socially, politically, and economically.
The book also represents a missed opportunity and worthy project gone awry. Mr. Borsay's earlier comprehensive study, The English Urban Renaissance, 1660-1770, registers no doubt that accurate scholarship is doable and can function usefully beyond the small circle of people who might read it through. The present concluding argument is Georgian Bath's "national heritage of beauty" has lasted because it "consoles" and "comforts" "people" as an element in their identities, and that late twentieth-century uses of Bath exemplify how "people" "integrate the past with the present" in order to achieve "fundamental well- being." Which people? An animus against texts which "unmask" "tales of mythic significance" as politicized "bogus history" (for example, Robert Hewison's The Heritage Industry [1987]) emerges when Mr. Borsay treats these and "dry-as-dust" scholarship with disrespect by describing the latter as "imbued with . . . the fetish of the footnote."
In 1984 Orwell wrote "Who controls the past controls the future: who controls the present controls the past." At one point Mr. Borsay says "the past is a competitive business." The near future is even more so. This book defends a group of objects and cultural ideals taken to be endangered through a semiotic justification of picturesque nostalgia. A useful heritage study should be based on an unsentimental accuracy which takes into account the complications and contradictions of all agents and of what represents a place's past and exists in its present.
Ellen Moody
George Mason University
---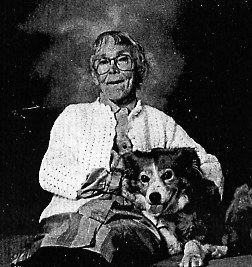 Louie Stride, author of Memoirs of a Street Urchin [in Bath] (b. 1909)
---
Select Bibliography
Anstey, Christopher. The New Bath Guide. Bath: Adams and Dart, 1970.
Arnold, Dana, ed. The Georgian Villa. Gloucestershire: Sutton, 1996.
Barbeau, A. Life and Letters of Bath in the XVIIIth Century London: Heinemann, 1904.
Bath History: An excellent scholarly annual publication, whose volumes are published yearly by Millstream Books.
Bettey, J. H. Bristol Observed. Bristol: Redcliffe, 1986.
Black, Clementina. The Linleys of Bath, with introduction by George Saintsbury. London: Martin Seeker, 1926.
Borsay, Peter. The English Urban Renaissance: Culture and Society in the Provincial Town, 1660-1770. Oxford UP, 1989.
Boyce, Benjamin. The Benevolent Man: A Life of Ralph Allen of Bath. Cambridge: Harvard, 1967.
Child, Elizabeth, "'To Sing the Town': Women, Place and Print Culture in Eighteenth-Century Bath", Studies in Eighteenth Century Culture, 28 (1999): 155-72.
Colegate, Isabel. The Summer of the Royal Visit. London: Hamish Hamilton, 1999. A fine novel set in Bath primarily in the later 19th century, but she takes you from Roman Bath through to Bath at the present time (late 20th century) through the devices of imagined memory.
Collini, Stefan. English Pasts. Oxford UP, 1999.
Davis, Graham and Penny Bonsall. Bath: A New History. UK: Keele University Press, 1996. After R. S. Neale, the best book on the actual history of Bath thus far. Excellent bibliography.
--------------, ed. Conflict and Community in Southern England. London: Stroud, 1992.
D'Monte, Rebecca and Nicole Phol, edd. Female Communities, 1600-1800. London: Macmillan, 2000. Includes studies of single writers and other women who lived in Bath (e..g, Sarah Fielding, Sarah Scott).
Elgin, John. The Imaginary Aristocrat: Beau Nash and the Invention of Bath. Profile, 2005. ISBN a 86197 302 0. Reviewed by Timothy Mowl, "Cock thy Beaver," Times Literary Supplement, July 8, 2005, p. 32.
Elliot, Kirsten. A Window on Bath: Eight Walks in Bath. Bath: Millstream, 1994.
Fawcett, Trevor. Bath Entertain'd: Amusements, Recreations, and Gambling at the 18th Century Spa. Bath: Ruton, 1998.
Fergusson, Adam. The Sack of Bath: a record and an indictment. London: Compton Russell, 1963. Foreword by Lord Goodman, introductory poetry by Sir John Betjeman.
Gadd, David. Georgian Summer: Bath in the Eighteenth Century. New Jersey: Noyes, 1972. This book which has been widely enough read to be quoted in popular accounts (magazines, newspapers) is a rehash of Barbeau and "Lewis Melville" (a pseudonym).
Goldsmith, Oliver. The Life of Nash in The Vicar of Wakefield and Other Writings, ed. Frederick W. Hilles. New York: Modern Library, 1955. With all its lacunae, still the best biography of Nash.
Goldring, Douglas. Regency Portrait Painter: The Life of Sir Thomas Lawrence. London: Macdonald, 1951.
Gosse, Philip. Dr Viper: The Querulous Life of Philip Thicknesse. London: Cassell, 1952.
Hesselgrave, Ruth Avaline. Lady Miller and the Batheaston Literary Circle. Yale University Press, 1927.
Heyer, Georgette. Bath Triangle. New York: Book-of-the-Month Club, 1955. A pastiche which repeats the myth.
Hill, Mary K. Bath and the Eighteenth-Century Novel. Bath: Bath University Press, 1989. Includes citations and descriptions of such novels as Smollett's Humphry Clinker, scenes of which take place in Bath.
Ison, Walter. Georgian Buildings of Bath. Bath: Kingsmead Press, 1980 (revised edition). There is an earlier edition which has pictures from before many of the buildings were cleaned. To see these pictures is worth while for getting a feel of what Bath was like before the destruction of the 1960s and the rebuilding and heritage activities and restorations since.
Kersey, Gillian. Darling Madame: Sarah Grand & Devoted Friend. London: Virago, 1983. (A social document about later 19th and early 20th century Bath.)
Lamoine, Georges. La Vie Litteraire de Bath et de Bristol, 1750-1800. Lille: Lille University Press, 1978.
Lane, Maggie. A Charming Place: Bath in the Life and Novels of Jane Austen. Bath: Millstream, 1993.
------------. A City of Palaces: Bath Through the Eyes of Fanny Burney. Bath: Millstream, 1999.
Lindsay, Jack. Thomas Gainsborough: His Life and Art. New York: Universe, 1981. A long section (more than 2/3s of the book) is on Gainsborough and art in Bath.
Little, Bryan. The Building of Bath: 47-1947. London: Collins, 1947. This is an indispensable solid study of the architectural history of Bath. It's unassuming and the tone is refreshing.
-------------. Portrait of Somerset. London: Hale, 1969. A fine county study.
Lowndes, William. The Theatre Royal at Bath: The eventful story of a Georgian Playhouse. Bristol: Redcliffe, 1982.
Melville, Lewis. Bath Under Beau Nash. New York: Brentano, 1908.
Miller, Andrew. Ingenious Pain. New York: Harvest, 1997. Novel partly set in Bath and about the medical world of the time.
Moody Ellen. Jane Austen in Bath: "In Search of 18th Century Bath" and "Riddled with Untruths" [The Impossibility of Biography at the Present Time]
Mowl, Tim and Brian Earnshaw. John Wood: Architect of Obsession. Bath: Millstream, 1988.
Neale, R. S. Bath: A Social History, 1680-1850, or A Valley of Pleasure, yet a Sink of Iniquity. London: Routledge and Kegan Paul, 1981. The one indispensable book until Borsay's; Borsay's does not replace it because Borsay's is about myth. Neale is weak on the later 19th century where Graham Davis (see above) is strong.
Peach, R. E. Historic Houses in Bath and Their Associations. London and Bath, 1884. This is a First Series and a Second Series.
Penrose, John. Letters from Bath, 1766-1767, edd. Brigitte Mitchell and Hubert Penrose. Gloucestershire: Sutton, 1983.
Philips, Daphne. The Great Road to Bath. Newbury: Countryside Books, 1983.
Pohl, Nicole and Betty Schellenerg, edd. Reconsidering the Bluestockings. San Marino, Cal.: Huntington Library, 1003. Includes studies of women who took up residence in Bath.
Pound, Christopher. Genius of Bath: The City and Its Landscape. Bath: Millstream, 1986.
Scullard, H. H. Roman Britain: Outpost of the Empire. London: Thames and Hudson, 1979.
Sheppard, E. J. Bath in the 18th Century. London: Longmans, 1962.
Sitwell, Edith. Bath. London: Faber, 1932.
Smith, R. L. Bath. London: Batsford, 1944. A surprizingly good architectural study (it was done during the war, as it were in response).
Stride, Louie. Memoirs of a Street Urchin. UK: Bath University Press, 1980.
Thompson, E. P. "Patrician Society, Plebian Culture," Journal of Social History, 7 (1974): 382-405.
--------------. "Eighteenth-Century English society: class struggle without class?", Social History 2:3 (1978): 133-65.
Vachell, Horace Annesley. Golden House: A Romance of Bath. London: Cassell, 1937.
Varey, Simon. Space and the Eighteenth Century Novel. Cambridge UK, 1990.
Wright, Patrick. On Living in an Old Country: The National Past in Contemporary England. London: Verso, 1985.
---------------. The Village that Died for England. London: Faber, 1995.
Wood, John. A description of Bath, 1765. Bath: Kingsmead Reprint, 1969.
---
Home
Contact Ellen Moody.
Pagemaster: Jim Moody.
Page Last Updated 17 March 2005