Proposal for a paper to be given in the panel on Liberty in Historical, Postcolonial and Rewritten Fiction, EC/ASECS at Pennsylvania University, Nov 3-6, 2011
"I have a right to choose my own life:" Liberty in Winston Graham's Poldark novels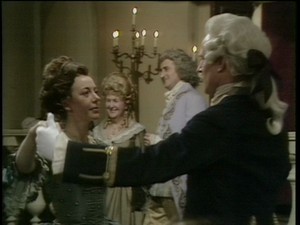 Still from 1975-76 Poldark series: Verity Poldark (Norma Streader) dancing with her chosen suitor, Andrew Blamey (Jonathan Newt)
It is apparently not widely-known that after the 1995 BBC/A&E Pride and Prejudice (famously starring Colin Firth as Darcy), the best-selling video cassettes of a mini-series made for British TV, has been the 1975-76 and 1977-78 Poldark mini-series (starring, not quite so famously, Robin Ellis as Ross Poldark). Sold in over 40 countries, all 29 hours of it were recently digitalized in 2009-10 after having been voted one of ten best TV mini-series ever made in a 2007 BBC survey (Wikipedia. When in 1962 Alfred Hitchcock's adaptation of Marnie was first screened in movie-theaters (the originating novel is also by Winston Graham, the author of the seven novels upon which these two series were based), Graham remarked in an interview that "I was the most successful unknown novelist in England" (Memoirs of a Private Man, 117). This may still be true Although his twelve Poldark novels have never fallen out of print since they were first published (1945-2002), although numbers of his books have been chosen as Book-of-the-Month club selections in the US, and another six of them (mystery and realistic novels) successfully filmed for cinema, and although he and various of his books the recipient of numerous prestigious awards for mystery (most notably his 1955 The Little Walls earned a Gold Dagger award and he an OBE in 1983), nonetheless, he and his novels are consistently omitted from every discussion of historical fiction, popular or otherwise that I have come across except a very few and brief texts specifically dedicated to him or his books.
I propose to write a paper calling attention to the strong value and compelling interest of the first seven Poldark novels. I will argue that they are unjustly neglected partly because of the unusual radical-leftist politics of books for a popular historical romance series. It didn't help that Graham himself never went to university, was never part of those circles where books are turned into canonical or modern classics, and he allowed his books to be marketed as regional romances (redolent of Cornwall and thus linkable to Daphne DuMaurier). (I'll omit the last five in order to keep the paper 18 to 20 minutes long.) I intend to demonstrate that unlike most popular historical fiction and romance, Graham uses adventure deftly, tactfully, graphically and continually to expose the workings and injustice of the ancien regime; that there is a thorough and accurate depiction of the economic conditions and problems of mining and agriculture in Cornwall at the time, the way elections worked, the use of monopolies by the English, and the poaching and game laws and prison system to perpetuate the in-place hierarchical establishment. Graham defends smuggling, the resort of subsidence communities to garnering food and whatever else was going out of wreckages, but takes an Orwellian point of view when it comes to the revolution, terror, and emigres' counter-revolutionary activities. Graham's novels are instinctively feminist in their insistence on exposing marital rape and confiscation of some of his heroine's lives in the service of heterosexual male hegemony.
These novels are enormously enjoyable because of his gift for characterization in them that makes his subjective narration touch nerves in a 20th century consciousness. Although they do not question the techniques of verisimilitude, and offer a vision of qualified contentment at the close of all but one of the first seven (Black Moon is the exception), there is a strong undertow of melancholy, disillusion and scepticism towards life's experience then and now, a questioning of the objective reality of what is represented (Graham shows that he presents a "subjective reality" that comes out of his own mind, that he works from hearsay and invents his romances, Memoirs of a Private Man, 179) and a thoughtful working theory of historical fiction that holds up to scrutiny (Poldark's Cornwall, 148).
Ellen Moody
George Mason University
Still from 1975-76 Poldark series: Verity Poldark (Norma Streader) talking with Ross (Robin Ellis) about her dreams, plans
---
Home
Contact Ellen Moody.
Pagemaster: Jim Moody.
Page Last Updated 9 September 2011