© Ellen Moody. No part of this website page may be reproduced without express permission from the author and website/blog owner. All uses of information or evaluative commentary should be acknowledged and documented. Linking is encouraged.


A Reading of Northanger Abbey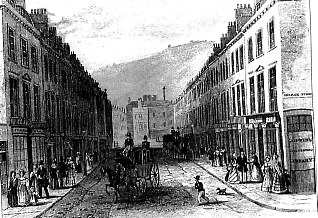 Milsom Street looking south from George Street, Bath, 1840s
In 1997 on Austen-l and in 1999 on Janeites scheduled group conversations of Jane Austen's Northanger Abbey occurred. On both lists we also read and discussed a series of critical books which included critical essays on Northanger Abbey. I posted continually during all these conversations, and have brought together in one place a very few of my essay-postings, interventions and responses to others during these online discussions. As with all the other group conversation and single essays I have placed on the Net form such conversations, I have altered the postings slightly so as to make for continuity and have occasionally rearranged them so the reader can follow the conversation as one would a story. Read as a series they form a close reading of Northanger Abbey against a scholarly critical background.
As a preface see my timeline for Northanger Abbey and an argument that a study of the calendar in the extant Northanger Abbey suggests the novel underwent several revisions and that the portion that takes place in the Abbey is far less determinate than the portion of time that takes place in Bath which is strictly kept, click here
And as an alternative view to the one espoused in 1997, see my recent essay on the three Northanger Abbey movies where I argue there is actually little gothicism in Austen. It's at Jane Austen's World: The Three Northanger Abbey movies.
Introduction
Claudia Johnson Northanger Abbey and other 1790s novels
Bibliography; Coral Ann Howells and Judith Wilt on the gothic and Jane Austen
Roger Gard's Art of Clarity and NA
Tave: The Expectations of Catherine Morland; Austen Cults; Powerlessness
Volume I, Chapters 1 - 3
What comes to mind with the word "Gothic", Strong Affection for Catherine & Young Girl's Names
Novelistic Satire and Catherine's Naïveté; Gay's "The Hare and His Many Friends"
First Dramatic Scene & Lines In All Austen's Novels
A Satire on Gothic Romance, Gay & Disillusioned Story
Acid Gaiety, The Debonair Hero and Heroine's Story; A Satire As Well As Novel
Volume I, Chapters 4 - 5
Will No One Stand Up for the Unprotected Novel? The Great Defense; Female Friendship
Kind and Unkind Teasing
Volume I, Chapters 6 - 7
"Are they all horrid, are you sure they are all horrid?"; Done in By a Book
The Boor John Thorpe; Is Isabella just a liar?
NA to Sanditon: Burney's Camilla & The Wanderer
Volume I, Chapters 8 - 9
The Bath Versus Northanger Sections: On the Revisions
Playing Upon on Our Emotions
The Creation of Anxiety
Volume I, Chapters 10 - 11
At long last, Tilney; Eleanor, True Gothic Friend; John Thorpe, a Horror
James Morland, Antifeminism; Structurally Like Emma
Sensitivity; Clues; Her Heart Danced Within Her; Susan
Real Misery and Embarrassment
'But Mr Thorpe only laughed; Real & Gothic Longings; Emily St Aubert
Volume I, Chapters 12 - 13
The Strength of Sincerity
Pressured, Harassed, Emotionally Blackmailed; Images of Heroines
Driven Wild with Frustration
Volume I, Chapters 14 - 15
A Conversation Piece in the Countryside
A Picturesque Literary Walk; 'The capital pen of a sister author . . .'
Disconjunctions
Epistolarity in this and other Austen novels
Volume's End

Gothic Tower, detail from John Rathbone (1750-1807), View of Fountains Abbey, Yorkshire
Volume II, Chapters 1 - 2 (or 16 - 17)
Catherine Begins to Judge as Well as Feel
An Invitation to An Abbey
Waiting Around to Get to the Abbey
Volume II, Chapters 3 - 4 (or 18 - 19)
Isabella/Captain Tilney/Catherine parallel Maria/Henry Crawford/Fanny
'He knows what he is about and must be his own master'
Parallel with Amélia Mansfield. (On this see further
Continent Not Isolated: Jane Austen among French Women)
Catherine's Response in the Context of Emma & Persuasion

Volume II, Chapters 5 - 6 (or 20 - 21)
"I am always sorry to leave Elinor"
The Breakfast Table, A Curricle -- & Henry's Fearful Storytelling
Bobbie Ann Mason's The Girl Sleuth
Volume II, Chapters 7 - 8 (or 22 - 23)
A Picturesque Abbey
Time slows down; Light and Dark
Mrs Allen, or How Not to Read Gothic
Free Indirect Speech; General Tilney & Erotic Kitchen Gardens
Rumsford Fireplace and the Dating of Northanger Abbey
Volume II, Chapters 9 - 10 (or 24 - 25)
"The visions of romance were over..."
'Of the Alps and Pyrenees ... ' and Marie Mancini
An Inset Gothic Romance
Catherine and Eleanor, a "strange" pair? & Austen's silences
Ghostly Heroine & Chivalrous Hero (Ghosts of the Gothic)
Volume II, Chapters 11 - 12 (or 26 - 27)
A Visit to Woodston
A Letter from Isabelle; Why Henry Doesn't Betray His Brother
Volume II, Chapters 13 - 14 (or 28 - 29)
The Parting of Eleanor and Catherine
"This has been a strange acquaintance..."
Mrs Morland Looking from the Outside In; Mother-Daughter
Volume II, Chapters 15 - 16 (or 30 - 31)
Why does Henry Tilney turn up at the parsonage?
The Same Henry Tilney
Felicity
On reading NA & MP in French & Italian Translation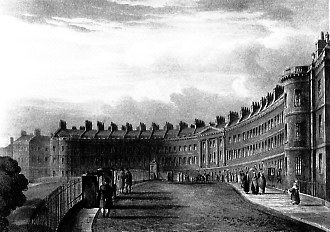 Lansdowne Crescent, David Cox, Six Views of the City of Bath (1820)
---
Home
Contact Ellen Moody.
Pagemaster: Jim Moody.
Page Last Updated 3 November 2003