© Ellen Moody. No part of this website page may be reproduced without express permission from the author and website/blog owner. All uses of information or evaluative commentary should be acknowledged and documented. Linking is encouraged.



In order to make the calendar section of this homepage complete, I have decided to place here the complete published paper which appeared as "A Calendar For Sense and Sensibility" in Philological Quarterly, 79 (Fall 2000), 233-266. The argument of the paper is that the extant calendar of the 1811 Sense and Sensibility reveals an underlying set of features typical of epistolary novels. It is improbable Austen would have gone to the difficult trouble of erecting such a calendar or her novel had such features had it not been that the original calendar was written as letters. Then its ironic and juxtaposed events would have emerged naturally from the way epistolary narrative allows the writer to escape chronological time within a letter.

If I were to revise it, I would stress the obsessive telling of time throughout the book, how each phase of action moves in hours, days, weeks, months, carefully calculated against distances and places. I omitted many of the citations of lengths of time that were not necessary for my calendar, but they are there and part of what went into the timeline and feel of the book, its inner structuring. I would stress the loss of ironies in the omniscient narrative, especially those which link Willoughby to Brandon in a relationship that we don't know about sufficiently ("I do not know what you and Mr Willoughby will do between you about her," II:4, 137) .

Even if it's not necessary for the argument I would speculate on correspondents. Elinor was a central linchpin to be written to and she writes others. So too Mrs Dashwood who stays in the cottage and writes Brandon and he writes back to her. Elinor and Mrs Dashwood correspond. Letters which expose the writers were predominant: by John Dashwood (to Elinor), by Mrs Jennings (to Charlotte, to Elinor), by Lucy Steele. Robert Ferrars' letters were seen as a special treat: the beau, the fop. Marianne wrote Margaret who is not a child in the novel but pre-pubescent (13). Nancy Steele wrote comic letters (perhaps to her cousins). The novel began in September and the previous material was flashback. There are three histories told by three men: Brandon first, then Willoughby, then Edward at close and Mrs Jennings loves to indulge in memories of the past.
A Calendar for Sense and Sensibility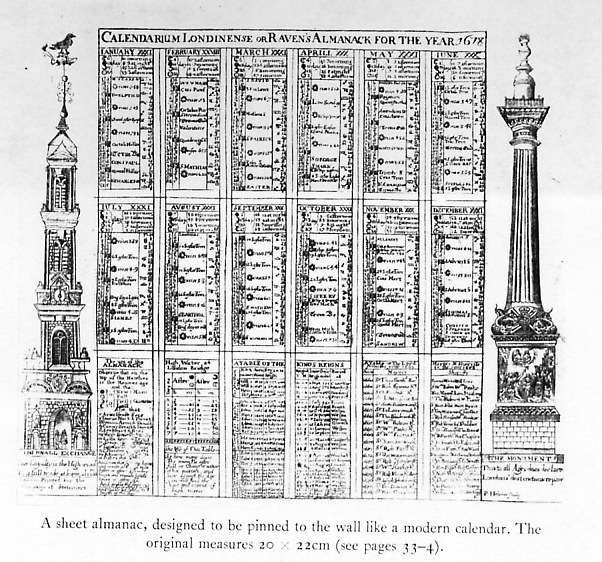 From Bernard Capp, English Almanacs, 1500-1800: Astrology and the Popular Press
There is a curious lacuna in Jane Austen studies one would have thought had been filled long ago. No-one has as yet drawn out and explained the chronology of Sense and Sensibility. From Austen's other five novels scholars have educed detailed calendars most of her readers have accepted as really in Austen's novels because these have explained hitherto puzzling elements in her novels. Only Sense and Sensibility has been left out.1
There has been one brief attempt to draw out the chronology of Sense and Sensibility, Patricia Craddock's "The Almanac of Sense and Sensibility."2 Craddock did not carry her project through consistently or thoroughly. Throughout most of her essay she remains undecided between wide-ranging pairs of years (1794- 95, 1797-98, 1800-1, and 1805-6). When, at the end of her piece, she suddenly dates the Easter of the novel as 31 March, as this date enables her to suggest the calendar of Sense and Sensibility as we now have it was based on a 1792-93 almanac, she ignores the fact that the dates we have for the Juvenilia are precisely these and that the Juvenilia are the work of a much younger mind.3 She also does not cite Austen's sister, Cassandra's memorandum, in which, if Cassandra is somewhat vague about the date of an earlier version of the book, she nonetheless most decisively said: "I am sure something of the same story & characters had been written earlier & called Elinor and Marianne," and that the Sense and Sensibility we have is a text "begun Nov. 1797."4 More importantly--for the whole point of a calender is to explain what we have in Austen's text -- Craddock does not check to see if and how this date coheres with various other quite definite indications of time the novel offers. She never stops to examine exactly how many years the action of this novel circumscribes. She does not minutely examine time in Sense and Sensibility.
Nonetheless, when at the opening of her essay Patricia Craddock asserts that her examination of the underlying calendar for Sense and Sensibility made her sense what she had found was the "early structure" of a previous "epistolary version" of this novel, she was correct.
I have already quoted Cassandra's decisive comment that Sense and Sensibility existed in an earlier version called Elinor and Marianne. To this I add the characteristically modest, and carefully-qualified, but determined statement Austen's niece, Caroline Austen made in 1869 that Sense and Sensibility was first told in letters: "Memory is treacherous, but I cannot be mistaken in saying that Sense and Sensibility was first written in letters, and so read to her family."
The problem Craddock had was that she felt she could only assert that the time-scheme in several different sections of the novel shows the novel we have "closely resembles that of the year of the original epistolary version of the novel, 1795" (why this year I don't know). Thus she only begs the key question of what this epistolary version was like. Craddock makes even less of an effort than Brian Southam in his brief and somewhat half- hearted reconstruction of who wrote to whom.5 Like Southam and others who have wanted to discuss what the earlier version of the book may have been like in order to shed light on the present version, she probably felt herself unable to figure out who wrote to whom.
My counter argument is that the sort of specific details of who wrote to whom are not important because they are not indications that we have an epistolary narrative. There have always been and will continue to be countless omniscient novels in which characters write letters to one another from different places, and in which such letters may be crucial to the plot or revelation of character.6 What marks Sense and Sensibility as epistolary is what in her seminal book on epistolary narrative, Epistolarity: Approaches to a Form, Janet Gurkin Altman calls "epistolarity" by which she means the use of certain complex formal properties which are fundamental to the structure of the plot or story of the novel: "multiple plots," especially "disruption of the temporal line by nonchronological ordering," "multiple correspondents" (each character giving different coloring to a story), and "lacunae" (the punctuation of a story with letters and the use of intervals between letters in which further meaningful events happen)."7 These structures make all truths in such novels relative, a function of the mind that reports them, and lead to psychological depths, variety of perspective, and circularity of argument that forms the groundwork of the inescapable subjectivity of epistolary novels.
My argument for the present epistolary nature of Sense and Sensibility as derived from its original basis rests not on my ability to speculate who wrote to who or from where, but rather on the calendar for Sense and Sensibility I have extrapolated, and which reveals a basis for the epistolarity of the novel's plot-design, a plot-design which helps to account for the feeling so many readers have had, that this is a novel which was originally epistolary. The extant calendar in Sense and Sensibility allows for a story to be told in letters by different people over a considerable period of time and from different places; and the calendar reveals Austen used temporally rearranged and juxtaposed telling of a story or stories which is precisely the ironic structure fundamental to epistolary narrative.
The first problem that confronts the serious chronologist of Austen's Sense and Sensibility is that the chronology of this novel is convoluted and lengthy. While in Austen's other five novels we can find references to events which occurred before the novels open, the time when these events occurred is left imprecise, and the precise details of the earlier events are not crucial to our understanding the specifics of the present-time events and characters before us. In Sense and Sensibility events that occurred before the novel opens are crucial to our getting the irony of what's happening as we watch events unfold in present time. A few examples: the illegitimate children and death of Eliza Brandon; Lucy Steele's and Edward Ferrars's engagement; Willoughby's intimate involvement with Eliza Williams whose character mirrors that of Marianne and whose mother looks like Marianne a woman Colonal Brandon has been longing for.
The time span of this book is extraordinary. The only other of Austen's novels to cover more than one and one half-years, Mansfield Park, chronicles a mere ten (the novel begins when Fanny Price is nine and ends when she is nearly nineteen). The mood and action of Persuasion is the result of what happened eight years ago, and Pride and Prejudice takes us back to Darcy and Wickham's boyhoods. But in none of these three -- nor in Emma in which Austen's narrator briefly tells the genesis of Jane Fairfax's and Frank Churchill's situations and characters -- does Austen refer to a detailed chronology that may be consistently plotted backwards and forwards. Sense and Sensibility is grounded in a chronology which is internally consistent for 37 years.
An extraction of the chronology thus necessitates paying attention to the book's many flashbacks. Two are long and elaborate and have long been commonplaces of those who criticize the novel as in places crude or very early work. I speak of Colonel Brandon's history of himself and Eliza Brandon (2:9: 204-11, 31:173-78), and Willoughby's history of himself and Eliza Williams (3:8:319-27, 44:271-77). But equally essential to the construction of the novel's calendar and its ironic parallels are its many other flashbacks which are scattered throughout the novel, and which are all much shorter than Brandon's and Willoughby's tales, and have thus escaped attention.
In this category we have Lucy's and Edward's histories of Edward's time at Mr. Pratt's school, their falling in love, their engagement, their correspondence (1:19:101-3, 22:130-34; 2:1:140; 3:13:362, 19:88- 90; 22:111-14, 23:118, 49:307). There are the scattered bits of Mrs. Jennings's history of her family's comings and goings, which she tells in spontaneous spurts and appear to be included merely for the reader's entertainment (1:20:114-15, 2:4:160, 8:196-97; 20:98-99, 26:135, 30:165-66), but in these the history of Brandon is further unravelled, and they dovetail in signficant ways into that history. There is Nancy Steele's garrulous talk which punctuates at widely dispersed intervals the present time stories and and further explains their background (1:21:123-25, 3:2:272-75; 21:105-7, 38:229-31).
In Sense and Sensibility we have a chronology which encompasses or is built out of pieces taken from six comparable love stories which occurred at parallel points in time, which, if presented through letters would be in dramatic contrast -- and would not have been so set up if such an effect had not originally been intended. The most striking examples are: the death of Mr. Henry Dashwood which occurs in the same month of the same year that Willoughby and Eliza elope from Bath (see calendar below, February 1797, for this and several others); Edward's sojourn with Lucy in Longstaple, which occurs during the most intense phase of Willoughby and Marianne's relationship; Marianne's solipistic grief over and expectation of Willoughby'a return or at least a renewal of their courtship at the very time he is duelling with Brandon over Eliza Williams and courting Sophia Grey.
The original dramatic irony and parallelism still in the book reveals the book's original epistolary structure.
The second problem the chronologist of Sense and Sensibility confronts leads away from the epistolary nature of the text and its uses of time, and recalls the debates scholars have had over the chronology of Austen's Pride and Prejudice, Mansfield Park, Emma, and Northanger Abbey.8 In these four novels Austen withholds just enough information to prevent her reader from knowing with precision in which years the novels are set. One cannot make an ironclad case for specific years or the decades across which the action of Sense and Sensibility takes place either. In her "Advertisement to Northanger Abbey we find that she worried lest her readers find her novels "obsolete" ("by the authoress," unpaginated in Chapman and Butler), and I suggest one reason Austen covered her tracks was that she wanted to obscure how often she had rewritten the novels, to prevent readers from noting inconsistent references in them: her letters show an intense concern with verisimilitude and alert willingness to be literal about what occurred together in history so as not to disturb the most literal-minded and pedantic reader.
In the case of Sense and Sensibility, it is only in the second and then increasingly in the third volume of the novel that events are attached to cited months, dates, or days of the week which we can work back from consistently. But I can offer a reasoned conjecture which makes sense of the data we do have by following MacKinnon and Chapman's procedure of using Easter as my point of departure. This is my basis for eliminating years in which the present action of the novel cannot have taken place; we then examine which of those possible years left fit with the other indications of time in the novel.
Let us first observe that after the long phase of the novel which occurs in London (15 chapters), we are told that the Palmers plan to leave London for Cleveland "about the end of March" so that they may be fully ensconced at Cleveland "for the Easter holidays" (3:3:279, 39:236). This tells us that in the year the novel is set Easter took place not in the first days of April, but a little later in the week. The actual departure of the Dashwoods takes into account the "more than two day" journey the women expect to take between London and Cleveland is "very early in April" and "tolerably early in the day" (3:6:301, 42:255) so that the party may still be in time for Easter.
Using John Cary's New Itinerary or an Accurate Delineation of the Great Roads, I reckoned on a two and one-half day trip and aligned that with the indications of time that begin once the Dashwoods arrive at Cleveland (see calendar below).9 That Austen was scrupulous about the relationship between distance and time in her own novels and examined others for their verisimilitude is a commonplace in the scholarship, but lest it be thought I am attributing more care and exactitude than is probable I'd like to point out that among the very few remarks she did make about her art or that of others we find the following active objection to some details about travel and time and distance in a novel by her niece Anna Austen's sent her in manuscript:
"I have scratched out Sir Tho: from walking with the other Men to the Stables &c the very day after his breaking his arm . . . I think it can be so little usual as to appear unnatural in a book -- & it does not seem to be material that Sir Tho: should go with them. -- Lyme will not do. Lyme is towards 40 miles distance from Dawlish & would not be talked of there. -- I have put Starcross indeed. -- If you prefer Exeter, that must always be safe."10
There are four years between 1793, the earliest year in which many Austen scholars have conjectured Austen could have written the story Cassandra called Elinor and Marianne, and 1811, the year in which she published the present Sense and Sensibility in which it was possible for Jane Austen to have the Palmers leave London either at the end of March or and the Dashwoods "very early April and yet all get to Cleveland in time for Easter: 1798, 1801, 1803, and 1809.11 We may exclude 1801, 1803 and 1809: if it were 1801 the women would have arrived on Easter Sunday, not in time for Easter Sunday; if it were 1803, when Easter fell on 10 April, there is no need to leave so early; if it were 1809, Easter fell on 2 April. That leaves 1798 when Easter occurred on April 8th. I have drawn a calendar which is consistent for the 37 years using the 1797-1798 calendar as the span of action in present time of the extant novel as we have it as the more probable and indeed the only possible of all four choices.
1798 has others claim to probability before all other years too. Let us recall the jotted memorandum in which Cassandra wrote that Austen began "Sense & Sensibility" in "Nov. 1797," she also wrote that Austen began "First Impressions" (the earlier version of Pride and Prejudice) in "Oct 1796" and "Finished" it "in Augt 1797," and wrote "North-hanger Abbey . . . about the years 98 & 99." The sense of the note is that Austen wrote full drafts of these three novels in a row.
It will be asked, "Did not Austen revise Sense and Sensibility between 1809 and 1811, the first two years of her life at Chawton Cottage, and could she not have, as she did for in the case of Pride and Prejudice reset the novel into the years of her last revision?"
First, 1809 is subject to the same objection as 1801; there is simply not enough time for the women to take their more than two day journey from London and still make Cleveland in time; further as will be seen below the years, 1809-10 do not fit the timeline of the extant novel.
Equally importantly, we do not know that Austen did indeed thoroughly revise Sense and Sensibility during the first two years she lived at Chawton Cottage. It has always been supposed so. But we do not know this. All her letters tell us is that on 25 April 1811, she is correcting the sheets for publication. What revisions we hear of are recorded on 20 January 1813, and they are of book now called Pride and Prejudice (Letters, 182, 202).
The tendency to suppose something about Austen's writing habits or when she wrote or revised a given novel and then to have that supposition become received truth occurs again and again in Austen studies. One reads that she stopped writing when the family went to Bath and only began again when they arrived in Chawton Cottage. As there is not a shred of evidence to support this contention, and a number of studies have shown or assumed from the evidence of differing references in the texts that Austen continued to write throughout the decade,12 so we don't know what Austen did to Sense and Sensibility between the years 1798 and 1811. I admit I am speculating too, but hope my speculations will persuade when the calender is studied. The year of my calendar is based on my belief that during this time Sense and Sensibility underwent another different kind of revision compared to the one which turned First Impressions into Pride and Prejudice. For Elinor and Marianne (if that was its name) she added new elements to the book (the opening six chapters), and turned an epistolary book into an omniscient one, but but she kept the original years intact, and did not much change the the sutures which covered over the original change from an epistolary to omniscient book. Cassandra is careful to say that it was First Impressions that was contracted and altered ("alterations" and "contractions") not Sense and Sensibility.
It is certainly true that the 1811 book contains material which cannot have been written as early as 1798: we know the words of the savage conversation between John and Fanny Dashwood in Chapter Two paraphrase or play upon words which were written down as a result of what Austen once ironically called "the conspiracy" of "the whole World" to "enrich one part of our family at the expence of another" (Letters 88). Considerations and pressures which were anything but unselfish directed the behavior of the relatively comfortable older brother, James Austen, when Austen's father relinquished his living to him; it was not easy for Austen's others brothers to join James or the wealthy brother, Edward Austen-Knight, to come up with money for their mother and sisters when their father died. Edward apparently did not think to invite them to come and live on either of his estates until after the death of his wife, Elizabeth. The situation of the three women in the book who live in a cottage upon the estate of a wealthy male relative repeats the situation of the Austen females who came in 1809 to live in a cottage upon the estate of Edward Austen-Knight.13
In addition, it is also true that the chronology of the book we have reveals abrupt switches in pace, contains sudden gaps in time which is metaphorically papered over by references to letters which we no longer have but are merely described, and one sudden backtracking when Austen suddenly puts material in that occurred earlier in a place later in time and then has to account for not telling us about this earlier. These are signs of partial revision, an attempt to keep a great deal and yet change the structure.
An example of the first occurs when the Dashwoods arrive at Barton Cottage (1:6). The novel suddenly changes character: where it had been contracted and moved over decades swiftly just coming down to dramatize this or that scene, indications of time become "frequent and precise" (Chapman's words for time in Pride and Prejudice, Mansfield Park and Northanger Abbey), dense with detail to the point that we can tell what time of day an event occurred. The change is sudden, and since the chapter which contains the conversation between John and Fanny Dashwood appears in this section, I suggest it was the 1797 version of Sense and Sensibility which began in September -- I remind my reader that Pride and Prejudice and Emma begin in September too. Chapters One through Six are an addition which record Austen's feelings and experiences since her father died and she and her mother and sisters were dependent on the brothers and their wives.
There are also a number of gaps in time where the daily realistic chronology (not psychological time), which had been tracked in a snail- like movement from day-to-day and almost hour-to-hour, suddenly moves irregularly ahead to another group of events in a different place. In each of these intervals we are told of letters which passed between the characters as a way of filling the gap. For example, there is a three- week break in the narrative between the introduction of Lucy Steele and revelation of her engagement to Edward and more of his history (late November into early December or 1:21-22, 2:1; 20-23), and Mrs. Jennings's invitation to the older Dashwood daughters to come with her to London (the end of December, Chapter 25). In this and the next gap in time we are reminded of the continuous correspondence between Edward and Lucy. What is placed before our eyes is Elinor's long meditation in solitude, which is strikingly easy to recast and reads more vividly as a first-person narrative than it does in the present third-person form.14
There is a sudden indeterminate interval or gap in time between Willoughby's encounter with Marianne at the party and its immediate aftermath (16 - 19 January, 2:6-9, 28-31) and the arrival of the Steeles (from Devonshire) and John and Fanny Dashwood, and Edward and Mrs. Ferrars (from Sussex) in London (5 February, 2:10-12, 32-34). Here again time is filled up references to letters. We are told that upon learning the truth about Willoughby from Elinor's letter, Mrs. Dashwood writes "long letters . . . quickly succeeding each other" which express her anxiety, solicitude, advice to Marianne to "bear up with fortitude," and advice to Elinor that she and Marianne "not . . . shorten their visit to Mrs. Jennings; the length of which, though never exactly fixed, had been expected by all to comprise at least five or six weeks" (2:10:212-14; 32:179-80). When Lucy arrives in London, she can irritate Elinor with feigned surprise at finding Elinor still in town. Of course Lucy has come to town because a letter from Edward told her he and Elinnor are there (2:10:217-18; 32:183-84). When Elinor sits down to write to Edward Ferrars to tell him of Brandon's offer of a living later in the novel, Austen accounts for her knowledge of Edward's address by the quiet ironic remark "fortunately, she had heard his address from Miss Steele" (3:3:283; 39:240).
The last sudden intervals of indeterminate time occur after Marianne and Elinor return with their mother to Barton Cottage and depend upon letters from John Dashwood, Mrs. Jennings, and Colonel Brandon to learn of what is happening in London (see the end of April and middle of May in the calendar below). This time Austen does not just describe but quotes from displaced letters. I quote just a portion one by Mrs. Jennings, as it just one of several first-person narratives by her deftly slipped into the present Sense and Sensibility by Austen:
"I do think... nothing was ever carried on so sly; for it was but two days before Lucy called and sat a couple of hours with me. Not a soul suspected anything of the matter, not even Nancy, who, poor soul! came crying to me the day after, in a great fright for fear of Mrs. Ferrars, as well as not knowing how to get to Plymouth; for Lucy, it seems, borrowed all her money before she went off to be married, on purpose, we suppose, to make a show with, and poor Nancy had not seven shillings in the world; so I was very glad to give her five guineas to take her down to Exeter, ..." (3:13:370-71; 49:314). (italics added)
This takes us to the strange eruption of one Mrs. Denison, a lady never heard of before or again, and the placement of her dinner party. The reader will notice in my calendar that after the birth to Mr. and Mrs. Palmer of a son, Thomas (born "a few days" after the February 14th meeting of Elinor, Lucy, and Edward [2:14:246; 36:207], Mrs. Jennings vanishes from the present book for a fortnight-long vigil first over her daughter's parturition and her grandson's first week and one-half of lifel. Between 15 February and 3 March, Elinor and Marianne Dashwood find themselves constrained to "spend the whole of every day at Conduit Street" (2:14:246, 3:1:257; 36:207, 37:217). It is during this interval that Mrs. Dennison's musical party takes place. While there Mrs. Dennison's mistaken belief that Elinor and Marianne Dashwood are staying with John and Fanny Dashwood leads John Dashwood to think he and Fanny ought actually to have the Dashwoods spend a week of Mrs. Jennings's day-long absences from Berkeley-street with them, which suggestion Fanny pre-empts by saying she was about to invite the Steele sisters to Harley Street.
There is a whole group of oddities here. First, the musical party cannot be more precisely dated. Yet all the events in the novel from the time of the Dashwood's arrival at Barton Cottage (1:6, see above and calendar below) are chronicled with precision except for those intervals accounted for by letters up until this musical party is introduced. The events surrounding and leading up to the musical party are tracked precisely. Time always moves forward during this portion of the novel, and carefully delimited time intervals begin once again when Mrs. Jennings, Elinor, and Marianne resume their daily schedule at Berkeley Street. It is only the party itself and its important consequence, the coming to Harley Street of Lucy and Nancy Steele, that are left indeterminate (again see calendar below).
Second, the musical party is introduced abruptly, without any preparation, and by a sentence whose awkwardness we fail to notice because its sharp irony deflects our attention: "I come now to the relation of a misfortune, which about this time befell Mrs. John Dashwood. It so happened that . . . " (2:14:248; 36:208-9). Then suddenly jumbled into the text are a series of incidents several of which we are told occurred earlier in time, to wit, Mrs. Jennings's first visit with Elinor and Marianne to Fanny Dashwood; Mrs. Dennison's mistaken interpretation of their presence at Harley Street; and the subsequent double invitation (see calendar). These are hurried through to get back to the ironic frame of the paragraph which points our attention towards the musical party:
"The consequence of which was, that Mrs. Dashwood was obliged to the exceedingly great inconvenience of sending her carriage for the Miss Dashwoods; but, what was still worse, must be subject to all the unpleasantness of appearing to treat them with attention: and who could tell that they might not expect to go out with her a second time? The power of disappointing them, it was true, must always be her's" (2:14:248; 36:209).
I suggest Mrs. Dennison and her musical party constitute an afterthought smuggled in to explain how Lucy and Nancy Steele came to live at Harley Street, which circumstance Austen found she could not do without or change unless she were to rewrite how Fanny came to know that Lucy and Edward were engaged. We are told that it was "during the evening" of the party that the idea he ought to invite his sisters to his home "struck" John Dashwood so forcibly that later that night when he and Fanny came home that he "startled" her with a thought-out proposal. We are also told that "the next morning" she "wrote to Lucy, to request her company and her sister's, for some days" (2:14:252-54; 36:212-13). "Within ten minutes" of the arrival of this letter on the same day, Lucy shows Fanny's letter to Elinor and also "instantly discovers" her visit to Lady Middleton was "always meant to end in two days time" (2:14:254; 36:213).
I would not want to give up the musical party. The satiric flair with which Austen personates the awful Robert Ferrars is in the vein of the opening memorable and grating conversation between John and Fanny Dashwood. But that's not why Austen wrote the scene. She wrote it so she could account for the presence of Nancy and Lucy Steele in Harley Street with some appearance of probability. This way she kept the comic first person narratives of Mrs. Jennings, John Dashwood, and Nancy Steele (which were probably originally ironically juxtaposed letters) at the center of the novel's structural secondary climax (the first is Lucy's confiding to Elinor that Lucy is engaged to Edward).
In the calendar which follows I have gone beyond Chapman's format. I have italicized all dates, days of the week, numbers of days, times on the clock, months cited, numbered days and precise interstices of time in in the novel.
I have also provided brief intervening explanations of how I arrived at given dates or sequences, with some commentary upon those sequences -- mostly pointing out the epistolary nature of the structuring of events. I have further differed from Chapman by giving all the pages from which all information is taken or inferred. Ours is a gumshoes operation. Thus I have also provided consistently longer descriptions of what occurred on each date and, where necessary, the place in which it occurs as well as supportive quotations from the text. Letters are not only written from and by one character to another; they are written from one place to another.
We begin with the material offered to us through flashbacks (1762- 96). Chapter One begins in February 1796. This date was arrived at in the following way: I first calculated how long it would have taken Mrs. Henry Dashwood and her daughters to travel from Norland Park, Sussex, to Barton Park, Dorchester in "very early September" (three days), and then reckoned back "six months," the amount of time we are told Mrs. Dashwood and her daughters lived with John and Fanny Dashwood at Norland.15 I also call the reader's attention to two dramatic events which occur at the same time, and which an epistolary narrative would have made effective use of: while Mr. Henry Dashwood lies dying and extracts a promise from John Dashwood to provide for his stepmother and stepsisters, Willoughby and Eliza elope.
[In Philological Quarterly, the calendar begins here:]
1762-78. Birth of Colonel Brandon; shortly after his cousin, Eliza, an orphan, comes to Delaford Abbey, to live; she and he brought up together. "Our ages were nearly the same, and from our earliest years we were playfellows and friends . . ." When novel opens, Brandon is 35. (2:10:50, 2:9:205; 10:44, 31:173)

1778. Attempted elopment to Scotland of above Brandon and Eliza; one may work out she is 16. (2:9:206; 31:174)

1779. Brandon goes to East Indies; age 17 Eliza coerced into marrying his older brother. (2:9:206; 31:174)

1779, a few months later. The elder Mr. Brandon dies. (2:9:206; 31:174)

1781. Brandon's older brother divorces Eliza; she is now 19. ". . .I heard, about two years afterwards, of her divorce." (2:9:206; 31:174)

1781-82. Birth of second Eliza, later called Williams, illegitimate child of Eliza Brandon and unnamed lover. (2:9:207; 31:175)

1783-84. "Nearly three years after this unhappy period" (so 5 years after he left just before the marriage), Col. Brandon returns to England, searches for Eliza for "six months," and finds her in a "spunging-house" confined for debt. She had "some months before" he located her made over "the power of receiving [her allowance] to another person." (2:9:207; 31:175)

1784. He moves her from spunging-house, she is faded, worn, consumptive. Eliza Brandon dies. She leaves behind little Eliza, age 3. In 1798 Brandon says all this "untouched for fourteen years." (2:9:207-8; 31:175-76)

1781-86. Sir John Middleton visited Stanhill, Sussex, where lived Mr. and Mrs. Henry Dashwood and two young daughters. Sir John is Mrs. Dashwood's cousin. They were too young, it was "too long ago" for the young cousins to remember him" (1:1:6-7, 6:25, 30; 1:4, 6:25)

1786. The death of Mr. Henry Dashwood's uncle's sister. The above Mr. and Mrs. Dashwood and three daughters leave Stanhill and come to live with this uncle. The death of the latter's sister ten years before his own (1796, see below) led him "to supply her loss. . ." Elinor 8, Marianne 6, Margaret 2. (1:1:1-2; 1:1, 4:6-7)

1788. Edward Ferrars, age 14, sent to Mr. Pratt's at Longstaple, near Plymouth, Devonshire. "The youthful infatuation of nineteen would naturally blind him to everything but her beauty and good nature; but the four succeeding years . . ." (said December 1797, so when novel opens Edward 25-26). (1:22:130, 2:1:140, 3:13:362; 22:111, 23:118, 49:307)

1788-95. Charlotte Jennings spends 7 years at a great school in London. When we meet Charlotte she is around 20, had come out two years ago, so that would be age 18 (1795), 7 years back gets us to 1788. During this time Mrs. Jennings met Col. Brandon at Barton Park without Charlotte: "Mama saw him here once before;--but I was with my uncle at Weymouth." (1:20:114, II:4:160; 20:98, 26:135)

1790. Death of Mr. Jennings. "Ah! poor man! he has been dead these eight years and better" (said January 1798). (2:4:163; 26:137)

1791: Mrs Jennings visited Allenham even then in bad shape; on day Willoughby and Marianne go to Allenham she says "six years ago she saw Allenham and its "forlorn furnishings."

1792. Edward Ferrars, age 18-19, leaves Mr. Pratt's school; he is not entered into Oxford for full year, nothing to do. (3:13:362; 49:307; 1:22:101)

1792-93. Death of Col. Brandon's older brother. Col. Brandon inherits Delaford, and takes Eliza Williams, now about age 12, from school to visit him there. "after the death of my brother (which happened about five years ago . . ." (said January 1798). (2:9:208; 31:176)

1793. Engagement of Edward Ferrars, age 19, and Lucy Steele, age 18-19 (?). He spends year constantly visiting her at Longstaple, "where I always felt myself at home, and was always sure of a welcome. . ." (1:21:120, 22:131-32, 3:13:362; 21:102, 22:111-12, 49:307)

1794. Edward Ferrars gives Lucy Steele a miniature of himself. (1:22:132; 22:112)

1795. Eliza Williams, age around fourteen (the age is specified), goes to live with a woman in Dorsetshire with 4 or 5 girls around the same age; for two years all goes well. "It is now three years ago . . . I placed her . . . for two years I had every reason to be pleased . . ." (said January 1798). All specified. (2:9:208; 31:176)

1796. This the year Lucy Steele "never made any bones" about spying on Ann Steele, then 28; her friend, Martha Sharpe (combines names of Anne Sharpe and Martha Lloyd), 20-1; Lucy, 21-2. (1:21:120, 3:2:274; 21:102, 38:232)

February 1796. Mr. Dashwood's uncle dies, a "twelvemonth" before his nephew (see below for data which dates nephew's death to February.) (1:1:4; 1:4)

November 1796. John Willoughby concludes his annual visit to Allenham. "...when I was at Allenham this time twelvemonth . . . I never passed within view..." (said November 1797). He was 24; when novel opens one year later he is five and twenty. (1:10:50, 10:44; 14:73, 14:64)

Christmas 1796-97. Willoughby danced "at a little hop at the park" [Barton] from 8 P.M. to 4 A.M. "without once sitting down," and "up again at eight to ride to covert." "I remember last Christmas ..." (said 1797-8). (1:9:44-45; 9:40)

Christmas into February, 1796-97. Eliza Williams visits Bath with friend and friend's father. (2:9:208-9, 31:176)

February 1797. Death of Mr. Henry Dashwood; John Dashwood comes to Norland Park. Elinor 19; Marianne not yet 17; Margaret 13 -- all specified. (1:1:4-5, 3:14-15, 5:27, 6:28; 1:4, 3:12, 5:23, 6:24)

February 1797. Eliza Williams, just over 16 (so Marianne's age), elopes from Bath with Willoughby. "Last February, almost a twelvemonth back, she suddenly disappeared..." (said January 1798 when Eliza 17). (2:9:208; 31:176)

February-March 1797. "No sooner . . .funeral over," Fanny Dashwood arrives, with son, attendants; installs herself as mistress. Mrs Dashwood stays "several months" or "half a year's residence"; John Dashwood's "assistance extended no farther than their maintenance for "six months"(1:1:5, 2:8; 1:5, 2:7, 3:12, 5:23)

Early March 1797. Edward Ferrars "introduced . . . soon after his sister's establishment," spends most of his time there. 23-24.(1:3:15; 3:13)

April 1797. "Several weeks" later Mrs. Dashwood notices Edward and Elinor falling in love, looks forward to their marriage as rapidly approaching . . ." (Austen twice uses "several" to mean "at least four.") (1:3:16-17; 3:13-14)

Late July-early August 1797. Fanny Dashwood perceives Edward's regard for Elinor, becomes "uncivil;" we are told this happened "several months" after Mrs. Dashwood remained at Norland. (1:4:23; 4:19)

Early August 1797. Letter from Sir John Middleton just when Fanny Dashwood "affronts" Mrs. Dashwood. He offers Barton Cottage; Mrs. Dashwood "instantly" writes back accepting, and then "hasten[s] to shew both letters to her daughters." (1:4:23; 4:19)

Last three weeks of August 1797. "In a very few weeks every thing [from time of arrival of Sir John Middleton's letter] is so far settled . . . as to enable Mrs. Dashwood and her daughters to begin their journey into Devonshire. Marianne wanders alone for "hours" on that "last evening" (and has that comic soliloquy) (1:5:27; 5:23)

Wed-Thursday 29-31 August 1797. "Marianne wandered alone before the house "the last evening." "Mrs. Dashwood and her daughters begin their journey." They had had "half a year's residence" in Fanny Dashwood's family; John Dashwood's "assistance extended no farther than their maintenance for "six months". (1:5:27; 3:12;5:23)

Saturday 2 September 1797. "Very early in September" the Dashwoods arrive Barton Cottage. "The season is fine . . . " (1:6:28; 6:24)

Sunday 3 September 1797. "After breakfast the next day" Sir John Middleton comes to call with "a very civil message" from his wife, [Mary], Lady Middleton, "denoting her intention of waiting upon Mrs. Dashwood;" Mrs. Dashwood answers the note with "an invitation" "equally polite." "Within an hour" Sir John sends a basket of "garden stuff and fruit," and before day's end a "present of game." Sir John 40, Lady Middleton 26-27. (1:6:30-31; 6:25-26)

Monday 4 September 1797. Lady Middleton visits Barton Cottage, bringing eldest boy, John. Dashwoods promise Sir John to dine at Barton Park "the next day." After this Sir John calls on Dashwoods "every day for the first fortnight" (4-18 September); he also from then on "conveys all their letters to and from the post for them," and sends them "his newspaper every day." (1:6:31, 9:40; 6:26, 9:36)

Tuesday 5 September 1797. A conjectured Tuesday. The Dashwoods dine at Barton Park; an hour before "within an hour"), Mrs. Jennings, Lady Middleton's mother arrives within "the last hour"; Brandon 5 years younger than Mrs Dashwood who is not quite 40 (1:8:33; 1:9:29); they meet Col. Brandon, age 35, who listens intently to Marianne play" on the pianoforte. (1:7:33-35; 7:28-30)

Friday or Saturday 15 or 16 September 1797. The Middletons return "the visit," bring Mrs. Jennings and Brandon, who again listens "attentively" to Marianne's singing. Dated by next day conversations when Marianne says they "have now been here almost a fortnight." (1:8:36, 38; 8:32, 34)

Sunday 17 September 1797. The above conversations, first between Elinor and Marianne when latter says 35 too old for anyone to marry except 27 year old desperate woman, then between Mrs. Dashwood and Marianne when latter wonders why Edward does not come. (1:8:37-39; 8:33-34)

Monday and Tuesday 18-19 September 1797. Sir John's "fortnight" long daily visits cease for first time when "a settled rain" lasts for "two days." (1:9:40-41, 9:36-37)

Wednesday 20 September 1797. Willoughby and Marianne meet "one memorable morning," the rescue and his departure "in the midst of an heavy rain." (1:9:41-42; 9:37-38) .

Thurs-Fri, 21-22 September 1797. Sir John calls and tells what he knows of Willoughby in the "next interval in the rain" (1:9:39). Will ride over and ask him to dinner on '"Thursday" He reports once "Christmas" Willoughby danced from "eight o'clock till four, without once sitting down"(9:39)

Thursday to Wednesday 21-27 September 1797. Willoughby calls "early next morning," then "every day;" before the "end of a week" Mrs. Dashwood hopes for and expects a marriage. (1:10:46, 48-9; 10:41- 43)]
From October through to the last two or three days of the visit of Edward Ferrars to Barton Cottage, I arrived at the dates by working backwards from the time of Willoughby's sudden departure from Allenham a week or so after Brandon's departure (see below). This frantic departure Brandon tells us (in February, "almost a twelvemonth back" from the time of Willoughby's and Eliza's elopement) was the result of a "letter from" Eliza Williams, "last October" (1:9:208, 31:176). These events cohere with the time of Willoughby and Brandon's duel in London, which Brandon says occurred after Eliza Williams almost immediately gave birth in the country and "within a fortnight after" Brandon himself arrived in town (2:9:211, 31:178). All these events as described and dated also tally with Edward's arrival at Barton cottage in mid-November (a time when dead leaves cover the ground) which followed hard upon the two weeks he spent at Longstaple with Lucy and Anne Steele, and a "month" after he left Norland Park (1:16:87, 22:134; 16:76, 22:113). The days between Willoughby's sudden departure and Edwards' arrival are gone through through one-by-one as the phases of Marianne's grief.
The day of the arrival of the Palmers (Thursday 23 November 1797) until the break in time between Lucy's confiding the whole of her history to Elinor, and the movement of Mrs. Jennings and Elinor and Marianne Dashwood to London depends on working backwards and forwards from two statements: one by Elinor and the other by Lucy Steele. In early March (on a day that can be dated by explicit references to days and weeks of the month given us by the narrator and Nancy Steele in Volume 3, see calendar below) Elinor tells Marianne that she has known about Lucy's engagement "these four months. When Lucy first came to Barton Park last November, she told me in confidence of her engagement" (3:1:262; 37:221).
That Lucy and Anne first came to Barton Park towards the close of November is confirmed by Mrs. Palmer when she tells Elinor she met Colonel Brandon in London on the Monday morning before she and Mr. Palmer set out from London for Barton Park (20 November, see calendar below). Again working from a minimum three day road trip, we find the Palmers arrived late at night on 23 November 1797. This is consistent with the Steele's arrival on 27 November, the day after Sir John and Mrs. Jennings invite them to stay at Barton Park, and Elinor's reference to "last November" as the time "when Lucy first came to Barton Park" (3:1:262; 37:221).
To discover exactly what day it was when Lucy confided to Elinor her history is made easy by Lucy. Although the Steeles arrived at Barton Park in late November, Elinor sees Lucy more "than twice" (see below Thursday 30 November 1797) before she discovers why during their second encounter Nancy Steele says she knows Edward Ferrars very well. This throws us into the first week of December (still four months before the middle of March) for the first conference which Lucy dates in the second by saying she was "somehow or other afraid I had offended you by what I told you that Monday" (2:2:146; 24:123). The Monday referred to in the year 1797 was 4 December 1797.
I remind my reader that there is an indeterminate interval of time between Lucy and Elinor's last conference and the arrival of the Dashwoods and Mrs. Jennings in London which is filled up by Elinor's long meditation.16 Built into the Dashwoods' time at Barton Cottage are also a whole host of ironic contrasts which parallel correspondences in an epistolary novel would make effective use of: for example, Marianne's "season of happiness" occurs just when we lose sight of Edward, and Elinor is anything but happy; at the very time Willoughby is declaring his undying affection for the Dashwoods and Barton cottage as is, Brandon is removing Eliza and her new-born baby to the country; at the very time of Marianne's most violent affliction, Willoughby and Brandon duel and Edward is visiting Lucy Steele.
Finally, there is a reinforcing parallelism of similar events up to the time the girls leave for London which the epistolary format would bring out strongly. On or about the very day Mr. and Mrs. Palmer left Cleveland so suddenly and hastily for London, the Dashwoods girls see Edward Ferrars galloping urgently on the road which lead to Barton Cottage (see above, 15 November 1797 and below, 23 November 1797) Here we can also note that Austen keeps her eye not only on the time it takes to travel from one place to another, she also makes the way a character goes on a trip reveal facets of that character's imagined personality and relationships with others. In excuse for her leaving the day after she has arrived at Barton Park, Mrs. Palmer says: "It was quite a sudden thing our coming at all, and I knew nothing of it till the carriage was coming to the door, and then Mr. Palmer asked me if I would go with him to Barton" (1:20:110; 20:95); the swiftness of the trip reminds Mrs. Jennings of Brandon, but, given her daughter's "situation," she deprecated it, and we see Mr. Palmer's lack of concern for his pregnant wife (1:19:106-7, 19:92-93); we also that Charlotte did not try to make any choice of her own felt. There is a parallel here with the Steele young women too: they are ready at a day's notice to go and live with just about anyone who has access to a comfortable house and a table with food upon it.
[In Philological Quarterly, the calendar continues here:]
1-22 October 1797. "A showery [first three weeks of] October." "This was the season of happiness to Marianne." (1:11:53- 54; 11:47-48);

Monday 16 October 1797. Edward leaves Norland. "I was at Norland about a month ago" (said 16 November, see below). Two weeks unaccounted for; a time of dejection while "Elinor's happiness was not so great . . ." We later account for this as "fortnight" with Steeles (1:11:54, 16,87; 11:48, 16:76)

? Wednesday 25 October 1797. "One evening at the park:" Brandon confides in Elinor that a lady he onced loved "greatly resembled" Marianne. (1:11:55-57; 11:49-50)

Thursday 26 October 1797. "The next morning" Marianne tells of Willoughby proposed present of a horse; later "the same day" Willoughby calls at the cottage," their "intimate direct" tone and his use of Marianne's first name persuades Elinor they are engaged; that evening Margaret observes Willoughby cut off a lock of Marianne's hair. (1:12:58-60; 12:51-52)

Friday 27 October 1797. "The next day" Margaret describes the lock- cutting scene. (1:12:61, 12:53)

Sunday 29 October. "One evening at the park" Mrs Jennings elicits from Margaret that Elinor has favorite male whose name begins with F; on this evening while "it rained very hard," the party formed to go to Whitwell with Brandon "the following day". (1:12:61-62; 12:54)

Monday 30 October 1797. "It rained all night;" by "10 o'clock" party gathers without Mrs. Dashwood (who has "a bad cold;" we are again told "it had rained every day for the last fortnight"); letters brought and that for Col. Brandon utterly "discomposes" him; he must set out for London, and to Willoughby's statement that if he stays for the trip he "would not be six hours later," he replies he cannot "afford to lose one hour." He will ride to Honiton and from there "go post." Mrs Jennings suggests that Brandon has a natural daughter named Miss Williams, and we learn that Willoughby normally gets up at noon. "The first news that reached me of her . . . came in a letter from herself, last October" (said 18 January 1798). That evening the Dashwoods dine at the park, and there is a dance. We learn from Mrs. Jennings that Marianne and Willoughby spent "the morning" at Allenham, and that six years ago she saw Allenham and its "forlorn furnishings." Minute descriptions of the time they spent there. It's after this we get comment that Elinor sees in their behavior proof "of what had taken place" (some kind of near sexual encounter to justify thinking they are engaged). (1:9:208, 13:63-68; 13:56, 31:176)

Tuesday to Thursday 31 October to 2 November 1797. For two or three days Mrs. Jennings "wonders" over Brandon's history; Elinor wonders over Marianne and Willoughby's "extraordinary silence." (1:14:70-72, 14:63- 64)

Wednesday 1 November 1797. Edward spends "fortnight" at Longstaple with Lucy and Anne Steele. (1:16:87, 22:134; 16:76, 22:113)

Monday 6 November 1797. "One evening . . . about a week after" Brandon departed, Willoughby exclaims against "improving" Barton Cottage, says he "was at Allenham this time twelvemonth." Dashwoods to walk to Lady Middleton's next day; Mrs. Dashwood engages Willoughby to dine with them "by 4 o'clock." (1:14:72-73; 14:63-64)

Tuesday 7 November 1797. Marianne had excused herself from going with mother and sisters; her morning private interview with Willoughby, "violent affliction," his refusal to accept an invitation to return, and departure. "My visits to Mrs. Smith are never repeated within the twelvemonth." Mrs. Dashwood's assertion that for previous "fortnight" Willoughby had behaved liked an "engaged man;" we learn later that "in the interim" Mrs. Smith had discovered Willoughby's affair with Miss Williams and demanded Willoughby marry her as price of her forbearance." (1:15:75-78, III:8:323; 15:66-68, 44:274)

Wednesday 8 November 1797. Marianne does not sleep or eat; next day "after breakfast" she wanders about "village of Allenham" crying; "that"evening" she plays, sings, and indulges in grief. (1:16:83; 16:75)

Thursday to Monday 9-13 November 1797. "A few days" pass in which Marianne sinks into "calmer melancholy;" "several days" (more indeterminate) after Willoughby gone Mrs. Dashwood mentions Willoughby's name, "takes up a volume of Shakespeare," saying "it may be months" before Willoughby's return, to which question Marianne replies "No -- nor many weeks." (1:16:83-85; 16:73-75) Still not specified.

Saturday to Monday 11-13 November 1797. Willoughby and Brandon duel: "when he returned to town...within a fortnight after myself, we met by appointment." (2:9:211; 31:178)

Wednesday 15 November 1797. "One morning" three girls walk to the "long stretch of the road" which they travelled to get to Barton originally; see "animated horseman riding towards them; not Willoughby but Edward Ferrars; the dinner and conversation by fire talking of Edward's profession, and the difference between wealth and competence (1:16:86, 17:90, 16:75, 17:79)

Thursday 16 November 1797. "The next morning" "after breakfast" Edwards goes to village "to see my horses;" Marianne notices his "ring with plait of hair" the color of Elinor's in center. "Before middle of day" Sir John and Mrs. Jennings visit the cottage, invite everyone to tea at Park that night, to dine and dance the next day. This day begins the "F" jokes. (1:18:96-97, 99; 18:84-87) Tick tock tick tock.

Monday 20 November 1797. Mrs. Charlotte Palmer meets Brandon "Monday morning in Bond Street, just before" she leaves London for Barton, and she tells how everyone is talking of Willoughby and Marianne's engagement. (1:20:115; 20:99)

Sunday to Wednesday, 19-22 November 1797. Edward's spirits "during last two or three days... greatly improved; "he must" leave "at the end of the week" though nowhere to go and no work to do; he tells some of his history "the last morning at breakfast." Elinor at drawing table her time there accounted for slowly (1:19:101-3; 19:88-90)

Thursday 23 November 1797. At night, after dinner Mr. and Mrs Palmer arrive at Barton Park. Again Mrs Palmer says she met Col. Brandon in London on 20 November (see above), if the married pair left in haste for Barton by way of London ("I can't help wishing they had not travelled quite so fast, nor made such a long journey of it, for they came all round by London on account of some business . . .) working 3-4 days backwards for travel and one on which to transact business takes us to 15 or 16 November as the day the Palmers left Cleveland. (1:19:106-7, 20:110; 19:92-93, 20:95)

Friday 24 November 1797. Elinor "roused one morning" (two days?) soon after Edward's leaving, when Sir John and Mrs. Jennings bring the Palmers to her window. Sir John urgent with them "to spend the next day at the Park." (1:19:105, 108; 19:91, 94)

Saturday to Sunday, 25-6 November 1797. Elinor and Marianne coerced into dining with Palmers and Middletons at Barton Park; next day Palmers depart. ". . . it is so bad a day I was afraid you might not come . . . we go away tomorrow . . .for the Westons come to us next week . . ." Would the Dashwoods consider coming for "Christmas?" (1:20:110, 113; 20:95, 97)

Monday 27 November 1797. Almost immediately "in a morning's excursion" Sir John and Mrs. Jennings go to Exeter, meet two female relations, and invite them to Park, who resolve "instantly" to come. (1:21:118; 21:101)

Tuesday 28 November 1797. Anne (Nancy) and Lucy Steele arrive, Nancy near 30, Lucy not more than 22-23. "Before they have been an hour at the park" they win approval of Lady Middleton, and Sir John sets off to bring Dashwood sisters "to walk to the park directly." He can only "obtain a promise of their calling within a day or two." "When Lucy first came to Barton Park last November . . . " (said by Elinor 7 March 1798). (1:21:119, 3:1:262; 21:102, 37:221)

Wednesday 29 November 1797. Dashwood sisters pay "morning" visit the next day; incident of spoilt child, Annamaria; Elinor receives first hints from Nancy that Steele sisters know her and Edward Ferrars's history. (1:21:120, 122; 21:102, 104)

Thursday 30 November 1797. "Elinor had not seen them more than twice" when she learns Nancy knows Edward Ferrars "very well" and "something to his disadvantage," when Nancy asks her if she has "a friend in the corner" and is then disturbed by Steele sisters' response to Sir John's comment "his name is Ferrars." (1:21:125-26; 21:106-7)

Monday, 4 December 1797 (This could have also taken place on Monday, Dec 11th or 18th, though Monday the 18th unlikely as it comes too close to Christmas itself which is not mentioned and would be were it occuring on Christmas eve or day.) We are told the pairs of sisters "met at least every other evening either at the park or the cottage, and chiefly at the former," and see Elinor learn whole truth from Lucy "one day ["a morning discourse"] as they were walking together from the Park to the cottage." Among significant details: the engagement 4 years old, though Edward and Lucy have "hardly met above twice a year;" his years at Mr. Pratt's; his gift of a miniature of himself: I had it above three years, his fortnight with us in Longstaple just before coming to Barton and her gift to him of a lock of her hair set in a ring; Elinor repeats word, Fortnight he said; finally their continual correspondence, of which she produces a specimen letter in his hand. "I have known it these four months (said 7 March 1798 by Elinor); also Lucy refers to this conference after 4-5 days have passed (see above and below) as "that Monday." (1:22:128, 130- 34, II:1:143, 2:146, 3:1:262; 22:108, 110-14; 23:120, 24:123; 37:221)

Friday to Saturday 8-9 December 1797 (or Fri-Sat, 15-16 Dec). "It was not immediately an opportunity" of another conversation arose. The weather is not "fine" enough to "allow of their joining in a walk;" and "one or two meetings" of the kind that occur every other evening (in which there is no opening for private conversation) had passed, when "one morning" Sir John calls to ask Dashwoods to dine at Park for he must go to club meeting in Exeter and if they don't come, she "would otherwise be quite alone, except for her mother and the two Miss Steeles." Under cover of Lucy's making a basket for Annamaria and Marianne's loud piano-playing, Lucy adds to history of herself and Edward and Edward's family, tells of her plans for their future. Also that she and Nancy will be in London at "the latter end of January" because "Edward will be there in February." (2:1:142-43, 2:145-51; 23:120, 121, 24:123-27)

25 December 1797. During this week the engagement of Lucy and Edward only revived between her and Elinor "whenever" Lucy "received a letter from Edward." Frequency of Edward's letters impossible to determine. (2:2:151; 24:127)

Friday to Wednesday 22-27 December 1797. "On the approach of January" Mrs. Jennings asks the Miss Dashwoods to come with her to London; Mrs. Dashwood "perceiving how much the heart of Marianne was in it," despite "the time of year" (Christmas and January) overrides Elinor's strong reluctance to go. (2:3:153, 155-57; 25:129, 131-32)

Tuesday to Thursday 2-4 January 1798. Mrs. Jennings and Elinor and Marianne journey to London: "their departure took place in the first week in January." "They were three days on their journey . . . "They reached town by three o'clock the third day." (2:3-4, 158-60; 25:133-35)

Thursday 4 January 1798. 3-5 o'clock. "As dinner was not to be ready in less than two hours," Elinor writes a long letter to Mrs. Dashwood while Marianne writes a much briefer one to Willoughby and has it immediately "conveyed" by "the two-penny post." "Tea-time" Col. Brandon visits with "commission" from Palmers to say Mrs. Palmer will come to Berkeley Street "to-morrow." (2:4:160-61, 163; 25:135-37)

Friday 5 January 1798. "Next morning" Mrs. Palmer drives over from Hanover Square; "an hour or two" of "comfortable chat;" all four women go to Bond Street to shop; it was already late in the morning when they returned to find no "letter or card" from Willoughby which Marianne finds "very odd;" a dinner with Mrs. Palmer, Mrs. Jennings and two of her friends; all evening Marianne restlessly "on the watch," waiting for Willoughby to appear. (2:4:164-66; 26:138-40)

Saturday 6 January 1798. "The following morning at breakfast," "open weather," and Mrs. Jennings remark that this will keep a sportsman like Sir John in the country gives Marianne rationale to believe Willoughby still in Somerset, though it is on this day that the Middletons set out for London. "The Middletons were to follow [the Dashwoods and Mrs. Jennings] in about a week;" also see directly below, 10 January 1798. Elinor suspects Marianne now writes a letter to Combe Magna; they leave cards at houses of acquaintances and all morning Marianne looking for signs of frost. (2:2:167-68, 3:158; 27:141-42, 25:133)

Saturday to Tuesday, 6-16 January 1798. The Dashwoods are more or less fitted into Mrs. Jennings's routine of leisured breakfast, shopping, evening parties formed for cards; Col. Brandon is at the house " almost every day." (2:5:168; 27:14)

TUESDAY 9 JANUARY 1798. "About a week after their arrival," on a day Willoughby refers back to (see below 16 January 1798) as "LAST TUESDAY," Willoughby "watches" Dashwoods "out of the house," and leaves his card, which Marianne sees when they come "in form the morning's drive." That "night" Middletons arrive in Conduit Street; Lady Middleton has a bad cold and Sir John business to conduct. Marianne on the watch every hour of the day (2:5:169- 70, III:8:326-27; 27:142-44, 44:277).

Wednesday 10 January 1798. "The next morning" Marianne "insists on being left behind when others went out;" a note from Lady Middleton arrives telling them she and her family arrived the day before, and inviting them to a dance; Marianne forced to go, and hears from Mrs. Jennings that Sir John had met Willoughby in London "this morning" and invited Willoughby to come, but Willoughby refused. Willoughby later confirms Mrs. Jennings's story ("I blundered on Sir John, I believe, the first day of his coming, and the day after I had called at Mrs. Jennings's"). Sir John had arrived the night before, but Willoughby first saw him on Wednesday . This is day of painful dialogue where where Elinor says "'You have no confidence in me, Marianne,' and Marianne replies, 'Nay, Elinor, this reproach from you -- you who have confidence in no one!' 'Me! ... indeed Marianne, I have nothing to tell." "Nor I ... our situations then are alike. We have neither of us any thing to tell, you, because you communicate, and I becuase I conceal nothing.' (2:5:169-72, III:8:326-27; 27:143-45; 44:277)

Thursday 11 January. "After breakfast" Marianne writes to Willoughby. Then "about middle of day" Mrs. Jennings goes out by herself and Elinor writes her mother a letter urging her to ask Marianne whether she and Willoughby are engaged or not; "her letter scarcely finished," Col. Brandon comes to ask after a pause of several minutes whether he has a chance of "succeeding" with Marianne as Willoughby and she "openly correspond, and their marriage is universally talked of." (2:5:171-73, III:8:326-27; 27:144-45, 44:277)
[I then point out how Austen indicates the first traumatic climax of Marianne's story occurs on a Tuesday:]
The night of the traumatic climax of Marianne's romance with Willoughby may be precisely dated by inference from what just precedes and follows it, and by Willoughby's statement that he left his card at Mrs. Jennings's house "last Tuesday" (see below, 16 January 1798). We are told nothing of significance occurred for three or four days after 11 January 1798; then the end of that time, I take to mean the fifth day, 16 January 1798, a Tuesday in 1798, but it could equally be on the Monday Night. Willoughby then cannot refer to last Tuesday as a week ago if the party occurred 17 January 1798. So it's the 15th or 16th and before the 17th. Bad Tuesday is either the night of the humiliating shocking moment or it's the next morning when she writes her letetr and gets back a mortifyingly insulting letter. I incline towards Tuesday the insult and Wednesday the letter because just this named sequence of days occurs in Lady Susan at a crisis point and the rest of the calendar (following the tick-tocks) fits Tuesday/Wednesday rather than Monday/Tuesday better. The narrator tells us that "early in February, within a fortnight from the receipt of Willoughby's letter" (see below, 1 February 1798), Elinor sees the announcement in the newspapers of Willoughby's marriage to Miss Sophia Grey. Willoughby's letter has therefore to have also been delivered before Thursday 18 January 1798. Since we are told he sent it the morning after in response to hers to him, from that angle the conclusion is the day the final letters between Willoughby and Marianne were exchanged occurs on Wednesday 17 January 1798.
As has been said, there is an indeterminate interval of time between 16-19 January 1798 and the arrival of the Steeles and then the Dashwoods of Sussex in London. The dates which begin with 27-29 January 1798, are arrived at by reckoning forwards and backwards from the time Elinor and Marianne met John Dashwood "at Gray's in Sackville street" (a jeweller's), and from his and Fanny's dinner party. This party plays a pivotal role in the plot by bringing Lucy to the attention of Fanny Dashwood and Mrs Ferrars; like the final interview between Willoughby and Marianne, it occurs on a Tuesday in the middle of the month.
[In Philological Quarterly, the calendar resumes here:]
Monday or Tuesday 15-16 January 1798. "Nothing occurred during the next three or four days . . . about the end of this time" Dashwoods engaged to attend Lady Middleton to a party. Marianne's public suffering is at least not prolonged. The meeting occurs soon after the Dashwoods enter the room: "They had not remained in this manner long . . . " The important statement for the chronologist is Willoughby's "I did myself the honour of calling in Berkeley-street last Tuesday . . . My card was not lost, I hope." (1:6:175-77; 28:148-49)

Tuesday or Wednesday 17 January 1798. The first letter in the novel we get to read; four altogether, one by Willoughby, and three by Marianne. "The next day . . . a cold, gloomy morning in January," Marianne writes Willoughby last letter which is sent from his lodgings to where he is breakfasting with Sophia Grey at the Ellison's. During long breakfast she receives the reply ("Bond Street, January"), together with her 3 letters of 4, 11, and 17 January 1798, and the lock of her hair. Around 1 o'clock Elinor is perusing Willoughby's letter and remains dazed by Marianne's side until the coming of Mrs. Jennings's "chariot" to take Mrs. Jennings to Mrs. Palmer's rouses her to go over the letters with Marianne. Talk and she tells Marianne they cannot go to-morrow. Mrs. Jennings arrives before dinner to tell history of Willoughby and Miss Grey; Marianne comes down to dinner, but forced to flee; afterwards Mrs. Jennings tells of her time with Charlotte stuffing themselves at Delaford. Tea-time (surely later in evening now) Brandon arrives and tells what he has learned about Willoughby and Miss Grey. (2:7:180, 183, 187-88, 8:192-200; 3:8:325-26; 29:152, 154, 157-58, 30:162-69; 44:278-79)

Thursday 18 January 1798. "The next morning" after "a night of more sleep than she had expected" for Marianne, Mrs. Jennings brings trusting confident letter from Mrs. Dashwood to Marianne. Mrs. Jennings leaves "earlier than usual" (so before 1?) to go tell news to Palmers and Middletons; "a quarter of an hour" later, Brandon interrupts Elinor's attempt to write Mrs. Dashwood again, Marianne flees, and Brandon tells his history. He had spent "many hours the night before" "convincing himself" he must tell tale. (2:9: 201-11; 31:170-78)

Friday to Friday, 19-26 January 1798. By the "end of two days" after the above revelations Mrs. Jennings has still failed to "prevail upon" Col. Brandon to propose or "commission her" to propose to Marianne, and she begins to think "that, instead of Midsummer, they would not be married till Michaelmas;" "by the end of the week" she decides it will be "be a match after all" and suspect Brandon will propose to Elinor. We move ahead one week. (2:10:216; 32:182-83)

Saturday to Monday 27-29 January 1798. The Miss Steeles "were prevailed on to stay nearly two months at the park;" that is, they stayed from 28 November 1797 until well after the Middletons left for London on 6 January 1798 (see above). "The Miss Steeles kept their station at the park, and were to quit it only with the rest of the family." (2:2:152, 3:158; 24:128, 25:133)

Thursday 1 February 1798. Willoughby marries Miss Grey, they leave town, and Marianne begins gradually to go out again. "Early in February, within a fortnight from the receipt of Willoughby's letter," Elinor reads the announcement; the "Willoughbys left town as soon as they were married;" Elinor now "hoped . . . to prevail" on Marianne. . .to go out again by degrees as she had done before." (2:10:217, 32:183)

Friday to Monday 2-5 February 1798. "About this time [early in February] the two Miss Steeles" present themselves "in Conduit and Berkeley-street." Since they too went by post-chaise, we may assume they too took 3 days, but since Lucy accuses Elinor of staying "above a month" and the Dashwoods arrived 4 January 1798, the Steeles did not immediately present themselves. (2:10:217- 18, 32:183-84)

Monday 5 February 1798. Fanny and John Dashwood take a "very good house" in Harley-street "for three months." When Elinor meets John Dashwood at Gray's she finds "he and Fanny had been in town two days." (2:11:221, 12:230; 33:187, 34:195)

Tuesday 6 February 1798. Fanny and John Dashwood take Harry to see "the wild beasts" at Exeter Exchange, and spend the rest of the day with Mrs. Ferrars. "Yesterday . . . we were obliged to take Harry" (said on following late morning). (2:11:222; 33:187)

Wednesday 7 February 1798. "One morning at Gray's Elinor and Marianne first encounter Robert Ferrars (whom they do not know) and then John Dashwood who tells them he has been in town two days, meant to call this morning, but would certainly come "to-morrow" to Berkeley- street. (2:11:222; 33:187)

Thursday 8 February 1798. The next day John Dashwood visits for "half an hour" without Fanny; Mrs. Jennings promises to visit Fanny with "her sisters," and Dashwood meets Brandon who also calls. Dashwood and Elinor's walk to Conduit-street where he meets Middletons and sees Lady Middleton will suit Fanny. (2:11:222-23, 228; 33:188, 192)

Friday 9 February. Fanny "waits the very next day" on both Mrs. Jennings and Lady Middleton; of quarter an hour bestowed on Berkeley-street, of which "she sat at least seven minutes and a half in silence." Lucy also calls to tell Elinor Edward arrived with the Dashwoods; he and she cannot meet but do write. Edward calls and leaves care twice between this day and day of dinner party (see directly below). (2:12:229-30; 34:194-95)

Saturday 10 February 1798. "A few days before" (a few means three in Austen) Fanny Dashwood's party takes place Lucy and Nancy Steele go to live with Middletons. The invitation to the Middletons and Mrs. Jennings and Elinor and Marianne occurs at the same time ("as soon as the invitation was known") as the visit of the Steeles in Conduit Street so Steele sisters invited to said party too. (2:12:230-31; 34:195)

Sunday to Monday, 11-12 February 1798. Elinor learns Lucy is coming and Edward is not. (As Willoughby did not show to Middleton's party.) She probably learnt of Lucy's invitation to Harley Street when during this internal she and Mrs. Jennings made their first visit to Fanny Dashwood. The visit is first described after Mrs. Palmer gives birth (see below), as one during which Mrs. Dennison, an acquaintance of Fanny's, thought the Dashwoods were living with her so invited them to the musical party to which she also invites Fanny and John Dashwood and Robert Ferrars. (2:12:231, 14:248-49; 34:196, 36:208-9)

TUESDAY 13 February 1798. "The IMPORTANT TUESDAY" dinner party which "introduces" Elinor and Lucy to Mrs. Ferrars who "distinguishes" Lucy in order to spite Elinor. Elinor overtly snubbed. (2:12:231-36; 34:196-99).

Wednesday 14 February 1798. "The next morning" Lucy calls to boast of the attentions Mrs. Ferrars paid her; "soon after she arrived," "a message from Mrs. Palmer . . . carried Mrs. Jennings away," and we have unexpected call of Edward Ferrars and Marianne's blind behavior before Elinor, Lucy, and Edward. At Harley Street Mrs. Dennison's invitation to all the Dashwoods to attend her musical party comes "within a day or two" after Mrs. Dennison met the Dashwoods and Mrs. Jennings on their first visit to Fanny. "Within a few days" time the baby is born and Mrs Jennings begins to go to her daughter "every morning."(2:13:238, 14:248-49; 35:201, 36:208-9)

Fri, 15 Feb - Fri 2 March: Indeterminate time, Mrs Dennison's dinner party takes place. This was added on or inserted into the scheme to explain how Lucy was living with Mrs Dashwood and not part of original letters. There was no need to date it. Still telling time: in the "first five minutes" of Steeles meeting the Dashwoods they pay intense attention to Dashwoods' outfits Lucy is invited to live in Harley-street and discovers visit to Lady Middleton meant to end in "two days' time"; note shown within "ten minutes of its arrival." (2:14:208, 209, 213)

Saturday 3 March 1798. "At the end of a fortnight" Mrs. Jennings no longer gives "up the whole of her time" to Mrs. Palmer, "contents herself with visiting her once or twice a day," and therefore returns to old routine of Berkeley Street existence with Miss Dashwoods. (3:1:257; 37:217)

Wednesday 7 March 1798. "About third or fourth morning" later Mrs. Jennings rushes in to describe scenes she says she had from Mr. Donovan, both the Palmers' and Dashwoods' physician. Nancy Steele told Fanny Lucy and Edward engaged "above this twelvemonth;" Fanny in "hysterics" all day; Steeles thrown out before dinner; later in day Edward quarrels with mother and leaves Park Street. Elinor now tells Marianne Edward engaged to Lucy Steele which she Elinor has known "for four months" (since "last November"). (For day of the week see Nancy Steele's particulars under 11 March 1798 below; Nancy cites four days specifically.) (3:1:258- 59, 262, 265, 266, 2:272; 37:218-19, 221, 224, 38:229)

Thursday 8 March 1798. "The next morning" brings John Dashwood to give his version of the climactic scenes. Edward was to have married Miss Morton "within three months." (3:1:265-68; 37:224-25)

Thursday to Saturday 8-10 March 1798. While John Dashwood reports Edward left his mother's house "yesterday" without knowing where he went, Nancy Steele (see directly below) says Edward "got upon his horse, and rid into the country somewhere or other" and he "staid about at an inn all Thursday and Friday, to get the better of it". For Saturday see 11 March 1798 below. (3:2:273; 38:230)

Friday to Saturday 9-10 March 1798. "Nothing new was heard" by those in Berkeley Street "of affairs in Harley-street, or Bartlett's Buildings." Mrs. Jennings "hindered" from visiting Steeles by "more visitors than usual." (How Austen dislikes this intensity of inane socializing.) (3:2:270-71; 38:230)

Sunday 11 March 1798. "The third day succeeding their knowledge of the particulars" [John Dashwood's report]: This one of the places we are given three counters at once: Sunday, second week in March. This "Sunday" was "so beautiful, so fine a Sunday as to draw many to Kensington Gardens, though it was only the second week in March." Elinor and Mrs. Jennings meet Nancy Steele and Nancy gives many particulars of Edward's and Lucy's behavior and narrates climactic scene between them. She names and connects specific days of the week with specific events, i. e., "we came away from your brother's on Wednesday, and we saw nothing of him not all Thursday, Friday, and Saturday . . . this morning he came just as we came home from church . . . " See also 8-10 March 1798 above. Marianne said to be absent because Willoughbys again in town. (3:2:271-75; 38:229-32)

Monday 12 March 1798. We are told "the next morning" brought the letter from Lucy to Elinor, "Bartlett's Buildings, March;" she gives different version than Nancy of above scene with Edward; he stayed "two hours." A fifth letter. (3:2:277-78; 38:234)
At this point I interrupt our chronology because the following interval of time includes the trip from London to Cleveland Park, Somerset and the references to Easter that led me to conjecture and use the years 1797-8 for this calendar. I want to point out that using Sunday 8 April 1798 as a starting point also coheres with when we are told the discussions of when to leave London occurred and with other events we are told occurred in the middle of March right after Lucy's letter of 12 March 1798 (see above).
We are told these discussions fell "a few" or "three weeks" before the "end of March," beginning of April; that is, in the middle of the third week of March, immediately after Lucy's letter, namely, between 13 and 15 March 1798. This middling time of March includes the day Edward travels to Oxford, the one on which when the thought occurs to Elinor that as "It was now above a week since John Dashwood had called in Berkeley-street," she ought to visit Harley Street (3:5:293-94; 41:248-49). As both Colonel Brandon and Edward had called the day before (see below), and we are given to understand these calls occurred a couple of days after Lucy's letter was received and much discussion of a plan that would enable the Dashwood sisters to return to Barton (3:3:279-80; 39:236-37), the day Edward left London and Elinor visited John Dashwood would be either 16 or 17 March 1798.
These two days are consistent with two slightly varied comments on the plan which seemed "more elible than any other." On the one hand, Elinor acknowledges that the plan's drawback is it will "detain them from home yet a few weeks longer;" on the other, she says, since Cleveland is "within a few miles of Bristol, the distance to Barton" is "not beyond one day, though a long day's journey." If, therefore, they can manage to make the trip in one day with the help of a servant, they will be home "in little more than three weeks" (3:3:270-80, 41:248-49).
I also ask the reader to observe that we can add two following parallel sets of letters to the various correspondences we have already noticed. There is Elinor at Cleveland Park, Somerset, to her mother, at Barton Park, Devonshire; and there is Mrs. Jennings, also at Cleveland Park, to her daughter, Lady Middleton, in Conduit Street, London. In addition, as is so typical of epistolary novels, at the height of the drama, the letters themselves are not simply actors in the general turns of the story (e.g., as earlier in the book Sir John Middleton's letter late in August 1797 brought the Dashwoods from Sussex to Somerset), but are central to the turns in theatrically- presented crises from hour to hour. To Elinor, as she watches by Marianne's bed, time stands still; to Willoughby, because Sir John had read a letter Mrs. Jennings wrote to Lady Middleton suggesting Marianne was near death, time is a force to be beaten as he rides hard clear across England, travelling from London to Somerset in twelve rapid hours.
[In Philological Quarterly, the calendar continues again:]
Tuesday to Wednesday 13-14 March 1798. Elinor and Marianne have now been in London "rather more than two months;" a "plan" to "remove" with the Palmers "to Cleveland about the end of March, for the Easter holidays" emerges, is discussed, and agreed to once "their mother's concurrence" can be "readily gained." Another letter by Elinor to her mother sent off immediately when the plan is proposed. (3:3:279-80; 39:236-7)

Thursday 15 March 1798. Mrs. Dashwood's letter approving the Dashwood plan to leave London with the Palmers arrives just as Brandon walks in. "This day's post" has also brought him: he asks Elinor to offer Edward the "living at Delaford, just now vacant." As Elinor sits down to write Edward, Mrs. Jennings leaves to visit people "as far as Holborn;" when Edward interrupts Elinor, having been urged by Mrs. Jennings not simply to leave his "farewell card" but to see Elinor, she remarks Brandon left "only ten minutes ago." He has come to say "I go to Oxford to-morrow," but upon hearing of Brandon's offer, he goes to "St. James's-street" to see Brandon and then proceeds to Lucy. (2:3:282, 4:288; 39:239-40, 40:243-44)

Friday 16 March 1798. Edward goes to Oxford; Mrs. Jennings visits Lucy (who says of Edward's visit to her the day before (see directly above) "she had never seen him in such spirits before in her life"); and Elinor visits John and Fanny Dashwood as "it was now above a week since John Dashwood had called in Berkeley-street [March 8th above], and as since that time no notice had been taken by them of his wife's indisposition, beyond one verbal inquiry . . . " Elinor refused entrance, but "before her carriage could turn from the house," John Dashwood emerges from it, takes her upstairs to discuss Brandon's offer; while he steps out of the room to fetch Fanny, Elinor converses with Robert Ferrars who in "two minutes" is boasting he could have broken off match between Edward and Lucy. (3:5:293-94, 298; 41:248-49, 252)

Friday to Monday 17 March, 1 - 2 April 1798. It is during this interval that Elinor make a last "short and a leave-take call" to Harley Street, and Robert Ferrars begins his visits to Lucy in which he is turned from dissuading her from marrying Edward into persuading her into marry ing him. "One or two interviews" turn into many, while her "letters" to Edward "to the last" are "no less frequent, nor less affectionat e than usual." This is the "few weeks longer," during which first plan from leaving "about the end of March, for the Easter holidays" turns into a leaving-taking "very early in April" still not meaning to travel on Easter Sunday. (3:3:279, 6:301, 13:364-65, 14:376; 39:236, 41:255; 49:308, 50:319-20)

Monday 2 April 1798. "Very early in April, and tolerably early in the day, the two parties from Hanover-square and Berkeley-street set out from their respective homes, to meet, by appointment, on the road. For the convenience of Charlotte and her child, they were to be more than two days on their journey; and Mr. Palmer, travelling more expeditiously with Colonel Brandon, was to join them at Cleveland soon after their arrival." Mr. and Mrs. Palmer, the nurse, and the baby meet by appointment on the road at a postchaise stop the Dashwoods and Mrs. Jennings in a different carriage; the ladies combine, and Palmer goes off to meet Brandon. The ladies move at a leisured pace requiring two nights at inns and dinners on the way; but the gentlemen travel through Reading from London with a one night stopover; since they reach Cleveland after the ladies arrival (see below) we are to assume Palmer left for Cleveland with Brandon "a day or two" later. When Elinor meets Brandon at Cleveland we are told she had not seen him for "ten days" (3:6:301, 304; 42:255, 257)

Tuesday 3 April 1798. "The second day brought them [the ladies and their various servants] into the cherished, or the prohibited county of Somerset." (3:6:302; 42:256).

Wednesday 4 April 1798. "In the forenoon of the third they drove up to Cleveland." They are eighty miles from Barton and not thirty from Combe Magna; the "rest of the morning" "fine and dry;" before "five minutes within the walls" Marianne wanders the grounds around the house "in solitude," but after dinner a "settled rain" keeps everyone inside. They wonder "whether Mr. Palmer and Colonel Brandon would get farther than Reading that night." (3:6:302-3; 42:256-57)

Thursday 5 April 1798. After a "long morning of continued rain," Brandon and Palmer "arrive to a very late dinner." Colonel Brandon "absent" from Elinor for "ten days," and shows "open pleasure" in seeing her; he "had been into Dorsetshire lately," -- a remnant from the epistolary text (?) or just a reference to when he came back to London to report he had a living to give away (3:6:304-5; 42:257-58)

Friday to Saturday 6-7 April 1798. "Two delighted twilight walks on the third and fourth evenings of her being there . . . all over the grounds,, and especially in the most distant parts of them . . . where . . . the grass was the longest and the wettest, had--assisted by the still greater imprudence of sitting in her wet shoes and stockings" gives Marianne a "violent cold." (3:6:305-6; 42:258)

Sunday to Monday 8-9 April 1798. Marianne "trifles with" and "denies" she has a cold "for a day or two" further. She becomes "heavy and feverish," has "a pain in her limbs," a "cough, and "sore throat;" Monday night she finally retires for "a good night's rest," and Elinor prevails on her to try "one or two of the simplest of remedies." (3:6:306; 42:259)

Tuesday 10 April 1798. This is the day Marianne spends "in sitting shivering over the fire with a book in her hand, which she was unable to read, or in lying, weary and languid, on a sofa." Elinor nurses but "felt no real alarm, but Marianne then has "a very restless and feverish night." (3:7:307; 43:260) A constructed Tuesday.

Wednesday 11 April 1798. Marianne cannot sit up, goes to bed; an apothecary, Mr. Harris, called. Harris uses words "disorder" with a "putrid tendency," and "infection, and "within an hour" Mrs. Palmer flees with her baby "for the house of a near relation of Mr. Palmer's, who lived a few miles on the other side of Bath; whither her husband promised... to join her in a day or two." Mrs. Jennings will not leave until Marianne better. (3:7:307-8; 43:260-61)

Thursday 12 April 1798. "The next day produced little or no alteration" in Marianne; this was the day they were to have left Cleveland to arrive at Barton "the following forenoon;" on the previous day it is said "to-morrow . . . they were to have begun their journey home." (It really feels like someone with her finger on an almanac moving the finger slowly from day to day, hour to hour.) Mr. Palmer leaves to join his wife; Brandon relieved to be persuaded by Mrs. Jennings to stay. Marianne "knew not that she had been the means of sending the owners of Cleveland away, in about seven days from the time of their arrival" (this confirms 4-5 April 1798 arrival of first Mrs. and then Mr. Palmer). (3:7:308-9; 43:261-62) Friday to Saturday 13-14 April 1798. "Two days passed away from the time of Mr. Palmer's departure; and her situation continued, with little variation, the same. Mr. Harris ... attended her every day." (3:7:309; 43:262)

Sunday 15 April 1798. "On the morning of the third day" Marianne seems better. (It is a lengthy harrowing ordeal and the 1995 Ang Lee/ Emma Thompson comes closest to this, with the 1983 Baron BBC the second closest.) Elinor rejoices "that in her letters to her mother" she had made "light" of the illness, and "almost fixed the time when Marianne would be able to travel." But "towards evening" Marianne grows worse; Elinor "resolves to sit up whole of the night;" Marianne awakens, exhibits "feverish wildness" with her "'Is mamma coming . . . she must not go round by London;" Elinor goes downstairs to find Brandon; he offers to fetch Mrs. Dashwood himself; he then "hurr[ies] off his servant with a message to Mr. Harris," while she "wr[ites] a few lines to her mother." Brandon "calculated with exactness when Elinor might look for his return" and departs "about twelve o'clock [midnight];" she and a servant then sit up "hour after hour" watching Marianne "in sleepless pain and delirium." Earlier this same evening Willoughby meets Sir John Middleton in Drury Lane Theatre Royal and Sir John tells him Marianne "dying of a putrid fever at Cleveland--a letter that morning received from Mrs. Jennings declared her danger most imminent." (3:7:310-12; 43:262-64)

Monday 16 April 1798. "5 o'clock" or before dawn. Mr. Harris arrives at Cleveland, still talks with "confidence" over "a fresh mode of treatment," and "promises" to "call again" in three to four hours. "Morning arrives." Mrs. Jennings reproaches Elinor for not calling her for help; Marianne had been "for three months her companion." Brandon arrives at Barton to find Mrs. Dashwood ready to leave, waiting only for "the Careys" who were "then expected every moment to fetch Margaret away." At 8 o'clock Willoughby sets off from London for Cleveland. Around 9 in the morning Dr. Harris returns to Cleveland (he is "punctual in his second visit"); he has "still something to try." At "noon" Marianne seems slightly better. Meanwhile Willoughby arrives at Marlborough in time for lunch. At Cleveland "half an hour" passes and "favorable symptom" yet "blesses" Marianne. "Four o'clock" Mr. Harris returns to Cleveland and congratulates Elinor on "a recovery in her sister." "Six o'clock" Marianne "sinks into quiet, steady . . . comfortable sleep." "Seven o'clock" Elinor joins Mrs. Jennings "in the drawing-room to tea," after which Mrs. Jennings retires "to her own room to write letters and sleep." Elinor expects to see Brandon and her mother "at ten o'clock." "The clock struck eight," and in the sick room Elinor hears sound of "a carriage driving up," glimpses "four horses," and "rushes" to drawing-room to meet Willoughby who for "half an hour" tells his version of all the events in which he has been involved. He then leaves for Combe Magna and "from thence to town in a day or two." "Within half an hour of" his "leaving the house," Mrs. Dashwood and Brandon arrive; "two minutes" after Mrs. Dashwood calms herself with good news, she is with Marianne. (3:7:312-16, 8:319-31, 9:333-34; 45:264-68, 46:471-82, 47:283-85)

Tuesday to Friday 17-20 April 1798. "With youth, natural strength, and her mother's presence in aid," Marianne's "recovery" "proceeds so smoothly as to enable her to remove, within four days (so 16th to 20th) after the arrival of the latter, into Mrs. Palmer's dressing-room." Brandon's first visit to Marianne that day. (3:10:340; 46:289)

Sunday 22 April 1798. "At the end of another day or two, Marianne growing visibly stronger every twelve hours," Mrs. Dashwood begins to talk of going to Barton. (3:10:340-41; 46:289)
At this point in our chronology we are confronted with a slow switch in pace and here and there indeterminate intervals: Austen still keeps time obsessively even (Mrs Dashwood "removes within four days time" to Mrs Palmer's dressing room; "at the end of another day" Marianne growing stronger; "every twelve hours" &c&c (III:10, 289). We are not told exactly how many days intervened between Mrs. Dashwood beginning "to talk of going to Barton" and the actual "day of separation and departure." Still the ticking of the clock of Austen's mind and Mrs. Dashwood's dispatch when once she made up her mind to accept her cousin's invitation to come to live at Barton Cottage (see above August 1797), suggest she was held back only by the time it took Colonel Brandon and Mrs. Jennings to convince her to "accept the use of his carriage" (3:10:341; 46:289-90), a day to talk and a day to depart, two at most.
Since there are indeterminate periods the final calendared phase of the book is dovetailed into the above conjectured departure day. I used the narrator's telling us Colonel Brandon appeared at Barton Cottage after a "three weeks' residence" in solitude at Delaford (3:13:369; 49:313). I similarly used the information provided by the narrator that the day Edward visits Mrs. Ferrars in London to gain her permission to marry Elinor was a "fortnight" after Robert's elopement; that is, that Mrs. Ferrars had for "a fortnight" been "without any" son (3:14:373; 50:317). Then with this probable conjecture to cross indeterminate time, the text permits the same kind of day-by-day and week-by-week chronicling performed by Austen from the time the Dashwoods first came to Devonshire (see above 2 September 1798). We can state exactly when Edward Ferrars arrived at Barton Cottage with the news of Lucy Steele's elopement with his younger brother, Robert Ferrars. But we note the different kind of material before Chapter 6 and a gap between Chapter 9 and 10. Chapter 9, Willoughby's confession was probably a long letter and not sutured in readily.
This latter accounting for time is achieved through information provided by a letter (see above 17-26 April 1798). Mrs. Jennings writes Elinor to tell her that "two days" before Lucy eloped, Lucy visited Mrs. Jennings, and "one day after" this elopement "Nancy came crying" to her because Lucy had taken almost all Nancy's money as well as her own. If we give Lucy and Robert the same three days travelling time to get from London to Devonshire as we gave Mrs. Dashwood and her daughters, we can date when they married, when Lucy wrote her letter to Edward, and, with further intervals of time suggested by the narrator, when Edward rushed with such relief to Barton.
[In Philological Quarterly, the calendar once again resumes:]
?Tuesday 24 April 1798. "Day of separation and departure arrived:" Mrs. Dashwood "prevailed" upon to use Colonel Brandon's carriage; Mrs. Jennings and maid leave in her chaise; Brandon takes "his solitary way" to Delaford. (3:10:341; 46:289-90)

Thursday 26 April 1798. "The Dashwoods were two days on the road." They arrive before dinner. (3:10:341; 46:290)

Friday 27 April 1798. "The next morning" Marianne plans a life of arduous study: an obsessive and continual calculation for each hour of the day; routine interrupted by walks. "When the weather is settled" does suggests late April. Summer lies ahead: "I know the summer will pass happily away." (3:10:342; 46:291)

Monday 30 April 1798. "Two or three days" more and on "a soft, genial morning" Elinor and Marianne go for a walk to the hill where Marianne first encountered Willoughby; Elinor tells of Willoughby's confession. "In the evening" a conversation in which Elinor plays an Imlac role. Marianne also says "the beginning" of their "acquaintance" with Willoughby was "last autumn". In London Lucy called upon and "sat a couple of hours" with Mrs. Jennings on this day (the day before she eloped). (3:10:344-5, 11:349, 13:370; 46:292-93, 47:296, 49:314)

Wednesday 2 May 1798. "It was but two days" later that Lucy eloped with Robert Ferrars, taking most of her and Nancy's money. (3:13:370; 49:314)

Thursday 3 May 1798. "The day after" Nancy "came crying to" Mrs. Jennings and explains she had "not seven shillings in the world." It is through a later series of letters between Elinor and John Dashwood ("as a consequence of Marianne's illness") and an apparently on-going correspondence between Elinor and Mrs. Jennings that we learn of Edward's later stay at Oxford, the elopement of Lucy Steele with Roberts Ferrars and the desertion of Nancy Steele; parts of the withheld letters are quoted. At Barton for "two or three following days" from the Dashwood's serious evening talk, Marianne's recovery seems to halt; Margaret returns from the Careys. (3:11:352, 13:370; 47:299, 49:314)

Friday-Saturday 4-5 May 1798. Two days later after leaving London (see above), Lucy and Robert would pass through Exeter; the Dashwood's "man- servant," Thomas, talked to Lucy from inside "a chaise at the door of New London Inn," and reports back, correctly, that "They come straight from town," but assumes, incorrectly, that it is Edward whom Lucy has married. (3:11:353-54; 47:299-300).

Saturday to Wednesday 6-9 May 1798. "Day after day passed off, and brought no letter, no tidings:" Mrs. Dashwood tells Elinor she wrote Brandon "last week" and "pressed his coming to us," and she hopes to see him "walk in to-day or to-morrow, or any day." I date this by Edward's receipt of Lucy's letter (4-5 May 1798) on the day she eloped, his quitting Oxford 24 hours (again note the exactitude) and riding directly to Barton (which Austen makes a joke of) (3:12:358, 13:366; 48:303, 49:310)

Wednesday 9 May 1798. Edward Ferrars again on horseback rides up to Barton Cottage one week after Lucy and Robert were married: "they were married last week (2-3 May), and are now in Dawlish"; Elinor collapses and he flees cottage, but by "four o'clock, about three hours after his arrival" the two are engaged and all at table". (3:12:358-60, 13:361; 48:304-5, 49:306)

Wednesday to Wednesday 9-16 May 1798. "Edward was now fixed at the cottage at least for a week." (3:13:363; 49:308)

Sunday 13 May 1798. "About four days after Edward's arrival" and "a three weeks' residence at Delaford," Brandon appears (interval of 26 April and 13 May). Austen has forgotten the existence of Eliza Williams. Between this date and the next (directly below) Elinor receives letters from John Dashwood and Mrs. Jennings. (3:13:369-71; 49:313-15)

Thursday 17 May 1798. "After a visit on Colonel Brandon's part of only three to four days," he and Edward "quitted Barton together" to go "immediately to Delaford" so Edward might see it himself. (3:13:372; 49:316)

Saturday-Sunday 19-20 May 1798. "After staying" at Delaford "a couple of nights," Edward proceeds on his journey to town. It is at this point that Mrs. Ferrars is said to have been without any son "for a fortnight." (3:14:373; 50:317)

Monday 21 May 1798. Edward's first interview with his mother after he is engaged to Elinor. The sense is he visited his mother the day after arriving. (3:14:373; 50:317)
Austen did not plot the concluding events in the stories of Lucy and Robert Ferrars, Mrs. Ferrars, and John and Fanny Dashwood with precision. The epistolary novel might have ended or broken off similarly to Lady Susan. In her novels she seems to lose interest in the development of the concluding narrative once the central conflicts are over and characters returned to home base. So, of Lucy and Robert Ferrars we are only told that they "earned" the "real favour and preference" of Mrs. Ferrars "before many months" after their marriage "had passed away." They "passed some months" in "Dawlish" before Robert returned to London, and "procured the forgiveness of Mrs. Ferrars, by the simple expedient of asking it" So sometime the following fall they were reconciled -- around the the time of Edward and Elinor's marriage(3:14:375-76; 50:319-20).
The paragraphs which then take us to the end of the story of Lucy and Robert Ferrars and John and Fanny Dashwood (3:14:375-76; 50:320) are, however, placed after we are told Elinor and Edward married "early in the autumn" (3:14:374; 50:318), but before the close of Marianne's story, which is her marriage to Colonel Brandon "two years" later (1800) (3:14:378; 50:321). Thus we are encouraged to infer that Lucy's relatively brief period of ostentatious penitence and humility and hypocritical gratitude (which includes sending notes to Mrs. Ferrars), and her and Robert's settling in town with Mrs. Ferrars's "very liberal assistance" near John and Fanny Dashwood began sometime after "early autumn" 1798, but concluded well before September (see calendar below).
Austen did take care to fit the conclusions of Elinor's and Marianne's stories into the novel's calendared time in such a way as to make reference to a year-long cycle of time. If we take Elinor's story to begin in September when the Dashwoods arrived in Devonshire--and certainly her parting from Edward occurs then--when we are told the ceremony took place "in Barton Church early in the autumn," we see Austen aligning her action against the seasonal pattern of a year as she would do closely in Emma. Austen makes a joke of it, but underlines her intent when after Elinor and Edward then spend the "the first month" of their marriage "with their friend at the Mansion-house," they are visited at the "Parsonage" by that garrulous lady, Mrs. Jennings, who always knew she would visit some couple or other at Delaford Parsonage "by Michaelmas" (3:14:374, 50:318). Three times earlier in the book Mrs. Jennings predicted "they would all" be "comfortably together in Delaford Parsonage before Michaelmas"--she just had the wrong couples in mind (2:10:216, 3:4:292, 5:293; 32:182, 40:247, 41:248).
Marianne's marriage to Brandon, is made to correlate ironically with her first passionate rejection on Sunday 17 September 1797 (see calendar above) of Mrs. Jennings's notion that Colonel Brandon is in love with her because, forsooth, "he must have long outlived every sensation of the kind" and thus it would be only a "compact of convenience (1:8:37-38, 8:33). This joke's on Marianne, for the narrator tells us she marries him precisely "two years" later (3:14:378, 50:321).
And, finally, the penultimate paragraph of the present novel, presents one more dovetailing. The vestigial character left over from one of the earlier revisions (probably used as a correspondent), Margaret is fitted back into the book. Her age is made consistent with all that has gone before. She was 13 in February 1797 when her father, Mr. Henry Dashwood, died (1:1:7, 1:6), and has now reached, as our narrator says, "an age highly suitable for dancing, and not very ineligible for being supposed to have a lover," going on sixteen, just Lydia Bennet's age. Two recent films made her into a child when in fact she is pre-pubescent and could have been a correspondent who had a childishly lurid imagination. (3:14:380; 50:322).
And so to conclude:
Late August into early September 1798. "The ceremony took place in Barton church early in the autumn . . . The first month of their marriage was spent with their friend at the Mansion-house . . . " (3:14:374; 50:318)

Saturday 29 September 1798. Mrs. Jennings "was able to visit Edward and his wife in their Parsonage by Michaelmas." (3:14:374; 50:318)

1799 September. "Two years" after Marianne had declared Colonel Brandon to be too old to marry, she marries him. She is 19, Brandon 37. (3:14:378, 380; 50:321-22)
Ellen Moody
George Mason University
Notes
1 R. W. Chapman, ed. The Oxford Illustrated Jane Austen, 6 vols. (1988; rpt. London: Oxford University Press, 1942-44); Jane Austen, Sense and Sensibility, ed. Ros Ballaster (New York: Penguin, 1995). All references to Austen's novels will occur in my text in parenthetical references and, when relevant, will include the original volume number and chapter of Chapman's editions and the more recent consecutively numbered chapters of the Penguin and Oxford Classic series.
2 Patricia Craddock, "The Almanac of Sense and Sensibility," Notes and Queries NS 26 (1979): 222-26. See also Jo Modert, "Chronology Within the Novels," The Jane Austen Companion, edd. J. David Grey, A. Walton Litz, and Brian Southam (New York: Macmillan, 1986), 54-55.
3 B. C. Southam, Jane Austen's Literary Manuscripts (Oxford: At the Clarendon Press, 1964), 1-44; see also Margaret Anne Doody, "Introduction," Catherine ix-xl; and Jane Austen's Beginnings, ed. J. David Grey (Ann Arbor: University of Michigan Press, 1989).
4 Southam, JA's Literary Manuscripts 53.
5 Craddock 223; cf. Southam, JA's Literary Manuscripts 54-59. On this, against D. W. Harding, "The Supposed Letter Form of Sense and Sensibility," ns (1993): 464-6; see also Ian Jack, "The Epistolary Element in Jane Austen," English Studies Today, ed. G. A. Bonnard (Bern, Switzerland: Franche Verlag, 1961), 174-85; F. P Lock, "The Geology of Sense and Sensibility,," The Yearbook of English Studies, 9 (1979): 246-55; Norman Page, The Language of Jane Austen (New York: Barnes and Noble, 1972), 145-49, 154-56, 174-78; Margaret Lenta, Form and Content: A Study of the Epistolary Novel," Studies in English, 10 (1980): 14-30.
6. Robert Adams Day, Told in Letters (Ann Arbor: University of Michigan Press, 1966), 84-145. See my "Partly Told in Letters: Trollope's Story-telling Art".
7 I am heavily indebted to the work of Janet Gurkin Altman, Epistolarity: Approaches to a Form (Columbus: Ohio University Press, 1982); the quoted words and terms may be found on pp. 4-5, 170.
8 See, for example, Chapman, P&P 400-8; MP 554-7; Emma 497-98; NA & P 297-302. See also Ralph Nash, "The Time Scheme for Pride and Prejudice," English Language Notes, 4 (1966-7): 194-98; P. B. S. Andrews, "The Date of Pride and Prejudice, 213 (1968): 338-42; A. Walton Litz, "The Chronology of Mansfield Park," Notes and Queries, 208 (1961): 221-22; Bernard Ledwidge, "The 'Strange Business in America,'" Collected Reports of the Jane Austen Society 1949-67 (London 1967): 197-203; Modert 56-57; John Sutherland, "Apple-blossom in June?," Is Heathcliff a Murderer (New York: Oxford University Press, 1996), 14-19; Eugene McDonnell [eemcd@aol.com] in "Jane Austen's error in Emma: Seeing Apple Trees in Bloom in mid-June," Austen-L [austen-l@vm1.mcgill.ca] 19 July 1997; and C. S. Emden, "Northanger Abbey Redated," Notes and Queries, 195 (1950): 407-10; Yasmine Gooneratne, Jane Austen (Cambridge: At the University Press) 61-62. Only Chapman has shown any interest the calendar underlying Persuasion.
9 See Frank MacKinnon, "Topography and Travel in Jane Austen's Novels, The Murder in the Temple and Other Holiday Tasks (London: Sweet and Maxwell, 1935), 88-91; also "J. David Grey, "Topography" and Lorraine Hanaway, "Travel and Transportation" in The Jane Austen Companion, 381-91. See also John W. Carey, Carey's New Itinerary, or An Accurate Delineation of the Great Roads, 9th Ed (London, 1821) 42-51; Thomas Burke, Travel in England: From Pilgrim and Pack-Horse to Car and Plane (London: Batsford, 1949), 89, 99-101, 105; Alan T. McKenzie, ed. Sent as a Gift: Eight Correspondences from the Eighteenth Century (Athens: University of Georgia Press, 1993), especially 6-8. I am also grateful to private communications and calculations by e-mail from John Rempel [jrempel@cc.uumanitoba.ca] 1 Aug 1996; Linda Troost [LTROOST@washjeff.edu], "Travelling Time," 8 Aug 1996; John Dussinger [dussinge@ux1.cso.uiuc.edu], "John Carey Guidebooks," 8 Aug 1996; Jim May [JEM4@PSUVM.PSU.EDU], "Real Letters," 1 Jan 1997. In C18-L [C18- l@psuvm.psu.edu].
10 Jane Austen's Letters, ed. Deirdre Le Faye (Oxford: Oxford University Press, 1995), 268, hereinafter referred to as Letters and referred to by parenthetical references in my text.
11 In The Oxford Companion to English Literature, ed. Margaret Drabble (Oxford: Oxford University Press, 1985) 126-1150 (Appendix III), the reader will find an explanation and table for the days of Easter and other movable Feast Days dependent upon the date of Easter from 1066 to 2000.
12 Based on the documentary record, all of Chapman's work assumes continuous rewriting. See also Mary Lascelles, Jane Austen and her Art (Oxford: Oxford University Press, 1939); 4-5, 8-50; Q. D. Leavis, "A Critical Theory of Jane Austen's Writings," Scrutiny 10 (1941), 61-90, 114-42, (1942), 272-94; 12 (1944) 104-19; Gooneratne, 11-14; Deborah Kaplan, Jane Austen Among Women (Baltimore: Johns Hopkins University Press, 1992) 155-205.
13 See The Austen Papers, 1704-1856, ed. Richard Arthur Austen-Leigh (London: Spottiswoode, Ballantyne, and Co. Ltd., 1941) 282-86. See also John Halperin, The Life of Jane Austen (Baltimore: Johns Hopkins University, 1984), pp. 145-46
14 See 1:22:134; 22:114; 2:12:230; 34:194; also 1:22:134- 35, 2:1:139-42; 22-23:114-20. These meditative sequences of deep emotional pain which move out of and again into dramatic narrative represent the core of the material from which the epistolary novelists of the 18th century made their books. See Margaret Anne Doody, "Deserts, Ruins and Troubled Waters: Female Dreams in Fiction and the Development of the Gothic Novel" Genre, 10 (1977): 529-71; Linda A. Kauffman, Discourses of Desire: Gender, Genre, and Epistolary Fictions (Cornell: Cornell University Press, 1986); Patricia meyer Spacks, "Female Resources: Epistles, Plot and Power," Writing the Female Pen: Essays on Epistolary Literature, ed. Elizabeth Godlsmith (Boston: Northeaster University Press, 1989), 63- 76; Joane Hinde Stewart, "La Lettre et L'interdit," Romanic Review 80 (1989), 521-28; and, to a lesser extent, Mary A. Favret, Romantic Correspondence: Women, politics and the fiction of letters (Cambridge: At the University Press, 1993) and Nicola J. Watson, Revolution and the Form of the British Novel 1790-1825: Intercepted Letters, Interrupted Seductions (Oxford: Clarendon Press, 1994).
15 For my sources, see Note 9 above. For the reader interested in specifics I have laid out my thinking as a result of these sources here: we are told Fanny Dashwood arrived immediately after the funeral (1:1:4-5; 1:4), and we are told one, Mrs. Dashwood endured "half a year's residence" with Fanny (1:3:14-15, 3:12); and, two, when Mrs. Dashwood leaves Norland she realizes "their maintenance for six months at Norland" comprises the whole of what John Dashwood will do for them (1:5:27, 5:23). Mrs. Dashwood then arrives at Barton Park "very early September;" the trip from Norland, Sussex, to Barton, Dorchester takes three days. Thus the Dashwoods have to have left Norland Park on the last day of August to arrive in very early September and yet leave six months for the stay at Norland. To put it another way, deducting six months from just before very early September or late August tells us Mr. Henry Dashwood died in February. So if we assume the journey in the latter part of the novel from London to Cleveland took place in 1798, it follows that Mr. Henry Dashwood died in February 1797 and his uncle, "the old Gentleman," the February 1796.
16. Note 14 above.
---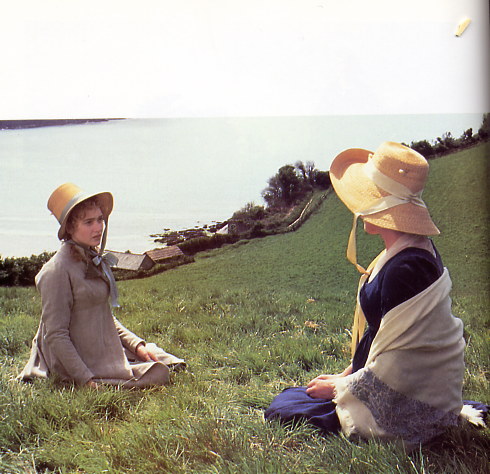 Marianne (Kate Winslet) and Elinor (Emma Thompson) with Elinor repeating Austen's absorbed pose in Cassandra's drawing in a landscape
---
Home
Contact Ellen Moody.
Pagemaster: Jim Moody.
Page Last Updated: 9 April 2004.