© Ellen Moody. No part of this website page may be reproduced without express permission from the author and website/blog owner. All uses of information or evaluative commentary should be acknowledged and documented. Linking is encouraged.


A Reading of Sense and Sensibility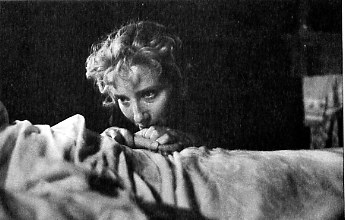 Elinor (Emma Thompson) grieving over the very ill Marianne (Kate Winslet)
In 1996 on Austen-l and in 1999 on Janeites scheduled group conversations of Jane Austen's Sense and Sensibility occurred. On both lists we also read and discussed a series of critical books which included critical essays on Sense and Sensibility. I posted continually during all these conversations, and have brought together in one place a very few of my essay-postings, interventions and responses to others during these online discussions. As with all the other group conversation and single essays I have placed on the Net form such conversations, I have altered the postings slightly so as to make for continuity and have occasionally rearranged them so the reader can follow the conversation as one would a story. Read as a series they form a close reading of Sense and Sensibility against a scholarly critical background.
I argue elsewhere that a study of the calendar in the extant Sense and Sensibility suggests the strong probability that the novel was originally epistolary; I also review the recent film adaptations of Jane Austen's novels as Jane Austen in Film.
Introduction
Different Audiences and Eras
Useful & Significant Secondary Critical Works
Tony Tanner on "Secresy and Sickness"
Shattuck on "The Pleasures of Abstinence"
Roger Gard's The Art of Clarity and P. J. Scott, JA, An Assessment
Eva Sedgwick: Jane Austen and the Masturbing Girl and Réage's The Story of O
Volume I, Chapters 1-3
"That Sanguine Expectation of Happiness which is Happiness Itself"
The Meaning of the Title: Criss-crossing Complex words"
Volume I, Chapters 4-6
Still Prologue
"Each for the sake of the others resolved to appear happy"
Landscape And Evocative Detail
"He insisted on conveying all their letters . . . "
Volume I, Chapters 7-9
Enter Mrs Jennings and Colonel Brandon
In Which Mrs Jennings Prompts Discussions of Brandon
Two Visions of Life and a Romance
Volume I, Chapters 10-12
Romance Heroes and Acid Tongues
Queen Mab and Margaret
Sir John: Social Obligations, a Vise and Harding and Oliphant
Volume I, Chapters 13-15
Brandon and Marianne Converse; The Debate Between the Sisters
The Enigmatic Willoughby, Engagement and Romantic Mrs Dashwood v Unromantic Lady Russell
Volume I, Chapters 16-18
Painful & Confused in the Way Ordinary Human Life Is
Sympathy for Marianne -- and Elinor
Melancholy Edward
Sympathy for Edward; Austen Shifting on Marianne
Edward Ferrars: The Quiet Archness of His Manner
The Gothic, Banditti, & Hair-Rings
Volume I, Chapters 19-20
The Serious Wackiness and Disjunctions in S&S
Mr Palmer
Volume I, Chapters 21-22
Laughter, the rational response; emotional pain, the natural one
A Journal-Letter by Elinor: How Easy to Transpose it
Volume II, Chapters 1-5 (or 23-27)
Elinor's Point of View; Comedy and Charlotte's Coming Confinement
Volume II, Chapters 6-8 (or 28-30)
The Terrible Strain of It
Deep Reverie: A Chapter of Letters
Marianne Off-Stage; Mrs Jennings & Brandon On; Elinor as Prompter
Volume II, Chapters 9-11 (or 31-33)
A Letter from Colonel Brandon to Mrs Dashwood
The Two Elizas: An Inset Gothic Romance; Marianne & Brandon; Hysterics
Volume II, Chapters 12-14 (or 34-36)
Present Structuring and Earlier Epistolary Novel; Journal Letters from Elinor
Elinor in Continuation
Shaping the Second Volume for Publication: A Second Nadir
Volume III, Chapters 1-3 (or 37-39)
Gumshoes: A Sequence of Letters; Letters from 2 Drafts of Elinor and Marianne
Behavior Doesn't Change; Brandon's Spenserian Poetry
Inward Narrative
Unexplained (Unnoticed) Peculiarities
An Anomalous Group of Chapters
Volume III, Chapters 4-7 (or 40-43)
Quiet before the Anguish; Near Death Traumas
Elinor's Agonized Cries & Marianne's Illness
A Third Crisis: Near Death; French Decorum, Emptiness, and Cults
Volume III, Chapters 8-11 (or 44-47)
S&S and The Romance of the Forest (I)
S&S and The Romance of the Forest (II)
Elinor as Imlac
Marianne's Epiphany; Brandon in Emma Thompson's Screenplay
Volume III, Chapters 12-14 (or 48-50)
A Biting Cool Close; A Romantic Ending; Cold Women? (1996)
Austen's Retreat & the Ending of the 1995 Miramax Film
A Romance of Renunciation? But see:
Continent Not Isolated: Jane Austen among French Women
---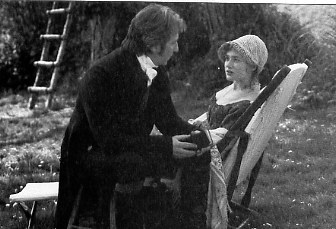 Colonel Brandon (Alan Rickman) reads poetry to the convalescent Marianne Dashwood (Kate Winslet)
---
Home
Contact Ellen Moody.
Pagemaster: Jim Moody.
Page Last Updated 7 September 2003