A truth not universally acknowledged about film adaptations & _Jane Austen without Masks_ · 13 March 09
Dear Friends,
While I was away I received an interesting question, and was told about a Jane Austen conference in Italy. First the question,
"Dear Ellen,
I am an assistant professor of English at Tulane University in New Orleans. I read many, if not all, C-18L posts and thought you might be able to help me. I am moderating an event on campus tomorrow featuring the screening of some clips from the 1980 BBC Pride and Prejudice and a subsequent Q&A with
Elizabeth Garvie, who I'm sure you know played Elizabeth Bennet in that version. Anyway, for my introduction I wanted to casually note the number of P&P cinematic and televisual adaptations that have been done. The Internet Movie Database lists nine strict adaptations (not including things like Bride and Prejudice for instance). Does that sound right to you? Nine? I thought there would be more. Just thought I'd ask.
bq. I also wanted to ask you if you would like to contribute a blurb regarding Elizabeth Garvie's performance, if you would like to write up a sentence or two regarding her accomplishment in that version, that is. You would of course be acknowledged, along with a reference to your current scholarly project on Austen and film. The event takes place tomorrow at 2, and I'm sorry to make this request so late. In any event, thank you for your time
and attention!
Best,
Dwight Codr"
Dear Dwight,
I was away and missed this email. This was our one week break at GMU. I regret not participating from a distance. Nine would only be true if you included the commentary type adaptations (1940 P&P and 2005 P&P) as well as the free ones (Bride and Prejudice, the Mormon P&P, Bridget Jones Diary and You've got mail and Lost in Austen). The reality is there have been only two faithful adaptations thus far: the 1979 P&P and 1995 P&P. All others either make radical departures even if in they are in historically-accurate costume and more or less generally follow the plot so readers recognize hinge points; or they are utterly free analogies. It may be the number 9 can be explained by reference to several of the very early TV adaptations. None of them were faithful: they were all of the commentary or radically changed type, by which I refer for example to one which was one hour long, so the visit to Pemberley was skipped.
Sue Parrill's book mentions some of these early ones, but not all for she omits the BBC radio programs.
Significant information?. The real Jane Austen text is not as universally beloved or even known as the astonishing sales of the book and use of the title and a few lines and incidents from it (well-known from quotation elsewhere the way Dickens's lines and incidents are) would suggest.
Film-makers repeatedly say ((in terms of effective percentages) very few of those who go to Jane Austen movies read the book before and few read it afterwards—even in the case of Pride and Prejudice where they may start, but not finish, or not understand it, or read it from the point of view of the film they saw.
Most viewers don't in the least care about apparent fidelity and it's useless to prescribe it.
I loved Elizabeth Garvie. What impressed me most was how she learned to articulate language really taken from Austen's books, not simplified or shortened as in Davies. She also projected real attraction to Wickham which made sense of the first half of the novel and real depression and sadness in the last part. She was very moving.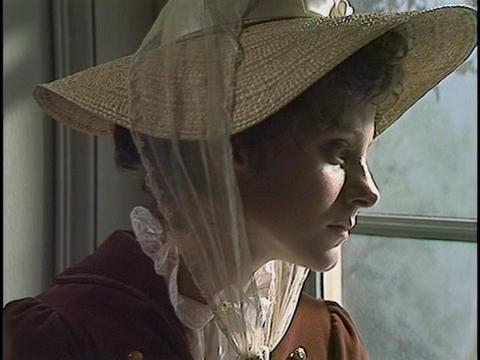 A melancholy Elizabeth—remembering Darcy after Lydia has exposed (and to her mind) humilated the family
Garvie looked the way I had imagined Elizabeth to look, though I think Jennifer Ehle (with her wig) was got up to look like I had imagined Elizabeth too and while she played the part differently was also effective.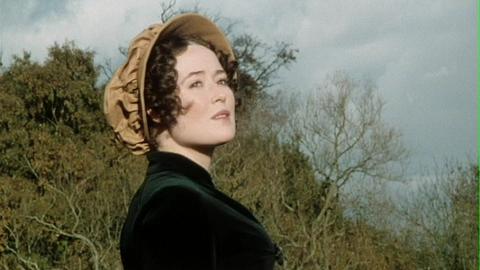 A self-contained contemplative Elizabeth revelling in nature
Ellen Moody"
Second, my good friend, Beatrice Battaglia sent me her announcement of a one-day Jane Austen conference upon the publication of her book, La zitella illetterata: parodia e ironia nei romanzi di Jane Austen (Liguori, Napoli): Jane Austen senza maschere [Jane Austen Without Masks], Friday, March 27, 2009, San Giovanni in Monte Piazza, San Giovanni, with a program that includes many Italian scholars and from the English-speaking community, David Nokes, Janet Todd, Kathryn Sutherland, Brian Southam.
How I wish I could go :). I look forward to reading her latest book. I'm very fond of her Paesaggi e misteri riscoprire Ann Radcliffe [Landscapes and mysteries, rediscovering/uncovering Ann Radcliffe] (Napoli: Liguori, 2008), partially reprised in English in her "Italian Light on English Walls: Jane Austen and the Picturesque," Re-drawing Austen: Picturesque Travels in Austenland, edd. Beatrice Battaglia and Diego Saglia (Napoli: Liguori, 2005):15-35, which also contains one of my essays, "Continent Isolated: Anglocentricity in Austen Criticism" :) Battaglia's book on Radcliffe helped me write my recent paper on Northanger Abbey as as sanguine female gothic "The Gothic Northanger Abbey: A Re-evaluation".
Ellen
--
Posted by: Ellen
* * *
commenting closed for this article