Janeism in a Snarky, Pornified & Desperate Era · 29 April 06
Dear Harriet,
Thank you for alerting me to the new Janeisms in blogs on the Net. I steeled the inner woman and went over to read a few after reading the description you sent me of the new Austenblogs online:
"If you really want to see what the New Janeite is, you have to dip into Austenblog, if you haven't already. Pemberley is like some kind of 1950s Janeite, all feminine, no brain. Austenblog is something else … these are the ones getting just familiar enough with the ins and outs of JA culture that they're preening themselves because of it. It's a giveaway that their emblem is of a cup of tea 'with snark.' ... It's a hard kind of nastiness, suspicion, intolerance, thinking they are dead right and everybody else is a fool – very off-putting attitude."
They're vacuous. Austenblogger is probably by one individual who doesn't tell her legal name anywhere. Another reminded me of the woman on Janeites who produced an essay collection (was it?) of Austen as the earliest chick-lit, the woman who went on about Jane Austen "kicking ass." I didn't read enough to get to any sarky/snarky stuff, but could see it would fit. The phrase (I won't repeat it) is part of the buying into mindless macho violence and part of the increasingly porn aesthetic seeping into the "art" we're surrounded by. But then I clicked on, and eventually came to a picture of the Austen home life that reminded me of the cosy sentimentality nostalgia of Edward Austen-Leigh (by a 20 year old from Stanford). While some of my female students wear clothes that make them look like Barbie dolls in lingerie (complete with spangles on their erotics zones, i.e., where their nipples are in their blouses), others write descriptions of pregnancy and babies that are unreal gush, cloying flat idealizations worthy 4th rate Victorian keepsake albums. Perhaps you're right and these blogs add new sneers and a sense of entitlement. Your own phrase though says it all: "It's all facile – nothing sinks in 'for real'."
I do agree that the new Janeism on the Net connects to "ads for college Girls Gone Wild videos (with the girls offering blow jobs as if it were the equivalent of inviting someone in for a cup of coffee), the hard-edged journalism" and blogs which contain superficial naive preening.
And yes in the comments in the plain diary blogs, one can come across a "chorus of up to 100 comments all simpering, 'How wonderful you are!' 'You are so brave!' ... 'You are such a penetrating writer!'": "What is this lemming like instinct everybody seems to have to chorus in with sighing, admiring, positive comments? Why the hell don't people say what they really think?" You're right. They are not naming themselves and need not present a social self. My guess is they are being supportive and thus presenting themselves as good people before their own eyes. This sort of thing can be dangerous, for real physical life can erupt onto the Net: this happened in the case of Allison Crews1 (vide this one) who died of a drug that probably should not have been on the market (and this take on the unfortunate young woman).
Two pictures. One, a Vogue photo I found near a site filled with pornographic images of actresses—there were dozens of nude photos of women who presumably want to have a respectable career, who chase after Emmys and Oscars and Golden Globe awards; we would not have seen anything like that from actresses until the last 15 years. (Women may have had to go to bed with men to get jobs acting, but they didn't advertise themselves as open whores). The photo transforms the imagery and familiar characters of The Wizard of Oz into disturbingly louche individuals drawn helplessly to a leering New York City: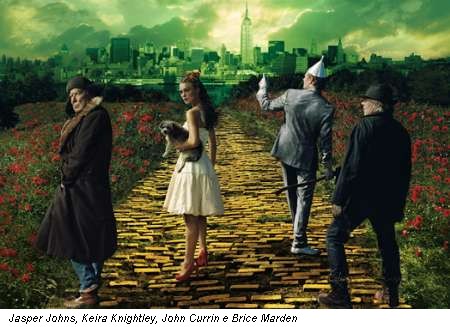 The other, a shimmering art photo by Laurie Simmons's (born 1969 and exhibited in the Met): Pink Bathroom (1984) shows us a woman turning herself into a doll.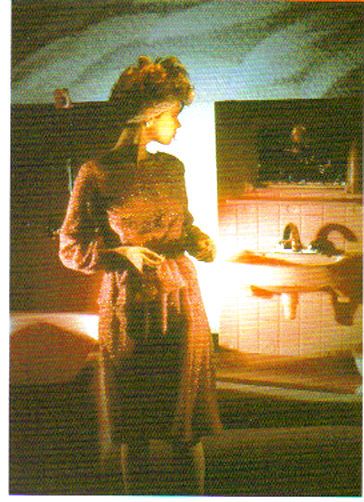 She looks in a dark mirror and sees a bare head with nothing on it. The thought may be one I read last night in John Stuart Mill's Subjection of Women: "What is now called the nature of women is an eminently artificial thing—the result of forced repression in some directions, unnatural stimulation in others."
Who wouldn't want out? Do read Hilary Mantel on anorexia in this dark light.
On Wompo, the members were citing living women poets who they said were "essential" to them. Well, not LeCarré (says she smiling, nor even Miss Sayers). Jane Austen's 6 famous books are for me essential texts if by essential what is meant is writing that has shaped my life and meant so much to me that I really think I would have been different but for it, or at least it provided a rationale for me to make some central choices in behavior or outlook. And what did it provide? A genuinely intelligent counterweight of irony and idealism – and yes, prudence.
I also like this meditation on the difference between physical or real life and virtual or writing selves:
"The people I've really liked most on the net, I wonder if I would ever have become friends with them if we'd met in person and I only knew them through their social persona, not their writing. What is truly disconcerting is that most of the people – no, practically all of them – who are my real life chosen friends, if I had met them through their writing, I'd never have paid another
second's attention to them! Science and math types…people who are thoughtful and observant or cheery and funny, but who write like sixth graders…It makes you wonder about the nature of
friendship. And then there's that awful moment of truth, when you first see what somebody you like, actually writes like. It reveals everything…"
I particularly like this comment: "It makes you wonder about the nature of friendship." I've been brooding about this for the last couple of years, as well as how groups of people (inaccurately labelled society or communities) really organize themselves. A way to look at Net friendships positively is simply that you never would have gotten a chance to reach the part of the person that means and fulfills a part of you they couldn't have reached. What happened to that part before the Net? It rarely had fulfillment.
So new parts of us can flower here. And some of this on blogs, but blogs are only as deep or intelligent or knowledgeable or truthful as the people who write them.
I couldn't agree more that, "As females we are receptacles of perception, and it is a great adventure to drink in and reflect the world as we do," this seems to suggest you agree with me that there is a different way of seeing the world which is intrinsical feminine, female—whether culturally induced or reinforced it's hard to say. For me as you know Austen is an English 18th century fount of l'écriture-femme.
I meant to tell you that Mr Drake and I put out on our sidewalk in front of our house some of the accumulated utter junk (he calls it shit) of 25 years which we've been stowing in our attic. This includes the original ancient and filthy storm windows we found on this house when we first rented it. In less than 10 minutes a heavy-set man in an old truck dressed in overalls was prowling through it to see if there was anything he could snatch away. People came to take old bags of sand, of white stones, one roller skate, feeble lawn chairs, the left-over stool of a 38 year old wooden kitchen chair we sat on the first year we were married.
Tomorrow is Spring Cleaning Day in our neighborhood and the same scene has been enacted this evening in front of many houses: someone puts out a pile of disgusting garbag-y items, and within the hour other people seem to emerge from some hole on the ground and can be seen crawling all over the pile. Could they be that desperate? Some takers come in SUVs and decent clothes; no matter, none of them have any shame whatsoever, no more than people in my neighborhood who put such stuff on their lawns and hold "yard sales." It reminds me of how Hilary Clinton made out a tax form one year where she claimed $6 items. Before she was President's wife and Senator, I bet she'd have had a yard sale.
I had better get to bed. Tomorrow we go to Sweet Briar to attend Yvette's recital, on Sunday another concert and a May Day celebration. Caroline and Rob will be there and so too our digital camera.
Sylvia Drake
1 What to do? I read LeCarré's The Constant Gardener with my students, show the film, assign Marcia Angell's "The Body Hunters". How can one prevent the pharmaceuticals from hurting vulnerable people? Remarkably stupid defenses of her (defenses. Dr B too) were put on the Net after this young woman's death.
--
Posted by: Ellen
* * *
commenting closed for this article