For an essay on film adaptations of Jane Austen's novels · 2 November 06
Dear Harriet,
Our friend, Miss Schuster-Slatt took us to the core of one of the issues I discussed yesterday: "Perplexed at why your students seem surprised to be taking a college course. Aren't they in college? George Mason is a University, for goodness' sakes."
I'm cheering myself up today by beginning work on an essay on film adaptations of Jane Austen's novels. Hitherto all I've done is reviews of such films and essays in published academic journals: Jane Austen on Film, Taking Sides, and reviews of the films separately considered in the form of email postings I sent to lists and blog-letters put on this website.
I was invited to write this for a collection of essays on film adaptations of 19th century novels.
I gathered all the books I have in the house on film adaptations of Austen's novels, books which contain essays on film adaptations of Austen's novels, screenplays and books on the making of Austen's films. To that I provisionally added a book exploring the history of Jane Austen's biography (Emily Auerbach's Searching for Jane Austen), a book exploring important contexts (Deire Lynch's Janeites: Austen's Disciples and Devotees), and just one important theoretic film study (to remind myself of many more). I put all this in a new basket on the floor under my library table.
Then I reread my two essay-reviews, found I still basically saw the films in the same way and liked what I wrote (but not the style of the first, written before I wrote my book), and could see how my second essay-review built on some concepts I developed in my first (e.g., the important of the folk character archetypes across all emtion pictures). Now I'll read a couple of books of essay of film criticism. I enjoy this kind of writing—partly because I enjoy looking at the stills and reading what are studies of (moving) pictures.
I've an idea for a thesis but it might be difficult to prove: that these movies intervene in readers' consciousness and thus change how readers read Austen. The problem is the same as reader response theory: most readers are not articulate enough to express what they are thinking and feeling or simply do not want their private dreams and painful experiences made visible as these are part of what the appeal of films depend.
One joy will be I will probably sit and reread Austen once again. This time alone—enough of group reads.
For today I'm linking in some information on film adaptations Rumor hath it will soon or eventually appear.
A second film adaptation of Northanger Abbey, possibly wholly or partly based on a script Andrew Davies wrote about a decade ago. This is a website which has gathered tidbits together: News on Northanger Abbey, the movie. It seems one conflict is between two scripts, another two casts, another two companies. If Martin Amis's fiction and essays are any clue, he is probably the worst candidate to write a screenplay. He disdains women's books; his review in the New Yorker (1996, "Jane's World"), was one long derisory mocking of Austen's audiences, all of them.
And a coming third adaptation of Sense and Sensibility, one based on yet another screenplay by Andrew Davies. It was announced in the BBC news: BBC plans major new Austen drama There is much silly talk and (as in the case of the above coming adaptation, if there is one on the way), not a lot of reliable information.
One way to stay calm and at peace, put a common sense and real perspective on the students in colleges who don't want to be there, not make these hives worse is to please myself by adding two more stills to this site I like very much. So here's Juliet Stevenson and Alan Cumming as Mr and Mrs Elton from the 1996 Miramax Emma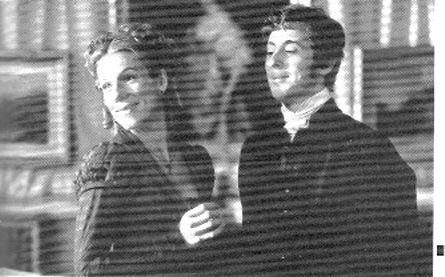 and Jeremy Northam as Mr Knightley and Gweneth Paltrow as Emma from the same film:

I want to begin here so as to keep in mind how much I am allured by these stills all the while knowing the actors and actreses look nothing like the characters as envisaged by Austen, and their psychological baggage (across the Austen and other movies) transforms Austen's conceptions of these characters into 20th century romantic folk types. I'm particularly drawn to the stiffly-held half-yearning half-arch amused expression on Stevenson's face, and the alert muscular intensity and delicate courtesy of the pose of Northam and Paltrow.
I begin with three books I've not read carefully (or only read parts of): 2 collections of essays: Linda Troost and Sayre Greenfield's Jane Austen in Hollywood, Suzza R. Pucci and James Thompson's Jane Austen and Co; one other book beyond Auerbach: John Wiltshire's Recreating Jane Austen.
Sylvia
--
Posted by: Ellen
* * *
commenting closed for this article