An Unsentimental _Emma_? · 12 December 06
Dear Harriet,
Since last I wrote about a film adaptation of an Austen novel, the 1979 BBC P&P, I've watched two more: the 1995 BBC P&P and the 1972 BBC Emma. This brings the number I've watched up to 12:
Transposition or analogies
1) Ruth Prawer Jhabvala's 1980 Jane Austen in Manhattan (an early James Ivory and Ismail Merchant production);
2) Whit Stillman's 1990 Westerly Metropolitan;
3) Amy Heckerling's 1995 Clueless (Paramount), starring Alice Silverstone.
Apparent fidelity
1) 1972 BBC Emma, directed by John Glenister, screenplay Denis Constantduros, starring Doran Goodwin, John Carson, Fiona Walker, John Eccles, Constance Chapman, Debbie Bowen, Timothy Peters;
2) 1979 BBC P&P directed by Cyril Coke, screenplay Fay Weldon, starring Elizabeth Garvie, Irene Richards, David Rintoul, Moray Watson, Priscilla Morgan, Judy Parfitt;
3) 1995 BBC P&P, directed by Simon Langton, producer Sue Birtwistle, screenplay Andrew Davies, Jennifer Ehle, Colin Firth;
4) 1995 Miramax Sense and Sensibility, Ang Lee director, Emma Thompson screenplay, starring Emma Thompson, Kate Winslett, Alan Rickman, Hugh Grant, Gemma Jones, Gregg Wise, Elizabeth Spriggs, Robert Hardy;
5) 1995 BBC Persuasion, written by Nick Dear, starring Amanda Root, Ciarhan Hinds, Susan Fleetword, Fiona Shaw, Sophie Thompson;
6) 1996 Meridian Emma, written and directed by Douglas McGrath, starring Gweneth Paltrow and Jeremy Northam, Sophie Thomson, Juliet Stevenson;
7) 1996 BBC Emma, directed by Diarmiud Lawrence, producer Sue Birtwistle, written by Andrew Davies, starring Kate Beckinsale, Mark Strong.
Frank reinterpretation
1) 1999 Miramax Mansfield Park, written and directed by Patricia Rozema, starring Francis O'Connor, Jonny Lee Miller, Alessandro Nivola, Harold Pinter;
2) 2005 Universal Pride and Prejudice, directed by Joe Wright, screenplay Deborah Moggach, starring Keira Knightley, Donald Sutherland, Matthew Macfayden, Judy Dench.
The only complete failure from the above is Jane Austen in Manhattan. From what I watched the last time I wrote a paper on film adaptations and what I've read about them (and the stage and screenplays), I'd say adaptations before 1971 (the first attempt at true fidelity by the BBC for Persuasion) were often failures, so it seems a genuine adherence to the original text insofar as this is possible (beginning in 1971) is responsible for most of the time producing a successful movie since (even if it has flaws). I put the success down to the high-minded thought that goes into creating faithful adaptation. The analogy when done similarly takes deep insight and creativity.
I find that despite the off-putting costumes (frilly, puritanical, dowdy, apparently based on the 1890s illustrations by Hugh Thomson) for many of the actresses (though not Doran Goodwin who was dressed exquisitely richly and repressed), I prefer the 1972 Emma to the two later Emmas, and the 1979 P&P to the 1995 P&P. I'm also leaning towards focusing for freer adaptations on the 1990 Metropolitan and 2005 P&P.
It's easier for me to say why I prefer the 1979 P&P to the 1995 P&P. After watching the later film using a DVD in my computer, and being able to see the screen large and hear the beautiful music, I was impressed by Colin Firth's performance in the second half of the film, and since the film was longer than the 1979 P&P, the directors and actors were able to present a film with gradually developed nuanced and powerful multiperspective scenes. Simon Langton spends much time developing Darcy and Elizabeth's relationship, but the depiction of the mother by Steadman grates. She must have been directed to present a shrieking caricature.
Langton and Davies seem to think that the audience will not believe someone's feelings can be outraged unless the person (Mrs B) shrieks the utterance sky high; you can't be mortified unless the utterance or behavior is egregious and seen by a large number of people; I found the yelling made by Lydia and others hard to endure. Constant yelling of the nickname Lizzie when Elizabeth Bennet is often called Elizabeth or Eliza and Lizzie rarely. Lydia is insensitive in Austen; she's not a rowdy hoyden who enjoys coarse shrugs and insulting others at every turn. And the wedding at the end just grated too: instead of spending more time on the scene between Mr B and Elizabeth at the end, we get this long wedding ceremony. I found myself irritated many times and felt relieved to be free of the noise when the earlier episodes came to an end.
This P&P also de-emphasizes the women's relatoinships except for Jane and Elizabeth. There is real pity for Charlotte Lucas (Lucy Scott) now living in solitude and under the thumb of the hypocritical sneering Colllins, but apart from this compassion the film utterly endorses conventionally achieved heterosexual marriage as the central preoccupation and then occupation of a woman's life. The depiction of Mary Bennet (Lucy Briers) as flat-chested and ugly, understanding nothing of her reading for real was extravagantly cruel.
By contrast, the 1979 P&P showed Elizabeth Bennet (Elizabeth Garvie) having a close relationship with Charlotte Lucas (Irene Richards); by treating Mrs Bennet with more respect, made her anxiety more sympathetic, and showed Elizabeth a friend to Mary; there was a moment of compassionate focus on the bullied, silent and isolated Miss Anne de Bourgh. The worst loss in 1979 film was the omission of the scene where Elizabeth's father questions her on whether she loves Darcy, and says he worries lest she spend her life as he has had to do, with a person for whom he has no respect (or liking): Weldon and Coke both were determined to leave no sympathy for the father, but this same omission makes me wonder if they worried they might offend the audience by coming to close to their own realities.
How Weldon got so much of Austen's language in was startling. It was hard for the actors, but I thought Garvie conquered it and spoke as if they were words she'd use. I cried and was joyous at the end. Garvie's performance was perfect in context: the film was astonishing in its mimicry and internally consistent in the way the other literal representation of historical attitudes rarely are. Rintoul's intense charged presentation of Darcy as at least consistent even if not likable. Austen's character is a problematic one as he reappers too changed, with not enough presented inbetween. Austen did it better in Persuasion where Wentworth also undergoes change, but we see it in front of us and a long time went by to make it more creditable. Irene Richards is a dignified moving Charlotte.
The difficulty in saying why I so loved the 1972 Emma is a product of its complexity. Like the 1979 BBC P&P the people who made it did not find it necessary to deny any serious intentions, and in fact admitted to reading criticism, the novel, and taking the project seriously. Glenister took a more modern view of Mark Schorer's famous essay on Emma herself:
"Emma, then, is a complex study of self-importance and egotism and malice, as these are absorbed from a society whose morality and values are derived from the economics of class; and a study, further, in the mitigtaion of these traits, as the heroine comes into partial self-recognition, and at the same time sinks more completely into that society."
Glenister and Constantduros produced a film where Emma is genuinely kept at an ironic distance from the viewer and we are often led to dislike her. (Anthony Trollope said of Austen's Emma that "the heroine is treated almost mercilessly.") Glenister had read Mark Schorer and came up with a psychoanalytical reading of Emma as (given her father and isolated flattered position and high but naive intelligence) understandably neurotic, and chose Doran Goodwin as an actress who conveys the biting intensities and frigidities of Anna Massey. A characteristic passing still from from the film: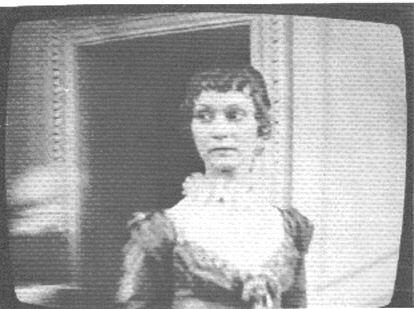 This kind of presence combines with erudite voice, the careless snobberies, elegance and high intelligence of Susan Hampshire types, only the edges of her voice are grating. Doran Goodwin plays arrogance and kindness all at once; her mobile face turns from cool rigidity and blindness to sudden eager intense desire:

She is not beautiful; she is better than that: she has a face fascinating to look at.
Emma's taking over Harriet was not treated as light comedy; it's rather a kind of dangerous light farce (we are watching two clueless fools). The first episode of the six ends in a slightly frightening scene where Emma is dictating a letter to the naive and confused Harriet (Debbie Bowen), rejecting Robert Martin.
Not that this production marginalized the woman question. While (like other of these films, except in the case of Fay Weldon where a woman wrote the script), it seems the directors and writers consistently (and therefore deliberately) leave out all lines which focus on the powerlessness of women to obtain security or respect unless they find a good rich man (not an easy thing it's emphasized), nonetheless, this Emma had many long pivotal scenes where the women characters predominated and interacted with one another directly, creating a multiperspective which enabled the viewer to explore and enact worlds of women. Constance Chapman made a believable Miss Bates: she reminded me of my mother-in-law in type. Much as I find Jeremy Northam in the Meridian 1996 Emma intensely attractive (sexy, alluring), I have to admit that John Carson, sober, quiet, older, the gentleman brother, is much more like the Mr Knightley I used to imagine when I read Austen's book.
There was a daring scene between Carson and Goodwin. When Christmas comes, and Mr Knightley walks over to Emma is cuddling her sister Isabella's baby girl, the scene occurs upstairs in a darkened bedroom. Goodwin is dressed in a low-cut gown and the way she holds the child suggests a woman breast-feeding. Carson's gestures towards Goodwin and baby are a combination of protective, tender, and aroused. In the film as a love relationship between the two replaces the opening father-scolding-daughter and evolving brother-sister ones, the affection they feel is expressed through words and controlled courteous gestures, gallant on his part, and accepting on hers. But here we have a deeply sexualized scene, more so than many of the kissing scenes in the later films.
It does seem de rigueur for the proposal in all 6 novels adapted to film to occur outdoors at the end of a long walk with the hero and heroine walking side-by-side (this 1972 Emma, the 1979 P&P, the 1986 NA, 1995 P&P, both 1996 Emmas, the 2005 P&P). This Emma added the feminine motif of having Mr Knightley and Emma enter a pavilion and sit down together before they begin to speak. Alas there is no photo available for this scene.
Fiona Walker is the best Mrs Elton I've seen thus far; while the Meridian 1996 Emma had the pleasantest and wittiest of the Mrs Eltons (Juliet Stevenson who does undermine Emma's status as warm loving heroine), the paradigm Austen set up works best when Mrs Elton is monstrous, something of a persistent insensitive bully over Jane (Ania Marston, dressed as a Jane Eyre type). Glenister did this to make someone in the story worse than Emma, and then (deepening the meaning) backtracked to have Mrs Elton's sarcasms accurate.
For an example of the multivalences here, take the film's penultimate scene where we at first watch three hands playing cards and then the camera moves to reveal the players are Mr and Mrs Elton and Miss Bates (who we are given enough insight into to see she knows that Frank Churchill has come to court Jane Fairfax). The compromise marriage between Emma and Mr Knightley, with Mr Knightley going to live under Mr Woodhouse's roof had been announced. Mr Elton (a handsome Timothy Peters; in this production Elton is not a caricature) says of Mr Knightley's going to live at Hartfield, "Better him than I," to which Fiona Walker replies persuasively she'd never seen generations living together this way to work out. This is the only production of all 4 Emmas (I include the 1996 Clueless) to present Mr Woodhouse as genuinely at first refusing to hear of Emma marrying anyone, even Mr. Knightley. Walker was a brilliant Ruth in Ayckbourn's Norman Conquests.
The 1979 P&P did something peculiar: it seemed a self-contained imitation of the later 18th century insofar as it could, and asked us to enter into Elizabeth's grief over Lydia's possible self-destruction and remorse (yes this production does go in for punishing the heroine as guilty of something). Not the 1972 Emma. The scene with Mr Elton in the carriage was presented as a man who won't believe in "no" and becomes physically aggressive at these signs of "coquettishness" from Emma. Here is Goodwin just before or after it becomes obvious Mr Elton is aggressively pursuing her:

I love the beautiful winter cloak. I also chose this still because it shows Goodwin's subtle projection of quiet distress and confusion at Mr Elton's behavior during the Christmas party to which Harriet cannot come.
In the sense of modernizing somewhat the 1995 P&P produced a relentless quarrel scene between Elizabeth Bennet (Jennifer Ehle) and Lady Catherine de Bourgh (Barbara Leigh-Hunt) where Elizabeth's stance felt genuinely radical as she denied the right of the family system to tell her where her happiness would lie. The 1995 P&P did some justice to how women betray as well as support one another, an important theme in Austen too.
I called the 1972 BBC Emma "unsentimental?" because against the overall conventional plot-design and images of women as pregnant, mothers, desperate accommodating subordinates, obedient daughters (and we see Emma obey her father in scenes where his demands are selfish and unreasonable, exclusive), and the happy ending of a toast in the room, is another discourse of pragmatic hardness, using one another, performative behavior which cuts across all the love relationships. This is especially in the behavior of Robert East as Frank Churchill, here not a cad, simply relatively heartless, rather like Austen's own John Dashwood in this.
We are also spared the obligatory super-celebratory (solemn in the 1995 P&P) wedding that seems to appear in all these high-status melodramas (even where there is no such thing in the eponymous book anywhere). Yvette said the film was done as a drawing-room comedy in part, and she was right: all four couples appear last in the Hartfield drawing room toasting one another with wine, with only poor Miss Taylor forbidden to drink wine by Mr Woodhouse. She is ordered to drink milk because she is nursing the new infant. We are to be glad to see Emma protest and be able to hope Mrs Weston is not excluded from adult independent humanity and can have a glass of wine too.
I've still to read Whit Stillman's screenplay for Metropolitan and reread Mansfield Park, but I will probably focus on it. My sense is the film brings out the vulnerabilities and high nobility of Fanny Price and Anne Elliot as a presence in her heroine, Aubrey Rouget (Carolyn Farina who later played Janey Archer in Scorcese's Age of Innocence); and its use of motifs from Emma (like the demand for candour as a way of invading the privacy of others which backfires) and Persuasion (deep melancholy).
As I wrote a while back, I loved the expressiveness of the 2005 Focus P&P. All the stills I've found show their faces intense, vulnerable, anxious, many close-ups too. I liked how Wright and Moggach developed the sexual aspect of Mr and Mrs Bennet's relationship, their sympathy for Mr Bennet (Donald Sutherland), and turned back to the 1939 Wuthering Heights to model its codes (though I've now discovered that in the 1995 P&P Jennifer Ehle does stand high on rocks overlooking a archeaological green landscape) in lieu of the 1940 trivializing optimistic P&P.
Probably my favorites among all the films remain the 1995 Miramax S&S and the 1995 BBC Persuasion (though this film has jarring performances and is flawed, partly because the book has problems), but both have been discussed recently at length by others and I can't use them to make the points I want to, for I've also decided where my energies will go. I've also begun to find the criticism I'll use, but I'll save that for another letter when I've thought more. I have no title as yet, and that's a sign I have no thesis as yet, just a chosen terrain.
Sylvia
--
Posted by: Ellen
* * *
commenting closed for this article