The latest _Mansfield Park_: a 'natural' heroine? · 28 March 07
Dear Harriet,
As promised, here again is Judy Geater's review. I now think my comment at the end may be inaccurate, because even if Ryan is anorexic and Piper once was, Pipe is no longer. I also have profited from reading Nick's comments (now put back).
Nick suggests that while apparently inadequate, and mostly unlike
Austen in many ways, the latest filmic Mansfield Park reveals class and philosophical conflicts in popular British culture and connects to Austen through a country/town, "natural" v. anti-cosmopolitan, anti-intellectual or rural/artifice contrast. I'm not sure the divide is fair to cosmopolitanism, and am uncomfortable when a heroine can be described as "animal" (as I myself demured with good reason against being described that way), but think the perception as a philosophical one and about class conflicts in Britain today goes far to explain the 2006 P&P and aspects of the 1995 A&E/BBC P&P. It's also partly justified by Austen's own texts (see my comments too).
*********
Our English friend, Judy Geater, has allowed me to send along here her review of the latest Mansfield Park (2007, ITV, directed by Iain P. MacDonald, written by Maggie Wadey who also wrote the very sexy psychoanalytic & gothic 1986 NA). Judy's review appears on her blog on Live Journal. She offers a much more balanced appraisal than I heard while I was at the 18th century conference:
"The main drawback with the new version of Mansfield Park is that it's too short, plain and simply. Once all the ads are removed, it's just 93 minutes long, which isn't nearly enough to get the full flavour of the book and means large chunks have to be cut out. The most damaging loss is the whole Portsmouth section of the novel, taking with it all sense of the poverty of Fanny's family and why Fanny might be under so much pressure to accept Henry.
There is no substitute for the more leisured pace of one of the older BBC adaptations. No wonder that the characters rush and gallop about, with some scenes where Fanny hurtles down the stairs at a frightening rate which left me expecting to fall over her long skirt. There probably wasn't time for her to walk down the stairs at a more sedate pace.
I was surprised before seeing the film by the casting of blonde, curvy Billie Piper (a star name in Britain at the moment although not conventionally beautiful) as Fanny. On watching, my immediate impression was that she looked all wrong, wearing such low-cut dresses which might be in period but feel wrong for the character. There is also something very modern about her, though I can't put my finger on what this is.
However, even if miscast, she is a good actress and I think did somehow grow into the part as the film went on, giving a feeling of Fanny's nervousness and desire to stay in the background.
Despite these problems (and the shaky camerawork which is supposed to give a feeling of immediacy but feels a bit strange in a costume drama) I actually enjoyed this version more than I expected to after seeing the lukewarm/grudging comments from pundits on BBC's 'Late Review' series. I liked it within its limits, and was interested to see that it does spend a lot of time on the performance of Elizabeth Inchbald's Lovers' Vows.
After reading Ellen's comments on the Bridget Jones movies, I was also interested to see that this version of MP starts off with Fanny narrating her own story in voiceover, although this element soon vanishes, except for a scene later on where she starts to write letters to Edmund, only to tear them up. For me this was one of the most successful scenes in this version.
As with the most recent (2006) P&P, I feel the casting of very young actors in the principal roles does work well in making them seem vulnerable and uncertain. I think both Edmund (Blake Ritson) and Mary (Hayley Atwell) are particularly well cast – and was pleased that Edmund is kept very true to the character in the novel rather than being made more daring or more of a standard romantic .
In the older generation I like both the actors they have chosen for Sir Thomas and Lady Bertram, Douglas Hodge and Jemma Redgrave – Redgrave is a favourite of mine from her role as an Edwardian woman doctor in the series Bramwell, which I liked very much. However, Lady Bertram does get most of the really bad and clunkingly un-Austenlike lines in this version, for some reason ("I think Julia is ready to be fallen in love with"), and, oddly, is also turned into a matchmaker.
I was startled for a minute to see actress Maggie O'Neill, who I mainly remember as a sexy temptress-type character in Take Me Home, a TV drama back in the 1980s, cast as Mrs Norris. (I gather she is now better-known for Shameless, a series I haven't seen.) She plays Mrs Norris as apparently sweet but always whispering spiteful comments to Fanny when she thinks nobody else is listening, a more understated performance than usual with Mrs Norris, but one which I thought worked well.
All in all, I don't think this version comes any where near to either the 1999 Miramax Rozema film or the older (1983) BBC version with Sylvestra Le Touzel, but I still enjoyed seeing another take on MP.
Judy Geater"
As ever Judy's remarks are more thoughtful and perspicuous than most of what I read in print.
I surmize I too will enjoy parts of the film. I wrote a long time ago on C18-l that I have so long known, loved, and made Austen's MP part of my consciousness, it's hard for me not to rejoice in these richly visual and costumed dramatic recreations of it, and more recently after seeing the 1971 BBC Persuasion that the happy endings typical of the Austen films usually leave me suffused with joyous tears. Nonetheless, I find something very disquieting in what Judy rightly says is the use of the inappropriate type Billie Piper seems to project.
Here is a still I found online of Meg Ryan who plays Maria Bertram: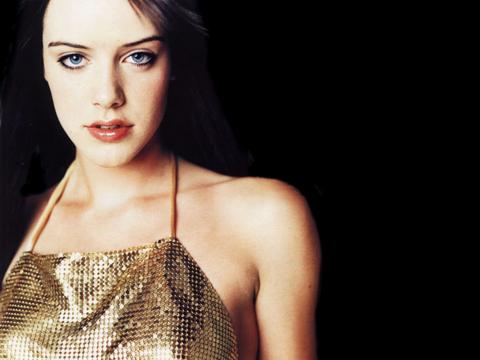 Ryan physically resembles Jen Malone, the anorexic young actress who played Lydia Bennet in the recent P&P.
The difference between the two gives the game away. I found this still of Ryan on a blog by someone who seemed to be a British teenage girl. It was the third in a series of very sexy stills: all the girls had their breasts pushed out prominently, wore flimsy and body-tight garments, low cut, and had pouting expressions or gestures and sloe or dulled eyes—all of which suggest kinky sex on offer. I am very troubled by the anorexia in both young women's arms, chest cavity and neck; their child-like faces seem to me to make sex with a young or just nubile body part of the allurement here. The addition of a gilt cross to Billie Piper's dress makes me think of Sade's enjoyment of perversions of repressive Christianity. Perhaps the contemporaneity we feel here is the pornification of young women today?
Sylvia
--
Posted by: Ellen
* * *
commenting closed for this article