Andrew Davies' latest film adaptation: _Northanger Abbey_ · 2 April 07
Dear Harriet,
My friend, Judy, is sending on a copy of Andrew Davies' latest film adaptation, Northanger Abbey (from the novel by Jane Austen), and the stills she provided makes me want to see this one. The central actors are fundamental to a close film adapation's success, and Felicity Jones and J.J. Field do look the way I've imagined Catherine Morland and Henry Tilney look. The stills are "grabbed" ones from the films and have come out somewhat darkened and elongated:

Felicity Jones and J.J. Fields as Catherine Morland and Henry Tilney, near close-up
She has also again given me permission to put her review (also on her blog at Live Journal) here on mine. She is again balanced and this time liked the film much more. From her review, using my categories (included in the comments) I'd categorize this NA as an "apparently faithful" adaptation (other examples would be Davies' own 1995 P&P, the 1970s BBC Persuasion, Emma, and P&P, the 1980s S&S and MP and the 1990s S&S and Persuasion and BBC Emma). From her review of the latest MP, I'd categorize as commentary or close analogy (other examples would be the 1940 P&P, the 1987 BBC NA [which she mentions], the 1999 MP and the recent 2005 P&P):
"ITV's new version of Northanger Abbey is a far better production than the previous week's Mansfield Park, as I'd expected and hoped, with Andrew Davies as the scriptwriter. The dialogue is very crisp and convincing, as always with Davies – no clunkingly modern lines to break the spell. This is also a much better film than the previous BBC version of Northanger Abbey, which was something of an embarrassment and didn't get the tone of the book at all. However, it still feels short at 93 minutes and (inevitably) has to leave out an awful lot of the novel.
I also feel it is slightly flat compared to the sharp wit of Austen, something which comes from losing the narrator's voice. Davies does actually keep the narrator at the start and end (I think Geraldine James provides the voice) but there is no narrator cutting in the rest of the time, which I'd rather hoped there might be at key points.
With this version, my feeling is that the problem isn't so much the time constraints, although it is still short at 90 minutes, but the
lack of filming on location in Bath, apparently to save money. Most of it was filmed in Dublin and it does look beautiful, but I miss Bath's famous streets and buildings – and there's nothing like that extraordinary scene in the 1980s film of the ladies taking the waters in their fine dresses.
Felicity Jones is very wide-eyed and young-looking, and convincing as a heroine starting out on life in eager expectation. She wears far less revealing clothes than Billie Piper did in MP. However, Isabella (Carey Mulligan) does wear low-cut dresses – this seems deliberate as she tries to attract attention from passing men. One change in Davies' version is that we glimpse Isabella in bed with Captain Tilney before she is casually cast aside. She asks 'Are we engaged now?', but is curtly told to put on her clothes and go. I thought this was a poignant moment.
Catherine Walker is also very good as Eleanor: she reminds me a little of Emma Thompson as Elinor in the 1995 movie of Sense and Sensibility with that quiet self-control and feeling of staying in the background.
The dangers of reading novels are stressed, but my feeling was that this is done with less affection than in in the novel, where Austen's vivid knowledge and enjoyment of Ann Radcliffe's book comes across even as she lightly mocks her melodrama. Davies does enjoy playing up the sexual content of the Gothic element, with Catherine, played by Felicity Jones, dreaming scenes from 'Udolpho' mixed up with her fantasies about Henry Tilney.
Catherine's reading of Radcliffe's Udolpho features strongly in this adaptation, but references to another Gothic novel, Matthew Lewis' The Monk are added in as well, building on a brief passage in the book where John Thorpe says he never reads novels, but read The Monk the other day. Davies includes a sexy Gothic dream sequence based on The Monk. As Henry Tilney (JJ Feild) discusses Radcliffe with Catherine, whereas
Thorpe (William Beck) is the one suggesting she should read The Monk, perhaps this is supposed to be an oblique comment on the difference in character between the two. Just guessing here as I've never read The Monk. I was dismayed to see Catherine burning her copy of Udolpho after being sent home, though I imagine the fact that it features prominently may well get more people to read it, alongside Northanger Abbey.
I don't think Davies's Tilney is as witty as Austen's – and he seems more vulnerable than I've ever thought of the character being, maybe because he is played by JJ Feild, a fine actor who has a vulnerable quality to him.

He played the young Michael Caine character in the film of Swift's Last Orders and was Sam Beeton in the BBC film The Secret Life of Mrs Beeton. Here he has tears in his eyes when he upbraids Catherine about her thinking his father is a murderer. I miss some of the wit and lightheartedness of Austen's Henry, although those elements are still there – just with a note of slight melancholy added in at times.
I was struck by the fact that at the end Henry seems to turn on himself and criticise himself for having upbraided Catherine earlier when she suspected murder. He recognises that in a way she was right about his father after all, saying he killed his mother through "a kind of vampirism" – marrying her for her money and then sucking the life out of her through his coldness and unkindness. I think this is implied in Austen but not stated outright like this. For me this worked well, as a revelation of the "real" horror behind all the Gothic imaginings – the money-worship behind the black veil, so to speak.
Connected to this, Liam Cunningham is outstanding as General Tilney, in a performance which is nothing like the pantomime villain antics of Robert Hardy in the 1980s NA. Instead, this General is all cold politeness with a sort of sliminess about him. Every time he speaks both his children start involuntarily and sort of shrink away very slightly, nothing melodramatic about it, but it tells."
I headed this blog letter with Davies' name because I have concluded all his adaptations resemble one another. These include so many (e.g., Defoe's Moll Flanders, Trollope's The Way We Live Now [which is more of a comentary or free adaptation than is usual for Davies] and He Knew He Was Right, Gaskell's Wives and Daughters and recent modern historical and other novels) that it's important to see how he conventionalizes and exploits costume drama. His work influences and may well frame how people read high status older and recent novels. I read a study of them which came to the same conclusions I did. I summarize both this study and my own:
Davies in general (across all the novels he adapts): shows a detached, sympathetic irony towards the more sentimental or melodramatic characters; shows great sympathy towards the amoral and less than admirable protagonists and uses these to reflect on the cruelties and double standards of the world which judges them; is usually amused and amusing and wherever he cans lightens a text and finally opts for conventional values when it comes to sex, marriage, and money-making; adds literal action wherever possible, and tries to take advantage of particular actor's strengths.
Nick wrote some perceptive observations and did not like the film, partly because his criteria are not fidelity but rather, Is this an entertaining thoughtful film in its own right? In the case of Austen's books I've learned I look for partial fidelity more than in other author's books but also a film which stands up in its own right. So for me the problem with both the 1987 NA and perhaps this one (I've yet to see it) is in order to do justice to Austen's concept one has to blend domestic realism with genuine gothicism by which I mean use horror film conventions. Davies and Wadey's presentation of gothic is trivializing: it comes down to adding sexual titillation and frankness.
Horror film conventions include typifying scenes, visibilia and character types which go well beyond psychoanalytical presentations of sexual experience. They are intended to disquiet and make viewers question their complacent ideas about what lies beneath appearances. It's not just a matter of visualizing the cruelties or injustice of an imagined supernatural world, what Todorov calls "the fantastic" glimpsed through the natural one.
There are not many stills available from the earlier _NA (directed by Giles Foster, screenplay Maggie Wadey), but this one of Googie Withers as Mrs Allen suggests something of the perception the film had of the older woman as witch: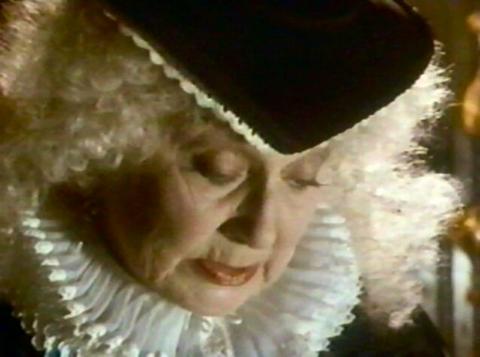 In a play adaptation of NA by Matthew Francis (1997), Francis turns Mrs Allen into Radcliffe's heroine's maid, Annette (Catherine doubles as Emily, Henry Tilney as Valancourt, and the General as Montoni).
I too like Emma Thompson as Elinor Dashwood; here's the 1987 production's Eleanor Tilney (Ingrid Lacey) who is intended to encompass the realistic heroine and the gothic: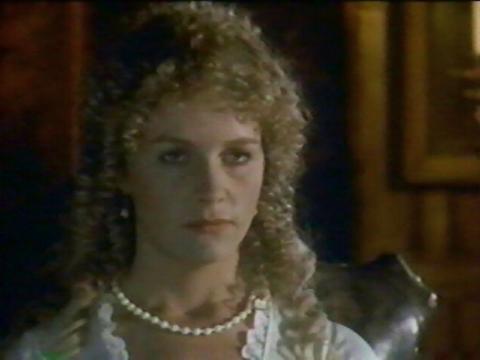 However, in this particular still (from Judy's blog) it seems the director, Jon Jones, did make an attempt to bring other kinds of gothic motifs into the film. The shadows falling on Felicity Jones as Catherine suggest there is something to be nervous & wary about in this room:

Gothic or horror films (as they are called in the trade) often do very well at the box office, allure audiences in, because they reveal things to us we can't "see" in books (or life): the very small, the big; the transient (projectiles, sky, clouds, least permanent components of our environment, accelerated motion and slow down motion), what we don't notice or what is specifically cinematic because only films can allow us to see these: the familiar reseen newly (you use uncommon camera angles); phenomena overwhelming consciousness (catastrophes, call forth excitement and agony which thwarts detached observation, a cut off head, pornographic motifs, all that is dreadful and off-limits, spectacles which upset the mind). Mary Reilly achieved this.
For example, an intendedly thoughtful and detailed review of Davies' NA in a blog called Screen Stories feels superficial because the author does not go beyond demanding psychological realism and does not treat the film deeply by looking at its filmic conventions from a generic perspective. His attitude towards the gothic may be gauged by his complete condemnation of the Wadey's NA which opted for emphasizing the gothic and omitting the depth of realism Austen's novel of a young woman's entrance into a hyprocritical and injust world contains. I thought the earlier NA was not a success (I didn't like the dream sequences), but found it a revealing experiment. This is disappointing as I gather the author is someone who intends to get a degree in film studies and write professionally about films.
Judy's comment on the actor playing General Tilney suggests he was allowed to enact the perception the gothic in literature (and horror films) offer of people's ability to enact to one another Kafkesque hidden malevolences and caprices.
Sylvia
--
Posted by: Ellen
* * *
commenting closed for this article