A revealing switch or omission in the _Emma_ films · 29 July 07
Dear Harriet,
I wrote an unusual "foremother poet" posting for Wompo this past Friday, one that will not fit the usual format. So I should probably put it here, lest it be lost. What is shows is it matters that every single available Emma film we have is by a team of men (directors, screenplay writers, producers are all men).
To my case in point: While reading Jane Austen's Emma this week, I was struck by a lovely passage in the novel and by its not ever having been dramatized in any of the film adaptations of Emma. I think this is not just an omission, but a revealing switch. The overlooking of this scene odd since usually everything is done that can be done to make the Austen materials intensely romantic.
I must contextualize the scene, show how it is embedded in Austen's story:
In Austen's novel, Frank Churchill has secretly bought a piano for his clandestine beloved bethrothed, Jane Fairfax, and managed to get some time alone with her in Miss Bates's, her impoverished aunt's lodging room before Emma, the egoistical blundering rich heroine of the novel with her dumb friend, Harriet Smith, in tow, as well as Mrs Weston, Frank's mother-in-law, and Miss Bates, Jane's aunt, all come into the room. He is probably warned about their entrance as the aunt, Miss Bates, is not so dumb as others might suppose, and calls out very loudly as she brings the others up the narrow dark stairwell.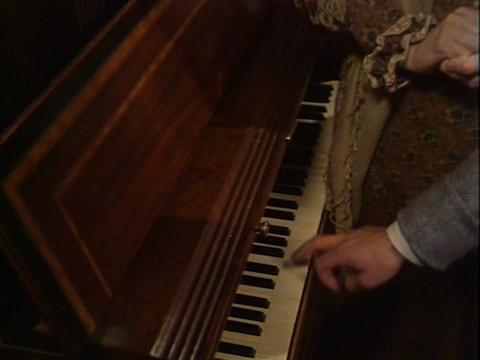 The piano Frank Churchill (Robert East) bought Jane Fairfax (Ania Martin); we are in Miss Bates's lodgings and see Frank's hand on the keys, Miss Bates's hand and skirt next to him (from Emma, BBC 1972)
In Austen's book, Frank wants Jane to play songs they had enjoyed together while on holiday at Weymouth. He must somehow in front of this crowd let her know he wants this as well as say why.
You need to know no one in the room but Frank and Jane knows the piano is a gift from him and that the others have been encouraged by Miss Bates to think it's from Colonel Campbell her guardian. This is improbable because he would not distress her by creating attention-getting mysteries; also while he has brought her up, he has not been willing to overspend so lavishly in this way on her. Emma has shown herself willing to start a rumor it could be a clandestine love gift from Mr Dixon who is married to Jane's best friend; this is base treachery from woman to woman: by spreading such a rumor, Emma is endangering Jane's reputation and relationship with her one close friend. The previous evening Jane and Frank had been to a party where there had been dancing, but they had not been able to dance with one another, rather Frank had as a coverup danced with Emma, and understandably (and callously, perhaps self-indulgently) excited Jane's jealousy. Jane has exhibited considerable embarrassment before the others and strong reluctance to play any of the songs which also came with the piano. So he speaks before them all to her thus:
"If you are very kind," said he, "it will be one of the waltzes we danced last night;—let me live them over again. You did not enjoy them as I did; you appeared tired the whole time. I believe you were glad we danced no longer; but I would have given worlds—all the worlds one ever has to give—for another half-hour."
She played" (Jane Austen's Emma, Ch 28 or 2:10).
In the book we are told the song played was Robin Adair, one of a set of "Irish" melodies which seem to have been sent with the instrument. The word "Irish" in the 18th century also meant Scots.
Robin Adair was written by Caroline Keppel Adair and I have no text in my house so send along what I found online:
What's this dull town to me?
Robin's not near;
What was't I wish'd to see?
What wish'd to hear?
Where all the joy and mirth,
Made this town heav'n on earth,
Oh! they've all fled wi' thee,
Robin Adair.
What made th' assembly shine?
Robin Adair.
What made the ball so fine?
Robin was there.
And when the play was o'er,
What made my heart so sore?
Oh! it was parting with,
Robin Adair.
But now thou'rt cold to me,
Robin Adair.
And I no more shall see,
Robin Adair.
Yet he I lov'd so well,
Still in my heart shall dwell,
Oh! I can ne'er forget,
Robin Adair.
Welcome on shore again,
Robin Adair!
Welcome once more again,
Robin Adair!
I feel thy trembling hand;
Tears in thy eyelids stand,
To greet thy native land,
Robin Adair!
Long I ne'er saw thee, love,
Robin Adair;
Still I prayed for thee, love,
Robin Adair;
When thou wert far at sea,
Many made love to me,
But still I thought on thee,
Robin Adair!
Come to my heart again,
Robin Adair;
Never to part again,
Robin Adair;
And if thou still art true,
I will be constant too,
And will wed none but you,
Robin Adair!
In context in Austen's book, the song is moving and ironic. It reveals a deeply trembling vulnerable love on Jane's part. It also reveals that the two of them find Hartfield (as who would not) insufferably dull, boring, a place where nothing interesting happens, and hardly an intelligent or insightful remark is ever said, no art to be found but what the limited inhabitants themselves provide. We see just how hypocritical all Frank's praise of Hartfield might possibly be.
*********
Austen's scene is never chosen as a episode, though in the so-called faithful adaptations so many tiny sentences of Austen's become episodes and episodes are invented that could have occurred between chapters.
Instead, for example, in the 1972 BBC Emma we get an interpolation of a long poem by Robert Herrick, "To the Virgins, to Make Much of Time", many of its verses read aloud by Mr Elton. In context these verses are ironic and make fun of Emma and Harriet as two virgins who are thus far avoiding the great experience of life (a man's penis). We later hear that Jane would play "Robin Adair" at Weymouth, but it's in the context of an intense unexplained dispute between Jane and Frank (Part 4, "Wise Judgment") where in Miss Bates's room he again pressures her to play after he has teased her rather meanly by saying aloud that the gift of the piano must come from Mr. Dixon and so too the music found there.
In the 1996 BBC Emmas we get music without words or a conventional classic piece of a slightly later era played before the crowd. The emphasis in the 1996 BBC Emma (written by Andrew Davies) is either on Mr Knightley fighting with Frank Churchill is in effort to protect a strained Jane (two men vying for a woman) or Emma (Kate Beckinsale) playing complacently with Frank Churchill looking on from behind.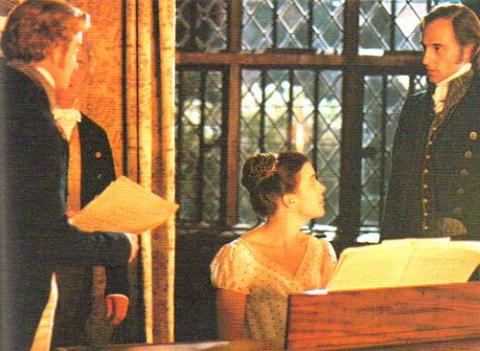 Jane Fairfax (Olivia Williams) caught between Mr Knightley's protection (Mark Strong) and Frank Churchill's desire (Raymond Coulthard) (Emma, BBC 1996)
In the 1996 Miramax Emma Jane (Polly Walker) is hardly glimpsed at the piano, the episode between Mr Knightley and Frank Churchill skimmed over so we can dwell on the anorexic Gweneth Paltrow as the idol of the camera in a richly luxurious old-fashioned room:

Emma (Gweneth Paltrow) and Frank Churchill (Ewan McGregor) at Coles' party (Emma, Miramax 1996)
The 1972 BBC Emma does show us Jane playing at length at Hartfield a few evenings later; she performs before the company a wordless highly sophisticated piece of music: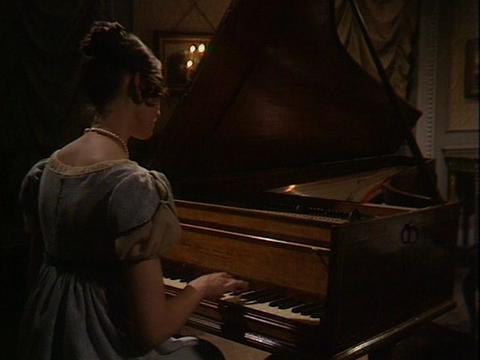 A backshot of Jane Fairfax (Ania Martin) plays at same Hartfield assembly after dinner (Emma, BBC 1972).
And at the Cole's Dinner Party Jane does play a melancholy Scotch song. She breaks down and can't finish it:
Oft in the stilly night,
Ere slumber's chain has bound me,
Fond mem'ry brings the light
Of other days around me;
The smiles, the tears,
Of childhood's years,
The words of love then spoken;
The eyes that shone,
Now dimm'd and gone,
The cheerful hearts now broken!
This is a Scotch air by Thomas Moore (1779-1852), from Lalla Rookh, an oriental romance (London: Longman, 1817).
The '72 BBC film also insists that Jane's distress over the insistence she play has another source than her ill health, and provide stills of the very expensive piano in Miss Bates's meagre lodgings as if to remind us of its enigmatic existence.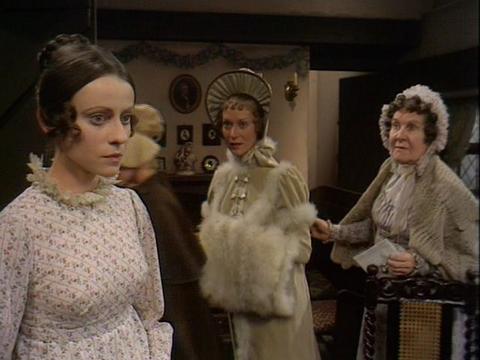 Jane Fairfax (Ania Martin) distressed before uncomprehending Miss Bates (Constance Chapman) and Emma (Doran Goodwin), Miss Bates's lodgings (Emma, BBC 1972)
So the 1972 Emma substitutes Herrick's poem and invents satiric scenes between Emma and Harriet (Doran Goodwin, Debbie Bowen), with Mr Elton (Timothy Peters) and for the poignant scene uses one stanza of Thomas Moore's general song of loss. It omits the poignant romance of the Robin Adair scene. The 1996 two Emmas don't come near to paying attention to Austen's text.
*********
Lady Caroline Keppel Adair (born 1734, no death date given in any of the sources I could find) was one of large amorphous group of Scots women writers whom Kirsteen McCue in "Women and Song: 1750-1850" writes about in a delightful (and very fat) book I bought myself while researching the life of Anne Halkett, a 17th century Scots and English autobiographer when I discovered it also has long articles on Margaret Oliphant, modern Scots-descended writers (e.g., Alice Munro), memoirists (Elizabeth Grant Smith whose memoirs I read this year—superb and only published unabridged and uncensored in the last 20 years): A History of Scottish Women's Writing, edd Douglas Gifford and Dorothy McMillan. I recommend the Gifford and McMillan anthology heartily. Also Catherine Kerrigan's Anthology of Scottish Women Poets.
To return to McCue, using Kerrigan's anthology, McCue describes the thriving musical Scottish culture from the mid- to later 18th and into the early 19th century. I've written some foremother poet postings on some of these women, some of whom also wrote poetry sheerly for reading (Carolina Oliphant Nairne, Anne Lindsay Barnard, Anne Grant, Anne Hunter, Susanna Blamire, Alison Cockburn, Jean Elliot). She names many women and goes more deeply into the lives and music and poetry of a few. She says nothing about Keppel and I couldn't find her in the ODNB or any database at GMU. Online in a peerage site I discovered she was the daughter of Sir William Anne van Keppel, 2nd Earl of Albemarle and Lady Anne Lennox, and married one Robert Adair by whom she had two children. The second was born 1769 so Caroline was alive then.
Songs like "Robin Adair" are often presented as artless, supposedly the simplest expressions of basic human emotions. They do indeed usually present traditional or conventionally-celebrated feelings, but they are usually very artful and most of the time were written by a single educated gentlewoman (often connected to men in the educated classes). We don't know all the women's names because it was intensely against the social conventions for a woman to seek public recognition for her writing. There are many nervous-sounding statements by women of the era disclaiming any desire to be thought a learned woman, a reading woman, with lines about the scorn and ridicule heaped on such women and a picture of them which shows the woman herself thought such person rightly a pariah. (It's not gone from us if you have seen the way the 1995 P&P movie presents Mary Bennet as a flat-chested sour ridiculous young woman. A few have survived which present an alternative view. Thus Joanne Baillie (a known Scots woman poet and dramatist):
I were I were single, I wish I were freed;
I wish I were doited, I wish I were dead,
Or she in the mouls, to dement me nae mairl, lay!
What does it 'vail to cry hooly and fairly!
Hooly and fairly, hooly and fairly,
Wasting my breath to cry hooly and fairly!
And if you look carefully into the textual history of many of the songs, you find disquieting and ironical reversal statements have often been edited out or reversed.
***********
In Austen's book we had a simple song from a Scots woman writer, an intensely plangent private moment which is played out in public in a poor lodging room before the unknowing eyes of Emma Woodhouse (and perhaps the more knowing nervous ones of Miss Bates). It's woman's romance, about a secret life Jane dares show no one.
I wrote this posting for Wompo because Austen's text here has been ignored. Most movies are about 70% invention or reinvention on the part of movie-makers. It struck me here is more than an erasure of women's culture; it's a reversal of what Austen intended on every level. Jane Fairfax is herself in the novel very thin, has a pulmonary complaint of the family (consumptive), a slightly sickly hue in her complexion (which Frank finds alluring); all but one of the actresses hired to play Jane have been robust. Only Ania Martin is at all thin and granted a contemplative inner life of her own with her music: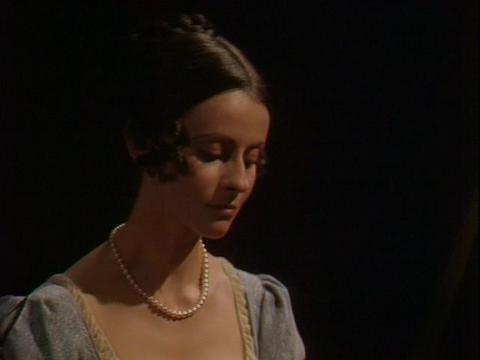 I got but one notice on Wompo, from a generous-hearted perceptive woman friend (it's in the comments).
Austen herself liked to play "Irish" songs on her pianoforte early in the morning before the rest of the family got up. Jane Fairfax is a surrogate for her in the novel.
Miss Sylvia Drake
--
Posted by: Ellen
* * *
commenting closed for this article