The mini-series: the 4 Austen _S&S_s & _Jewel in the Crown_ · 15 September 07
Dear Marianne,
Tonight I finished watching the 13 part Granada mini-series, Jewel in the Crown, adapted from The Raj Quartet (4 novels) by Paul Scott. Its presentation of the history of India in the 1940s just through the stories of a group of mostly utterly virtuous and well-meaning and highly intelligent upper class English and Indian people has obvious serious flaws; it cannot escape the charge of bigotry (the cruel and unjust behavior of the villain of the series, Ronald Merrick, played brilliantly by Tom Piggott-Smith, is partly explained by revealing that he is a repressed homosexual; his punishment is as hideously cruel as that of Marlowe's Edward II); nonetheless, like the Palliser and other mini-series of the 1970s through 90s, it intends to be serious and is thoughtful even educational dramatic television. I've bought myself a used copy of a set of audiocassettes of the first novel of the series, The Jewel in the Crown to listen to in my car, and as I felt in the early 1990s when I watched the program on 13 successive Sunday nights, I now long to learn more about Anglo-India and India.
Today I set my mind to working towards writing that book I've been wanting to buckle to for maybe months now: The Austen Movies. I'm not sure I will get a contract, but will go ahead anyway. The way people begin to get words on paper is highly individual, and mine is first to rearrange my workroom. I didn't seem to get very far as after re-arranging my books yesterday and today going through my many articles and organizing them, I only returned to reading yet more, but I do feel I've made a start. Basically while rearranging and perusing, I told myself I will write a long essay (or chapter of a book) on the BBC 1972 Emma, the 1979 Pride & Prejudice and 1983 Mansfield Park; if the substance or material of the chapter begins to get too long or unvaried (as all three are long mini-series by the BBC and come from the same era), I'll substitute Granada's 2007 Northanger Abbey for the last.
I want to try to write about three faithful adaptations of Jane Austen's novels as great works of art, and I think these three are. I'm not so sure about the 2007 NA, basically because it's a foreshortened or minimalist mini-series (so to speak). My fear is who would want to publish a mammoth size book whose core is three sets of chapters, in each case one which argues for a type of adaptation (faithful, analogous or critical, and free), and one which analyses three examples in detail of the type? Such analyses would take so many pages—and so many stills (which I doubt I could get permission to use in a book).
By my count there are 10 faithful films, films intended to be literally as far as this is possible the same as the book in hinge-points, crucial scenes, dialogues, with most characters kept, all famous lines, and the literal presentation the same as much that of the book:
1) 1971 BBC Persuasion;
2) 1972 BBC Emma;
3) 1979-80 BBC Pride and Prejudice;
4) 1981 BBC Sense and Sensibility;
5) 1983 BBC Mansfield Park;
6) 1995 BBC/A&E Pride and Prejudice;
7) 1995 Miramax Sense and Sensibility;
8) 1995 BBC Persuasion;
9) 1996 Meridian/A&E ITV Emma;
10) 2007 ITV (Granada in association with WBGH) Northanger Abbey.
The overarching story of my book will be the story of the development of the Austen films and how they influenced one another, and their relationship to Austen's books. The Jane Austen movies develop one group out of the other chronologically; we have just had another new group (the five recent ones are quite similar, by which I mean the 2005 P&P, three 2007 ITV movies, NA, MP, Persuasion and commercial Becoming Jane), but in all cases the product is the result of the type of film adaptation the individual film adheres to.
To take one example of what I mean: yesterday I finished watching the faithful 7 part BBC 1981 Sense and Sensibility and was much moved, and then watched the 2001 Tamil free adaptation of Sense and Sensibility, the 2 and one half hour I have Found It, and also liked it, and thought its strong and passionate story (transposed to modern Tamil life) really showed how fertile is Austen's poignant yet witty and savage suggestive novel.
The 1995 S&S was partly modelled on the 1981 one, but also much indebted to Austen's book (straight with no intermediary); this 2001 free S&S is much influenced by the 1995 Miramax Sense and Sensibility rather than Austen's book. Austen has no scene of Willoughby giving natural flowers to Marianne while Brandon gives greenhouse elegant ones; no scene of Marianne getting drenched in the rain and rescued by Brandon; no scene of Edward coming to Elinor at the close of the film and her bursting into tears on the other side of a door. They first occur in the 1995 film; they recur in the 2001 (transposed by Indian conventions). And yet this 2001 film had the same Elinor character (her psychology and stance) as the one found in Irene Richards (the star of the 1981 film), a stance analysed in many essays on Austen's novel as noble, controlled but passionate, self-sacrificing, rational or prudent in behavior.
At the same time the 1981 and 1995 films are closely alike (Thompson seems in part to have studied the 1981 film and improved on it) and resemble the other 8 faithful film adaptations I've distinguished, while the 2001 film is a genuine Bollywood product, much more like the 2004 Bride and Prejudice than it is either Thompson's film or Austen's novel.
Finally, each is a work in its own right with its own emphases and vision. In the 1981 film, Mrs Dashwood (played by Diana Fairfax) is a central powerful figure, intelligent, loving, and with a sense of irony; this is unlike all the other 3 S&S films. None of them respect the mother the way Constanduros's script does.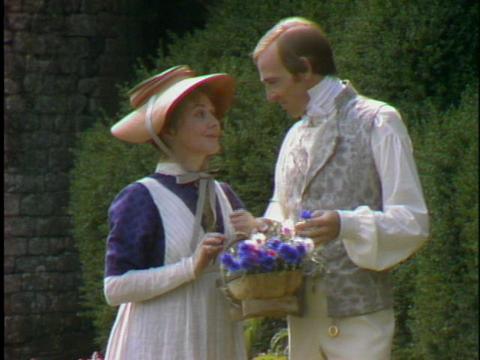 Mrs Dashwood (Diana Fairfax) and Edward Ferrars (Bosco Hogan) talking during Edward's first visit to Barton Cottage (1981 BBC S&S).
I have found it refers to "the face of love," and this song is done as a highly romantic musical dance number on a river by the Marianne and Willoughby characters. Alas, the Willoughby deserts the face of love, and Marianne discovers another version in the Brandon character. "The Face of Love" is in a way what S&S is about, what's violated and held to.
There have thus far been made available to the public through DVD been 2 faithful Sense and Sensibilities and 2 free adaptations. The 2nd free or 3rd one is the 1998 Last Days of Disco where the "face of love" I now see (through viewing I have found it) to be seen as a delusion. I read another faithful type mini-series S&S (written by Andrew Davies) is on the way. No one dares an analogous or critical.
There have been 7 analogous or critical Jane Austen movies thus far. These are films which stay in the period costume and keep to much of the original story, but they depart radically at times from crucial or central incidents in the book, add characters, and also present incidents in a different way (different enunciation) in order to critique or provide another take on the book.
1) 1940 MGM Pride and Prejudice;
2) 1987 BBC Northanger Abbey;
3) 1996 Miramax Emma;
4) 1999 Miramax Mansfield Park;
5) 2005 Universal Pride and Prejudice;
6) 2007 ITV (Company in association with WBGH) Mansfield Park;
7) 2007 ITV (Clerkenwell in association with WBGH) Persuasion.
By my count, by the way, there are 10 free adaptations, by this I mean modern costume with new plot-designs, the story line literally transposed but with events & characters & situations so idiosyncritically analogous to the book, that the connection is recognized:
1) 1980 James Ivory and Ismail Merchant Jane Austen in Manhattan (Sir Charles Grandison, a brief parodic play sometimes attributed to Jane Austen [Brian Southam's attribution is disputed by Margaret Anne Doody], combined with lines from Samuel Richardon's Sir Charles Grandison)
2) 1990 Westerly Metropolitan (Mansfield Park, with borrowing from Emma & allusions to Persuasion)
3) 1993 Republic Ruby in Paradise (Northanger Abbey)
4) 1995 Paramount Clueless (Emma)
5) 1998 Warner You've Got Mail (Pride and Prejudice)
6) 1998 Westerly Last Days of Disco (Emma & Sense and Sensibility)
7) 2000 Sri Surya Kandukondain Kandukondain or I have found it (Sense and Sensibility)
8) 2001 Miramax Columbia Tristar Bridget Jones's Diary (Pride and Prejudice)
9) 2004 Miramax Columbia Tristar Bridget Jones: The Edge of Reason (Pride and Prejudice, with borrowing from Emma, & allusions to Persuasion)
10) 2004 Pathe Bride and Prejudice (Pride and Prejudice)
Immediately I came up against problems in beginning writing too: one is, What is a serious film study? Sarah Caldwell in her book, Andrew Davies proposed to study 4 film adaptations (all mini-series of high status novels) as works of art, and in detail (as the only way); alas, when she got to these, she really produced brief synopses where she demonstrated one thesis or so about the film, often sociological in thrust. I do have many essays in the house now which are film studies of individual films, and I guess in the way I first learned to write literary studies by imitating, so I'll learn to write film studies essays. It's a challenge :).
Another is the lack of serious studies of the history of the mini-series that treats them with respect. So many of the Austen movies have been TV mini-series. TV films are usually regarded as second rate (they are tainted because they are in the same medium as reality TV, daytime audience participation series, game shows, sitcoms, soap operas, police shows); and the form so conducive to building a faithful audience (the mini-series) is connected to women's fare. Myself I feel the characteristic tunes for each is a signal to the viewer: here is something special, something unlike your regular TV programming. Now we leave regular TV for this experience. Mini-series have their own structuring (itself a limitation for if a program must be 50-55 minutes it then shapes the matter rigidly) and their potential for greatness but as far as I can see no one discusses them as a group, but only in terms of the so-called exception (Jewel in the Crown, Brideshead Revisited), when in fact they are in type and feel very like other mini-series in many ways. Old as it is and not on location, in the last sequence of the 1972 Emma we suddenly find Doran Goodwin and John Carson in a lovely Arcadian green landscape with Schubert or Schumann's music in the background, witty nostalgia the mood. Or they are used to attack conservative agendas and biases.
And I'm so slow and for the next 3 and 1/2 months will lose at least 3 and 1/2 days a week to teaching.
But I did at least make a start in the sense of telling myself what I am going to write now and trying to begin.
--
Posted by: Ellen
* * *
P.S. In one of the scenes of the 1981 S&S one of the characters (perhaps Mrs Dashwood) says to one of the young men (perhaps Edward Ferrars, perhaps Colonel Brandon, played by Robert Swann), in reply to some recounting of travail, "It's an ill wind that does no one any good."

This is the sort of moment in the Austen films I refer to when I say they prompt me to want to write imaginative fiction out of Austen through them.

I do so love these films and think I could spend the rest of my life slowly watching them and taking down the words as a transcript and many many stills for contemplation.

E.M.
— Elinor    Sep 16, 9:36am    #
commenting closed for this article