"The Lady's Maid's Bell:" ghost story & gothic film adaptation · 17 September 07
Dear Harriet,
In my effort to learn more about the work of the directors, screenplay writers, and producers of the BBC 1972 Emma, 1979 P&P, & 1983 MP, I found a film adaptation of a ghost story we had read on WWTTA a few Christmases ago which two of them had collaborated on: John Glenister, director of the 1972 Emma directed a 1985 Granada film of "The Lady's Maid's Bell", and Ken Taylor, writer of the 1983 MP and the 1993 Jewel in the Crown, wrote the screenplay. The original writer was Edith Wharton, and the type of film and story female gothic. In addition, the producer was a woman: June Wyndham-Davies, credited with 8 of the first and 3 of the later series of TV Sherlock Holmes's episodes starring Jeremy Brett.
How could I go wrong? I bought an aged video cassette and watched the film yesterday morning. It's an effective, intelligent quiet "slice of life" film.
First, a synopsis of the main elements of Edith Wharton's story from IMDB:
"The year is 1902. Miss [Alice] Hartley, a lady's maid recently recovered from a bout of typhoid and desperate for a job, is accepted as maid at a remote country estate. The lady of the house, Mrs. Brympton, had rheumatic fever as a child and is in delicate health. Her husband is gone during the week and only comes home on weekends. Miss Hartley begins to hear vague rumors about the prior lady's maid, [Emma Saxton] who died after 20 years service, being like a sister to Mrs. Brympton, and that they were inseparable; Mrs. Brympton has sealed and locked the maid's room and no one can enter it, so [!] Miss Hartley is given the room next to it. Miss Hartley glimpses a woman standing in front of this locked door, however, whom she thinks is the housekeeper. When she finds out there is no housekeeper, no one will answer her questions as to who this woman was. She's also told that they don't use the bell in her room; someone will come to get her if Mrs. Brympton wants her. This is perplexing, since there is a bell in her room and it still works. She begins to piece the story together, and also has to fight off the advances of Mr. Brympton, a stocky, florid man with a walrus mustache who seems to terrify his wife. By the time she thinks she knows what is going on [she never does], she's terrified of the closed room and begins to wonder why her mistress is growing more nervous by the day."
On WWTTA we read Edith Wharton's "Lady's Maid's Bell" several Xmases ago and I put on my website the perceptive and informative postings various listmembers wrote. For those interested in Wharton herself, her social criticism, and particularly her The Custom of the Country on 19thCenturyLit, there is much food for thought in the "background" sections of the postings.
The one review of the film I found praises it strongly: it's a "neglected gem". This 1985 "Lady's Maid's Bell" was one of 6 ghost, gothic, & mystery stories to be adapted as "shades of darkness" and shown in the US on "Mystery Theatre" (in the DC area we watched on Thursday nights). The reviewer says of them all: "They are excellent adaptations of high quality ghost stories and deserve to be shown again. Contact Granada and ask them to release the series to DVD."
If you read the postings, you will find the group of us on WWTTA endlessly tried to explain what happened, make explicatable sense of it. The famous 18th century female gothic writer, Ann Radcliffe, and the lesser known American 18th century gothic writer, Charles Brockden Brown (whose Wieland we just read on ECW), both explain what has happened in their stories and run into absurdities, trivialize what they have presented, somehow ruin their work by attempting to explain what happened in sensible ways. What the movie shows (without saying so) is the very point of the story is not to explain what happened because in life people get away with terrible deeds and experience intense misery partly because no one dares bring out the truth of their feelings or needs or what the powerful have done to the powerless.

Joanna David as Miss Alice Hartley, lady's maid
Some of the significant changes and repeats between the story & film: in Wharton's tale, Mrs Brympton had two children who died. That's not in the film. In the film the house was owned by Mrs Brympton's mother and Mrs Brympton (Norma West) has lived there all her life but for a brief period when she first married Mr Brympton (Ian Collier). So it's her house. Nonetheless, she's powerless. The earliest conversations between Hartley (Joanna David, perfect for the part) and Mrs Brympton are about how Mrs Brympton is aware she's never seen much of the world, and how this has enfeebled her character and her health.
A whole subset of characters are created & brought to life in the "downstairs" part of the house's world. A butler, Mr Wace (Harry Littlewood) is a fanatic Methodist who refers to Mr Brympton through ominous repetitions of fearful texts in the Bible about evil men. A housekeeper-cook, allegorically named Mrs Blinder (Charlotte Mitchell, very well acted), and young footman (Bob Burling) and maids, one Agnes, (Diane Whitley), the girl who comes to fetch Hartley because Mrs Brympton will not have Emma Saxton, the ex-maid's bell pulled. The scenes at their table eating are very good: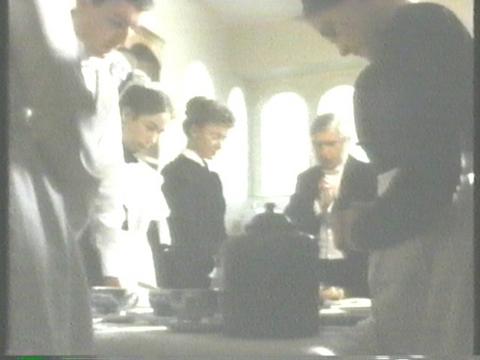 Downstairs, enforced prayers before sitting down
Like the story, the film opens with Alice Hartley (Joanna David) telling us how ill she has been, she has had typhoid, and is taking a job without interviewing or being interviewed. We see her in a train station; she travels deep into the countryside; she sees this mansion in the distance; she is taken in her pale thin low-spirited state by a cart to the house: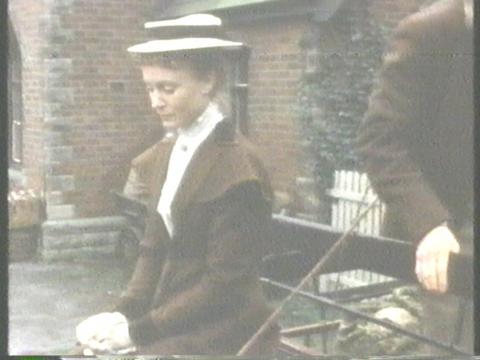 Miss Alice Hartley (Joanna David) arriving
Gradually she regains strength & health by walking in the landscape (lovely mise-en-scenes on location here). Hartley's mistress is a mirror image of Hartley's ill health, only the mistress's health does not improve. Mrs Brympton does not walk outside—except with Mr Ranford (Roger Llewellyn).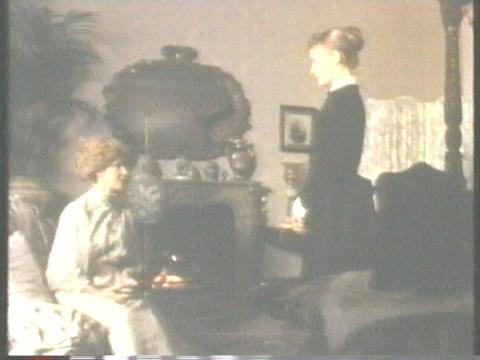 Maid and Mistress: Hartley and Mrs Brympton (Norma West)
Who is Mr Ranford? He exists in Wharton's story too, & I don't understand why the reviewer omitted him. We talked about him centrally in our postings on WWTTA. In both Wharton's story and this Granada film, Mr Brympton is intensely jealous of Mrs Brympton's one living friend, Mr Ranford, a sensitive, intelligent man who she spends her days with (though not nights): they read poetry and walk in the nearby wood, and two landscapes around the two close houses: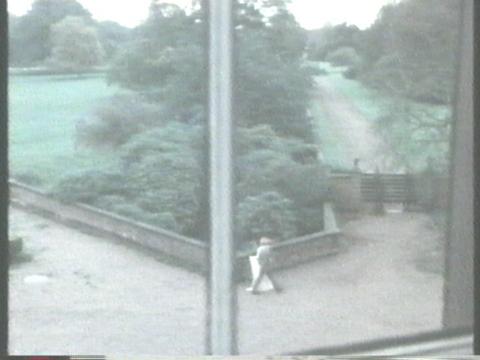 Typical landscape scene, Mrs Brympton and Mr Ranford (Roger Roger Llewellyn) glimpsed
But the husband does not accuse anyone of anything, for indeed nothing is going on he can accuse her of according to his literal codes. She is not betraying him physically. I was reminded of George Sand's Indiana where again a wife falls in love with a nearby neighbor who she is deeply congenial with; and a brutal dense materialistic husband countenances the nearby beloved man's presence although the husband dislikes him because his wife naturally prefers this man to himself.
The film's events are not explained literally any more than they are by Edith Wharton in her story; that is, to say we are never given a literal accounting for "what lies behind the actions we see," but we are (unlike the story) allowed to see the psychological interplay of the principles; and as with the 1972 Emma, Glenister is perceptive and acute at bringing out the psychological motivations for what has occurred. Seething underneath the tale is a tale of a probably promiscuous coarse brutal husband's jealousy of his wife, Mrs Brymptom, who is also characterized by him as frigid to him: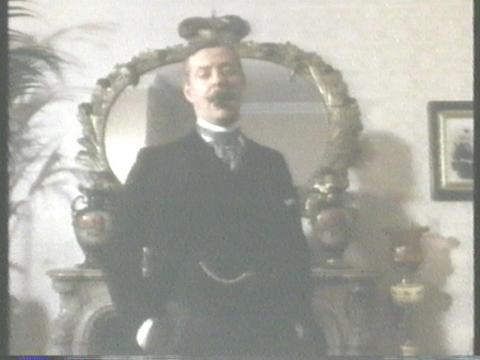 Mr Brympton (Ian Collier), brazen
Mr Brympton blames Mrs Brympton for their failed marriage. In the film there are encounters not in Wharton's story: between Alice Hartley, the lady's maid, and the husband, Mr Brympton. He begins an oddly half-scornful attempt to seduce Hartley, but she eludes him disdainfully (& with surprizing ease).
The ghost in both story and film is Mrs Brympton's former maid, Emma Saxton, who in the story appears only to Hartley, but who in the film we are led to surmize has appeared to other servants in the house. In the film Emma wants to protect Mrs Brympton from her husband, but does not succeed, for Mrs Brympton dies of a sudden heart attack when the husband comes home unexpectedly late one night. The word in the title, "Bell" refers to a bell in Hartley's room which Mrs Brympton never uses. Instead she asks one of the housemaids, Agnes to fetch Hartley; when that bell rings (as it does twice), it's Emma Saxton calling to Hartley to go to her mistress.
In the film Wyndham-Davis, Taylor, and Glenister use various means (objects, lines, gestures) to suggest a deep friendship had occurred between Mrs Brympton and Emma Saxton, but we are not told why or how Saxon died (just as in Wharton's tale). There is a suggestion Mr Brympton may have gone after Emma Saxton sexually, but more to the point he probably hated her for being his wife's support.
They also suggest that despite the servants' belief in Mrs Brympton's "goodness," Mrs Brympton is not an angel of sexlessness, is perhaps doing something awry (perhaps having an affair with Mr Radford whom she has Hartley send a warning note to). There is a feeling of some duplicity like The Turn of the Screw in the film. As the members of WWTTA said about Wharton's story, we see in this film a pale wife trapped in her room by an implicitly violent husband, but there is also malevolence in the ghost (a desire for revenge, perhaps to have Mrs Brympton with her?) and a lack of information about Mr Ranford. At the funeral in both story and film Mr Ranford stands apart with a cane and walking haltingly. We don't know why. He knows about the ghost in the film, believes in her existence.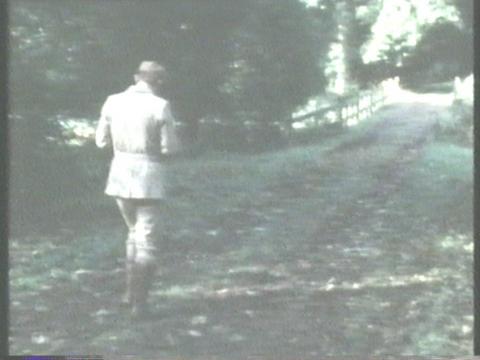 Mr Ranford seen from the back, at a distance, a characteristic shot of the characters in the film
It's like a slice of real life, except for the ghost: as in life little is explained. That makes the ghost's quiet appearances, done realistically as things go (not too terrifying), all the more believable.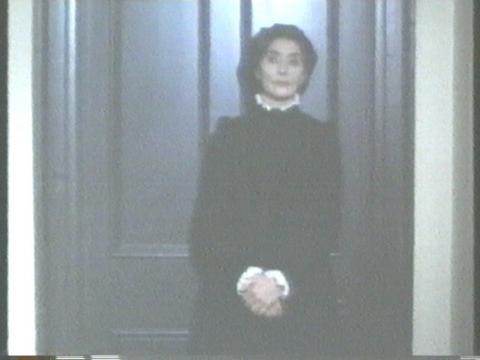 Emma Saxton (June Brown) outside the door of her former now closed room
The series title, "Shades of Darkness" seems just about right. This was considered the finest, and is a rare earlier film one can get (so many have been wiped out which were just meant for TV). We never learn if Emma Saxon aided the former love affair (if there was one), if the husband killed Emma, if the husband was planning to kill Mrs Brympton. In the film it is made clear the ghost is not something conjured up in Hartley's mind. In the story it may be the ghost means to frighten Mrs Brympton to death; in this film it's made clear the ghost means well by the mistress (although meaning well may include taking her away to death), is trying to protect her, though Emma may stop appearing now Mrs Brympton's dead.
Both women may vanish from the earth or they may not. After the funeral we are only told the maid and servants went back to the house and the husband went on his journies again. What's chilling is how the tale just ends with no closure. This is the sort of thing one might see of a family life from afar.
As in the 1972 Emma, Glenister makes everything tightly done; no extra movements; a suggestive concentration on symbolic visual objects. Unlike his Emma though voice-over is used and there's much shooting outside the one house the film was done at. This is not drawing room comedy, but picturesque gothic. The drawing-room aspect is kept to the scenes in the house but the suggestive shadows and lights make the scenes move outward from their space. There's a labyrinthine staircase Hartley runs up and down on (in a shawl in her nightgown), imprisoning corridors beautifully captured like a modern painting with strong outlines.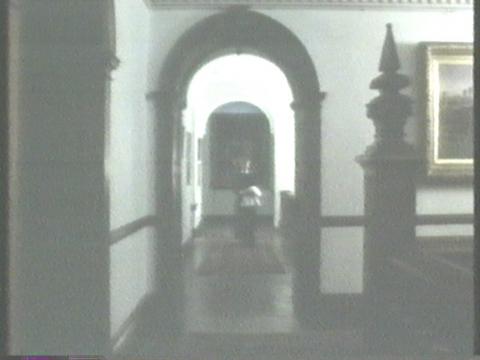 A typical moment in the film inside the house, Miss Alice Hartley, the lady's maid (Joanna David) walking between rooms
This sort of scene is common to these sort of women's film adaptations: recent Austen movies have it. The Lady's Maid's Bell is a women's film, women's art. Ken Taylor has again shown his predilection for making a woman-centered drama with much sympathy for the woman characters' needs and points of view (they cook, wash & brush their hair, sit reading).
Apparently Wharton herself nearly died of typhoid as a child – the same illness she gives to Hartley in "The Lady's Maid's Bell." She is said to have dreamed this story during this illness. In the story Hartley is someone who has come back from the brink of death; in the film she is left in a house of Usher.
I have gotten for myself the 13 episode film adaptation of Granada's 1977 Love for Lydia made from H. E. Bates's 1952 subLawrentian novel. It stars Jeremy Irons as Alex Sanderson, perhaps a cad, and Mel Martin (who played Violet Effingham in the Palliser series) as Lydia. A stellar cast, which includes Christopher Blake, Peter Davison, and also by chance Beatrix Lehmann (whose sister's Echoing Grove I've just finished and what a masterpiece it is). Although almost forgotten now, the film series, Love for Lydia (like Brideshead Revisited, also in the 1970s a 12 episode adaptation from a similar length novel) won awards. I have begun reading Bates's Love for Lydia; it seems to me like a throw-back to the Edwardian era and reminds me of Arnold Bennett and A. E. Coppard (whose stories were adapted for BBC TV and were aired on American PBS channels in the 1970s). I must get further into the book before I can begin the series, which I can hardly wait to watch.
John Glenister directed Love for Lydia, Julian Bond wrote the script.
Sylvia
P. S. A later comment.
--
Posted by: Ellen
* * *
Just to say I enjoyed this blog very much and loved the stills. I remember being impressed by this story during our Gothic period on WWTTA a few Christmases back – I had already considered getting the tempting box set of DVDs of the Gothic series 'Shades of Darkness', including this one and the film of Wharton's Afterwards, but wondered how well the adaptations stood up after all these years. From your account, it sounds as if they are well worth seeing.
— Judy    Sep 18, 5:04pm    #
Dear Judy,

I've been reading this week about the history of British television, and one argument I come across goes like this: sometime in the later 1980s and continuing to today, the way films were produced for British TV changed so the old style "in-house" groups (which were dominant in the 1970s) who produced content, were broken up; since then, each time a film is planned, it is done by the equivalent of "casual" labor. Each team has to be rehired and there is no continuity. One TV film writer (there are people who are not afraid to label themselves this way) compared the way British TV works today to the reforms inflicted on the National Health system.

A different set of values is also at play, and by no means is the retreat from educational elitism inevitably replaced by sensitive good taste or egalitarian ideals; instead a strong commodity mentality is at work, one disguised by costume dramas thought safe (say the stories of Austen or other establishment and high status writers). Individual productions may succeed in transcending these mores, but even there they are hampered by a small budget.

Thank you for telling me that the Shades of Darkness series is now available on DVD. I have succumbed and bought a used set from Amazon. It includes another Edith Wharton ("Afterwards" -- remember that one?), and as I recall a third ghost story is also by a woman, and there are good actresses mentioned.

E.M.
— Elinor    Sep 19, 3:56pm    #
A little more on women's ghost stories, the female gothic, and the 1980s film adaptation of Wharton's "Lady's Maid's Bell." Thanks to Judy I discovered the six-part series of which the Wharton story was one episode was available on DVD. I bought myself a used one (in its package and never watched before so like new). I saw on IMDB that this is a much respected series, even by some "acclaimed" but what no one mentioned anywhere is five of the six stories are by women, two we read here on WWTTA, one on Trollope-l:

Wharton's "Lady's Maid's Bell's",
Wharton's "Afterwards" (a great story),
Wharton's "Bewitched",
May Sinclair's "Intercessor" (our book after next on WWTTA is a group of gothic stories by Sinclair),
Elizabeth Bowen's "Demon Lover" (a Dracula story set in WW2 during the Blitz), and C. H. B. Kitchin's "The Maze." (Henry Benn: http://en.wikipedia.org/wiki/C._H._B._Kitchin )

The producer of the whole series was June Wyndham-Davies; Ken Taylor wrote most of the scripts; directors varied (in TV directors get much less respect than writers or producers, partly because they are often given but one or a couple of episodes of something). I notice Eileen Aitkins stars in one of them. Hugh Grant and Miranda Richardson in another.

Anyway I will be watching these and report back as I go through them.

E.M.
— Elinor    Sep 30, 8:06am    #
commenting closed for this article