_The Jane Austen Book Club_: A Free Adaptation of all the Austen books! · 22 October 07
Dear Harriet,
I've not written to you about any Austen films or books in a while. I'll make up for that today.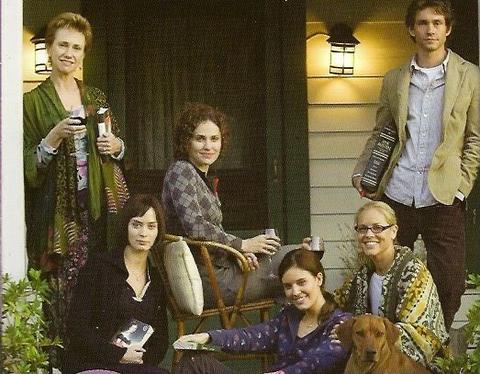 Kathy Baker, Emily Blunt, Amy Brennemann, Maggie Grace, Maria Bello, & Hugh Dancy, committed Jane Austen readers
Yesterday I saw The Jane Austen Book Club for the second time—after reading Karen Joy Fowler's novel of the same name from which the film was adapted. The book is light easy reading: from its use of metaphor and stereotyped ideas of what young women and men and courtship is like and its thinness of approach to emotional life, I suspect it belongs to the genre of young adult fiction, perhaps series meant for teenage girls. By contrast, Helen Fielding's Bridget Jones's Diary is a rewrite and reshaping of satiric columns meant for adult and older women in a popular newspaper and it has more bite (more anger, even if not clearly focused) and emotional depths (even if comic in mood). It has flaws or faults: the narrator who seems so individual and lively is never explained: at first she seems like a character in the book but by the third chapter the book has become told from a not-quite consistent third person omniscient point of view.
One of Fowler's merits is that she conceived of telling the stories of her six readers as a way of updating Austen's characters and stories, presenting them as they might appear in 20th century terms. This gives insight into Austen's books. While I don't care for Fowler's need to denigrate Fanny Price as a type, I find her modernization of how she might behave in today's situations through Prudie apt and insightful. Which gets me to my strange collocation for today: the presentation of Sylvia (the woman whose husband had left her) as a kind of Elinor Dashwood and her daughter, Allegra (lesbian, passionate, wants to pour out her soul) as a kind of Marianne is done in way and in terms that seem to be so close to the way the pair in the 1981 BBC Sense and Sensibility are presented: especially the Marianne character who is wilfull, difficult, vexed and swiftly changing. There's a paragraph in Fowler's novel which if you dressed the characters up in 18th century clothes, you'd have outlines for this 1981 enactment.
I've seen or noticed this kind of thing before. Some book or film
seems to link to another through Austen or as it were bypassing her and connecting to one another but without having any conscious knowledge of one another. I doubt if Fowler even saw it that she had the 1981 S&S in mind. Austen has provided some stream of imagination that is a connective which these later writers move into.
Now I think some of the interpretations of Austen's novels out of one another come out of critics doing just what these film and sequel writers do, only not aware that's what they are doing and using the apparently techniques of objective scholarship. Genre, genre, that's what makes the difference :) I'm thinking about essays which postulate connections between the novels from Q.D. Leavis's to Kathryn Sutherland (JA's Textual Lives).
Again by contrast, Fielding's plot-design of the Pride and Prejudice story is an imposition on previous matter which only begins in earnest more than half-way through and doesn't enlighten the reader at all.
So if out of a pop genre, Fowler's The Jane Austen Book Club is a much better, more clever, less shallow novel than it at first appears. Except for her guying (Fowler writes to sell and knows a vein to appeal to a mass audience through) of the Fanny Price character (apparently a reading girl must not be allowed—shades of Austen's own Mary Bennet), Fowler shows a large open-mindedness towards interpretations; some of hers are insightful; and her questions at the very back of the book (in the persons of characters) shows she has much irony towards what she writes and has written with an intelligent reader of Austen in mind too.
Just one example: Fowler write: "Austen's books often leave you wondering whether all of her matches are good ideas;" she cites some unexpected troubling couples (e.g., Louis Musgrove and Captain Benwick, Lydia Bennet and Wickham). Then she asks: "Do any of the matches in The Jane Austen Book Club create disquiet?"
The movie The Jane Austen Book Club, written and directed by Robin Swicord (who did a marvelous Little Women in 1996) improves on the book in some ways. It shortens the stories of the women's lives; while we lose some of the insight into Austen in the book, the plot-design is kept more surely on the meetings, books by Austen and commentary on how (by reflection) how they can function in real women readers' lives. Swicord is even more resentful and spiteful towards the serious reading girl, Prudie (whose great happiness at the end is she is now pregnant), but she does manage to make a charming specifically woman's film and she reflects more briefly how each of the women's stories is a rewrite of Austen's own.
Thus I'd call The Jane Austen Book Club a free adaptation of Austen's novels seen as a group and align it with the other Austen films I've been studying. Jocelyn (Maria Bellow as a woman who is a strong type and has chosen to live alone) is a recreation of Austen's Emma; Sylvia and Allegra (Amy Brennemann and Maggie Grace, a loving mother and lesbian athletic daring daughter) of Austen's Elinor and Marianne Dashwood; Prudie (Emily Blunt), Fanny Price (her story contains a play within a play); Bernadette (Kathy Baker), Elizabeth Bennet; Grigg (Hugh Dancy), a very appealing Henry Tilney, Mr Knightley and sweet Frank Churchill all rolled into one (while I regard Frank Churchill in Austen as a callous cruel cad, I do love Henry Tilney and Mr Knightley as an older Mr Darcy with impulses that remind me of William Cowper). Some of the minor characters recreate major and secondary characters in Austen. Sylvia's husband, Daniel (Jimmy Smits) is Wentworth, Grigg's sister, Lynn (Myndy Crist), Eleanor Tilney. In the book in passing there are characters who don't appear at all in the movie and in passing combine characteristics of different of Austen's heroes and heroines (for example, a perceptive portrait of a Jane Bennet type—someone who needs to see the world as better than she knows it is), and more troubling (as Fowler would name this probably) characters, e.g., Mr Bennet.
This is not to say all the characters connect: Prudie's mother (played by Lynn Redgrave) is an original creation which is self-reflexive: she has survived by pretending good and happy things are happening to her and have happened, when no such thing. At some time in the past life taught her not even to dare try for them. Prudie, her daughter, mistakenly blames her. I did love how she openly accused her husband of flirting with a girl who had big breasts and dressed like an ostentatious vulgar ornament; how many times I've been appalled by realizing men I respected go for that sort of woman when it comes to a partner for life. The film functions as a release for women in other ways too.
Swicord's film also (like the other Austen films) shares a number of characteristics seen in women's films: the community of women, a certain friendly (for lack of a better term) tone, which can move from witty and satiric (Bridget Jones's Diary and Clueless are variants) and speaks directly to the audience (Julie Delpy's Two Days in Paris), to high romance (You've Got Mail). Some of the scenes reminded me of scenes in Friends with Money and Lovely and Amazing. Several of the producers were women. It's not a great film: to my mind it misrepresents Austen's books by not presenting them as hard and satiric but sweet and pleasurable, and in its plot-design which is based on the idea that love (and marriage or having a partner) is the be-all and end of all woman's happiness.
But like other films of the free adaptation variety (the end of the film follows Persuasion in the way Bridget Jones, the Edge of Reason does), if you don't ask that the film reflect Austen's books or deal more than superficially with the serious issues it does bring up (for example, how an older man can easily get away with and many do leave an aging wife for a younger woman), but rather an idea about Austen's books that functions among a wide swath of people who read them, it's charming and intriguing and often moving. I admit it brought tears to my eyes several times. The good-natured jokes about the Austen addiction made me laugh, as well as what I'll call in-jokes about obsessions in Austen's own novels. The book gave some of the more unusual interpretative lines to Grigg: not all of these survived into the movie, but this one did: "One thing I notice about Emma is that there's a sense of menace … (p. 15, with a catalogue of incidents). I just loved how he went out and read the whole of The Mysteries of Udolpho during the Northanger Abbey month. So there Andrew Davies! Swicord also brings out how talking about books brings out how people read them with their intimate lives in mind and so if you carry on for any length, will soon lead to tension and sharp dissensions.
I wanted to write about the book and film as much for how it has been reacted to in public too. Early on Caroline sent me an intelligent review,
"A Film to curl up with", mild praise by Ann Hornaday in the Washington Post online. If you can't reach this one, here's a snippet:
"A predilection for Austen is helpful but not required to enjoy a movie that derives as much observant humor from the indignities of modern life (which are wittily retailed in the opening montage) as from Austen's own densely layered texts. And like Austen herself, screenwriter Robin Swicord, who makes a promising directorial debut here, is all about subtext. "
Yet it has apparently been a box-office flop. It was released in a few movie theatres in the hopes of garnering popularity through word-of-mouth. This was the method of the 1995 Miramax Sense and Sensibility. So it was playing nowhere I could get to until Jim and I went to Chicago and he went with me. I doubt he's read any of the Austen books, and he found the movie very funny. There were but 4 men in the audience that was itself very small. The theatre was almost empty. Our art cinema began JA Book Club in Theatre One (its biggest) but soon demoted it to Theatre Six (its smallest). Cinemart is now the only local theatre in all my area (DC, Northern Va, southern Maryland) screening the film. And the room was packed. All but one person in that audience were women. The proprietor had announced he would alternate the movie with another (what he does for a failing one), but instead it was playing all day. I overheard one fretful woman tell another she really doesn't go to "chick-flicks". During the movie the laughter was often of the slapstick variety (there are elements in the film which invite this) or laughing at someone (meanly), but it was also about other things, and the audience appeared to enjoy the movie very much.
I'd like to say how strong is the fear of ridicule. Calling a film a "chick-flick" was a barrier; it is based on a genre much-despised, the Austen sequel (this is ironic for its content and status was what led to its being made into a movie and selling widely). (For my part I would label many popular action-adventure, science fiction, western, & thriller films "dick- or prick-films." Just like there are endless silly men's novels.) However, the mostly maudlin, often misogynistic at the end outright imbecilic Becoming Jane (also a free adaptation of Pride and Prejudice combined with bogus ideas about Austen's biography) was an unexpected hit in this theatre. It filled Theatre One for weeks. You may say "bio-pics" are liked; I wonder.
Still since the audience for Becoming Jane seemed to have many males in it (I suppose it wasn't a chick-flick because it had a sentimental effeminate macho male at the center and presented cruel and stupid pictures of women), and this one for The Jane Austen Book Club but one, I write this to urge other women not to be so intimidated. It's one thing to conform in the most serious issues of your life (including your very eating habits), lest you be somehow punished or seen as a feminist (horrors!). It's another to deprive yourself of real pleasure.
To quote Hornaday on the film again: "with its literate merging of good sense and passionate sensibility, The Jane Austen Book club possesses all the pleasures of a guilty pleasure, just none of the guilt."
And the book is worth a contemplative (if rapid) perusal.
--
Posted by: Ellen
* * *
commenting closed for this article