Compelled yet again by _Clary_: fidelity as evaluative · 8 February 08
Dear Judy,
Thank you for your reply.
I've been struggling with my stance over the past few months. I don't want to move to make fidelity a general evaluative criteria for lots of reasons. Among them it's not realistic. You suggest that when a film-maker titles his work the name of the book, "they are asking for comparisons to be made, even if it doesn't amount to pledge." The comparison can be contrasting: the analogous films like the 1999 Rozema MP is a contrast. Rozema is disingenous about her aims because of the unexamined point of view of cult and fan Janeites who wield enough influence to make a film a flop. Again and again I find evidence everywhere that the decision to be apparently faithful (to keep the cardinal hinge points of the story, major characters and famous lines) is a commercial one: the film-maker is trying to bring an audience in who want a substitute or replacement for the book (most have not and will not read it), and trying to please fans, often disingenuously.
And fidelity to the book does not make a good movie, nor is it truly possible. We've talked of this before. I would put down the failure of the recent 2007 MP by the way to the determination of the film-makers to hit those cardinal points in the first 50 minutes of a 100 minute or so film; the result was an absurdity. They just didn't have the time and couldn't even be wholly coherent. The movie improved in the second half when they moved well away from the book and could slow down.
On the other, I am well aware that the deepest pleasures I can have with a movie is when it is apparently faithful or comparatively faithful enough (making changes for commentary, updating, aesthetic reasons as the film is a different media and must communicate diffently), and think that in the tiny minority of films where faithfulness or comparative faithfulness is kept up, it can be and at least sometimes is a major preoccupation of the film-makers themselves.
Right now I'm studying (viewing very slowly) the 1991 BBC/WBGH Clarissa, script by two people, one of whom I know to be a serious eighteenth century scholar, David Nokes (great book on Gay, good one on Austen, articles &c&c), and can recognize that Nokes has brought to the film his knowledge of 18th century poetry; some of the visuals (like the birds whose necks Lovelace wrings after he shoots them down) come from poetry by Pope (Windsor Forest):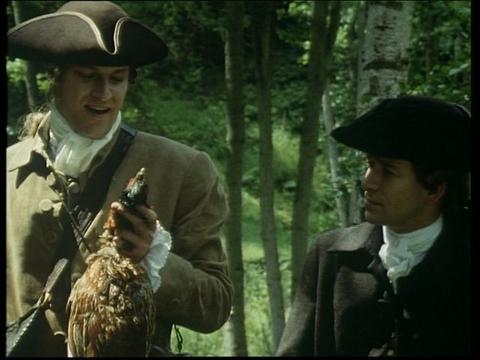 Robert Lovelace (Sean Bean) and Jack Belford (Sean Pertwee) with bird with wrung neck
Nokes has Clarissa quote Cowley on true wit to great effect and makes an 18th century moral usage of masquerade: very deadly and condemned in the film.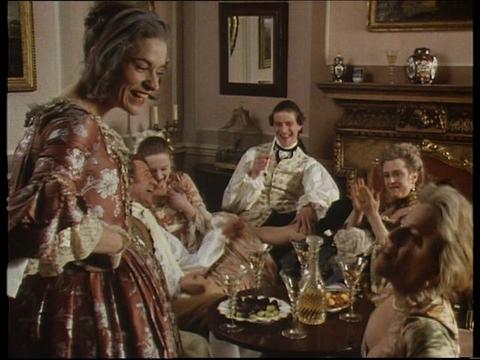 The false Lady Betty (Diana Quick) congratulated by Lovelace and his hired accomplices (prostitutes and sycophantic male). In context, it is electrifyingly chilling when she throws off her wig
But I doubt I will be able to write about this film on my blog, much less someday try a paper My God I'd have to reread Richardson's Clarissa!!!!—and I've told myself more than once I've read this mad book enough! But that's not it.
Why would it be hard to write about the film at length in a real essay? It's too close, the film comes near me in just the way the book once did. I'm even a bit embarrassed at myself. I find for the first time since my first readings I am dreading the experience as I put my DVD in the vln viewer; it's so painful to go through, I am distressed. Yet I want to watch in fascinated horror, and I feel horror, and when I start the feeling becomes obsessive. When I've described how I read the book for the first time when I was 18 or so, I usually make a half-joke of how I stayed up into the night, read for 16 hours in a row, couldn't stop, and then when I discovered I missed the rape (it's announced in the briefest of letters), I went back to try to find it, only to discover I would have to read another several hundred pages because the full description is held off until Clarissa manages to flee Lovelace, find security under the protection of Belford and writes long trembling anguished half-nightmarish letters of description to her friend, Anna Howe. But in reality it was not funny. What's happening is terrifying, horrible, so bad it's difficult to define its reach sufficiently, & it's very important that its horror be recognized as deeply cruel and taken seriously.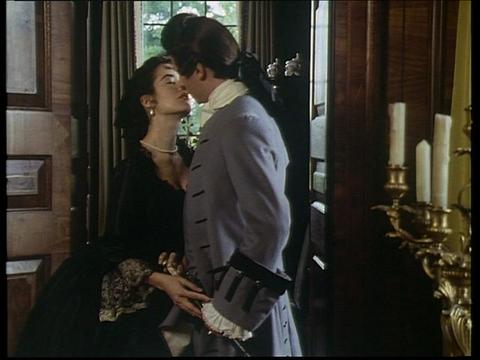 The incestuous James ((Jonathan Phillips) and Bella (Lynsey Baxter) Harlowe plot to destroy their sister; he's to go off to duel with Lovelace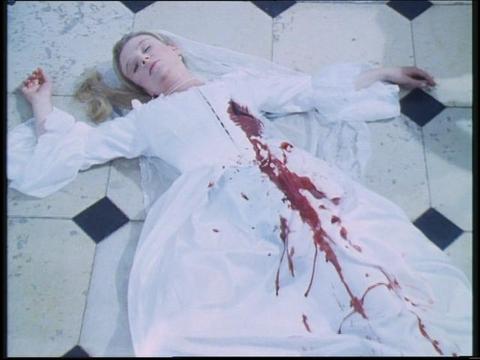 Clarissa (Saskia Wickham) as bride: a nightmare while her parents are coercing her to marry Solmes; it's Lovelace who knifes her though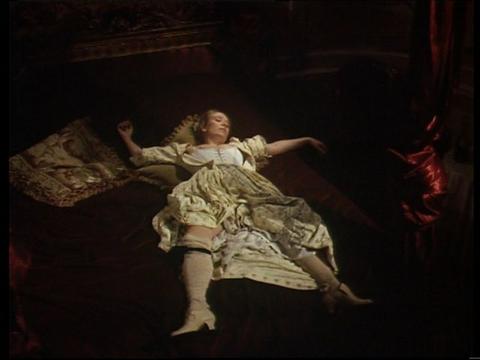 Clarissa just after rape
This film in other words re-accomplishes for me what 4 decades since my teen years inured me to; I didn't feel this way when I reread the book in the mid-1990s in a cyberspace setting with other readers. That's central to its greatness, to its achievement.
I feel the same kind of richness in watching the 1983 Mansfield Park. I find tears of joy coming to my eyes as Fanny goes to the ball and has such a happy time; I've no doubt whatsoever my strong emotions here are a product of reading the book as well as watching the movie.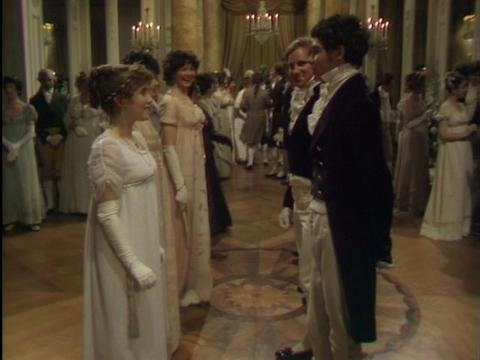 Fanny Price (Sylvestre le Tousel) and Henry Crawford (Robert Burbage) as lead couple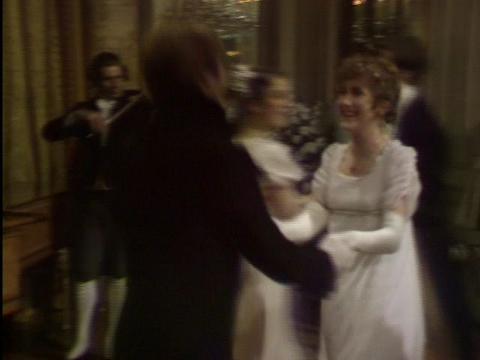 Fanny and William Price (Allen Hendrick) ) dance gaily a lively gig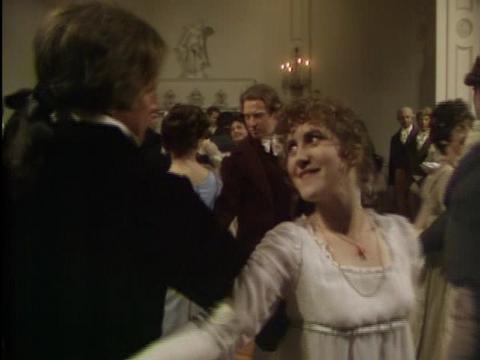 Fanny Price and Edmund Bertram (Nicholas Farrell) dance a dance of stylized love
The problem is probably finding some scheme or stance or line of argument where one can take fidelity into consideration as an element, but where it does not overtake the discourse—however, how not overtake the discourse when you want to tell other scholars of the book Clarissa they are dead wrong when they reject the movie. They are (I would say) showing they have not begun to understand how movies work, partly because they refuse to lend themselves utterly seriously to the form as it does create embarrassment. It's voyeuristic for a start. And of course still despised in part because in the commercial marketplace so many are trash – but then so are so many novels. We forget that :)
Perhaps this is why I am so determined to try to find an accurate typology, thinking to myself if I have accurate subgenres then a portion of movies will have fidelity as a criteria even for evaluation and the others not. A problem here is the disingenuousness of film-makers who claim faithfulness when there is little; to persuade people the majority of whom do take statements at surface value (and are not always listening carefully anyway) makes this disingenuousness a stumbling block beyond the low status of most movies still.
Enough from me for today,
Elinor
--
Posted by: Ellen
* * *
commenting closed for this article