1996 A&E/Meridian _Emma_: "something odd going on with Knightley" · 24 March 08
Dear Harriet,
This week the PBS people aired Andrew Davies' adaptation of Austen's Emma (produced by Sue Birtwistle, directed by Diarmiud Lawrence, written by Andrew Davies, costumes Jenny Beavan). I hope however short and accompanied by but a few stills, some comments on the film might be appreciated by those who watched it last night.
The basic problem with this Emma is it's so short; this makes it feel superficial since there is no time to develop any nuances or scenes at length. Davies is so intent on making sure we have action, outdoor scenes and his harvest close, that at every conceivable opportunity, scenes are placed outdoors, even when it is not all that probable. He also wants to express social criticism: he visualizes the economic arrrangements of the upper and lower classes, dramatizes the exploitative aspects of their interactions. So he invents scenes which could have occurred between the chapters of Austen's book (this is often his technique). To do this in the time available Davies has to give up too much within the character and story development of the novel. This is the problem with all non mini-series adaptations. They end up suggesting scenes and alluding to others they could do, if only they had the time.
There is something going on there which no one has mentioned who analyzes it—though I note Mrs Elton (otherwise known as Diana Birchall) on one of the Austen blogs commented Mr Knightley (Mark Strong) is so fierce, so angry. Not only does Davies make Mr Martin (Alistair Petrie) and Mr Knightley far more central to the story's development compared to Emma (Kate Beckinsale), Harriet (Samantha Morton), and Jane Fairfax (Olivia Williams), Mark Strong is presented as (how shall I put it) capable of becoming abusive. He is never soft or tender with Emma until the end, and then he is condescending. He snarls. He is endlessly ferocious, on the edge of an explosion, and then moves into unexplained furies.
This is a quite a contrast to the 1972 Emma where John Carson as Knightley and Doran Goodwin as Emma are friends, congenial, and their debates are fully aired and brought together for a genuine resolution in ironic comical romance when the book's crisis scenes (as when Emma has Harriet refuse Mr Martin or insults Miss Bates) are over. In Davies' 1996 Emma, when Emma insults Miss Bates (Prunella Scales), Mark Strong actually pushes Kate Beckinsale roughly, he bends her elbow and shoves her into the carriage. It's not a coincidence that Strong played the torturer in Syriana and also plays hard macho men in other films.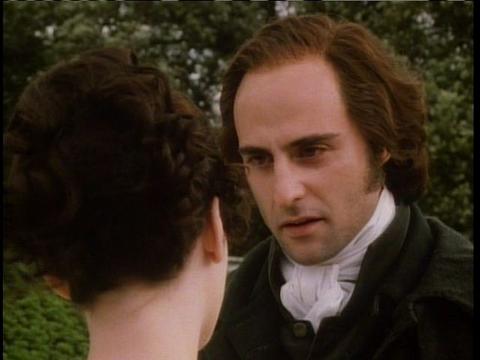 A somewhat less fierce moment, a startled Mr Knightley looks to see if Emma will say yes
Emma herself is made into someone relatively powerless and Kate Beckinsale's acting is kept flat while Samantha Morton is presented as nervously susceptible to the slightest bullying.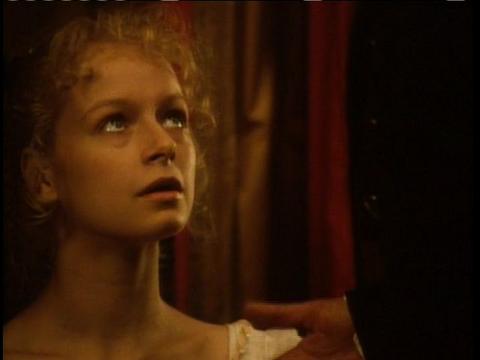 Samantha Morton as Harriet looking up to Mr Knightley at the painful Crown Ball
Luckily, this Harriet gets the one male who is protective in the film, Mr Martin.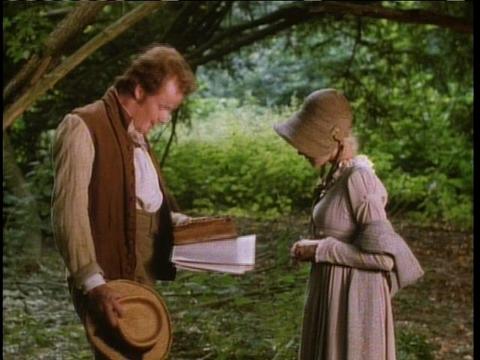 Davies' Mr Martin (Alistair Petrie) has gotten a book Miss Smith recommended; he is all gentleness with her. When Austen's Mr Martin encounters Miss Smith on her walk, he has to admit he has forgotten to obtain Ann Radcliffe's The Romance of the Forest or Maria Regina Roche's The Children of the Abbey.
I suggest too that Davies' Emma lacks an inner life. It will be said that's conveyed by the dreams; but these are caricatures. It's not just Kate Beckinsale's complacency of expression (sometimes she's vexed), we are given no inner scene of language which is nuanced. I feel the film lacks an inner life because Davies not interested in Emma's inner life for real.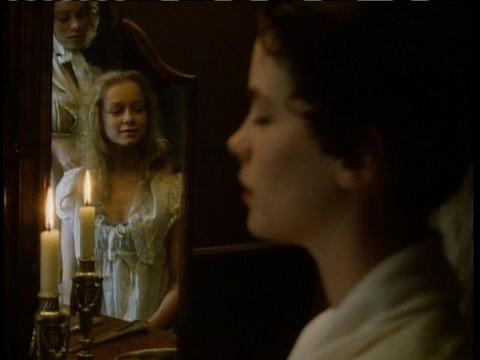 Typical Emma moment: she not only dreams of others ludicrously, she doesn't see herself in the mirror nor the woman Harriet actually is
Davies attempts to break out of the female perspective by projecting the disquiet about Frank (Raymond Coulthard) we find in Austen's novel and adding to that, an interpretation of Austen's Mr Knightley which turns his saturnine Darcy moments in Austen's text into a hot-tempered semi-alienation from the film's princess heroine.
This combines with Davies' response to the sexuality of the males in the book. Yes (as people have remarked), he darkens Frank and makes him definitely capable of shallow capriciousness, strengthens and adds to the caddish lines. Olivia Williams as Jane Fairfax is the helplessly in love vulnerable womanly woman. But Davies also twice repeats Austen's lines for Emma and Mr Knightley that they are not so much brother and sister and at crucial moments: first at the Crown Ball, and again at the close of the film just as they are about to lead the dance at the harvest festival. These are their final words.
Davies knows of the beautifully sensual and intimate scene in the upstairs bedroom in the 1972 Emma when Mr Knightley and Emma are fonding the sister and brother's baby at Xmas.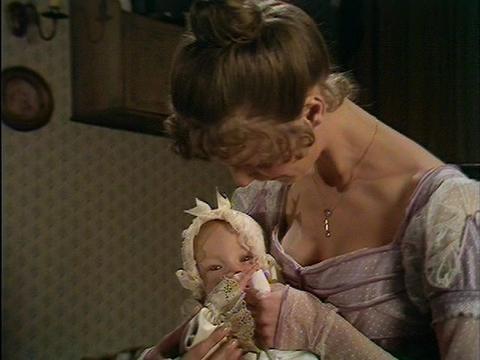 Emma (Doran Goodwin) fondling and nursing her sister's baby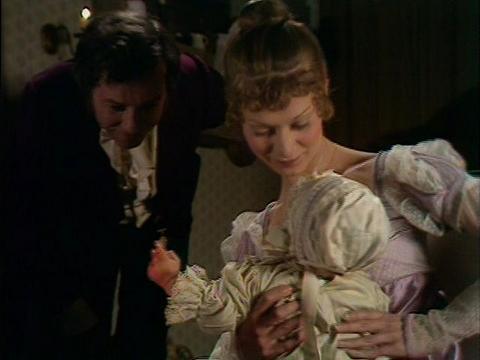 Mr Knightley (John Carson) comes to stand by, talk lovingly
They make up truly. They put the baby to bed and leave the darkened room in a comfortable natural relationship.
There is nothing so close or intimate between Davies' lovers, but
he may remember this scene and has his couple linger over the child (downstairs though), and adds to the scene Mr Knightley reminding Emma of how he fondled her as a baby (not in the book at all) which leaves a curious note. The emphasis feels peculiar.
Sarah Caldwell's book on Davies quotes Davies as saying there's something "odd" or funny going on with Knightley and I think that careful attention to this film adaptation (instead of just sitting there cataloguing what is faithful literally and what not) would show this film is about the unconventional sexualities Davies thinks are in Emma, including Frank as capable of sadism and altogether too interested in Jane's skin. I agree with Davies about Austen's Frank but think Davies mistakes Austen's intense affection for her brothers throughout her novels for a father-daughter queasiness in Emma.
Sylvia
--
Posted by: Ellen
* * *
commenting closed for this article