Sense and Sensibilities alter the landscape of Austen films · 2 May 08
Gentle Readers,
This is an interim report on what's happening to my project for a book to be called The Austen Movies.
After watching the 3 Northanger Abbey films back-to-back and writing an essay about them for Jane Austen's World, and while I was reviewing A Critical Companion to Jane Austen by William Baker for Jim May's Intelligencer, I began to watch two Sense & Sensibility films back-to-back, the 1981 BBC S&S and the 2008 BBC/WBGH S&S, and demonstrated to my own satisfaction the inadequacy of my previous definitions for three types of film adaptation which I'll now call apparently faithful, commentary (a good shorthand phrase for the film which means to be both faithful and a critical departure), and free (or analogous and not in later 18th century costume).
Like the '81 S&S (and the 1995 Miramax S&S), the '08 BBC/WBGH S&S matches the original story, and reproduces most of the characters and central dramatic turning-points & famous lines of Austen's S&S (with some allowance for modernizing interpretations and necessary as well as advantageous alterations filmic media provides), but it is not faithful. It is a critical departure. The difference is not in the plot-arrangement or what's left out, since both the '95 S&S and the '08 S&S are half-way through when they have covered about 2/3s of the first volume of Austen's story, yet I would argue the '95 S&S is as faithful as the '81 S&S.
What's the difference, then? presentation or what Brian McFarland (in Novel to Film) calls "enuncation," all those elements that make up the moment-to-moment minutiae of the filmic narrative, how its utterances are mediated: what music, light, specific words, mise-en-scenes, "catalysers" (voice-over, type scenes) surround and deliver the literal story, characters, lines, crucial events.
Further, this new '08 S&S in its use of enuncations resembles the new generation of Austen films: the 2005 Universal Pride & Prejudice, the 2007 ITV Mansfield Park, Persuasion and Nortanger Abbey, and the 2007-8 combinatory Austen free adaptations (The Jane Ausen Book Club, Becoming Jane, Miss Austen Regrets). None of them but Davies's NA aims at apparent faithfulness; all show the marks of the romantic retreat for women of post-feminism (seen also Joseph Wright's 2007 Atonement). The landscape of techniques as well outlook for Austen films has been radically altered.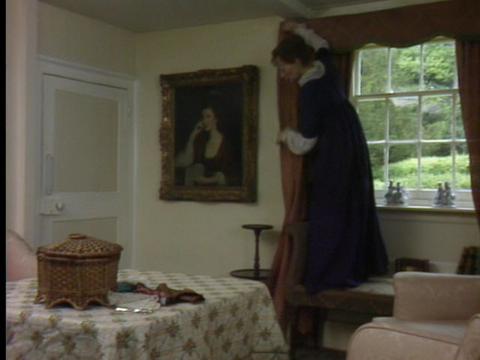 Early in film, Mrs Dashwood (Diana Fairfax) hangs curtains alone in Barton Cottage ('81 BBC S&S)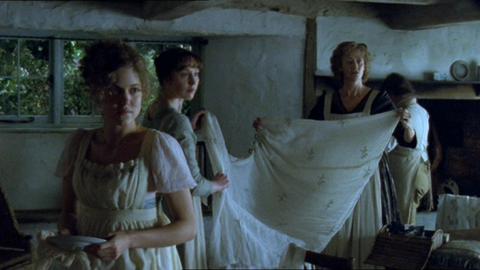 Somewhat more mid-way in film, Elinor (Hattie Morahan), Marianne (Charity Wakefield) and Mrs Mary Dashwood (Janet McTeer) hang curtains together in Barton Cottage ('08 BBC/WBGH S&S)
Second, I faced up to the reality I'm not going to be able to get sufficient material on the screenplay writers, directors, or commercial decisions of groups of people to be able to root a coherent thorough analysis in comparisons of mini-series belonging to the same genre (say faithful adaptations) from different books. The short essay I wrote on the 3 Northanger Abbey films taught me how comparing the films to the eponymous book worked beautifully well, if I just brought in some information on the three subgenres these belonged to as seen in other instances by the film-makers. (For Austen's NA, I had an apparently faithful film, the 2007 BBC/WBGH NA; a commentary, the 1986 BBC NA; and a free adapation, the 1993 independent Ruby in Paradise.)
The question then became, should I reorganize the book? Instead of comparing faithful adaptations to one another, commentaries to one another, and then free adaptations to one another, I would compare all the Pride & Prejudice movies, all the Emmas, all the S&Ses, and so on, with a chapter for less known texts (the adaptation of Sir Charles Grandison, Jane Austen in Manhattan, and Austen's letters in Miss Austen Regrets), and a chapter for Austen movies which combine texts (The Jane Austen Book Club, The Last Days of Disco). And I began to do that with new insights and results in the case of 3 of 4 identified S&S films (the fourth is the 2000 free adaptation, a Tamil I Have Found It).
It may interest you to know that both the '81 S&S and '08 S&S are 174 minutes, and that for the '08 S&S Andrew Davies took material from the '81 S&S (written by Denis Constanduros and Alexander Baron) as well as the 95 S&S (written by Emma Thompson); and that Baron/Constanduros and Davies' films are closely similar in the incidents they dramatize for Brandon: Robert Swan and David Morrisey as Brandon both come early to the Dashwood cottage to bring presents and offer help; in both films Brandon brings books to Marianne; he is there at the party where Marianne is snubbed by Willoughby and helps Elinor wrench Marianne away (the actor playing Brandon carries her in both films); & in the course of both films (though differently) Brandon's relationship with Marianne is built slowly.

Colonel Brandon (David Morrisey just glimpsed) carrying books to Marianne, she flees before him, & encounters Willoughby ('08 S&S)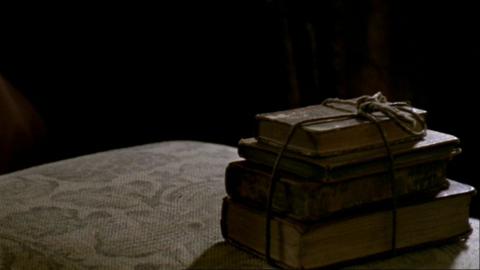 Books remain unclaimed, unwanted ('08 S&S); there is a still closely similar to this one in the 81 S&S, near the end of the film a well-kept expensive ancient set of books are waiting on the Barton cottage table for Marianne when she comes in from a walk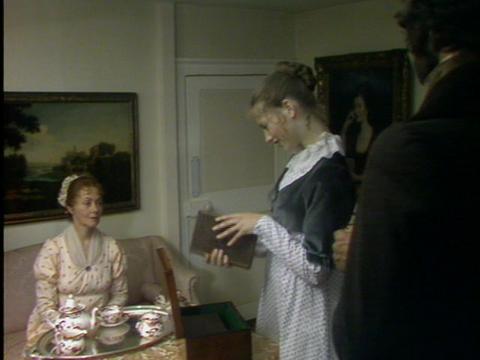 Penultimate scene of film, Colonel Brandon (Robert Swann just glimpsed) succeeds in giving Marianne (Tracey Child) his present of books to her, Mrs Dashwood (Diana Fairfax) looking on ('81 S&S)
This switch is not a small matter, but as I rearranged my lists, it came to me in each case I would have fewer films, a strictly delimited set of filmic texts to place against Austen. This would allow me to discuss Austen herself—whose books I love. I could see myself beginning to write say at the end of the summer after comparing the 9 available P&P films thus far to Austen's book and one another. This sounds like a lot, but I have already compared two of them carefully (the 1979 BBC P&P by Fay Weldon and the 1995 BBC/A&E P&P by Andrew Davies). Then I could go on to the 4 available Emma films. Each chapter would be done separately the way I did my book on Trollope. There are available 3 Persuasion films, 3 NAs, and 4 Mansfield Parks. And when I had them all together, I could revise the texts into one whole as I did my book on Trollope on the Net. I had not been able to envisage how concretely to found my chapters before. (It is important to have a limited mechanical plan for a book.)
However, as I proceeded I began to see so much that is valuable and intelligent and enrichening in the '81 S&S which it shares with his "sister" films made in the same generation (say 1972 to 1985); among them, that it really is a woman-centered film, an kind of ecriture-femme in filmic terms (e.g., it offers a serious portrait of the mother & her relationship to her daughters, it has social lengthy scenes of women interacting) and I don't see how I can do this justice unless I keep to my original organization. So I'm in a quandary while carefully watching the '81 and '08 S&S films. Probably though I will switch since switching has made me glimpse a procedure by which I could do the book chapter by chapter.
For the sake of those readers who are particularly interested in the Austen films, I'd like to close this blog by saying my thinking has also been influenced by a discovery. Last week a couple of people on Austen-l told the group yet another mini-series of S&S has become available: Proxis.com has reprinted in DVD form a 1971 BBC S&S, a 180 minute series. The '71 S&S is thus 6 minutes longer than the '81 & '08 S&Ses. It may be purchased at Proxis.com (a Dutch site):
http://www.proxis.be/
I bought it and yesterday discovered the screenplay writer was Denis Constanduros (who wrote the apparently faithful '72 BBC Emma and the outline used by Alexander Baron for the '81 S&S), the director Martin Lisemore (he directed the '74 Pallisers I've been studying, the brilliant '72 Golden Bowl & '76 I, Claudius), and the woman who plays Elinor Dashwood is Joanna David. She played the lead role in Lady's Maid's Bell (she was also Mrs Gardener in the BBC/WBGH '95 P&P). So I now have more information on these film-script writers, directors and acting crews.
And I have perhaps my first example of the previous generation of faithful films. The first mini-series from a high status older book produced by the BBC is said to have been of Trollope's The Warden in 1951. The first two mini-series from a Jane Austen book occurred in 1960: 6 half-hour installments adapted from Emma; 4 half-hour installments adapted from Persuasion. A third occurred in 1967: 6 half-hour installments adapted from Pride and Prejudice. Is this '71 S&S the last of these older adaptations? That is, does it resemble them, or is it more like the faithful adaptations I have been studying. If the latter is true, then there were a startling 2 apparently faithful versions of S&S done during that era.
Stay tuned.
I hope I have not bored you, gentle reader.
Ellen
--
Posted by: Ellen
* * *
commenting closed for this article