Austen: subtexts in the fight over recent new editions · 7 June 08
Dear Friends,
A few days ago now I posted about the controversy among Austen scholars over Chapman's 1923 scholarly textual editing of all Austen's novels. The question as I understood it was, Are the differences between the original published texts and Chapman's edited versions so frequent and pervasive to leave a different impression and change the meaning or feel of Austen's texts significantly. Since then through the kindness of friends who read this blog, I've been able to read Janet Todd and Kathryn Sutherland's debate in TLS as well as Simon Jarvis' comprehensive review of Sutherland's JA's Textual Lives and two of the new Cambridge Austen texts (which do in the case of MP and S&S choose as copy text the second editions), learn about the Oxford editions, and myself have bought and read the introductions and notes to the New Penguin editions of MP and S&S, whose copy texts are the first editions of these novels.
I've come to the conclusion there's more than a debate over which copy text to use going on here; the conflict is also between different agendas which shape how the different groups want to understand Austen's life, political outlook, the history of the biography, and conservative, kitsch or heritage-style Janeism. In brief, Kathryn Sutherland, Claudia Johnson, and others abjure a perceived picturesqueness & tea-and-crumpets quaint feel in the orginal Oxfords; they argue strongly against a complacent Janeism & patriarchal elitism, which they think Chapman's edition helps sustain. They're indignant at how he accepted the Austen family censorship and shaping of Austen's life. By contrast, the individual editors of the Cambridge edition (which includes Deirdre LeFaye) and Janet Todd are comfortable with Chapman's choices for basic text, his scholarly decisions (which they build upon, together with the over 80 years of scholarship since says Todd), and paternalistic conservative outlook (at least no one seems to mind it).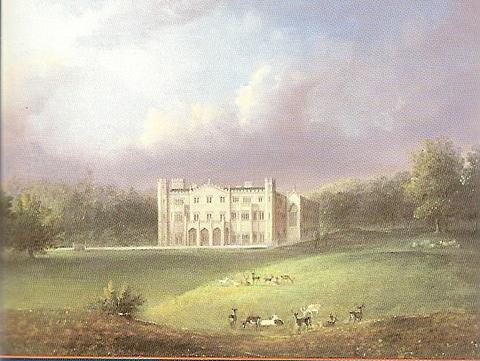 Cover illustration for Frances Ferguson's 2006 Longmans edition of Emma (based on first 1815 edition), where the picture enacts an old-fashioned view of Austen
George Orwell wrote that "when there is a gap between one's real and one's declared aims, one turns, as it were instinctively, to long words and exhausted idioms, like a cuttlefish squirting out ink." In her letter Todd spends more time telling the reader her edition got a brief mention by Sutherland and insinuating something is amiss in Sutherland because she praises a given editor and calls Chapman "authoritative" than in defending the choice of Cambridge to go for the 2nd edition of MP and S&S. In reply Sutherland complains at length about the clearly justifiable reprint of Lover's Vows in the Cambridge MP edition. There's a catty tone and denigrating words in both letters: Todd is angry that Sutherland called the Cambridge edition one which makes Austen "safe"; Sutherland refers to "Todd's breezy assumption" about a superceding of Chapman's text by "three generations of work."
To be sure, it seems that as far as the actual texts of Austen's books goes until the new or recent set of editions by Penguin and Cambridge, the habit was simply to reprint Chapman's text after checking his apparatus.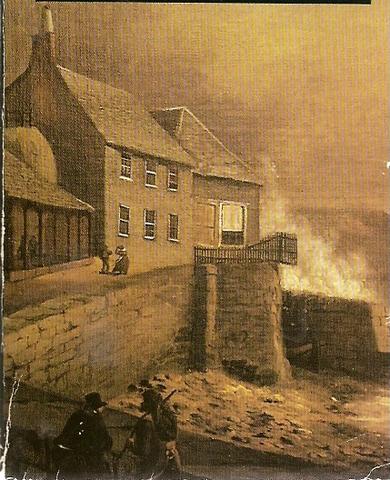 Cover illustration from D.W. Harding's superb Penguin 1965 edition of Persuasion based on Chapman and the 1818 edition of the novel (many times reprinted)
Laurel Lee (of Austenprose and Austen Today) described the Oxford editions as follows:
"A quick search through my older S&S Oxford (1990) contains Notes on the text written by the editor James Kinsley (d. 1984) who states 'The present text is substantially that of R. W. Chapman's edition (Oxford, 1923; revised 1925, 1933, and by Mary Lascelles in 1965), based on the second edition collated with the first. Chapman's textual apparatus has been revised and his emendations reconsidered'."
Kinsley did not collate the first or second edition of S&S but instead read Chapman's emenations and apparatus carefully and where Chapman emended he looked at a copy of the first and second edition of Austen's novels and either left it as stands or changed again somehow. There is a fudge though: we are told that Chapman's text was revised and reprinted by Mary Lascelles and so was it Mary Lascelles's text Kinsley used for his brief comparisons? If so, did she change anything.
Laurel Lee also wrote that the recent Oxford editions have this note:
"The new 2008 edition of S&S Notes of the text appears to start off with the same text word for word of James Kinsley 1990 edition, which has been expanded by Claire Lamont? and states 'The present edition reproduces the Oxford English Novels text, which is based on the second edition collated with the first'."
These reprint Kinsley. They say that Kinsley edition "is based on the second edition collated with the first" to make the thing sound better, but the phrase belongs to what Chapman did. Chapman collated the second with the first.
Tom Wood (rare bookseller, see comment) says the new Cambridge "uses the latest version that Austen herself probably had a hand in." In other words, they didn't go to Chapman, but they made the same choice he did.

Cover for excellent 2000 Broadview by Linda Bree based on 1818 text (the same choice as Chapman)
Now in the New Penguins Sutherland reprinted & edited & emended the first edition of MP & Ballaster did the same for the first edition of S&S which has not been done since the 19th century. But Austen participated in the 2nd editions of S&S and MP (Emma did not go into a second edition in her lifetime and she had sold the copyright and all rights over P&P), and all agree the first edition of MP had many errors.
Over the course of a century errors and changes creep in or are made. So after the early editions and then all the reprints over the century in the 1920s Chapman did this edition of the novels using the high standards of classical scholarship. Now scholars correct texts when they edit them—like, for example, amend Shakespeare's where it's corrupt (bad text) or illegible. Austen's grammar and spelling and so on are not super-impeccable; indeed, she is colloquial. The claim Sutherland and others make is Chapman overcorrected and made a different impression. We can now tell by reading the New Penguin by Sutherland and Ballaster and comparing them to the Cambridge set.
Here we see this is also a turf fight. Cambridge has been wanting to get into the standard edition game: they are coming out with a 4 volume Grandison by a team of editors to rival the Jocelyn Harris Grandison. In the case of the Grandison, they did choose a different copy text than Harris did, and justify their edition by saying now readers can see the two different editions of the book (both apparently authoritative). So in the case of Austen's novels, they want to rival or supercede the Penguins, Oxfords, and of course Signets, Bantams and other simple reprints, and it's important their choice of text be respected.
It's sometimes true the author's first text was the superior one; sometimes the last corrected one is. It's a matter of judgement and taste. For all I know the second editions of S&S and MP are generally better. What's important is the text be not bowdlerized (as women are often led to do in second editions) so if one chooses say the second edition of S&S, even if it was Austen who did the cut, one should not omit the sentence whereby at the Delaford Abbey picnic, the narrator tells us that Mrs Jennings's mention of Colonel Brandon's supposed "natural daughter" so
"shocked the delicacy of Lady Middleton that in order to banish so improper a subject as the mention of a natural daughter, she actually took the trouble of saying something herself about the weather" (I:3).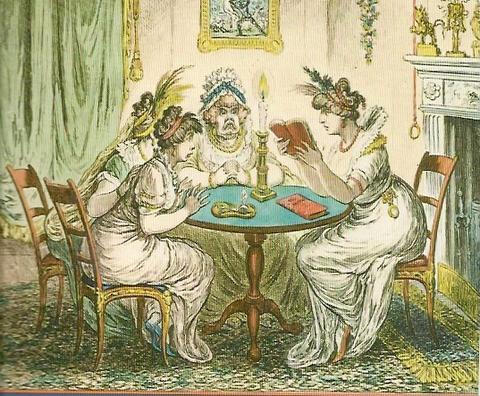 Unusual comic choice for cover illustration of 2005 Longsman based on first 1818 text (again Chapman's choice, but now re-edited by Marilyn Gaull)
Have I ever said that my Austen books fill a 7-shelf 3 feet-across bookcase. I have it in my room. As I also keep my Trollope books in my room (in a similar filled bookcase), I have these beloved books near me. As a friend said, Close at hand, near to heart.
Ellen
--
Posted by: Ellen
* * *
commenting closed for this article