David Auburn's _Lake House_, a free adaptation of Austen's _Persuasion_ · 15 July 08
Dear Friends,
Thanks to the kindness of Marilyn on Austen-l, I've found another free adaptation of an Austen novel! In 2006, The Lake House, directed by Alejandro Agresti, screenplay David Auburn, produced by Doug Davison (Warner Bros product) was shaped to be a commentary and adaptation in modern terms of Jane Austen's Persuasion.
First, it has all the marks of the species. Early in the action of the movie, the book is brought up explicitly and a copy put before the audience. In Lake House, the heroine, Kate Forster (played by Sandra Bullock) leaves a mark of her presence for the hero, Alex Wyler (Keanu Reeves) to find: it's a copy of Persuasion which Kate had forgotten (perhaps her father had given her it as a present), and left on railway station waiting area bench. He finds it. It's the very Norton edition whose lovely picturesque illustration of Bath I've put on this blog! Then a little later in another encounter Kate tells Alex that Persuasion is her favorite novel, and she explicates it in such a way that it becomes an analogy of what's happening in the film. Persuasion, she says, is a novel about "waiting,", two people meet, fall in love, the time is not right, and they are parted, but years later they get another chance.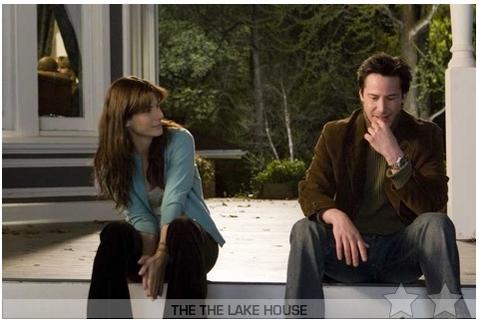 Kate (Sandra Bullock) tells Alex (Keanu Reeves) Persuasion is her favorite book, explains the meaning of the novel as she understands it
Another much older battered copy of Persuasion is found in yet a third incident, and this time the point is made that in our present story, it is too late to make the chance encounter work. It won't do. You cannot retrieve time. Finally, at another point in the film, the heroine reads aloud a moving passage from early in the novel when Anne is in her nadir of loss and remembers how as opposed to the indifference she feels from Wentworth now, what once they were together (two souls could not have been more in unison).
Three free adaptations I'll instance raise the same sort of flags: Whit Stillman's Metropolitan, Ephron's You've Got Mail, and Victor Nunez's Ruby in Paradise all have the book in front of us explicitly; have discussions of it, and quote from it. Helen Fielding's Bridget Jones's Dairy takes over core characters too
The reason there are so many references is the outline of the story is more distanced from Austen's Persuasion than most of these free adaptations allow (though the same distance occurs between Northanger Abbey and Ruby in Paradise), and this is not just a recreation in modern terms, but it departs from the original ending; indeed it reverses it. Austen's Persuasion ends in retrieved joy amid much duress and an existence where the two are surrounded by continual anxiety, discord, irony (Mrs Clay may yet be Lady Elliot); in Lake House, many of these negatives are there, and the couple do not manage to get together after all. They come near a few times, but these are fleeting encounters.
On one level, the film suggests the fantasy or fairy tale element of Austen's book. Lake House is an open fantasy. Alex Wyler and Kate Forster are in two different time zones and communicate through letter writing in an old postbox in front of a lake house.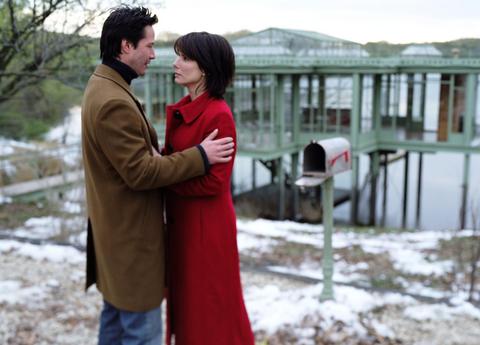 Alex and Kate by their post box in a wintry landscape
Alex has come to live there now which for him is 2006; the heroine just moved out which for her is 2004. As the movie opens, we see her leaving, and then seconds later he moves in. She had left something behind and writes to him from nearby Chicago to ask him to forward it. He replies he sees nothing of what she speaks, but will look for it; he remarks the house clearly has not been occupied for a long time; she denies this and say she thinks someone (him) moved in after her. That begins the communication which is kept up through putting letters in a old mailbox in front of the lake house.
So the epistolary nature or foregrounding of Austen's art is part of the movie. Letters as a way of communicating also give Auburn a chance to have some funny allusions. For example, the heroine's mother (Willeke van Ammelrooy) who in her common sense and closeness resembles Lady Russell as a confidant says to her daughter why spend all this time with fantasy, and rermarks he must be a "helluva letter writer." Kate may say something like yes, "There was one especially …. " (or words to this effect). YOu see the sweet joke if you remember Wentworth's great letter.
The movie in effect tells us that a tragedy underlies the reality that Austen's Persuasion plays upon, for in Lake House we find that the deeply longed-for union is improbable.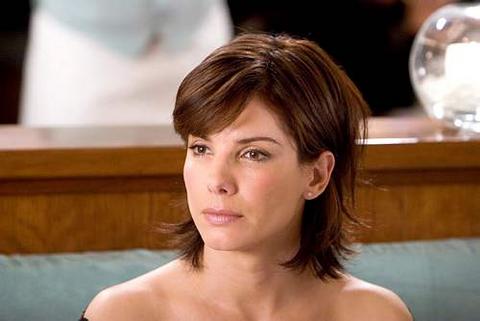 Alex has not showed; Kate left alone
The hero and heroine would not have gotten together, for death would have intervened. The movie thus insists on the presence of death in Persuasion—and it is accurate here. People may recall how at dinner at the Musgrave's Captain Wentworth says he almost went down in the Ash, that is brought into the film and the hero does go down (I won't tell how). Here is the cover of my favorite much-battered edition of Persuasion: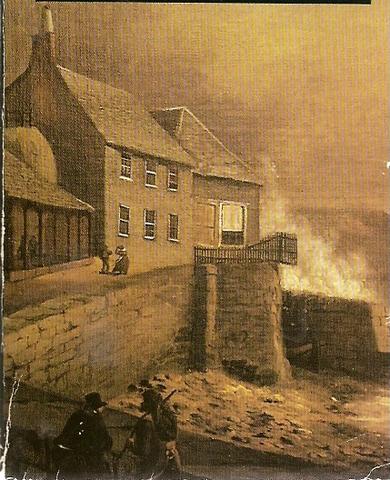 1965 Penguin (my battered much-read favorite copy)
Moments in the film (which takes place on a lake—lots of water in Persuasion) seem to remember the closing paragraph in the novel which shows Anne's nervousness lest she lose her beautiful captain once again, to death. Baggage, the baggage of parents, the hero has a hard father (Christopher Plummer plays the part) who was deeply unkind to his wife, self-centered, hard—as we are told the one mistake Lady Elliot made in life was who she married); the hero has a brother, Henry (Ebon Moss-Bachrach) who is his confidant—rather like Wentworth has his group of friends. The heroine, Kate, is all alone, isolated but for the mother (who is now divorced).
The reader should know there is an intervening text. As with You've Got Mail whose literal story is based on a movie called The Little Shop Around the Corner, so Lake House is also an adaptation of a South Korean film called Il Mare. On Austen-l, Marilyn said of this "It's a very sweet story (the hero calls the house Il Mare because it's on the sea), but that film has no Austen associations."
I was struck by how much the male point of view came through in Lake House even if Kate played Wentworth's role partly. Persuasion is told from Anne Elliot's point of view and not until the near final scene do we hear how Wentworth felt from his own lips and his journey from hurt to resentment to awareness he still loves her and so on. (The same thing happens in P&P where Darcy is kept from us.) Again this is common among the Austen adaptations where a woman-centered story becomes equally male-centered or more interested in the hero (the 1995 P&P by Andrew Davies comes to mind) than the heroines.
Lake House highly romantic as are so many of the Austen films. The film-makers clearly believe that romance sells. But Austen's romance is highly compromised or tenuous—which is also why her books for moving. Southam in his excellent book on JA's brother and the Navy and the three later novels says danger is the reality and death was common (so William Price is at risk). There is much irony in the ending of Persuasion: that is, Mrs Clay if she plays her cards right, and it seems she is, will end up Lady Elliot. So much for Lady Russell's dreams. Poetic justice I suppose when you consider Sir Walter and Elizabeth. Wentworth's good friends do not live well and one is in bad health. Benwick's marriage. Right now they're euphoric, but as Wentworth's comment revealed, this is a marriage which may well end up as so many in Austen: the intelligent man married to the dull woman, charmed by her physical presence, liveliness, and sheer need.
Through using a tragic thwarted fantasy using much nostalgic techniques (the music, the montage), The Lake House recreates and comments on the actual mood of Persuasion. By contrast, the 2008 commentary film turned to abjectness (for both hero and heroine) and the motif of post-feminist retreat to convey this.
Ellen
--
Posted by: Ellen
* * *
commenting closed for this article