Criteria for Evaluating [Austen's] Heroes: Twelve years on · 18 December 08
Dear Friends,
I am delighted to be able to report that one of the editors of the online Jane Austen Center at Bath has chosen to reprint one of my older essays. Originally written in February of 1996 as "Criteria for Rating Heroes," and sent to Austen-l as a posting, in 1997 Henry Churchyard reconfigured and placed it on the Republic of Pemberley with the title, "Classifying Austen's Heroes". As set up and illustrated with stills from more recent movies by Laura, it now graces the Jane Austen Center online magazine with a simpler title: "Jane Austen's Heroes.
Rereading it provides a ironic salutary lesson for me. I now find the thinking behind the classification, an attribution of motives to readers jejune and based on a narrow set of stereotypes that may not appeal to any large readership for real at all; yet I would still split and lump Austen's heroes in the same way. So what good is all the reasoning and rationale if a set of archetypes I now find to be a false literary construct set up by a male hegemony (women marry the Ashley Wilkes type but they hunger after the Rhett Butler type) lead to the same conclusion as a different outlook and set of criteria—which I hope are feminist, woman-centered from the point of view of genuine needs and goals, and humane.
Nowadays I would still argue one of her central contributions to the novel (and teaching of women) was a revaluation of older macho non-woman-created heroes. I would still defend the heroes that others call boring as altruistic, gentle, tactful, intelligent and amiable (& nowadays the first two even capable of fun): Edward Ferrars, Colonel Brandon, Edmund Bertram. I love all these still because they are capable of making a woman happy, satisfyingly occupied, and not at all inclined to make light of the human emotion of love. I would still rate Mr Knightley, Henry Tilney and Frederick Wentworth Austen's finest original creations of a male hero.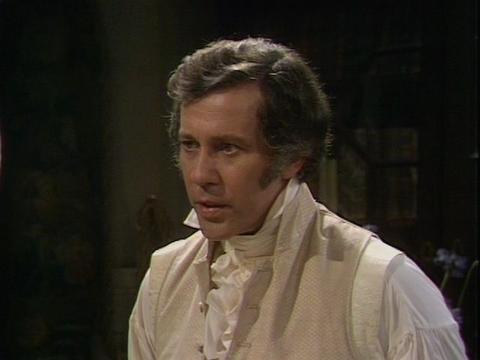 John Carson, an early TV Mr Knightley ('72 Emma)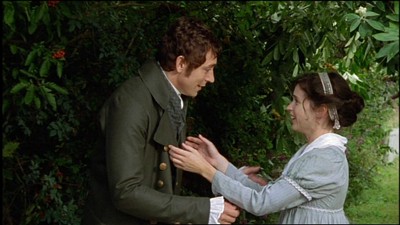 J. J. Feilds as the latest TV Henry Tilney ('07 NA)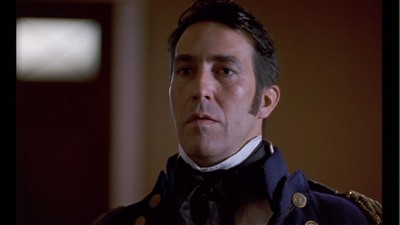 Ciarhan Hinds as Captain Wentworth steeling himself for a blow of rejection once again ('95 Persuasion)
And I would still reject as shallow, callow, cold, unfeeling to women and inconstant heroes playing with an individual for their amusement male heroes others find alluring because handsome and hard to get: John Willoughby, Henry Crawford, Frank Churchill.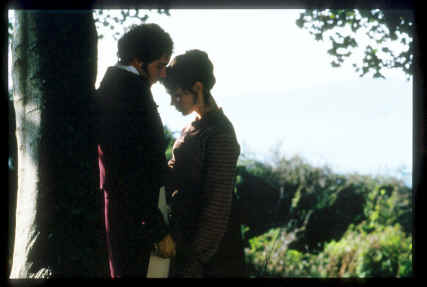 Alessandro Nivola pressuring a reconception of Austen's Fanny who is not abject in this way (Frances O'Connor's Fanny is Rozema's reconception) ('99 MP)
Athough I do admit the full dramatization of Willoughby's confession scene in the '71 S&S has given me pause: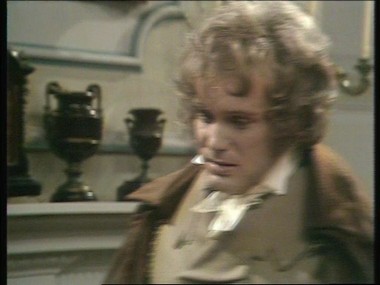 Clive Francis as Willoughby remembering
Second, (obviously), I see how much the Austen movies have entered into my response to Austen's characters, enrichened their conception and thus altered my imaginative living with them. I will never see Edward Ferrars and Colonel the way I saw them before Robin Ellis, Hugh Grant and Dan Stevens and Robert Swan, Alan Rickman and David Morrissey played these roles.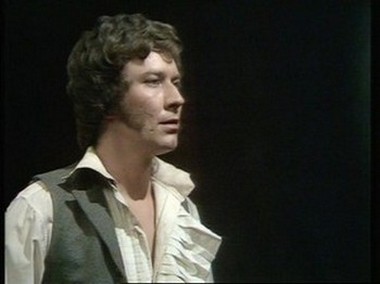 Robin Ellis as the first TV Edward Ferrars ('71 S&S)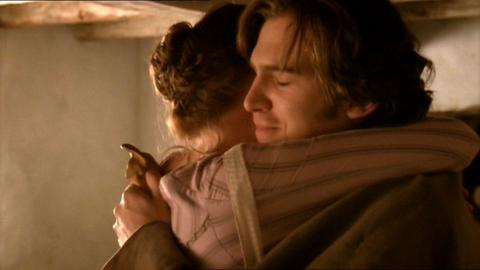 Dan Stevens as the latest TV Edward Ferrars ('08 S&S)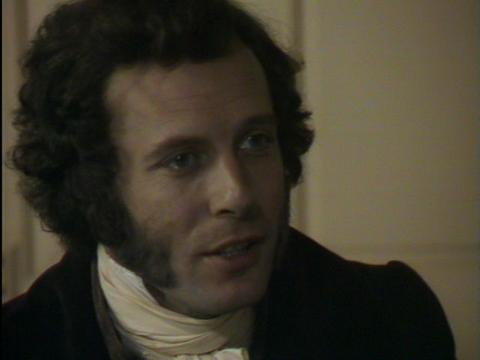 Robert Swan, an early melancholy Brandon ('81 S&S) reciting
Shakespeare's great poem
"Fear no more the heat of the sun,
Nor the furious winter's rages,
Thou thy worldly task has done,
Home art gone and ta'en thy wages …"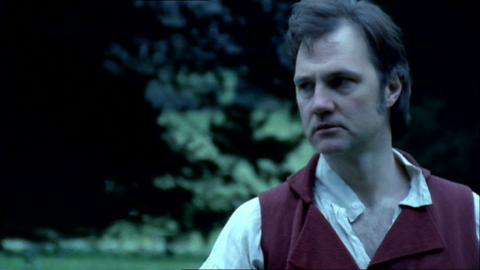 David Morrissey attempting to kill Willoughby in a duel, the latest TV Brandon ('08 S&S)
Similarly Colin Firth as Mr Darcy, Jeremy Northam as Mr Knightley, J. J. Feilds as Henry Tilney, and Ciarhan Hinds as Captain Wentworth have permanently deepened what I feel about Austen's characters.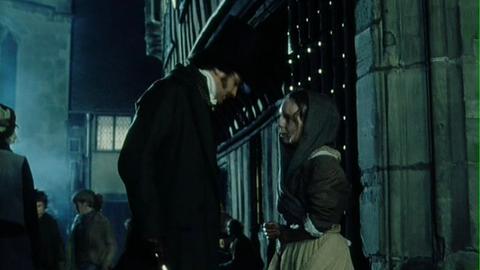 Colin Firth seeking Lydia, kind to a street-walker ('95 P&P)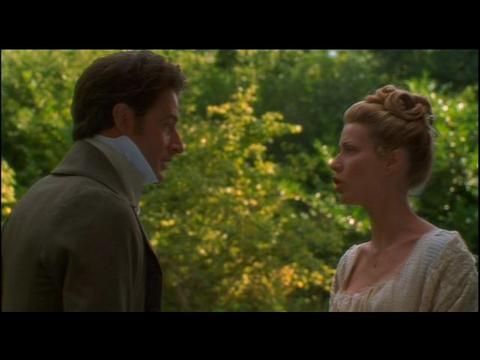 Jeremy Northam as Mr Knightley in the long beautiful proposal scene (words mostly taken from Austen) ('96 Emma)
I suspect the same realities of my feelings and Austen's texts as lit up by the readings of the movies would lead to the same rating of heroines and more minor characters I once had—though the voiced criteria I might apply would be very different. Elinor is my favorite of all the heroines; I recognize my vulnerabilities and seriousness (though this is a trait all Austen's central heroines share) in Fanny Price. I love her high intelligence as well as that of Elizabeth Bennet and Anne Elliot, the sensitivity and retreat from pain of Jane Bennet and Jane Fairfax. Emma Thompson and Hattie Morahan as Elinor, Sophie Thomson as Miss Bates, Sally Hawkins (and the movie she's in) as Anne Elliot have expanded my understanding of Austen's characters while I nowadays picture Doran Goodwin as Emma, both Jennifer Ehle and Elizabeth Garvey as Elizabeth and Susannah Harker as Jane, e.g.,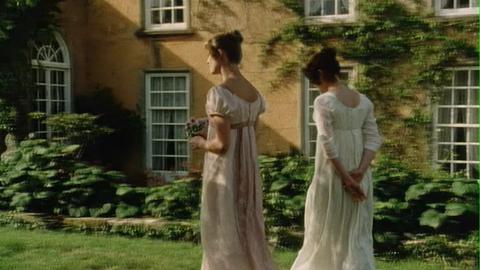 Suzanne Harket and Jennifer Ehle as Elizabeth and Jane walking and talking ('95 P&P)
Fanny Price as the lovingly absorbed Sylvestre Le Tousel; and Fiona Shaw as the relaxed, wordly contented Mrs Crofts
Then there are the actors who reverse some of Austen's cruel satire and correct her readings of stereotypes so comfortingly: Tessa Peake-Jones eager for life as Mary Bennet (in the '79 P&P by Fay Weldon) and Tom Hollander as Mr Collins.(the '05 P&P by Joe Wright and Deborah Moggach)
In minor parts some capture Austen's meaning or feel inimitably: Benjamin Whitlow as Mr Bennet: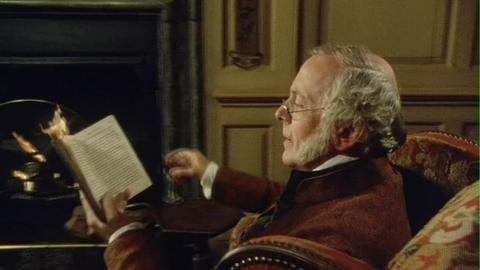 at his ease in his library apparently secure ('95 P&P)
I've lived a long number of years here on the Net socializing and outside in the physical world going to conferences, listening to other readers, writing and delivering papers, writing a longish book, and learned much about Austen, her audiences, literary criticism, and film adaptations since 1996/7. Mais plus ca change, moins ca change. For the truth is the movies may have deepened and provided variety and I've read an enormous amount of sophisticated ethical criticism over this time, but I still feel what I did about the characters in Austen (pre-movies) in 1995/96.
Ellen
--
Posted by: Ellen
* * *
commenting closed for this article