Women Poets: seeing ourselves in predecessors · 5 May 09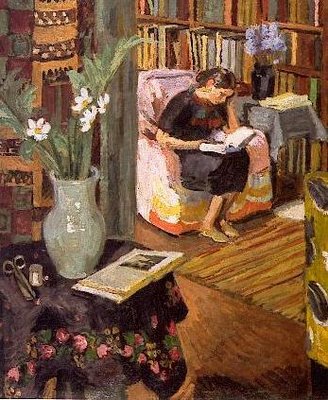 Vanessa Bell (1879-1961), A woman reading indoors
Dear Friends,
Since later January this year, I have again been keeping up writing a foremother poet posting for Wompo (the women poets listserv community started by Annie Finch) each Friday, and have been keeping track of them by placing them in a folder in my Eudora. With Eudora gone though, I've lost my records. So tonight I went to the Wompo archives, and managed to retrieve the names and content of all these postings, and am putting them here to serve as an add-on record for myself. The last one I put here was for Hester Salusbury Lynch Thrale Piozzi in the format I had been doing: I copied and pasted the posting itself.
Today I thought I'd do it differently. I thought instead of reproducing one of the original postings with relevant biographical pictures, I'd choose shorter poems or pieces from longer ones by a few of the poets, with suggestive mood pictures. I'd make a sort of undemanding miscellany for anyone coming over here curious to discover characteristic moments in the woman's poetry & picture canon.
So, since my posting on Thrale Piozzi, according to the Wompo website, I've written about (I put them in chronological order):
Pernette du Guillet (1520?-1545),
Mary Stuart, Queen of Scots (1541-87),
Mary Jones (d. 1778),
Anna Barbauld (brought back, 1743-1825),
Constance-Marie de Salm-Dyck (1767-1845),
Lucy Aikin (1781-1864),
Mary Wollstonecraft Godwin Shelley (1797-1851),
Rosalia de (or da) Castro (1837-1895),
Matilde Blind (nee Cohen), (1841-1896),
Voltairine de Cleyre (1866-1912),
Anna de Noailles (1876-1933),
Marianne Moore (1887-1972),
Elizabeth Jane Coatsworth (1893-1986),
Stevie Smith (1902-1971),
Jean Valentine (b 1934),
and another member of the list contributed a beautiful posting on Winifred Welles (1893-1939).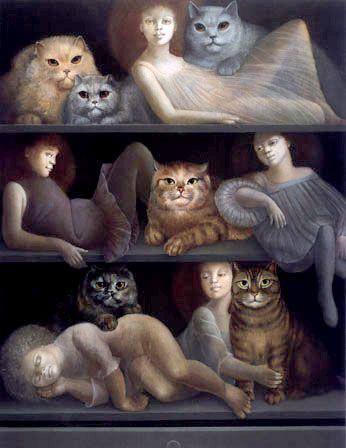 Leonor Fini (1908-96), Cats
And herewith a brief miscellany: Pernette du Guillet, deep musing quietude (a favorite for pictures by women too):
La nuict estoit pour moy si tresobscure
Dark was my night; so deep, indeed, was it
That Earth and Sky lay hidden, veiled from me:
Noon's vision had I not-nay, not a whitt
Whence great my grief and utter my ennui.
But when the dawn appeared, and I could see
Its myriad colors cast about, ablaze,
Filled was I with a joy so calm—a-gaze
At its vast-spreading brilliance-that the sight
Moved me at once to sing aloud the praise
Of him who is my Day, and my World's light.
For Mary Stuart, this love poem; to Bothwell, it suggests their first sexual intercourse was forced on her:
Five
I have shed for him so many a tear.
First when he took my body and made it his own
Although my heart was not yet won.
Again he filled me with great fear,
When so much of his blood spilled out
That, out of grief I thought to ease the pain
By ending my own life and ne'er fear again
The loss, alas, of my one true redoubt.
For him I've spurned my honour, and disdained
The only way Hue happiness is gained.
For him, I've gambled conscience, rank and right.
For him, all friends and family I've fled,
And all respectability I've shed:
In short, with you alone will I unite.
This kind of poem is everywhere in the Renaissance: the man who hurts, despises, and excoriates the woman; she berates herself for his abuse of her. From Veronica Gambara and Gaspara Stampa, to Mary Wroth; partly it's the result of the woman poets openly revealing their actual sex life. It turns up again in poetry of the later 19th and early 20th century and novels of the 20th & 21st century. Women poets don't do this so much today: they know they are not supposed to destroy themselves in this way; I've discovered they do keep a public mask on.
From a friendship poem, to the woman who enabled her to publish, Mary Jones's
Epistle to Lady Bowyer
How much of paper's soiled! what floods of ink!
And yet how few, how very few can think!
The knack of writing is an easy trade;
But to think well requires—at least a head.
Once in an age, one genius may arise,
With wit well cultured, and with learning wise …
And yet you'd have me write!—For what? for whom?
To curl a favourite in a dressing-room? .
To mend a candle when the snuffs too short?
Or save rappee for chamber-maids at court?
Glorious ambition! noble thirst of fame!
No, but you'd have me write—to get a name.
What's fame to me, who pray, and pay my rent? ...
Well, but the joy to see my works in print!
Myself too pictured in a mezzotint!
The preface done, the dedication framed,
With lies enough to make a lord ashamed!
Thus I step forth, an Auth'ress in some sort;
My patron's name? '0 choose some lord at court.
One that has money which he does not use,
One you may flatter much, that is, abuse.
Well then, to cut this mighty matter short,
I've neither friend nor interest at Court.
Quite from St. James's to thy stairs, Whitehall,
I hardly know a creature, great or small,
Except one Maid of Honour", worth them all.
I have no business there …
Shall I go late to rest, and early rise,
To be the very creature I despise? ...
Perhaps my lady's maid, if not too proud,
Will stoop, you'll say, to wink me from the crowd.
Will entertain me, till his lordship's dressed,
With what my lady eats, and how she rests:
How much she gave for such a Birthday-gown,
And how she tramped to every shop in town.
Sick at the news, impatient for my lord,
I'm forced to hear, nay smile at every word.
Tom raps at last—His lordship begs to know
Your name? your business?'—'Sir, I'm not a foe:
I come to charm his lordship's listening ears
With verses, soft as music of the spheres.'
'Verses!—Alas ! his lordship seldom reads: ...
Shocked at his civil impudence, I start,
Pocket my poem, and in haste depart;
Resolved no more to offer up my wit,
Where footmen in the seat of critics sit.
Is there a Lord whose great unspotted soul,
Not places, pensions, ribbons can control …
I ask no more, but in some calm retreat
To sleep in quiet, and in quiet eat …
Enough for me—I cannot put my trust
In lords; smile lies, eat toads, or lick the dust.
Fortune her favors much too dear may hold …
Instead of overt patrons, today we often have vast and boasting acknowledgement pages where the person lists every connection he or she has. Still friendship poems by women (and retirement which they are often partl too) are among women's finest most touching poetry. The above differs in its Horatian ideal and satire.
By Lucy Aikin, from Epistles on Women where she imagines a black slave woman killing her baby rather than allowing it to be enslaved:
from "Epistle II
What wonder then, the Western wilds among ..:
Where the red Indian's hunter-bow is strung,
(Nature's tough son, whose adamantine frame _
No pleasures soften and no tortures tame)
If, fiercely pondering in her gloomy mind
The desperate ills that scowl on womankind,
The maddening. mother gripes the infant slave,
And forces back the worthless life she gave?'
"Swift, swift, she cries, receive thy last release
Die, little wretch, die once and be at peace!
Why shouldst thou live, in toil, and pain, and strife
To curse the names of mother and wife?
To see at large thy lordly master roam,
The beasts his portion and the woods his home,
Whilst thou, infirm, the sheltering hut must seek,
Poorly dependent, timorously weak,
There hush thy babe, with patient love carest,
And tearful clasp him to thy milkless breast
Hungry and faint, while feasting on his way
Thy reckless hunter wastes the jocund day?
Or, harder task, his rapid courses share,
With patient back the galling burden bear,
While he treads light, and smacks the knotted thong,
And goads with taunts his staggering troop along?
Enough; .... 'tis love, dear babe, that stops thy breath;
'Tis mercy lulls thee to the sleep of death:
Ah! would for me, by like indulgent doom,
A mother's hand had raised the early tomb!
O'er these poor bones the moons had rolled in vain,
And brought nor stripes nor famine, toil nor pain;
I had not sought in agony the wild,
Nor, wretched, frantic mother! killed my child."
Want hardens man; by fierce extremes the smart
Inflames and chills and indurates his heart,
Arms his relentless hand with brutal force,
And drives o'er female necks his furious course.
This kind of story is first found in women's poetry in Frances Thynne Seymour's Inkle and Yarico (the ndian male sells his woman lover into slavery—an ultimate betrayal if ever there was one, one fostered by social arrangements). Then we have Barrett Browning, Frances Trollope, Harriet Beecher Stowe, and most recently Toni Morrison's Beloved.
On cats & snow, Elizabeth Jane Coatsworth, this sonnet:
On A Night of Snow
Cat, if you go outdoors, you must walk in the snow.
You will come back with little white shoes on your feet,
little white shoes of snow that have heels of sleet.
Stay by the fire, my Cat. Lie still, do not go.
See how the flames are leaping and hissing low,
I will bring you a saucer of milk like a marguerite,
so white and so smooth, so spherical and so sweet
stay with me, Cat. Outdoors the wild winds blow.
Outdoors the wild winds blow, Mistress, and dark is the night,
strange voices cry in the trees, intoning strange lore,
and more than cats move, lit by our eyes' green light,
on silent feet where the meadow grasses hang hoar
Mistress, there are portents abroad of magic and might,
and things that are yet to be done. Open the door!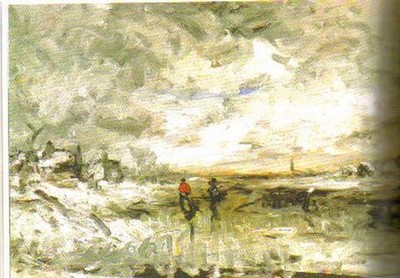 Fanny Churberg, Winter Landscape (1880)
This by Winifred Welles reminds me of Paul Scott's brilliant portrait of an unmarried aging paid companion, Barbie Batchelor in his Raj Quartet, or Patricia Druncker's Miss Webster before Cherif came to live with her:
Mrs. Peabody on the Hilltop
The white road had one shady place, pine-wooded.
Drawn up beneath that scented, glinting green,
The carriage waited and the coachman nodded.
The horses' haunches glistened with a sheen
As glossy as black cherries; heads together,
They drooped, or drowsed, or snorted softly to each other.
Meanwhile old Mrs. Peabody would be going
Her black silk rustling and agleam with jet
Up on the hill where wind was always blowing.
Her bonnet snugly tied, its grim aigrette
Prodded the cloud, indignant and impressive.
Slowly she climbed and breathed, calm, purposeful, and massive.
High on the path, where the blown weeds were bending,
She faced dim-veiled valley, hill on hill
In far blue-folded distance never-ending.
She stood alone in solitude, so still
She might have been abashed by beauty, dreaming
Instead she gathered strength before she started screaming.
Old Mrs. Peabody for some strong hunger
Served as uneasy prison. Never assuaged,
She knew some violence paced in her, some anger
Swung its striped head and glared, too closely caged.
It watched, she guarded. Even at night it fastened
Its molten eyes upon her. Even in sleep she listened.
So to the hilltop, when she felt the lashing
Of the gaunt, primal tail too harsh to bear.
So she would scream, and screaming found refreshing.
And none came through the field to know or care
That Mrs. Peabody was exercising
Her private wildcat, though they made a pair
That almost anyone would find surprising.
On Trollope-l, I've kept up the habit of contributing a poem which can be connected to the 19th century each Sunday, and from that list I end on a very recent poem (1990s) by Alison Ainsley:
Gwen John
'I may never have anything to express, except this desire for a more interior life.'
A box of brown paints would suffice
to paint the little birdlike woman, painting
by herself again. So it appears.
She rises early, quietly, and thinks
alone of colour, she, alone;
Of patient girls with dresses softer
than the sea; blues and winter greens,
who sit and read or sit and gently wait.
The Dutch Delft women.
Tremulous, to steal their souls,
the blue she borrows from the grey
slate roofs of afternoon Welsh towns
made into darker pastel by the rain.
Softness eats into itself, absorbs her.
Engrossed in her letters (daily), her cats,
she might become her sister picture,
twinned to the canvas,
disappearing in the muted lilac light
and live forever in the shadows.
She waters her life down
to shining Chinese white, opacity
and every day the same,
each gathered in. A mouse, a creeping wren;
but – such self-collection stops the passion
seeping out, makes her intent
on catching rusting Parisian, autumn light
from the full-blown petals of her
full-sleeve blouse.
Makes me think of Tracey Chevalier's Girl with the Pearl Earring.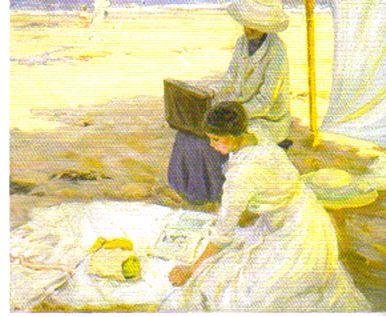 Helen McNicholl (1879-1916), In the Shade of the Tent (1914)
If anyone coming here, would like to read a poem or more about the lives and works of any of the other women, please to let me know and I'll add biographical and poetic material to the comments. What I've chosen reflect my taste and predilections, what I find comforting & can love :)
Ellen
--
Posted by: Ellen
* * *
We had a number of threads on Wom-po which connected to womens' peculiar vulnerability in the world; I contributed something and in response someone else
copied and pasted the following poem, which is to be found in Letters to the World:

Night Bloom

by Crystal Williams

For Jade, after Hayden

It makes no sense to say things will get better
because you will not understand until they are better
& they may not get better soon. There is always pain
in the world & you have seen so much of it.
I do not know how to explain other than to say,
I am so sorry your mother has died, Girl,
that her mother has turned her back, that your father
is a rogue & you are having to do this grown-up work alone.
I would like to tell you to be patient
but understand that right now you might only know fear.
Listen, then. & know this: it is okay to be fearful.
If you cannot believe that things will soften,
trust that I believe for you.
You will not remember all of this pain.
But when darkness insists you attend his party
you will know the trapdoors & gloomy corners of that house.
& you alone will be able to find the garden
where beautiful Cereus is opening his eyes in the pitch black.

********

I told of how I loved Joseph Haydn and that when I first started to teach, when I'd return to my car I'd listen to one of his symphonies to calm myself down, soothe and strengthen myself.

I revealed my lack of knowledge of modern poetry and how I ever look to older stuff when I connected the Hayden of "Night Bloom" to Joseph Haydn; I've been told the poet was thinking of Robert Hayden. Crystal wrote:

"Robert Hayden's "The Night Blooming Cereus" is one of the reasons I write, "after Hayden." But primarily I was thinking about his famous poem "Those Winter Sundays," and the myriad elements of that poem I hoped to mirror and/or which inspired a particular kind of emotional clarity."

One of the moments in my life where I told myself I would be an English major (spend my life studying literature) occurred when I first read Wordsworth's Michael and I came across the lines:

There is a comfort in the strength of love
Twill make a thing endurable, which else
Would break the heart:—-

The second and third lines moved me unbearably and I kept repeating them for a quite a while afterwards.

On Wompo Farideh contributed this English translation of an Iraqi poem:

The heart of a woman is the only country
That I can enter without a passport.
Where no policeman
Asks me for my card
Or searches my suitcase
Full of contraband joys
Forbidden poems
And delicious sorrows.
The heart of a woman is the only country
That does not heap up heavy weapons
Nor force its citizens to fights its wars .

Lateef Hamlet

I objected as follows:

I may be wrong, but in my experience women are no less guarded than men. I take the poem to mean women really do open up emotionally more quickly and easily than men. I'd say they may appear to.

Good reason too: women are quickly punished for their "misdeeds" and harshly, and no one looks into why they did such-and-such. Hitherto (meaning say about 20 years ago), not by prison sentences or publicly supported violence towards them (the later not in European countries at any rate after the 17th century), but through social ostracizing and other humiliating rituals. The case of the young girls who passed nude photos of themselves to boys (who then spread these to boast about their conquests) and are now in danger of prison sentence is a case in point of this kind of harsh lack of understanding of why they might succumb to such pressure or "give out" (an ugly phrase once common when I was young) to get some social validation or a supposed relationship with a boy.

Andrea Nicki answered Farideh's offering with another poem:

The poem presented is interesting but I think women's hearts are often too open and perilously so:

my heart is a closed country
there is no extra set of keys
left under a homey mat
it has an elaborate security
system that no thieving
would-be master can crack

Andrea

Posted by Ellen
— Elinor    May 8, 7:11am    #
On the Bell painting: I don't know the title or the year. I just love the colors, how Bell sets her reading heroine in a richly imagined painterly world. And I like how the figure is in retreat. I realize from the posture of her legs and the expression on her face she is not altogether happy. That makes her real for me.

E.
— Elinor    May 8, 7:13am    #