Angelica Kauffmann: An Autograph Letter! · 13 February 06
Dear Anne,
Do you remember what happened when I sent you a letter on Anna Bilinska and her vivid painting of herself, "Self-Portrait with Apron and Brushes"? Bob Lapides sent along a URL with detailed information about Bilinska's life and more images of her work, and so I sent you a second letter, "I want to set up a school for women in Warsaw … .
The same sort of thing has occurred in response to my letter to you about Angelica Kauffmann, "All I possess has been attained by my work and industry … " Fran W (my good friend on WWTTA) sent along a URL with more pictures, information, and a review in the online Independent by Clare Colvin of two books, Angelica Goodden's Miss Angel on the life and work of Kauffman, and Gita May's Elisabeth Vigée LeBrun, "Artists in the Age of Scandal. Sara Willen, an antiquarian manuscript dealer in Beverly Hills, California, sent a scan of an of a photo of the original letter by Angelica Kauffmann, described in her catalogue as follows: "Autograph Letter Signed, 1 page, quarto, London, February 1, 1766. To Miss Anne Sharp." Ms Willen sold the original letter in one of her auctions 15 years ago.
Unfortunately, Anne, there's not enough room in the space of my letter for the scan of the autograph letter, but all you need to do is click here to reach a smaller scan Autograph Letter. There's another copy in Chava's website blog gallery.
Here is the copy in typed form:
I am indeed infinitely obliged to Miss Anne Sharp for the remembrance she is so Kind1 to have of me, and thank her for the very pretty present she has been so good as to send me. I received it abought [sic] ten days ago, and would have made this acknowledgment sooner had I not been prevented by hurry of a removal and my having begun some Portraits which take up my time a good deal. The miniature was a triffle [sic] not worth your mentioning, but if it gives Miss Anne pleasure I am happy I hade [sic] the honor to paint it—I hope all your Family are in good health. Lady Wentworth was perfectly well a few days ago when I had the honor to see her—I am with the greatest respect Miss
Anne Sharps' [sic] most obedient and most humble
Servant
Angelica Kauffman.
Here is what Ms Willen wrote of it:
"If dukes and duchesses may look at a painting, plainer men and women can at least look at an autograph. This is, then, our sole consolation at not having been born am English aristocrat with an Angelica Kaufmann hanging in our picture gallery. And while nothing can adequately explain how we came to be what we are, this letter vividly illustrates how Angelica Kaufmann got to be what she was: hung in the finest collections in England, the darling of Queen Charlotte and George III, and one of the most commercially successful artists of all time.
In deference to the cognoscenti, we note that when Miss Kaufmann penned this missive, she was newly arrived from Venice, and the protégé of Lady Wentworth. This prodigious lady, they will know, was instrumental in the meteoric ascendancy of Kaufmann's career."
Clara Colvin's review of Gooden's book directly contradicts what Ms Greer asserted very confidently: Ms Greer said that Miss Kauffman's second marriage was a love match, deeply personally fulfilling for her, and that Miss Kauffmann was devasted at the death of Antonio Zucchi. Ms Greer also presented Miss Kauffman as having lived somewhat estranged from both her parents because she wanted to present a more upper class image than their literal presence would allow. According to Ms Colvin, Gooden's book tells a different story:
Her protective father, Johann Joseph, sole parent since the early death of her mother, discouraged any other suitors. Himself an artist, he encouraged her to devote herself entirely to painting, unhampered by domesticity. Eventually, she married a friend of his, Antonio Zucchi. It was a business arrangement and may have remained unconsummated, although when Zucchi died Angelica wrote to a friend that she was "suffering from the greatest grief".
Since everyone agrees that Ms Kauffmann destroyed her letters before her death, who can say? Since she wanted to maintain the virgin princess archetype to protect herself from scandal insofar as she could, she might allow improbable ideas that she stayed a virgin even after marriage not to be contradicted, and that might lead to further explanation of this PR image that the match was a business arrangement.
According to Ms Colvin, Ms Gooden's analytical and narrative work is as worthwhile as Ms Roworth's Angelica Kauffmann: A Continental Artist in Georgian England (which I mentioned in my previous letter as the book to read), and Ms Colvin emphasizes what Roworth, Gooden and Greer all agree on:
"The mature Angelica was known for her acts of kindness to others, but her deepest commitment was to her work. Given the dearth of original written material, Goodden analyses Kauffmann through many of her paintings."
However, Gooden's book contains only 13 illustrations (several only quarter-plate size). Roworth's seems to have more (though it's not clear whether these are in color and that's very importabnt as Kauffmann's strongest gifts were as a colorist).
There also seems to be an inadequate representation of Miss Kauffmann's work online. Fran wrote:
"My own first introduction to her was through furniture medaillons, snuff-boxes, tea caddies and things. I've just been looking for a few online illustrations, though so far in vain … "
Thus even though I too could not find the industrial work and designs Miss Kauffmann did, it seemed worthwhile to send along the URL to the online Art Cyclopedia. which connects all who are interested to more images of Kauffman's work add a couple more pictures to my blog gallery and to put one more here. This one highlights Miss Kauffmann's tendency to create large heroic female archetypes. She drew Penelope, Weeping over the Bow of Ulysses_, . As you know her portrait of the pathos of the insane impoverished Maria in Laurence Sterne's The Sentimental Journey has been much admired:

Even if Miss Kauffmann's lady is a strained depiction, the title of the travesty filmic adaptation of Tristram Shandy, A Cock and Bull Story makes me doubt that it even comes near to Sterne's conception of Maria. At least Miss Kauffmann tried for something respectful of Sterne's heroine.
Since in one of the comments my first letter prompted, Miss Kauffmann's ability to portray people (to draw faces and bodies realistically) was impugned, I also send along her beautiful and pleasing portrayal of the strong affection Georgiana Spencer, Duchess of Devonshire had for her son: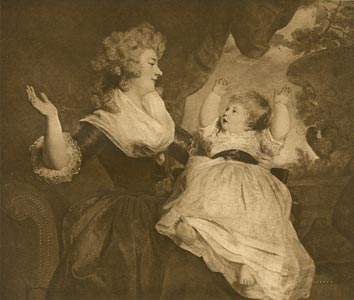 Amanda Foreman's fine biography, Georgiana, Duchess of Devonshire (NY: Random, 1998) does justice to the close and loving relationship the Duchess had with all her children. A superb enjoyable book, Anne, you must go to the nearest shop or rental library (say in Bath?), obtain, sit down, & read it.
Well, my dear, again sharing our thoughts and doings with friends on the Net has turned up real appreciation of and good information on a fine professional woman painter. I think I'll end this letter with Ms Greer's description of Miss Kauffman's relationship with Goethe:
"Goethe found in Angelica Kauffmann a confidant in matters of taste and feeling; for her it was a passionate association which would not founder in a sea of innuendo. Gradually the crass image whch the English had made faded away and the real Angelica emerged, wistful, tired and disappointed, still cherishing an impossible ideal of love, but able at last to express her own 'simplicity, sincerity and sensitivity.' Goethe called her 'die Gute' and he may be allowed to be a better judge [than those who defamed and belittled her].
The Admiral is better, Anne. He got up early today and I am hoping to take a walk in the afternoon. It's balmy here today, sunny, and the snow on the ground is as yet very pretty in our quiet neighborhood.
Sophia
1 PS. Dear Anne, I am not sure if the "k" in kind is upper or lower case. I have typed it as upper case because it may be Miss Kauffman wanted to highlight the word "kind" this way. Make up your own mind as you look at the scan.
--
Posted by: Ellen
* * *
commenting closed for this article