Memoirists and Fairy Tale Writers · 20 February 06
Dear Lady Mary,
How delighted I was to see your letter in the mailbox earlier today. I couldn't get to it until now because I am trying to discipline myself to work diligently on my projects from 10 in the morning (or earlier if I can tear myself away from my email) to 6 in the evening. I've succeeded for three days straight. I'm almost through a study in French of Sophie Cottin who is our Fanny's contemporary, and I've made a start on re-learning about a memoirist of the 17th century, Anne Murray, Lady Halkett. I began Lady Halkett's fragmentary autobiography at 5 this evening.
Not that I didn't take time off—to eat, to walk with Mr Drake, briefly because it is very cold here too (that's another reason I succeeded in staying in), and to write to Caroline, my elder daughter. Actually at 6-ish I jumped up from my seat and drove to a near-by new supermarket, a beautiful place (alluring) called Whole Foods where I purchased some scrumptious cheeses and fresh fruit to fetch home for dinner. Mr Drake made some of his famous spaghetti sauce and we had pasta, wine, and bread with the cheese and fruit. We then sat talking of Anna Akhmatova, Russia, and Pushkin. He and I often sit over wine talking for probably more than an hour. There are two kinds of (cheap) wine on the table. And we have coffee too.
So that was my day.
I've never read Mme. d'Aulnoy's fairy tales. When you finish, I'd love to hear what you think. So too our friends on WWTTA and ECW. Her book is of interest to both groups. I agree with your comments on why women turned to these forms and children's literature:
"The number of women writing fairy tales in this early flowering in the 1690s interests me; especially as I've read that they were not primarily folklorists, in any sense, but women using familiar plots and motifs in this new form, as a safe way to communicate truths which were taken askance (or much worse!) when stated openly. And there was much they appropriated that belonged to the court and the educated classes; no longer, these, merely the stories told to beguile cold hours around uneducated firesides or hours of tiresome needlework and laundry. They were, in some form, works of art, aimed at educated adults; not children."
Women turned to translation to veil themselves too. The problem with writing in your own voice for an adult audience was you would be immediately identified with your characters and the situations you described. The truth is readers do this today too.
And then how daring to write directly of your life. That's what Anne Murray, Lady Halkett did. As Cottin is a contemporary of Fanny and Miss Edgeworth, so Lady Halkett is Madame D'Aulnoy's contemporary. Lady Halkett's autobiography resembles that of many women before the 20th century: pages ripped out, an attempt to disclose the reality of trauma, harassment, powerlessness, and sexual betrayal, without sacrificing a respectable image of intelligence, capability, respectability, and that sine qua non chastity. The result is a defensive guarded book which veers from showing how the heroine is a victim and unfairly infringed upon, castigated (by her mother), controlled (so she is pushed towards marrying down a man she doesn't want), to showing her an angry and active, even aggressive women who refuses to collude in the rottenness (which includes lies and treachery in the man who is her lover), but cannot acknowledge any of this openly, lest she be criticized as exceeding what women are permitted to say or to think or accused herself of being as rotten as those she has to deal with.
Fanny escaped this by not publishing her journals and diaries. I take the now old-fashioned view that her 40 years worth of journals and letters are her really valuable writing. She also censors herself far more strongly than Lady Halkett, and we have to read close to pick up the meanings and themes in the intersections of the grotesque comedies and poignant miserable self-denials she vividly gets down on paper.
I agree with all you say here:
"Regarding Burney: I found the suggestion of both unconscious dramatization and conscious practice in writing, both involving veering from literal truth-telling, rather compelling. (- Though perfectly aware I haven't yet read the journals myself!) It seems consonant with Burney/d'Arblay's character, the sense of being scrutinized, and the intensity of need one would feel for imaginative play as well as an outlet for 'speech' – for sheer communication. It doesn't seem discreditable to me, certainly. Given the intensity, likewise, of her feelings for her father, the very peculiar re-construction of letters, etc, in the Memoirs seems… believable, comprehensible… if not greatly to be desired. I wouldn't commend it, but I am able to understand how it would feel to her. And I can see how it would be freeing, in readers and biographers, to be able to see it this way; to recognize the rather different and not always literal truth one is seeing."
By elaborating imaginatively on what had really happened, Burney was able to approach issues or norms which never reached the surface of daily life, but nonetheless controlled what was happening. It's remarkable (or not) how women's memoirs still have familial, social, and marital exploitation and ploys for a kind of desperate survival as central themes. I really look forward to reading Christina Stead's The Man who Loved Children and the Tyler and Proulx's novels on WWTTA where we'll see all this openly writ large.
Fairy tale writers are with us still too: Isak Dinesen for example.
And women still predominate in the children's and young adult fiction markets.
By-the-bye, the really ironic thing about Miss Edgeworth's Belinda, my dear, is that it's lesbian fiction. I wrote about this on ECW, and there have been several articles showing how the characters and plot-design fit the subgenre to a "T." Why is this not written about more by the famous Edgeworth scholars? Probably for the same reasons Mesdames Cottin, D'Aulnoy, D'Arblay, Lady Halkett and Ms Davenport present censored and conflicted texts. Fear of loss of respectability. The essay to read here is Patricia Juliana Smith's "And I wondered if She Might Kiss Me:" Lesbian Panic as Narrative Strategy. The line is a quotation from Edgeworth. Have a careful look at the actual physical as well as emotional interactions among Belinda, Harriet Freke, and Lady Delacour.
What I found wonderful was Smith set Belinda in a group of books that included Elizabeth Bowen's The Little Girls, Muriel Spark's The Prime of Miss Jean Brodie Doris, Lessing's The Golden Notebook, Anita Brookner's A Friend From England, and our own Dorothy Sayer's Gaudy Night. Suddenly Belinda was not a prudential didactic book, but a unacknowledged way of looking at women who attempt to create for themselves a life outside marriage by a woman who did just that.
Alas, I won't be able to keep up this schedule of mine tomorrow. I have to turn back to preparing for teaching, Tuesday and Thursday be engulfed in teaching, Wednesday prepare, and on Friday sit down to read about 60 student papers—for at least 2 days more.
But I have had my three days immersion, and have made a little bit of progress. And at night have been reading Hester Davenport's somewhat anondyne account of Fanny's years at court, Faithful Handmaiden: Fanny Burney at the Court of King George III. Davenport is an example of a woman today who skims over and de-emphasizes disclosures of tyranny, sexual and social, barely truthful enough to let us see what really is happening. I read it because it's very detailed about this crucial time for Fanny.
I find your brother, Lord Peter, an ideal sort of man (especially as he's played in the films by Petherbridge), and agree he's kept on balance by Charles and Bunter. He has a strong tendency to melancholy—which I share. Fanny chose her husband wisely too.
Well, I must to bed and must not keep you away from your duties and pleasures any longer. Shall we talk about this more on ECW? Yes, let's. By going back (in time), we've so much ahead of us.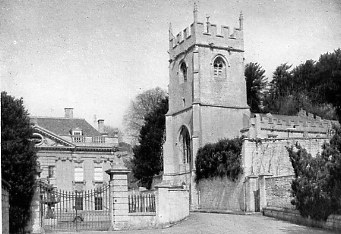 Widcombe Church, Golden House, c. 1727-28 (just outside Bath)
Sylvia
--
Posted by: Ellen
* * *
Dear Sylvia,

I was delighted, myself, by your long letter… Whole Foods is a lovely place to shop; and my mouth waters at the very idea of the fruit and cheeses you bought yesterday. The time with Mr. Drake sounds wonderful: enviable – though indeed I am pleased for you, rather than envious. I love that kind of evening. If only Charles didn't need to work such punishing hours, even now…

(How does Mr. Drake make his famous sauce – or is it secret?!)

Last night, I did finish Harman's Fanny Burney, at last. Yes, she chose her husband wisely. It's sad they were not, seemingly, equally wise as parents. From Harman's description, it sounds as if she alienated Alex terribly, though largely (I think) in some combination of imitating Dr. Burney's preoccupation with visible success, and her own overwhelming concern and early adulation. – Perhaps in some part due to his being born so late? Unexpectedly and singly? (Again, my interpretation suffers here for having read only one biography, and none of the journals; nor even having, myself, similar experiences. If I make great gaffes, I apologize!) In any case, it was fascinating. Much to comment on, soon. But I am tempted, because of the way Burney mutilated and changed her own voice for later public(ations), to take much the same view: that her private writings ought by rights to have more value than the bulk of what she actually published: among other things, as being closer to what she actually could do. I look forward to reading enough to substantiate ideas properly, instead of merely (and happily) shaping them on these isolated grounds!

Though I confess to greater curiosity about Lady Halkett, particularly having read the entry you linked to about her. You said:

'Lady Halkett's autobiography resembles that of many women before the 20th century: pages ripped out, an attempt to disclose the reality of trauma, harassment, powerlessness, and sexual betrayal, without sacrificing a respectable image of intelligence, capability, respectability, and that sine qua non chastity.'

What's remarkable to me is how exactly, except for possibly veering from perfect chastity, I sympathize with the same kind of ideal image; and how strongly the same problems indeed do play out for us. The divergence between the voice and image we need – to be clothed, cloaked, protected – and the experiences we need so very badly to express is profound. I'm glad you've mentioned it, as it fascinates me. And I thought this quite eloquent, on the function her journal-writing had for Burney (and can have for others):

"By elaborating imaginatively on what had really happened, Burney was able to approach issues or norms which never reached the surface of daily life, but nonetheless controlled what was happening."

I look forward to the books to come. Though also, curiously, have much interest in the 1660s-1690s kindling. Not only in the fairy tales used this way, as devious routes to truth, convoluted rebellions, safer voices; but also history and more of biography and autobiography. (Reading Aubrey's Brief Lives may be stirring things further; I am fascinated, too, by the disastrous 1665-1666 in London, the rebuilding, Christopher Wren, and on and on.)

I'd be fascinated if anyone on either of the lists could tell me more about some of the other women writing them in the 1690s. Perhaps later I will post on the little I've learned, and ask more. And, yes: Dinesen made remarkable use of the fairy tale genre! One more author I want to read more of.

Talk about fine irony, with Edgeworth! I couldn't reach the article you cited this morning, but I will certainly look again.

Peter is nearly ideal, I agree (for a brother!). I like his sensitivity, his gentleness, his intelligence and patience, his silliness, his kindness to women, and his remarkable appreciation for Harriet. Petherbridge is wonderful in the role. Julie, I think, finds his melancholy rather a worry: she's had, I know, more than one much-loved but melancholic person for whom she felt a terrible responsibility. – With no Charles or Bunter to share it. She's become a little shy of feeling so strong. Even in herself. I think it is mainly his stability she likes in Charles! (laughing)

My poor husband! – Shall we wish her a Peter with a tad less melancholy; still well-stocked with piffle and all the rest?

I hope all the class preparation, teaching, and reading of papers goes well. It sounds exhausting. (Julie often mentions how tiring her mother finds a high-school English load.) And I do hope you are able to make pleasing progress on all your projects.

Even 1925 buys me a little time ahead. But back further, to 1660 at least, let's go: for I can use so much to look forward to.

My dear Miss Drake, I am delighted that we have begin corresponding ourselves, and do not remain, as we were, entirely dependent on Harriet's excellent discretion!

Lady Mary
— Julie Vollgraff    Feb 20, 9:02am    #
commenting closed for this article