At the Met: Kara Walker, Samuel Palmer & Laurie Simmons · 25 April 06
Dear Anne,
One last letter on this trip. On Sunday Jim and I had three hours to spare between breakfast and the time we had to head for our train. So off to the Met we went.
We had one of these magical times we sometimes do at picture galleries. The two exhibits we saw were of visionary art.
Kara Walker is an African-American woman artist (born 1969) who makes silhouettes of the type popular in the early 19th century. They are haunted by her knowledge and imaginative memories of what slavery was, by her experience of cruel discrimination and her own culture and how it's been twisted and deformed. The show set her silhouettes among art from the early modern period (e.g., European paintings of hideous fearful hells), the Romantic (an African American man on a boat in a storm), and mid- to later 19th century Amerian (Winslow Homer painted pictures of African-Americans in the 1870s). She uses motifs from these. In the center of the room was a case filled with 3 by 5 index cards with prose poems telling painful truths.
I send you just two. Here the lovely blue visionary background has shadows which suggestively evoke the cruelties through the artistic motifs of the slave-owning classes then (and say I say now):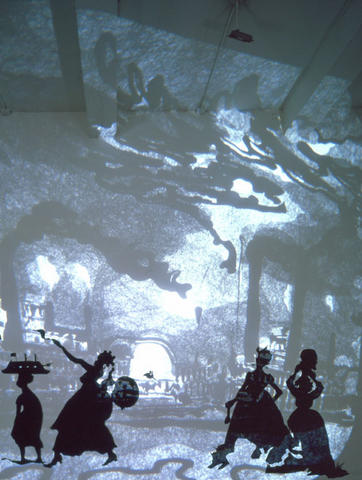 The other called Burn speaks for itself: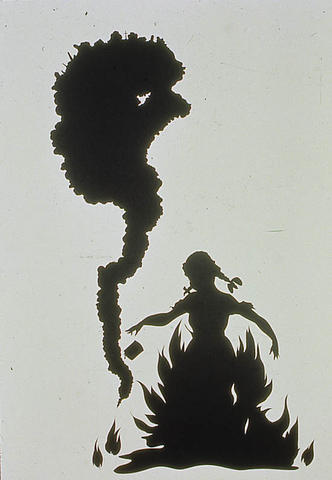 Walker often has women at the center, sometimes cavorting, sometimes being hurt, and sometimes hurting one another. Jim noticed all the imagery of water, of drowning and mud, and connected it to the statement at the beginning of the exhibit about how African-American people suffered very badly and are not being helped to return and recreate their worlds in New Orleans since Hurricane Katrina.
Unfortunately, the exhibit was not accompanied by a book or catalogue. I wondered if this was due to the real anger, bitterness, and sheer uncomfortable nature of some of the pictures and commentary.
Samuel Palmer was born around the time silhouettes were popular, and lived to the end of the Victorian era (1805-1881). His art was not commercially viable; he painted visionary scenes which hark back to, and anticipate, European woodcuts:

Rustic Scene
Michelangelo, the early modern Italian visionaries, Blake (especially), Turner:

Curfew: Wide Watered Shore
Cezanne: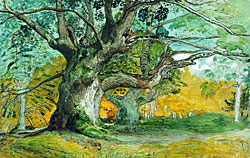 Oak Trees at Lullingstone Park
For most of his life he made little money, and was protected by his parents. It was traumatic for him when he was sent to the Mercants Taylor school, and his parents pulled him out. In his twenties he lived meagrely for years deep in Sussex with a group of like-mindd painters; he married late to a woman (as I recall her first name was Hannah) who was the daughter of a companion painter and who painted too. He did finally establish a money-making career for himself with the help of friends in the art worlds, and was paid for his etchings. One of his sons became an artist too and wrote his father's biography.
Jim thought (and I agreed) that the pictures are not original and show a man who kept away from the real. The images here (and those in the superexpensive catalogue books which I didn't buy) can't begin to capture the luminous colors and intense atmosphere radiating from Palmer's work. The thick impasto colors of In Shoreham Garden and feel of the piece leaves you breathless when you stand in front of the actual work:

It was hardly ever shown to anyone during Palmer's lifetime.
For my part the choice of images by Palmer here on the Net and in the catalogues shows an unfortunate tendency to ignore the images Palmer made of non-English places (Italy) and also the qiuet non-anecdotal scenes: one of a waterfall that among the last you see as you leave shines with a indescribable gleaming light.
In the new wing of the Met where the Walker exhibit is displayed, there is much fine modern art, much of it much better than anything found nowadays at the Modern. We saw some remarkable photographic art, and I want to tell you about one in particular: Coral Living Room by a contemporary American woman artist (Laurie Simmons).
Simmons photographs what seem to be clay figures in a prosaically enchanting room (all yellows, and oranges and reds) where the artist stands as a statue or clay figure of a woman with Japanese features on her face dressed in modern casual dress. The modern woman stands facing a statue of a quiet early modern Dutch woman also with a face with Japanese features. On the wall is a painting of women, Picasso like heavy figures or maybe Brancusi, in a circle. There is a door in the form of a floor-to-ceiling window on the left side; a curtain blows in the breeze and light streams in.
The wing itself has large windows which enable the walker to gaze into pictures (in effect) of Central Park as he or she moves from gallery to gallery. It was raining yesterday, but Olmsted's park was as enchanting as this woman's photograph.
The photograph made me remember Austen's description of the room Catherine Morland dreams of will be hers to live in when she marries Henry Tilney.
Adieu for now,
Sophie
--
Posted by: Ellen
* * *
The Kara Walker show is something new and different; I've seen it three times and am planning a fourth.

Samuel Palmer's work reminded me of Blake, an artist and poet whom I am constitutionally unable to admire.
— R J Keefe    Apr 26, 12:22pm    #
Dear RJ,

Another reason I didn't buy the book is it emphasized the Shoreham-Blake period—and couldn't capture what makes the pieces beautiful. Hardly anything of the scenes from Italy or the later country scenes. There's one heart-stoppingly lovely just as you leave the last gallery. Not in any book -- I looked at the couple we have here at home and no sign of his later paintings or illustrations for books (described but not reprinted in 2 of my books at home).

Bye-the-bye, don't miss Brian Friel's Faith Healer with Ralph Fiennes.

Sophie
— chava    Apr 26, 2:55pm    #
commenting closed for this article