An archeaology of women's experience: 20th century, 2nd half · 27 September 06
Dear Harriet,
I've finally finished Diane Philips's Women's Fiction, 1945-2005. It took me quite a while and I managed this one by reading in the dark-before-dawn hours while waiting for the light.
While at its opening, I thought Philips had simply written a refreshing well-written study of a types of women's novels which were published and sold widely, by the end I could see that she uses her popular women's novels from each decade in the second half of the 20th century (post WW2) to make visible to the reader the ways in which women were able to present themselves to themselves. Philips's book is an archeaology of women's experience in the second half of the 20th century. By excavating these cultural mirrors, she reaches many women's otherwise unexpressed conflicts, dreams, desires, and troubles or problems and contradictory aspirations indicative of each era.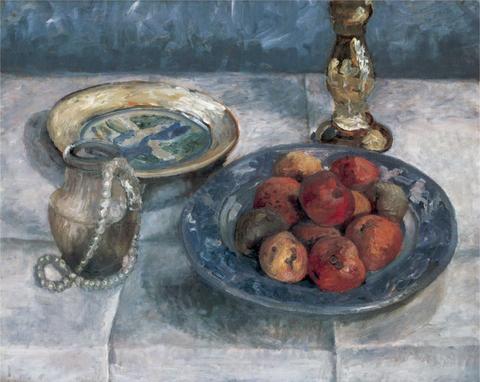 Paula Modersohn-Becker (1876-1907) Still Life
Philips's novels may be thought to reveal from the 1980s on an enormous (unbridgeable?) disconnect between the way feminists have seen feminism and themselves from the 1970s to 90s, and how women who are anxious (or determined) not to identify themselves as feminists see feminism and themselves.
However, there is room for hope this lack of understanding is not so. The books in the later part of the era are so much poorer and more cliched, partly from the increase of commercialism and dumbing down even of these products as well as cultural backlash before women's movements. Women are presented a far more caricatured version of themselves; they appear to be if anything less honest with themselves than they once were, sort of cartoony. My experience of a publisher was that he intensely disliked my ideas if they hinted of feminism. So it may be that the recent novels reflect the male publisher world and a determination to make a profit from the lowest common denominator—sell a lot by selling junk. So the complete lack of understanding may be an appearance, a function of the marketplace itself. Nonetheless, the naivete of the content and sheer imbecility of the language and goals do contradict Philips's idea that there is often little distinction between pop, middle and high brow novels.
The last "typology" of "resentful daughter: post-feminism" is also worrying. I'd call these books anti-feminist. They probably function to exacerbate intrasex antagonism, make the adversarial and naturally conflicting and competitive aspects of family life worse, and alienate women readers from themselves. I'm a great believer in "it has the effect of a conspiracy" as those in power agree X is in their interest: this picking out of real anger at emotional blackmail and bullying in many women who use motherhood as a substitute for the power they can't get elsewhere
is insidious. I wonder if such books are appearing as part of the masculine backlash.
Here are her typologies, what she geologizes:
1950s: Post-war masculinity. These are post WW2 books where male characters are traumatized over their experience in the war and also having trouble coming to terms with new demands and definitions of what is a good man. A coping male protagonist is often at the center. Novels described include Monica Dickens's The Happy Prisoner (1946), The Angel in the Corner (1956), and Man Overboard (1958); Storm Jameson's The Green Man (1952), A Cup of Tea for Mr Thorgill (1957)
1960s: The single mother novel. These are books where the heroine becomes pregnant outside marriage; in just about all the heroine chooses to have the child and the novel is about the burden and complications and rewards that ensue. Philips says an American survey in 1959 of documentable (middle-class) women who got pregnant outside marriage showed only 2% chose to carry the pregnancy through to birth. Novels described include Lynne Reid Banks's The L-Shaped Room (filmed 1962), Margaret Drabble's The Millstone (filmed 1969 as A Touch of Love), Nell Dunn's Up the Junction (filmed 1967) and Poor Cow (I saw that film).
1970s: The college novel. The group novel which shows the college friends growing up and coping over time. I just saw a film version of this in Friends With Money. Novels described include: Mary McCarthy's The Group (1952), The Groves of Academe (1980), Deborah Moggach's You Must Be Sisters, Rona Jaffe's The Best of Everything (1958), Class Reunion (1979), Judith Rossner's Looking for Mr Goodbar (1977), Rita Mae Brown's Rubyfruit Jungle (1973), Alice Walker's Meridian (1976), Marilyn French's The Woman's Room, Marge Piercy's Small Changes and Andrea Newman's A Share of the World (1979).
1980s. Sex and Shopping Novel. These show women regarding shopping as a form of genuine work and skill; it's an occupation through which you grow rich, glamorous. The textures of these novels are a stream of cliches. Novels described include Judith Krantz's Scruples (1979), Shirley Conran's Lace 1982), Barbara Taylor Bradford's A Woman of Substance (1980), Terry McMillan's Waiting to Exhale (1992), Fay Weldon's Life and Loves of a She-Devil (it differs because she mocks the cliches, but also uses them, 1983).
1990s. The Aga-Saga and the Domestic Romance. Up market female protagonist at the center of her community, drenched in home environment, the post-marriage romance. Novels described include Mary Sheepshanks's A Price for Everything (1995, hers is living with a man she is bored by), Joanne Trollope called 'the queen of the aga-sage, and her The Country Habit (1993), The Rector's Wife, A Village Affair (a woman has an affair with another woman), The Choir. They are about problems of middle aged women so we have Elizabeth Buchan's Revenge of the Middle-Aged Woman and The Good Wife, Kathleen Rowan's Between Friends (1992, woman so anxious to save her marriage she tolerates her husband having an affair which humiliates her), Phillipa Gregory's Perfectly Correct. Some rise to tragedy: Anna Shreve's Where or When (a kind fo American Joanna Trollope) and then there's Alice Hoffman's Here on Earth (shows parallels with Wuthering Heights). The safe haven is no longer a refuge but the wife supports her man 'in his rough work in the open world.'
1990s. Shopping for men, the single woman novel. A subtype of this is the chick-lit book. The epitome Helen Fielding's Bridget Jones's Diary. Masculinity is a spectacle and the woman is shopping for men as a commodity to be measured by how close he comes to buying and wearing the "right" things. Consumption the great measurements; Bourdieu often quoted in this chapter. Novels described include Freya North's Chloe (1997), Laura Sigman's Animal Husbandry (1998), Robyn Sisman's Perfect Strangers (hero perfect because never there, just his things), Jane Green's Mr Maybe, Caroline Knapp's Alice K's Guide to Life (this idiotic novel manifests solemn anxiety over the "'dating' process"), Kathryn Flet's The Heart-Shaped Bullett. These are "jaunty" books. I'll bet they're jocular too.
2000. Resentful daughters: post-feminist books. Books where the writer is angry at the mother very intensely; filled with bad mothers, women who didn't stay in the home and devote themselves to the child, living an utterly conventional life. Some of this is archetypal hostility, some an inability to tell an appearance in social communities from realities at home and in the mind and real daily life. Daughters see their mothers as childlike and not grown up. Novels described include Martha McPhee's Bright Angel Time, Janet Fitch's White Oleander, Rebecca Wells's Divine Secrets of Ya-Ya Sisterhood, Kathleen Tessaro's Elegance (2003). A life-poisoning kind of relationship is described, with the daughter having no forgiveness for the mother who is ambitious. A Booker Prize short-listed one belongs here too: Astonishing Splashes of Color by Claire Morrall (2003, epigraph from J. M. Barrie's Peter Pan).
As I wrote the other day, the great flaw in the book is Philips excludes feminist and feminine mysteries & detective stories and the gothic. These are an important subgroup of related books many women buy, read and apparently enjoy.
In my previous I also said Philips shows how 3/4s of the readership that keeps novels in print are women, and yet women's books are as a group (high culture too) marginalized or erased still when it comes to academic and high culture studies of 20th century literature. This pushes those who write about women's books to overpraise them uncritically. We also don't begin to know what people read for real. A certain type of socially admired and accepted book is chosen for book reading groups (e.g., Reading Lolita in Teheran). The kinds of books women (and men too to some extent) like to read that's more pop or middle brow or clearly about issues that are painful and complex is not admitted to and not chosen for such groups to read together.
There is a good deal about the real literary marketplace. She tells of how up to the 1970s there was an unacknowledged "gentleman's agreement" that British publishers would not publish to the US and vice versa. A suit against monopoly practices and globalization changed that in the 1970s and she talks of the rapid interaction between US and UK and Canadian and other English rooted novels. So that's why I never read Sue Barton books and English women have usually not read Cherry Ames or Judy Bolton books.
Philips is so refreshingly candid. She says studies of what readers get from these books fall down because readers don't tell the truth (so much for Janet Radway's naivete in Reading the Romance), and it's simply true that little is written about private experiences of books. Interestingly people are much more willing to discuss films; she suggests that's because films being publicly experienced (like plays) make community values trump the individual.
She has an excellent bibliography too. But I can't type that out.
Yes, Harriet, a book is a private conversation between the woman and the heroine who is written up in direct plain language so it feels like a letter to you. Now when it's not just fiction, but claims to be non-fiction, or autobiography, then you get more active in the creation and dialogue.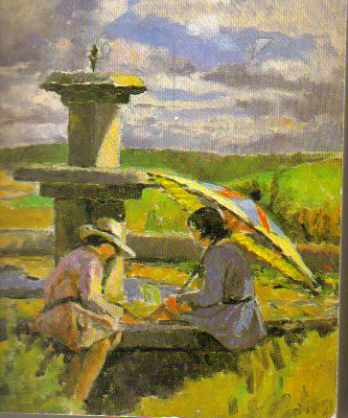 Girls by a Fountain by Mainie Jellett, cover illustration for Virago edition of Jenny Wren (1932) by E. H. Young (1880-1949)
But that's for another evening.
Sylvia
P.S. If only listservs were places for really sharing deep experiences of books together, imagine what a listserv for reading Virago books by women could be.
--
Posted by: Ellen
* * *
commenting closed for this article