More on Janacek's Jenufa · 18 October 06
Dear Anne,
You may recall this past summer the Admiral and I saw and were much moved by the Glimmerglass production of Janacek's 1903 Jenufa (from an 1890s Ibsenesque play by Gabriella Preissova, Her Fosterdaughter).
Last night Tatyana (who loves opera) kindly sent the following intelligent brief review from November's Opera News:
"Interest in Jenufa (seen August 11), in the original Brno version (edited by Charles Mackerras and John Tyrell), centered on the direction by Jonathan Miller, who had staged another Janacek opera, Katya Kabanova, last season at the Met. In both instances, his views strayed from what the composer had in mind. This time, Miller had said during a talk before the premiere that he placed Jenufa in a Czech community in the American Midwest during World War II, so Isabella Bywater's sets, and to a degree her costumes, looked like Oklahoma! Rocking on the front porch, Judith Christin as Grandmother Buryja could have passed for Auntie Eller, and the other characters seemed to step out of Thomas Hart Benton's canvases. Kostelnicka's house created the right mood of confinement, though in Act II Robert Wierzel's even, flat, diner-like lighting banished any hint of nocturnal mystery.
Miller's concern, however, lay not so much with the provincial milieu as with the psychology of the characters, especially Jenufa and Laca, who grow up before our eyes, and Kostelnicka, who thrashe her way to closure. Janacek's musical imagery of country ways—thrusting outbursts, repetition for emphasis, hesitancy owing to inhibition or frustration—found a response in the director's view of Jenufa herself as mousy, defensive and put-upon, though she is described as beautiful and "carries herself so proudly" according to the crusty Foreman of Christopher Burchett. As Jenufa, Maria Kanyova met the contradiction by singing with steadiness and assurance while acting with a mixture of fear, uncertainty and rebelliousness. Inner feelings emerged with greater eloquence when she was alone for her prayer in Act II. The Kostelnicka of Elizabeth Byrne, a bit flustered in Act I, hit her stride in the sustained outpourings of Acts II and III. It shouldn't have been too hard for Jnufa to settle on the growingly sympathetic Laca of Roger Honeywell, vocally strong and reassuring, over the self-involved, loutish Steva of Scott Piper, who caught the character's evasive tone. Robertson guided the score steadily toward, then through, its crisis and catharsis."
You may also recall there was a perverse reading of the opera as staged by Miller by a NYRB writer which turned back Miller's take on the play to re-demonize Kostelnicka (see the comments in the linked in blog); a reading defended by a man on Trollope-l on the grounds Jenufa, stupid fool, typical woman who likes being punished, got what she deserved (which I placed in the comments on Jim Hightower's progressive columns).
The Admiral read the review and comments. He had thought perhaps Miller was overdoing or being too emphatic about making sure the audience came away with a non-misogynistic understanding of what had happened, and that Jenfua was made far too innocent and saintly, but when he saw this man's commentary he said, well some people just will never get what's in front of or all around them (referring also to the audience response at the production we heard). Nonetheless, he still felt Miller's switching the events from Moravia at the turn of the century to the US Appalachian area in the 1930s lost too much of the original circumstances and context, including importantly religion.
Thinking about it on and off since then perhaps the thing to keep our eyes on is how this matter of dead babies and punished and ravaged women is still central to our culture and still riveting tabooed matter as it makes visible the utter amorality at the base of what stability appears in our daily lives. I wrote a review of two books on this subject where I discussed another perenially popular text (as play, novel, and film), Susan Hill's Woman in Black.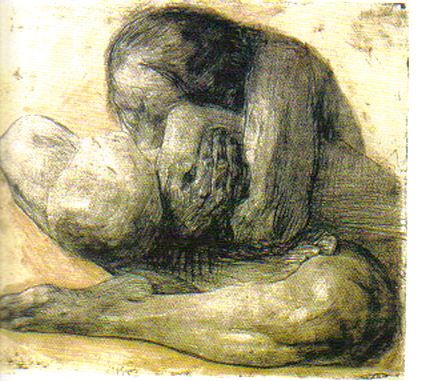 Kathe Kollwitz (1867-1945), Woman with her Dead Child (1903)
Who was responsible for the death of Jenufa's newborn? Not just the lout Steva who rejected the baby and its mother, and not just the supposed good man, Laca who threw acid all over her face and would marry her only on condition he would not have to take the baby (left on stage at the end as Jenufa's kind savior), but the social order that supports and honors them while marginalizing the women and making the older one into a strident anguished and then about-to-be-killed witch. A social order that today supports continual horrific wars around the earth.
What I love about Kollwitz's art is she goes right to the heart of the matter and shows us it. I like to imagine Preissova's Jenufa was not mousy nor defensive, but if she was, only in such a vein would she have been allowed to complain.
Sophie
--
Posted by: Ellen
* * *
commenting closed for this article