Volver: flowers are tougher than you think · 30 January 07
Dear Harriet,
Late this afternoon Caroline and I saw Volver, produced by 4 different Spanish film companies, written and directed by Pedro Almodovar. It was at once feminist and gratifyingly feminine, touching and hard, wryly comic & realistic & warmly idealistic too. On the surface, it is probable; however, if you think for a moment about what happens, it's improbable, utter madness. In its wackiness the film resembles Bunuel, say The Discreet Charm of the Bourgeoisie; in its sweep, Viridiana. The Spanish word "volver" means to return, and we have here a revenant & a return to the past to see how it's repeated and to hope things won't be as bad as they've been.
Like The Quiet incest and murder are at the center of the story: Paco (Antonio de la Torre), the husband of Raimundo (Penelope Cruz), and apparent father of Paula (Yohana Cobo), a 14 year old, attempts to rape Paula, and in fighting him off with a knife Paula kills Paco. It's also like Nicole Holofcener's Friends with Money and Lovely and Amazing: men exist in the margins of the movie; at the center are women's relationships with one another, and the psychology projected is of people who survive through their relationships with others; the women are cooperative, caring because they are enabling one another to survive (not a small thing).
As the film opens we are in a cemetery on Sunday where mostly women are sweeping, cleaning, polishing, putting flowers upon rows of monuments over the graves of seemingly beloved relatives and friends. The effect of sweeping across this place and the poses through camera focusing and stills is comic (and when thought about later ironic):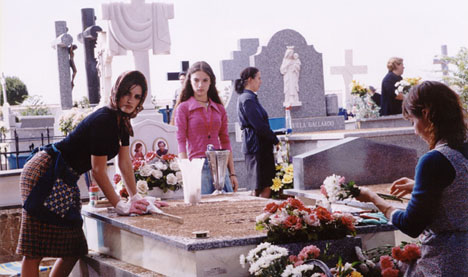 Our little group, Raimundo, her sister, Sole (Lola Duenas), and Paula, leave the graveyard to visit a large old-fashioned house in which their feeble Aunt Paula (Chus Lampreave) lives; Raimundo feels Aunt Paula survives because Aunt Paula's next door niece, and Raimundo's cousin, Agustina (Blanca Portillo), an older women, checks in daily, and shops for her. When Raimundo returns home, we meet Paco: he is swilling beer, watching football and unemployed; he is a sad and sordid creature (we see him staring at Paula's vagina under her tights as she does not sit with her legs closed); later that night Raimundo refuses to have sexual relations with him in bed, upon which the camera focuses on his face while he masturbates. Raimundo's work the next day reminded me of the worst job Ruby (of Ruby in Paradise) sunk too: all day long in a laundry, only Raimundo also washes the floors of the vast laundromat. It's when Raimundo returns home that she discovers Paco's dead body in the kitchen, and through an at first suprizingly quick surmize guesses how he came to be dead.
The movie then moves out in three strands. We see Raimundo with much long effort clean the kitchen floor, lug the body in a blanket to a restaurant next door where she deposits it in a refrigerator compartment, and much later trick and blackmail a prostitute-friend who lives on the street, to help her (with two more friends) push the refrigerator compartment in a van, drive the van to a place in a wood by a river (one we later learn was one of Paco's favorite places to come and dream), and bury the body still wrapped in the blanket in its fridge. We see her take over the next-door restaurant and make a successful business out of daily serving dinner and finally catering a large party for a company making a film nearby. When Aunt Paula dies, we at first think Irene (Carmen Maura), Raimundo's and Sole's mother's ghost has come back from the dead to be with Sole (who has separated herself from an unworthy husband and runs a beauty parlor in her apartment).
It is gradually revealed that Irene is no ghost, but a living woman who helped Aunt Paula survive for years, and now wants to serve Agustina in her final illness (she has cancer) as well as make contact with both her daughters; that the grave Raimundo, Sole, and Paula have been cleaning each Sunday does not hold Irene and their father, but Agustina's mother and Sole and Raimundo's father whom Irene caught having sex together one afternoon and set on fire after she discovered that her husband continually forced sex on their daugher, Raimunda and impregnated her with Paula (so Paula is Raimundo's half-sister). Irene gets away with this murder as the villagers are superstitious and assume she is a ghost, and are unwilling to investigate carefully who died and how.
Where incest is felt as horrific and grim in The Quiet because the wife and mother knew and turned a blind eye, and we watch the man get away with it; here the man either doesn't succeed or the acts are thrown into the past, the men pay for their deeds, and at the end the women re-bond. Irene and Raimundo are survivors: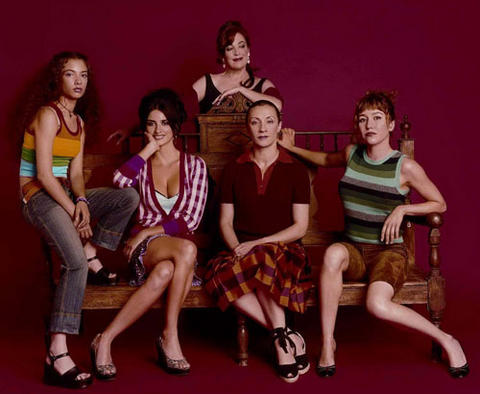 Left to right: Yohana Cobo (Paula), Penelope Cruz (Raimunda), Carmen Maura (Irene), Blanca Portillo (Agustina), Lola Duenas (Sole)—out of costume
A third strand is the emergence of long-hidden truths among the primary women (mothers, daughters, sisters, aunts), and our observing services freely given and bought and paid for among the neighborhood women as they help Raimundo through sharing, cooking and preparing food for her restaurant, and come to Sole for hair-dyes, hair-washes, and hair styling.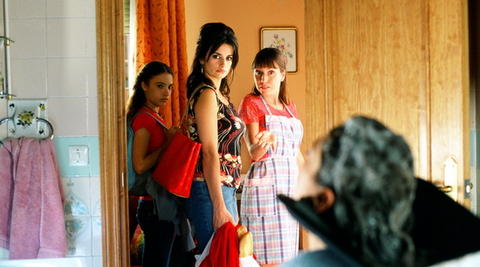 The visibilia of women's lives are everywhere. Raimundo dresses very sexily; Paula is a typical teenager in her dress; Sole dresses in a feminine but quiet style (we are told she does not like to leave her house and it's clear she allows Raimundo to lead her, an when her mother returns to her, she returns to sleeping next to her); Agustina dresses super-plainly, mannish-style hair and clothes (are we to feel she is an unacknowledged lesbian?). Old once cherished dolls are found in suitcases dragged about as well as jewellry and make-up kits.
The review on IMDB described the film as sublime and uplifting. Its surface tone is, though, prosaic and comic, continually deflating of class and money-based pretenses while it dramatizes idealized supportive relationships among women. The wacky feel of a ghost mother returning and the necessity of hiding her at first reminded me of the sustained fictions and mood of Since Otar Died and Goodbye, Lenin. The focus on women's relationships and interlocking generations who repeat what the generation before did is like that of House of Sand.
The film contrasts strongly to the many many films and popular novels which show women hating one another, destroying one another, resentful daughters blaming their mothers for not training them in the stereotypical sexual behavior that is supposed to allure a man to marry them, dominating destructive and envious or frustrated mothers and older women caricatures. The mood is comic: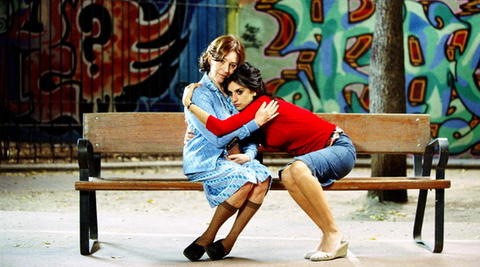 The emotions felt here among the women are camaraderie, pity, forgiveness as well as continual demands that all respect the interdependence of one another and fulfill basic daily human needs in a prosaic continual way. This is a film where women are seen making, eating, and surrounded by food and drink, providing the necessary ephemera of daily life.
I enjoyed the reflections of Spanish life today in what seemed to be a suburb of Madrid: everyone has cell phones; they drive small station-wagon type cars which they squeeze into mostly-filled parking lots; people watch and get onto day-time TV where the hostess is absurdly dressed (super-sexy with big hair and clown-like make-up) and the ordinary person is asked to humiliate herself (reveal shameful secrets which might hurt the people they speak of very badly and pragmatically) in return for the "privilege" of reaching out for non-existent help. I liked the high fulfilling or good moments of the film: for example, when Raimundo sings in front of the film company while they are having the party she has provided.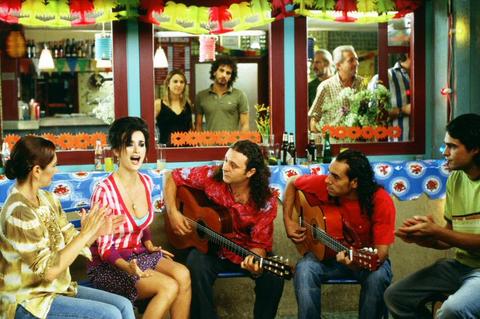 Raimundo's words are those Irene taught her about the hardness of life, and how the past and future mirror one another; it's the first time she's sung in so many years that 14 year old Paula never heard her sing before.
Almodovar's previous film well-known in the US is Women on the Edge of a Nervous Breakdown; if you look at the other titles of his films, he seems repeatedly to dramatize women's worlds, psychology, imagery associated with them (the closing credits were interspersed with lovely pictures of flowers), and experiences as they feel them. In this film none of the men we get to know is a supportive, strong or decently-controlled human being; they are not just no use to their women; they hurt them. Irene says they are an unlucky family; in effect they are a family whose core strength lies in the women.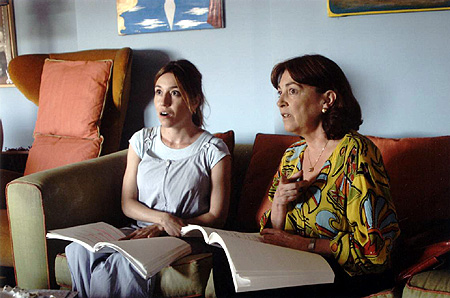 Sole and her mother singing together (a still not in the film)
It is a consoling fairy tale which confronts mean behaviors and insoluable problems in men and women's sexual and social relationships with Hitchcock-like violence and indifference.
We learn flowers are tougher than you think: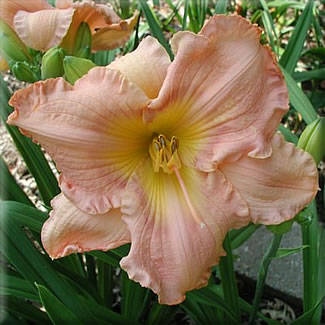 Sylvia
--
Posted by: Ellen
* * *
commenting closed for this article