Foremother Poet: Sara Teasdale (1884-1933) · 4 February 07
Dear Anne,
Here am I for the first time in a long time. I'm thinking maybe the way I can write here more regularly is regularly to send along some of the postings I've been sending each Friday to Wompo (a woman poets list) as "Foremother Poet" postings.
I thought I'd start with Sara Teasdale.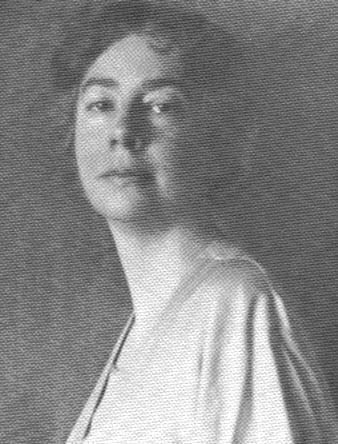 About age 20
I had a period where I read Teasdale's poetry over and over again. I was in my late teens (17-19, this time I can't remember most things from). Since I remember owning the book at age 20, I must've bought my favorite book of her poetry towards the end of those years: Collected Poems of Sara Teasdale, introd. Marya Zaturenska (she's a fine poet in her own right).
Teasdale is today perhaps best known for her "Love Songs," "Helen of Troy and other poems," and "Sonnets to Duse" (she became infatuated and admired the actress so), and her poetry in this vein may be likened to Christina Rossetti's; Teasdale uses the devices of repetition we've been talking about; here's a famous one:
I shall not care
When I am dead and over me bright April
Shakes out her rain-drenched hair,
Tho' you should lean above me broken-hearted,
I shall not care.
I shall have peace, as leafy trees are peaceful
When rains bends down the bough,
And I shall be more silent and cold-hearted
Than you are now.
Just a stanza from "I Would Live in Your Love"
I would live in your love as the sea-grasses
live in the sea,
Borne up by each wave as it passes, drawn
down by each wave that reces;
I would empty my soul of the dreams that have
gathered in me …"
Perhaps more appealing to our era are her harder sharper ones. I like this and extend it to all love relationships:
Advice to a Girl
No one worth possessing
Can be quite possessed;
Lay that on your heart,
My young angry dear;
This truth, this hard and precious stone,
Lay it on your hot cheek,
Let it hide your tear.
Hold it like a crystal
When you are alone
And gaze in the depths of the icy stone.
Long, look long and you will be blessed:
No one worth possessing
Can be quite possessed.
We had been talking on Wompo about our memories from when we were children, what we read especially, and in one of my two books of Teasdale's poetry (Zaturenska), there's a section called "Memories" (one of three stanzas call "Places" I like very much). In it is this one
Only in Sleep
Only in sleep I see their faces,
Children I played with when I was a child,
Louise comes back with her brown hair braided,
Annie with ringlets warm and wild.
Only in sleep Time is forgotten
What may come to them, who can know?
Yet we played last night as long ago,
With stealthy secrets whispered low.
The years had not sharpened their smooth round faces,
I met their eyes and found them mild
I an eager shadowy child
Care had not darkened, nor pain defiled.
[The above one is sometimes misprinted with banal sheerly sentimental lines substituted for that last couplet).
Teasdale wrote a monologue as Guenevere. I once used it to teach Arthurian literature to students and used it every time:
**********
Sara Teasdale was born of wealthy parents in St Louis, Missouri; in the early 20th century this city was an important cultural center. T. S. Eliot came from there (so too Harriet Monroe who in Chicago ran The Poetry Magazine and was a good friend to Teasdale). Such people who came from the upper classes had connections to NY and Europe. When I was a graduate student I knew Allen Mandelbaum (poet, translator of Virgil and Dante) and he came from these people and would talk about the place.
I associate Teasdale with Elinor Wylie because they lived over the same era, both wrote strongly lyrical poetry that is deeply melancholy. Teasdale's friends were Vachel Lindsay (who courted her with extraordinary letters but she didn't marry him), Carl Sandburg and Amy Lowell (to whom Teasdale's poetry can be compared and contrasted). She travelled a good deal (to Europe), planned a biography of Christina Rossetti, lived in hotels at times; she did marry, a prosperous businessman (with St Louis connections), someone who would have been just right for a debutant; they were divorced in 1929.
She committed suicide in 1933.
I think of her as having a Keatsian rich surface and retreating into a beautiful sensual world with a strong whiff of French culture. Some of her imagery makes me think of a Watteau painting and she has numbers of poems set in France.
I thought of her because in the favorite novels we had on Wompo some of the list members kept reiterating how they liked to read this or that mystery book because it had a "strong, smart" or successful heroine at the center. Now I prefer melancholy heroines who are "perfectly equipped failures" (from James's Ambassadors, "Look about you—look at the successes …" &c). I feel Teasdale's poetry if it's out of fashion is so because it is a poetry of solitude, anguish, the cry of the heart mixed with song and landscape, traditional in that the specific source is left underground, not told.
A good biography is by William Drake, Sara Teasdale: Woman and Poet. A more recent anthology than the one I quoted is called Mirror of the Heart.
I end with a picture I put up on the groupsite space of Women Writers through the Ages @ Yahoo a few weeks ago. I just read Yvette's live journal where she says in Buffalo looking out her window she sees more snow filling the world than ever she saw before. It's by a Finnish woman painter, Fanny Churberg (1845-1892):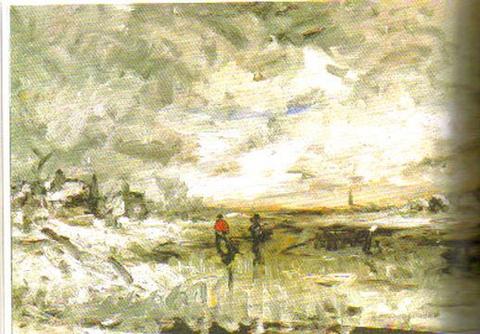 Winter Landscape (1880)
I like the feel of icy colors against browns and also the strokes for
snow; the two figures on the ice walking along are part of the
natural world. A lighthouse is seen in the righthand distance,
suggestions of houses and shipwrecks to the left side.
As I look out of my window at 1:22 am I see only blackness. Tonight was a bitterly cold night in Alexandria.
Sophie
--
Posted by: Ellen
* * *
commenting closed for this article