_The Lives of Others_: a significant flawed melodrama · 12 March 07
Dear Harriet,
Yesterday I went to see The Lives of Others, written & directed by Florian Henckel von Donnersmarck (made by a German company). You may know it won an Oscar for the best foreign film and 10 nominations in other categories, and has apparently been nominated for the most German film awards ever. Although it's a flawed film, it's effective and probably important, I strongly recommend seeing it. The film connects to John Barrell's book about what happened in the 1790s in England (where for example a man could be hauled into court for something he said which was deemed subversive), The Spirit of Despotism (reviewed by Barbara Taylor for the London Review of Books, 29:3, 1/3/07). Donnersmarck has made an allegory about the open subversion of law in the GDR; this mirrors what the US government under Bush and other countries in the last couple of decades have attempted to begin.
The serious flaw I'll put first: at the opening and throughout the film it's suggested that torture really produces the truth; that you can get people to divulge what you know is the truth by torturing them. This is the rationale for torture and is false. People simply say anything you want, and the reason they are tortured is often crazed cruelty or someone is following orders who is willing to be horrifically cruel. The desperation is a false rationale in the way of say Bush's rationales when he justified his desire to smash Iran: they are speciously true on the surface (Bush's unacknowledged subtext is this: these non-Christian people hate us so we must destroy their power).
From Beccaria and Manzoni on it has been demonstrated, & through hard evidence (records of cases) that torture is useless in gaining information and is done out of human cruelty and indifference to one another. To present torture in the way it's presented in this film is to shore up systemic torture going on right now.
The situation as the film begins: we are in East Germany and watching a teacher Hauptmann Gerd Wiesler (Ulrich Muhe) in a school for teaching interrogation. The techniques advocated are forms of torture, intimidation, high humiliating cruelty. The scene switches to a theatre where we are watching a play which clearly embodies social realist ideals: it's about women in a factory and the lead character is an ideally courageous heroine played by an up and coming beautiful actress, Christa-Maria Sieland (Martina Gedeck). The playwright, Georg Dreyman (Sebastian Koch, very handsome, he looks the enlightened type) has a party afterwards, where he's surrounded by artist friends (other writers are in prominence) and we begin to see he's been spied on by frightening men belonging to the Stasi (a murderous spy group who represent "state security") who use torture, intimidation, utterly unjustified imprisonment, constant surveillance and career and home-destruction to control any dissidence from the social order they are on top of and made rich and powerful by.
One of these people is also the teacher at the school we began with, Wiesler now revealed as an up-and-coming ruthless spy (Muhe).

Wiesler (Muhe) as nightmarish masterspy
Dreyman approaches the big boss and most powerful of the men Gregor Hessenstein (Herbert Knaup, made to look very fat, dense, ugly-pushy philistine) to try to persuade him to rehabilitate a friend, a director, Albert Jerska (Volkmar Kleinert) on the grounds he is a great director and Dreyman's play would have been much more effective with an original modernist director and also on the grounds of justice and fairness. Jerska has been wrongly tarred, maligned, is miserable. Hessenstein snorts and in effect turns away.

Hessenstein (Herbert Knaup), characteristic pose, from the side, suspicious
It seems Dreyman can ask such a question because he's always played the game, remained within the allowed opinions of the party, but this act is going to endanger him. Hessenstein suggests to a man at the head of the Stasi, Oberstleutnant Anton Grubitz (Ulrich Tukur) that he bug Dreyman's apartment thoroughly; it soon emerges that Hessenstein has been coercing Christa-Maria Sieland into allowing to fuck her; this actress in the play is actually living with Dreyman; Hessenstein wants to eliminate Dreyman as his main rival for this woman's body.
There is much suspense and drama because we then watch Wiesler, a minor harsh bully at the head of a police bullies bug the house forcefully, and spend day and night watching Dreyman in his apartment. For example, we see Wiesler frighten the woman next door into not telling Dreyman by telling her if she tells what she saw her daughter will be thrown out of her university.
Then the story "proper" begins. Wiesler and his helpers watch each act of Dreyman, take down every word. This watching includes him having sexual intercourse with Christa-Maria. It is horrible to see someone's life watched step-by-step this way. We look at them through a TV screen with Wiesler: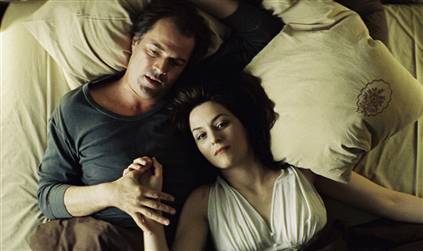 Sieland (Gedeck) and Dreyman (Koch), view from TV screen
Of course incriminating evidence of some kind (an anti-government statement) will be found eventually. We see Grubitz bully a young man at a restaurant where state functionaries eat together; Grubitz's behavior and words reminded me of Alistair Sim playing Scrooge (in the 1951 Christmas Carol): mean teasing, cruel triumph, leering power were enacted. Grubitz doesn't come across as self-evidently evil as Hessenstein, but we see he is capable of just as much cruelty, and is more dangerous in that he is not as obvious. We then see Hessenstein, the Big Man, force the actress, Christa-Maria, into his car and force his hand on her breast, fuck her, and drop her off near Dreyman's house, and the Big Man bully Grubitz (threatening him with loss of his big-paying prestigious position). Grubitz then pressures Wiesler.
Wiesler begins to play God. He uses his equipment to push Dreyman into going downstairs one morning and Dreyman glimpses Sieland coming out of the big man's car—half undressed. Now Dreyman knows she is having an affair, and the first night she produces the usual excuse for going out, he begs her not to go, and we and she realize Dreyman knows. She means to go to Hessenstein anyway, but first goes to a bar to have a drink (presumably to steel herself), and Wiesler comes in and orders a drink. He presumably knows this is a bar she goes to regularly by listening in on everything said in Dreyman's flat.
Then Wiesler comes over to Christa-Maria's table, and we see he is a "fan" type and worships her from afar. He persuades her not to go to the Big Man, but return home. We think he is doing all he can to make the situation worse so as to push Dreyman into doing something the police can use against him. But eventually we discover there was another motive, for strangely when Dreyman does begin to do something utterly forbidden, Wiesler pretends not to understand what he sees and hears through his TV and sound equipment and protects Dreyman.
Dreyman's director friend, Jerska, commits suicide. He had written a book (music? play? we are not sure) called Sonata for a Good Man which he sent Dreyman just before he killed himself. Dreyman is so angry and distressed, he writes an essay on the real condition of private life in the GDR and with three other friends manages to smuggle it into West Germany (the FDR). All this is done in the apartment, including a typewriter brought in whose typeface will not be traceable. The deluded Dreyman thinks his apartment is not bugged because he has been so obedient to the state functionaries. Christa-Maria does tell Dreyman not to tell her anything more than she sees as she doesn't want to know anything that can be dragged out of her. It seems she is on medication of some kind which is forbidden by the state, and this endangers her—as well as her having broken off her affair with Hessenstein who is all the while pressuring Grubitz. Grubitz begins to suspect something is wrong with Wiesler as Wiesler has not yet produced any incriminating evidence.
We see this too, but what his motives can be we don't know. Instead of describing the essay as it's discussed in the apartment, Wiesler calls it a play. An underfunctionary suggests to Wiesler it's not a play, but Wiesler scorns and bullies him as someone beneath him, and the underfunctionary says no more about the distorted presentation of this essay as a play in the records.
Dreyman's article is published in West Germany and Hessenstein, Grubitz and their upper level colleagues are incensed. Grubitz has a typewriter expert in to try to find which typewriter did it, but is told (after a long disquistion on types of type) that this one is not traceable.
Finally, Grubitz thinks to pick up Christa-Maria while at the doctor and threaten her. He has the power to end her stage career. He does know she is on "drugs" from Wiesler. When she offers sex, and he says she has an "enemy" so this will not do, she quickly cracks. Dreyman's apartment is brutally searched in front of him, but the typewriter has been put below the floor and is not found. Later on as viewer we realize Wiesler would have known of this and yet did not tell.
Already suspicious of Wiesler, Grubitz drags him in to be interrogated and threaten him, and then to interrogate Sieland and threaten her. She is treated courteously throughout: her punishment thus far is isolation in an iron room cage in a prison. She again cracks and tells where the typewriter is. She is allowed to return to Dreyman, given a name as "an informant" and told to lie to Dreyman.

Grubitz (Tukur) watching Sieland (Gedeck) through mirror
Now we switch to the apartment and see Christa-Maria arrive, refuse to explain to Dreyman where's she's been. His friends have told him she was nabbed and told the Stasi that he wrote the essay, but he has refused to believe this. He just looks worried about her, but also puzzled. Grubitz and his men break in again. But by the door is Wiesler who unknown is watching them; they do not see them and he slinks away. They search the apartment, and go for the typewriter in the hole beneath the floor, and voila it's not there.
Meanwhile Christa-Maria not able to take the denouement she expects, rushes out into the street and hurls herself before a truck and is killed. A strongly emotional performance by Kock (Dreyman) proceeds. He grieves over her body intensely. Wiesler watches from afar, silent.
Next scene Grubitz tells Wiesler his career is over. How Wiesler did it, he doesn't know, but Wiesler somehow protected Dreyman. We guess Wiesler removed the typewriter, not Dreyman.
Fast forward two years and we watch Wiesler (Mühe) in a low paid (humiliating conditions) job steaming open envelopes. He is working for the post office. Suddenly a phone rings: the wall has fallen. Much rejoicing.
Fast forward 4 years and we are in the theatre watching Dreyman's play, this time done with modernistic symbolic techniques. Dreyman is sitting next to a beautiful woman who is more heavily made up, more sexily dressed than Christa-Maria. She is Dreyman's latest mistress. He rushes out and encounters Hessenstein in a back room. Hessenstein says, "Ah! you couldn't stand to watch either." Dreyman wants to know why his apartment was not bugged. (He is improbably stupid and naive over this.) Hessenstein tells him his apartment was bugged. He then tells the truth about the incident of the essay as far as he knows it. Dreyman is overwhelmed with disgust.
Fast forward a few months and Dreyman goes to a building filled with massive numbers of thick files. This is where the Stasi kept its gathered information. He sits at a desk and soon someone wheels out to him a huge stack of notebooks. He begins to read and quickly gets to the notebook which is a record of the incident of writing the essay and Christa-Maria's death. We look over his shoulder as he reads and together with him come upon the passages where Wiesler wrote lies. Wiesler presented the writing of the essay as the writing of a correct play about Lenin. Dreyman sees Wiesler's serial numbers. Dreyman has no problem when he asks a clerk who was the man with this serial number.
A few days later we watch Dreyman trailing after Wiesler as Wiesler makes his daily rounds as a humble postman.
Fast forward again. Wiesler, still dressed as a poor man (everyone else looks spruced up), passes by a bookstore and sees advertised Sonata for a Good Man written by Dreyman. A large photo of Dreyman looking very prosperous is in the window. Wiesler goes in and finds an inscription or dedication to his serial number on the first page, "with gratitude." The closing dialogue is the clerk asking if he needs change, and Wiesler saying no, this one is for me. He looks deeply happy.
So the successful playwright has succeeded in sending a secret message to the humble good man.
Some of the other flaws (beyond the one I mentioned at the outset) are self-evident. First, the semi-happy ending. David Lean said don't pay attention to endings in films (or even books); it's the middles that count, the endings are sop to selling widely. But in this film the man who is presented as the steely teacher of torture (Wiesler), the ruthless spy on our smallest actions, is shown by the end to have if not a heart of gold, an ability to enter into the playwright's desires, and himself a pity desire for the actress based on his soppy adoration of her. He meant to save her. Then the playwright (Dreyman) writes a book which is presented as a message of consolation to the steely man who ruined his life on behalf of the playwright who by Wiesler's actions was never even imprisoned.
This is unreal sentimentality and in implication analogous to the use of central powerful white men as the saviors of the world we see in Amazing Grace. Here the savior is a single ordinary German man.
If this film is presented as a parable of experience, it's untrue to life. Life moves eventlessly and doesn't pattern in this way (even if people imagine it so). The finale is improbable, as is the way Wiesler succeeds in playing a finally mysterious and benevolent God. (God works in mysterious ways?) Underlying the film is a James Bond perception of human relationships. I realize this is common to spy and detective fiction, like Le Carre's for example, but it's a real weakness. When you read or go to see genre fiction, you can accept this (The Constant Gardener is framed as spy thriller which has an unusually serious message about the drugs companies and larger politics), but this film is touted as a realistic critique and has been given awards which reinforce this idea.
At one point watching such a film I would've thought it's melodramatic hysteria and evil bad guys were a way of condemning all socialism from the point of view of capitalist states, but now minus the melodrama and "evil" trappings, I see it as just as much what is apparently happening in the US (per the patriot act) openly outside its borders and what could happen and perhaps does secretly from within. So it's a parable about all such state apparatuses. If it's meant to scare the audience, it does.
Still, as someone who knows very little of East Germany, I wonder how true this portrait is of the difference between the cruel state apparatus before the wall fell and the apparent opening of the state after. Was the paranoid state so much an octopus it could reach into the tiniest crevices of people's lives? One "lesson" a viewer could come away with is you better not do the slightest good deed or say the slightest word against what's happening (e.g., writing a blog like this say) because you will be spied upon, and if you keep it up, fired or a member of your family fired. This is the way it's presented here. Barrell in his A Spirit of Despotism argued the Tory government attempted this sort of thing in the 1790s in England.
Is the present German state without such an apparatus? A fully open society? The playwright is able to get out his files and read everything and discover the minor functionary who observed him. Could one?
It's a powerful film, effectively acted and filmed, and I nearly burst into tears when Christa-Maria commits suicide and Dreyman moans and groans and writhes over her broken body. I can believe a director was blacklisted and committed suicide (this happened in the US too and for all I know continues to happen in a lesser way still). I liked the making visible how a private revenge and sex motive lies behind use of accusations of dissidence. This is what I've been told happened in US communities in the 1950s (you could get someone else's job by accusing them of communism) and France just after WW2 too. And I suppose everywhere such paranoid-based apparatuses are set up.
There is a sharp irony about the position of women in the film. They are dispensable and interchangeable. They are also flotsam and jetsam upon the sea of life and not to be trusted. This reminds me of the 18th Scots philosopher Millar's theory about women in the state: he said when women's bodies are made readily available by society, their power goes down; the only times they are unavailable is when men control them and prevent other men from getting them without their having to pay big prices. So an actress is someone who would be easily prostituted; so too women at work would be readily available. If this is true, it might explain why in the last 30 years women have lost such ground. They go to work, are readily available through office politics. The sexual revolution which allows them to have sex outside marriage is just another step putting men in charge of them as now they have no handle to demand marriage. And indeed in the US working class women do much worse in life than ever. Girls are expected to "put out," have sex with men pretty quickly and nothing given in return but affection or physical pleasure.
At the close of the film Christa-Maria has been replaced by another sexy woman so the playwright was by no means desolated for life. The part she did in the play is now done by a black (African) woman who does it more starkly and effectively and ironically as a male director has made the play so much better.
This is an effective ironic moment in the film yet the melodrama swirling around it makes it feel lurid. What ruined the film was partly what has made it popular: it's melodramatic. The use of fast-forward in time also revealed a crude sort of parable had been determined upon. In order to provide this pattern the director was forced to pick moments ahead in time to make us see this compensating reaching out between two people, the obscure man and the elite artist.
Last year I saw Sophie Scholl, another German film about the past. At the time I didn't mention what bothered me about that one. As our students are imprisoned, beaten, and then unceremoniously executed, we see around them many Germany functionaries who look regretful, their eyes filled with pity. How they longed to help these students. In this latest German film the German public is flattered even as their history is presented melodramatically.
For myself I did remember times in my life when I've been unfairly treated and could do nothing about it. There's been a recent incident too; in my case my file was discarded. Different strokes for & by different folks? I remembered how when I was once accused of antisemitism by a student, I was exonerated based on the knowledge a colleague had that some of my relatives were murdered in German concentration camps and also shot dead at point-blank range by Russian officers. It bothered me very much that this history was used to exonerate me from a baseless charge.
Sylvia
--
Posted by: Ellen
* * *
commenting closed for this article