Chick lit & the 1974 Pallisers · 19 May 07
Dear Harriet,
I'd like to recommend Suzanne Ferriss and Mallory Young, edd. Chick-Lit: The New Women's Fiction. Several of the essays in the volume are as good as Deborah Philips's Women's Fiction, 1945-2005.
The difference is Chick lit traces just the one subgenre of women's novels, the one that has been labelled by the denigrating name, "chick-lit. The book is itself not (as chick lit is repeatedly said to be) vacuous, inane, complicit, but responds perceptively to the phenomenon from a feminist perspective. A couple of the essayists defend this subgenre as in its way dealing with real issues and problems of women's lives today. One of the essayists, Chris Mazza, claims it was she who unwittingly coined the name, not meaning to see it used for these sorts of novels generally to stigmatize them. The best essays are those which begin with Helen Fielding's Bridget Jones's Diary. (It was due to my reading and enjoyment of this book and its sequel, Bridget Jones: The Edge of Reason that I took the book out of the GMU library.) Some of the essayists deal with women's books about particular forms of "chick lit," e.g., working as a "nanny" and other low status occupations where you work for another woman who either goes out to a highly paid remunerative job or stays in the house and doesn't do the uncomfortable and time-consuming work of say taking care of a small child or running the household. There's an essay on the kind of books about motherhood which make of this occupation a form of sacred 24/7 slavery, another on books enforcing slenderness on women, and yet another on relevant TV shows (Sex and the City) and recent women's films.
I've thought a lot about why I so enjoyed the Helen Fielding books and the first movie, Bridget Jones's Diary (the second movie seemed a thin rehash, with only a couple of genuine moments). Finally, for me these two books are about a woman trying to assert and hold onto her self-esteem. A paragraph that repeats itself like a refrain through both novels is how Bridget is now or is going to be confident, self-assured, sure of herself, filled with self-respect and respect for what she is doing and how she is spending her life. It's done comically, but it's seriously meant. I think I would not so often be so unhappy if I could feel real respect for how I spend my life and what I do all day long.
I did write several times on WW about both Bridget Jones books by Fielding. They are shaped as intelligent witty departures from Austen—although this is an overlay since the first at least is comprized of columns Fielding used to write for a newspaper (harking back to Jan Struther's Mrs Miniver as an originator of this kind). Bridget Jones's Diary uses Pride and Prejudice to give the columns shape and a plot-design; Bridget Jones: The Edge of Reason seems to have Austen's Persuasion in mind more centrally to start with, but it too really uses Austen as a structural and thematic shaping device. Fielding has the gift of just the right word for comedy and she makes me laugh as identify with her Bridget caricature and am attracted to the ideal Mark Darcy represents. Realism comes in several levels and the later book contains Colin Firth presented simply as the real person Bridget interviews. Like Mark Darcy he is quietly decent. Fielding's book is, however, no complacent validation of today's norms. Not at all. It's wild caricature which includes lots of passages which show the world to be cruel, irrational, hard, difficult, brutal (including the sequence in Thailand).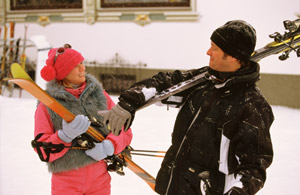 Mark Darcy (Colin Firth) and Bridget Jones (Renee Zellweger) attempt skiing together, BJ: The Edge of Reason (2004)
Right now I'm spending my life watching Austen films and analyzing them. It's part of a long project to produce a solid good paper—or monograph. In the Bridget mode as I see it: must not worry it won't be published. Must have faith in work it's good and worth doing no matter what or who does or does not respect or use it. Okay to spend huge amounts of time online and not attempt to hide this by lurking, to post openly and try to make lovely informative postings. Should not worry others would find this useless: get nothing for it; am lucky when no one criticizes me for my attitudes or out of resentment. Seen as strange, liable to be stigmatized, sneered at.
Also should not worry what others think of my etexts.
I try hard to achieve this attitude of strength, but don't quite pull it off. It's like being an adjunct. Living with my status is part of a choice.
Perhaps I shall reread these two Bridget books, and underline all the variations upon "develop inner poise, and sense of self as a woman of substance" and extend her definition of emotional fuckwittage to include far more than men who won't commit to a permanent companionate love relationship with a woman. In the best essay in Ferris and Young's book (by Ferriss herself and on Austen's Pride and Prejudice and Fielding's book, Bridget Jones's Diary and the movie of the same name), Ferriss ends:
'It is worth remembering, however, that Austen's novels created a courtship balance to critique the absence of such balance in early 19th century relationships between men and women [also a balance between private happiness and public respect and security]. The filmmakers' attraction to Austen's text may signal their own view that such inequities remain nearly two centuries later. Given the preponderance of similarities to Pride and Prejudice in the film version of Bridget Jones's Diary [more than in the novel], the divergences at the end appear in stark contrast to the imaginative hope for equality promised by Austen's text. Instead, they emphasize contemporary women's renewed desire to be rescued by men from the complications of life as an independent woman.'
And what's wrong with that?
My replacement tapes for Parts 20 & 21 of Volume III of the 1974 Palliser films came!! and I watched the 20th episode last night. Much that was a Tissot picturesque, as in this lovely close-up: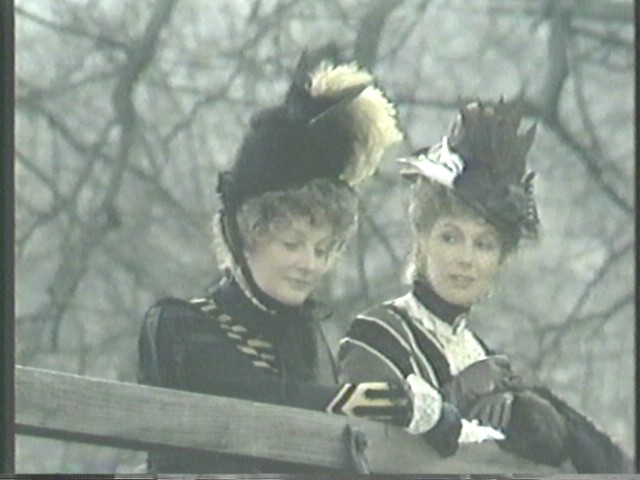 Mrs Marie Finn (Barbara Murray) and Duchess of Omnium, walk in the park, Pallisers (1974, 3:20)
This is another project about film adaptations I'm spending my life upon. Last time I wrote about the Pallisers films, I included a still of the Duchess showing her esteem for the Duke; here he is showing his deep affection for her: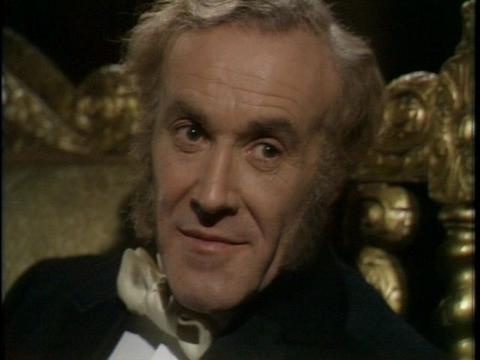 Philip Latham as Duke of Omnium (Pallisers, 3:19)
How I loved the Palliser episode 3:20 where Raven had the Duke of Omnium (Philip Latham) produce a sharp criticism of the way the world works, how he loathes it, how he finds it distasteful. I think I'll transcribe that this morning. Among his comments on giving out posts (not on the basis of merit or who would do the best job for most of them), on his wife spending enormous sums to turn the gargantuan uncomfortable castle into an inn for harboring place-seekers, cutting down trees, putting up tents, an expensive bohemian cook, I'll quote but two:
"This is so repugnant to me."
"Is this necessary, Cora?"
Here he is again, hesitant.
If I end up not getting what I mean to write on film adaptations of Trollope's novels published (I'll use the many postings I've written as my basis), I shall make a vast area on my website and put all the materials I've gathered there.
I also hope to make a gallery of stills from the relatively unknown older films of Austen. There are hardly any stills on line from these: the BBC 1972 Emma, 1979 Pride and Prejudice and 1983 Mansfield Park
Sylvia
--
Posted by: Ellen
* * *
commenting closed for this article