"The Bear Came Over the Mountain" to _Away from Her_: How Critique Became Justification · 28 May 07
Dear Marianne,
Yesterday afternoon I went to see Sarah Polley's film, Away from Her, an adaptation of Alice Munro's short story, "The Bear Came Over the Mountain". I was so absorbed & engaged by the film that when I came home I read the story which is online (it was originally published by The New Yorker in its single issue for Dec 27, 1999 and Jan 3, 200). As I read, I was startled to discover that Munro's text showed how the lifelong sexually promiscuous behavior of a husband who was also a respected professor at a university had so undermined and hurt his wife who was dependent on him for support and her self-esteem that she took her mental deterioration (loss of memory) as an opportunity to leave him and revenge and reassert herself. Sarah Polley's film turned this matter into the story of a husband unable to cope with the loss of his wife to the point that his devotion led him to provide her with whatever she wanted in the home she inexplicably escaped to (including a mentally and physically incompetent man) in order to make her show her permanent love and need for him.
While watching the film I had been disquieted by people in the audience who laughed at the film at moments they were not supposed to, and laughed hard when the laughter was intended to be at most light. Since just about all the audience members I saw were old, it was not young people laughing at old people. The advertisements for the film have associated the story with Alzheimer's Disease so young people are staying away in droves as this is considered depressing matter they need not know about as yet. Let me begin here.
Alice Munro's narrative text is not about Alzheimer's Disease, nor is Polley's film story. Munro never uses the word; the physician or supervisor in the film, Madeleine (played as unbreakably cheerful & determined to control the patients in the most cost-effective convenient way possible by Wendy Crewson) does use the word, but then she would. She's very strong on scientific explanations, on what we can practically diagnose effectively, which she then undercuts (wisely, as of course she would) by saying much is ambiguous and we don't know a lot, and people differ a lot in deterioration so we must decide what to do for each aging or ill person on a case-by-case basis.
I'll provide a situational summary for those who don't know Munro's text narrative or Polley's film story. In both, a man in his early 70s, Grant (played by Gordon Pinsent), a professor who retired from teaching some 20 years ago, and 70 year old wife, Fiona (played by Julie Christie), a woman who has not worked for money since she married, live together in a lovely wooden cabin in Ontario (Thunder Bay? I don't know Canada so can't tell if they are near Toronto or Ottowa or a biggish town? They appear to be very close, are still physically loving, emotionally dependent on one another: they eat, converse, read, and do things they enjoy together (like cross-country skiiing).
Fiona's memory has been deteriorating and is getting worse, though by no means is she unable to care for herself and she remembers what she needs to know most of the time. However, she seems to want to go into a retirement home now; that is, before she must, while he is intensely reluctant to lose her (as he sees it). She keeps doing things that remind him she is losing her memory, some of them unnecessary, but one night her mind slips while cross-country skiing in a near by place and she begins to wander. He is terrified and hunts for her in the SUV but luckily finds her on a road where she is in danger of being run over before a fatal accident can occur. This precipitates him into researching the question, finding a retirement home, and then allowing her to go into the retirement home as an experiment, which she says well, if you want to put it that way. It is put as him agreeing to this.
Here is the scene where he is clearly suffering so, before she goes into the retirement home: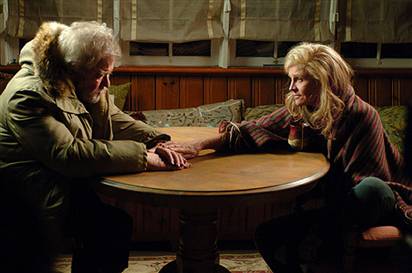 Grant (Gordon Pinssent) and Fiona (Julie Christie), Away from Her (2007)
For the last six weeks we have been reading and discussing Alice Munro's latest collection of stories, Runaway, and our discussion has been enlightening. We have talked about the stories in literary, feminist and humanist, as well as personal terms. One participant was moved to tell us about a poem she wrote in response to two other stories by Munro she had read: "If the children stay" and "What will be Remembered". She had thought the first story was about how women are sometimes made to sacrifice their lives, and from from being unappreciated for this, are resented or deserted, and therefore want to and do get back.
Alice Munro's text and Polley's film are both about getting back, only Munro encourages us to condemn the husband for his affairs, while the film says these were not important and Fiona should forgive him (if she doesn't she will end up destroying herself as she cannot do without him). About 3/4s the way through Polley's film a pointed conversation occurs. A ward employee, Kirsty (played by Wendy Crewson), employee, Kirsty (Kristen Thompson), who has taken it upon herself to talk with Grant and comfort him in his daily visits suggests that maybe Grant is right and Fiona does not have Alzheimers' (even if she has memory loss), and from what Grant has just suggested to her (Kirsty), Fiona may be just getting back. Grant has told Kirsty he had affairs in his married life and Fiona never did. He thought these affairs didn't matter and they had been happy. He wants now to be open-minded over Fiona's attachment to another patient, Aubry (played by Michael Murphy). It is after all not a physically consummated relationship.
Grant's comment prompts an unusual personal admission from Kirsty in the film: the film's Kristy is separated, her husband lives far away and she supports and cares for 3 children while holding onto this many houred more than 5 day a week job. Kirsty says she bets a lot of men might say their marriages were contented; while if you asked the woman in the same marriage, she would not.
It is important to see the difference between film and narrative text here: Munro's Kirsty tells no such story and makes no such overt judgement on Fiona; Munro's text relies on how Grant tells the reader of the many many affairs he had throughout his life (which he gives us concrete details about) for us to see that Grant has badly hurt Fiona and not realized it.
The text is different in this way: Munro's text makes these affairs concrete. We get descriptions of the women, and Grant's sense of triumph over some, of his competitiveness, & promiscuity; about a letter one of the roommates of one (some were his students) wrote him to tell of her friend's attempted suicide. He doesn't believe the woman really would have gone through with it.
Now Polley's film does not go on to make Grant's memory of his affairs central to the action of the film or Grant's voiced thoughts. (There is little voice-over in this film.) What is central to Polley's film is Grant's devotion: he cannot bear to be away from his Fiona; she gives him "the spark of life" (a phrase that is in Munro's text but not repeated as it is in Polley's film).
In Munro's text Grant's tales of how his affairs affected his career adversely are central to the narrative line. Grant's area was Norse mythology, one which attracted older woman coming back to school, not for jobs, but enrichment, so were up for affairs, bored housewives you see. I feel that in Munro's text, there is much continual implicit hostility to Grant both by the third-person narrator (and I should think on the part of female readers). In my judgement, "The Bear Came Over the Mountain" differs from all the stories I've read thus far in Runaway in that we are to not like Grant, the central protagonist, for in the text as in the film, the central figure is Grant, not Fiona.
As in Austen's Emma, Munro's text is told in the third person, but we get a lot of indirect speech which moves between narrator and Grant. It's a more feminist story than those we are reading in Runaway. Grant is a "philanderer" in Munro's text; the word is used by him in order to reject any harsh judgement on himself; he was no real philanderer as he never left his wife openly (perhaps by lying for a day or so or even few days and nights now and then), but nothing more than this, he says to himself reassuringly. We are to accept and he accepts his promiscuity. In Munro's story we are told (as we are not in the film) Grant got his job through his father-in-law so Fiona brought connections to the marriage and provided Grant with the living in the first place.
In Polley's film we are only told that Fiona was Icelandic by background, and this is used to show her ambiguous memory loss as until the end of the film, she denies remembering she is Icelandic by origin, pretends no interest in books on Iceland that Grant brings to the retirement home; at the end of Polley's film she suddenly does remember she is Icelandic by origin.
A central moment in both the film and text is another pointed conversation Fiona opens up as she and Grant are driving to the retirement home. She says we should not keep everything painful secret, and then goes on speak of her grief at Grant's affairs and her desperate gratitude he never left her. She says how lucky she was as some of her friends' husband did leave them. Her marriage has not broken up. In both once she gets to the retirement home, she proceeds very quickly to fall in love with the above-mentioned male patient, Aubrey, in the retirement home. Aubrey is an utter sad sack, he practically drivels, seems to have little intellectual competence, and shows himself spiteful (he will drop his cards if she moves away from him in a bridge game), and he does everything to make her cater to him, including feed him. He is utterly dependent on her. We can see this appeals to her, and Grant is told by the retirement people, these sorts of "friendships" happen.
Here is Fiona attempting to reason Grant into accepting she is busy with Aubry: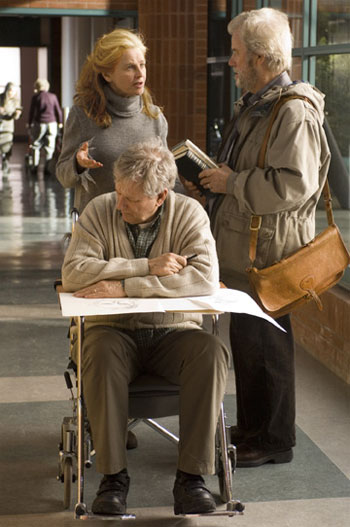 Grant (Gordon Pinssent), Fiona (Julie Christie) with Aubrey (Michael Murphy) between them, Away from Her (2007)
We are led to see as the text and film progresses that for once Fiona is the needed person. This is why she is allured by Aubrey. Fiona implies this when Grant comes over to her in his daily visits. He does visit every day and Fiona's response is basically to reject and to ignore him. She does everything she can to avoid lingering talk; she avoids his physical gestures and clearly wants no touching from Grant. Fiona avoids pretends to or doesn't remember his gifts of flowers and books (on Iceland, one by Auden); she says jokingly many times in the film (this is not repeated in Munro's text) you "persist," and "how persistent you are." In the film he shows up every day after an initial 30 day period where he is not allowed to come is over; in the story he comes only on Wednesdays and Saturdays after he sees how he is rejected, though he is very lonely. In the text he manifests a minmal pride he does not in the film.
Further, both text and film end suddenly and abruptly and on the same dialogue where we see Fiona capitulate to Grant, give up keeping her cool distance. In both Aubry's wife, Marion (played very effectively by Olympia Dukakis) takes Aubrey out of the retirement home; she had only put him there temporarily. In the film, Aubrey and Fiona grieve badly. In the film and text Grant seems at first to love Fiona so that he begins a relationship with Aubry's wife, Marion (played very effectively by Olympia Dukakis), partly to get Marion to put Aubrey back into the retirement home.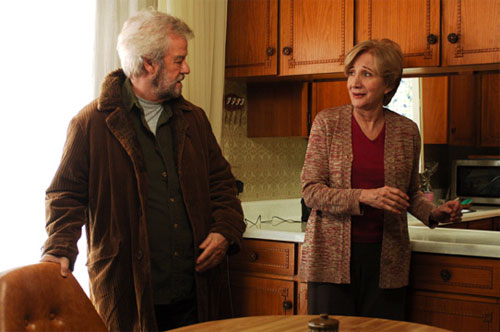 Grant (Gordon Pinssent) and Marion (Olympia Dukakis) as he makes his first moves in the relationship, Away from Her (2007)
In both film and text Grant succeeds in persuading Marion to sell her house in order to pay for putting Aubrey back into the retirement home permanently. But when Grant has wheeled Aubrey to Fiona's door and walks in (closing the door and not letting Fiona see his latest present), Fiona is suddenly more alert than she's been for a long time. She had been sent to the second floor where she would deteriorate further and was in danger of becoming a vegetable. She has pulled herself back from this self-imposed fate (if it is self-imposed).
In both as Grant enters the room, Fiona is finally reading his present, Auden's travel book about Iceland, and she seems to understand it. She runs to him and we hear a repeat of this conversation in the car: you never left me; you had all these affairs (the film implies this much more subtly), but never left me. How grateful I am. You will never desert me, will you? She flings herself into his arms at long last. He hugs her and says "never" (in the film—or some such phrase) and "Not a chance" in the text.
So he won. She is still his. She was trying to leave him and to get back, but didn't manage it. She is still utterly dependent on him. This is a text and film adaptation about getting back after and because of a life lived. There's a dialogue in the film (not in the story) where Marion says people are of two types; those who don't forgive and those who do. She used to be part of the first group and now life has led her to be part of the second. The film Marion seems to suggest we lose too much if we don't forgive. So the film condemns Fiona for getting back if she is getting back, and Fiona learns a sort of lesson. Munro's textual Marion says no such thing. Munro's text does not judge Fiona adversely.
There's a secondary story that emerges in both the narrative text and film (beyond Kristy's in the film): Marion's, and here is where I'm puzzled both by film and text. What happens now? Does Grant bring Aubrey back to Marion? Too late; Marion has sold the house. Does he dump Aubry in the common room and take Fiona home with him? Fiona has deteriorated—the text & film are realistic. People often do deteriorate in such places. Fiona no longer dresses smartly; her hair has been wrecked; she has lost a sense of self-containment, pride and feeling she is abley; she does forget more things and is much thinner and weakened. She lays in bed for hours at a time.
Why this is important is in both film and text Marion has embarked on an affair with Grant. He has real affairs you see still—after all Fiona could not have sex with Aubry; only hold his cards, push his wheelchair, sit by him. Marion is lonely; her son does not visit her. She sees clearly that Grant has come to her to wheedle Aubrey from her; Aubrey is a burden even if he gives her a contact with human beings. The reason she has taken him back from the retirement home is not that she misses him emotionally or needs his companionship. He is a burden which gives her something to do. What she wants and values is the house. Marion says she has spent a lifetime making it what it is.
In both film and text Marion is angry at Aubry for incompetence in being retired and not getting a good pension, and also bitter at how Aubrey wouldn't let her intervene to try to wrest something from his company. However, we are further told in Munro's text (not Polley's film) that Marion is the type in the world where money comes first and matters most. (I feel this is omitted from the film for it would offend many people in a mass movie audience as many people in the world do let money lead their basic decisions, including marriage.) In both film and text Marion invites Grant to come to a dance with her, and in the car afterwards asks him to pretend (to love her). She is more desperately aggressive in Munro's text. Well, he does appear to love Marion sufficiently, for at least in the film we see they go to bed together, and in the text Grant suggests he does so too. But then this is par for the course for him.
Here I am puzzled. In both film and text, did Marion agree to give up Aubrey and sell her house on the supposition she will not be Grant's partner? If he has done this, he has betrayed Marion as well again undermined Fiona and betrayed her casually What is to happen to Marion if Grant brings Fiona home? If he does, he has a menage a trois and has won big; that is, if having two women who need and want him, is winning big. He is probably too wise to want to live with two rival women.
The title of Munro's text is "The Bear Came over the Mountain." That child's rhyme goes "The bear came over the mountain to see what he could see" (three times) and then "what did he see?," "Why, the other side of the mountain." That's what he saw. Are we to feel for Grant? I don't think so from the text, but the film whose title is Away from Her, shows him to be a deeply loving husband willing to endure daily humiliation and stay with a deteriorating wife despite his subtly presented hinted at affairs
(in the film these kept in the margins and not told, only left vague). Poor guy; this broken woman, Fiona, he doesn't leave her. He remembers what she was, and out of this cherished memory, will take her home or endlessly visit her.
Either way (whether he takes Fiona home and drops Marion, or leaves Fiona there and carries on with Marion) in the text I really feel we are to dislike Grant by the end. In the film we are to feel for him—and unusually not all the threads are tied up (we are not shown what happened to Marion after we see her putting her things from her house in boxes since she's sold her house). Perhaps then the audience will not think about what happens to Marion now? Perhaps the audience is heartless and since Marion has had an affair with Grant (many audience members may regard this as adultery—gasp, horrors and so on), not care about her. Remember the laughter I mentioned in the audience; I forget when they laughed exactly, but it sure showed a lack of empathy.
In Munro's text we feel for him, and yet I think it's a case like Austen's Emma: Austen said she created in Emma herself a character she expected her audience would not like very much (Austen's novel is told from Emma's standpoint and many readers do like Emma for the women identify with her as she's smart, middle class, the boss, admired, so she is occasionally malicious, destructive, egoistic, proud, doesn't apologize, what then? Mr Knightley likes and marries her). The emphasis in Munro's text is Grant telling us about his past with these women, his deteriorating career (we don't hear about this in the film) and how his affairs contributed to that. He took a retirement with reduced pay just in time. Nowadays he might get in trouble for these affairs.
So the film justifies the husband's having had affairs. We must learn to forgive you see.
Now onto the themes themselves and I'll have done. Getting back. I said about the poem the person on WW contributed that I had not read the stories her poems address themselves to, but had not lived my life in a way that necessitates or brings me to think of my ways as including getting back. I did not sacrifice myself in a fundamental way. I have spent my existence reading and writing as my primary tasks (even if for long stretches of time I could only do these in interstices of a day). Not entirely true now I think of it.
I was married for the first time at age 16 to 21. Without embarrassing you by telling details, let me say that in that 5 years I did live in a way with my first husband that made me realize when I left him I had gotten back. I took a sharp and hard revenge for what he did to me and how I was led to live with him. Now he had hurt me, taken and done some stuff I didn't forgive. I was young then and afterwards think I would not get into a relationship like that where I would be led to get back. I was morally stupid in the choices I made then; I didn't see I didn't have to make such choices. So I have done this and experienced it. It's a mess of terrible feeling because of the guilt I've felt for how I got back (I certainly did) and also despising myself for living that way and thus for the rest of my life closing off some chances I might have had had I lived the 5 years differently (though I realize I could not have been other than I was as people often can't be, especially at 16—these years include 2 years I
don't remember hardly at all, a blank). It's about just such realities Munro's story deals with.
I've wanted to get back at a woman where I work who (suffice to say) has caused me much distress. I can't. I have no handle. Now that kind of getting back were I able to do it is different from getting back through life (it would be something like she did to me, offer me bad schedules which I rejected and try to humiliate me which I fended off). Munro's story is about taking revenge as a result of living in close intimacy with someone (children too, as the poem and Munro's story, "The Children stay" was about a woman who left her children with her husband to go live with a lover). I feel this appalling sort of thing that is banal and happens a lot show us how life itself becomes a quietly gothic tale.
I regard my job for money as external from me; what I do for money is not central to my life. I've had talk with women friends who find this statement astonishing. One was a friend who said more than once when she stayed home with her children, she felt she was dead to the world, had no life in effect. I found this astonishing and it reminded me of Italo Calvino's story about the nun (hiliarious) who keeps saying how she's cut off from the world and all she experiences are rape, poverty, war, hatred, revenge, fear, anxiety and so on. My friend thought what happened at work was a central to the blood going through her veins as what happened at home. I can't see this as most of the time we don't confide intimately in the people we work with, and we can be fired at any time, any day, any hour. You can't fire your lover just like this, certainly not your husband or children, nor even your parents. By nature (and because it takes so little) you send coffee-pots to your aging Ps (as Marion's son sends her), cards (which is what I do), or, if you can endure it, visit or phone once in a long while.
Second, sex outside the marital relationship. I suggested in one of
my ruminations on Munro's stories on WW that I find crass and feelingless the idea that marriage is based on a sex bargain. The word "cheating" suggests when you marry you give up having sex with others and when the partner has sex, he or she has cheated because after you gave up supposed opportunities (with the implication you've been cheated out of some advantage!). I suggested this is nuts and a permanent marriage is founded on companionship—what Milton calls "conversation."
However, now I'll backtrack and say if a man is continually promiscuous in the way Grant apparently was and the effect on his wife, Fiona, of this and her life at home as his non self-supporting wife, is to make her feel she has to be grateful to him like some dog that he didn't discard her, then sex outside the marital relationship is cruel and thus wrong. It's not the sex itself, but the repetition, heartlessness, carelessness, and the situation of the wife that make the situation ugly.
The film erases or obscures this central profound emotional pain Munro wanted us to see. We have Kristy's bitterness, but against that Marion's forgiveness. The film's concentration on Grant's suffering weighs in and the feel is one must forgive a husband who has affairs if he remains apparently loving. It doesn't have the courage to say that sex as such is not what is the betrayal.
Poor Marion in the text and film. If she were real, I would hope she had had enough prudence to make sure she had enough money left over to get herself an apartment and live on her own. The beauty of Munro's text is we are made to feel for the women Grant had affairs with too—through what we imagine is Marion's fate in Grant's devoted act supposedly for Fiona (also the young woman student whose roommate wrote Grant to tell him she had attempted to commit suicide).
Elinor
--
Posted by: Ellen
* * *
commenting closed for this article