17th to 19thc womens' & actresses' memoirs; "strong" female types in movies · 31 May 07
Dear Harriet,
My review of Sharon Seelig's Autobiography and Gender in Early Modern Literature: Reading women's lives 1600-1690 has been published by Renaissance Quarterly and I've put it on my website, along with some appropriate pictures.
As I've stopped pushing myself to do these reviews—however enjoyable I find the reading and analysis—since the pressure has been too much for me to cope with this past year, I probably will not have another review for my website for quite some time.
I did take the opportunity to update my CV and now include my present project on film adaptations of Jane Austen's novels as well as my very slowly emerging etext edition of George Anne Bellamy's later 18th century autobiography and history of the stage as she experienced it.
Last week I finished reading Sandra Richards's The Rise of the English Actres, which owes much to a tradition of actual & pseudo autobiographies by actresses (they are pseudo when they are by someone else), some of which go back to the early 18th century. Although at times, Richards book does feel like a "parade" of famous respected stars in lieu of a book organized by themes and periods, Richards uses her potted biographies to present an interesting thesis, to wit, that successful actresses have been an important force in changing the perception of what women are and women's status today.
Richards' book is rich with information about the lives, typical roles and conditions of the stage (and when all else fails simply the names of) actresses in the 17th and 18th century and then chapters on individuals and recent conditions of acting from the later 19th century actress on through to modern film stars (Ellen Terry, Peggy Ashcroft among these). Richards has to praise too unqualifiedy still living actresses who take on unusual demanding roles in order to get them to allow her to use their writing or careers (and interviews), but this way she is able to discuss Judi Dench, Harriet Walter, Juliet Stevenson, Helen Mirren, Janet Suzman.

Ellen Terry (1848-1928) as Lady Macbeth (1889) by John Singer Sergeant (1856-1925)
Richards shows the long hard struggle of the English actresses of the 17th through mid-19th century was to dissociate themselves from prostitutes, and have their art and themselves taken seriously. Her section on 18th century actresses is particularly rich. She names so many I'd not heard of and provides good synopses of their careers and lives. This is a book useful for theatre history in 18th century England.
In the early 19th century, what happened was actresses on stage became wary of parts where the heroine is unchaste or unconventional for such a part would hurt their increasingly positive yet still fragile reputation. As women gained in their ability to earn their own living (through law and custom) and obtain education, so did the status and roles available to women change too. On the other hand, if a woman seemed too strong, she was also threatening (a kind of Lady Macbeth). The theatre was different but even there women had to be careful. Perhaps on film a breakthrough came in the later 1940s with women playing neurotics (say Olivia de Haviland in The Snake Pit) and Bette Davis—who is very powerful (and her films begin in the 1930s). Also European actresses on film (Letter from an Unknown Woman) could get away with these kinds of roles early on.
In Molly Haskell's From Reverence to Rape: The Treatment of Women in the Movies, Haskell demonstrated most women's roles or archetypes in 20th century films project men's ideas about women 7 reflect men's experience and attitudes towards society. Haskell's book contextualizes Richards's findings by modern film.
For example, in one chapter on movies of the 1940s Haskell goes into the development of a very few "strong" women archetypes who defy the usual stereotypes of "good" woman (daughter, mother, wife, sister—Lady Glencora in the 1974 Palliser series, at first child-like and coerced into passivity and complicity, then paying the price for alienation from her natural impulses) and "bad" (prostitute, domineering, man-trapping, the repressed mother) or a surrogate for male (in a detective action role or the side-kick of such a male). Haskell fixes on several actresses who made careers from enacting these roles and famous characters from well-known popular movies.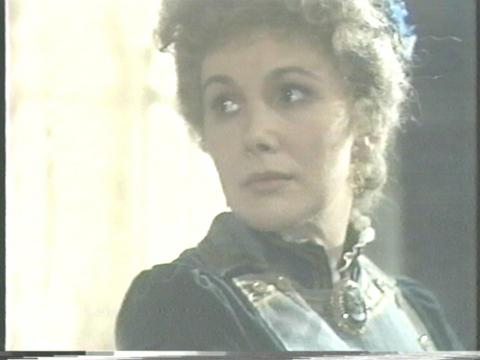 Susan Hampshire as Duchess of Omnium (1974 Pallisers), the conventional heroine paying a high price in self-alienation
Haskell divides the strong adult women types into European and North American (US and Canada) and argues that the type which haunts the minds of film-makers in Europe is the superfemale: Hedda Gabler in literature and in film, Vivien Leigh, Bette Davis. The superfemale is someone who doesn't marry or doesn't get her power from marriage but is seen to be powerful, and utterly feminine; she is sexual and yet not to be used by just anyone, a user of sophisticated mores to manipulate, highly theatrical in her self-presentation, but ever quiet (this is a man's ideal), not obviously aggressive (ditto), flirting in an intellectual interesting way, and beautiful, fine fashion.
Here we have the folk type Barbara Murray was asked to inhabit as Madame Max Goesler in the 74 Palliser (potential mistress to the Duke, independent child-free, non-ambitious for a public life), and her psychological baggage from other films shows she was singled out for this early: Murray's first role was Anna Karenina, and she played a mistress to Donal McCann in a modern film play for TV around the time they did the Pallisers. Such women are uncompromising and not for sale (not even for rent). Of course this is fairy tale for such a woman needs money if she is to carry on and Trollope did give his Madame Max money. In this case the folk mythology of a class system gives dignity to a sex goddess and insists on an essential femininity in her.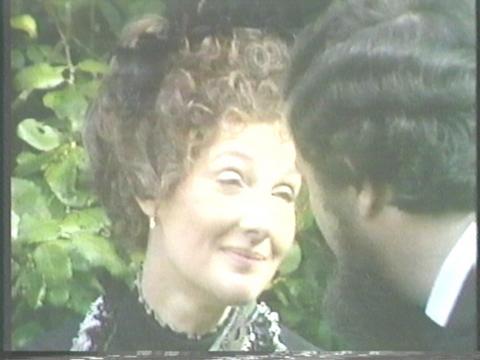 Barbara Murray as Mrs Marie Finn (Madame Max Goesler that was), the fulfilled superfemale (1794 Pallisers), a winner
The American strong woman was identified by Haskell as the superwoman, and she was someone who went to work, who had a career and vied with her man through money earning and power, someone ambitious in the marketplace. Katherine Hepburn playing a lawyer against Spencer Tracey, Rosalind Russell; she is not overtly sexy, not intellectual particularly, not elegant. His Girl Friday, Adam's Rib. Of course types combine and we find aspects of this type in Jean Arthur's roles. Here the folk mythology pays tribute to the enterprising woman. There is no such type anywhere in Trollope and nothing like it in the Pallisers: it is American, and about careers in the capitalist marketplace, making money, and especially about being one of the boys, making it as an relatively unsexualized (boyish or mannish), unemotional, unafraid, assertive individual among men.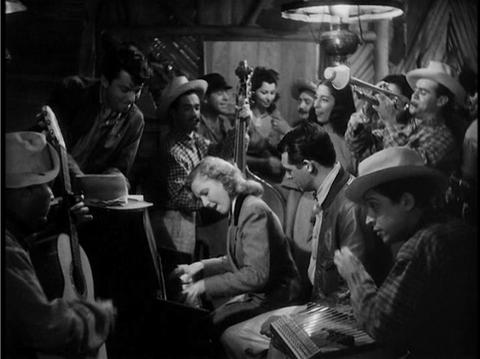 Jean Arthur and Cary Grant (Only Angels Have Wings, 1939)
Note how mannishly Jean Arthur is dressed: she has a suit jacket and trousers on, a mannishly-tailored blouse. Compare the promotional still of Barbara Murray as Madame Max Goesler.
To return to the topic of women's and actresses' autobiographies, particularly interesting in Ricards's book is her use of memoirs by actresses. There is a tradition of writing memoirs or books on their profession of acting—which continues into the 20th century. Many of these are cited in the bibliography and discussed by Richards and Haskell too.
Sylvia
--
Posted by: Ellen
* * *
I was congratulated and thanked by Judy, Patricia, Fran, and Diana on WW. They commented too, to which comments I here reply:

On my review of Seelig: her book is troubling; it's s more than retreat on feminism (and thus "third wave"); I can't say it comes out of a careerist mode either; rather it's simply conservative. She's upholding the established order, which presumably has rewarded her. That's why in her conclusions she ignores how little has survived, and how unrepresentative that part probably is.

The thing is I've grown tired and found myself made too nervous to keep up these reviews (I've been having trouble with rashes again). They take enormous amounts of work and one gets very little in reward beyond the having done it. I put them on the Net because to leave them in learned journals means very few will read what the reviewer has written. Often I write a longer version of my review first and that is what I put on the Net (not in this case though).

What my idea now is to work on as more long-term projects the materials I read for these reviews: memoirs and autobiographies by women (including travel books), now film adaptations and all about actresses and film studies (which I love). Much of Richards's material came from her reading actresses' memoirs, and what she discovered about some of the problems and obstacles actresses have faced in achieving respectability are demonstrated by Haskell's description of the admired female types in popular 20th century so-called feminist or strong woman portrayals. Outside women's literature I'm still going to stick with Trollope too nd see if I can eventually write about the film adaptations of his novels and his travel books.

Of course to do this means not publishing probably because I have no connections and it takes a long time to write a paper and then you submit it to a learned journal. I've discovered the assertions about blind submissions are utter hypocrisy so it's hard to get someone to publish your paper unless it fits his or her agenda for the learned journal or you are a friend or friend of a friend. I have a tiny hope for a connection to an editor who was once part of the firm which published Trollope on the Net (and who has written me to ask the status of my proposed book, Jane Austen and Bath, for which I signed a contract and received $200), but it's a very tiny hope. I replied with a brief statement about my new project, and she had not replied to me as yet.

Nonetheless, it's so much more rewarding to really get into these areas fully and so much relief not to have deadlines and have to get up in front of a group and give a paper which most don't understand or aren't into. One problem for me when I give papers is feminism is over in academia for now (except in terms of careerism, meaning most feminist papers I hear in conferences celebrate women who have gotten power by whatever means)—except recently I've discovered that while I was never in sympathy for what's called "third wave" feminism (it's a return to deifying and sentimentalizing motherhood, assuming sexuality provides power, and saying what is personally what a woman wants = feminism), I find I am in real sympathy with what's called "post-feminism" (as say defined by Suzanne Ferris in her Chick Lit: the New Woman's Fiction and Diane Philips in her Women's Fiction, 1945-2000).

Jim teases me that I skipped a phase of feminism altogether. First wave feminism was for voting and owning property and the ability and right to get a job and hold property and not to be beaten and not have an alcoholic husband (to be able to get a divorce or separation and custody of your children); the problem with these women is they shy away from talking about the center cause of women's repression: sexual control and sex itself. The second wave did move into this area centrally; now the post-feminisms talk about the importance of refuge, safety, personal fulfillment (and Austen becomes a central figure as she never was before).

E.M.
— Elinor    Jun 2, 1:54pm    #
"Good afternoon (I just saw the clock) Ellen,

Hope you are ok in the humid heat.

If you wrote an article on strong women types/actresses 18-19 century, I'd love to see it. I tried to go through the link on 18thc list and I got sort of blocked.

If you can direct me more easily that would be great. Is it on your jimand ellen blog?

cool breezes,
Patricia"
— Elinor    Jun 3, 4:21pm    #
commenting closed for this article