Impressionists by the Sea · 26 December 07
We went to see the Phillips Collection exhibition today. I was disappointed. I think perhaps it was that the quality of the pieces in the first room was rather low, so I was pushed into a hypercritical attitude. Or perhaps I was irritated at the curatorial stance. In any event, I felt there were only about half a dozen works that repaid extended viewing:



Daubigny's The Beach at Villerville sur mer (Calvados), Sunset. The splashes of colour reflected in the tide pools, the composition—the angles of the beach, the footpaths and the actual path the gleaners are taking, there's richness in the work.

Courbet's The Shore at Trouville: Sunset Effects. The shading of the sky contrasted with the foreground rocks.

Sargent's Oyster Gatherers of Cancale. Oysters and Poverty seem to go together, or so Sam Weller said. This is a finely observed group.

and three by Monet: two paintings of the beach at Trouville from standpoints not 20 yards apart and a painting of the cottage above Trouville. The first two are hung together. The eye can move from one to the other. The cottage grew upon me. I can't say why.

Ellen liked more than these. She tried to persuade me of the quality of a Caillebotte of Villers: "look at the greens."
Some of the pieces, by well known, well-liked artists, were simply dreadful. There's a Mary Cassatt of two children playing on a beach which is sickening. There's a Whistler mood-piece, Alone with the Tide, which is terribly awkwardly constructed. Even Monet nods: A Stormy Sea is somehow disconnected, looking like anything other than waves.
Despite these, the show is worth seeing.
J.
Contra: while Jim has named & described the most beautiful & authentical visions in the exhibit, & the curators have chosen & discussed their paintings as sociological evidence, the exhibit refreshed my soul. Many of the paintings were lovely, not phony; many (many) were of the idyllic yet realistic type where I long to enter the picture and never emerge again (by, e.g., Jongkind, Courbet, Daubigny), and there were quite a number of artists whose work I had never or rarely seen before (e.g., Eugene Isabey, Jean Charles Cazin, John Baptiste Antoine Guillemet), and some fine paintings by artists who work I usually dislike (Gaugin). My complaint would be there were only a couple of paintings by women, and those either poor (the famous Cassett) or slight unfinished sketches (by Morisot).
So here Gustave Caillebotte's 1880 Villers-sur-Mer (mentioned by Jim):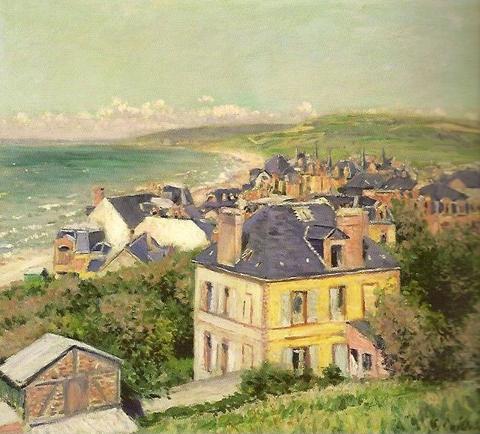 Fanny Churberg's 1876 Spring Landscape: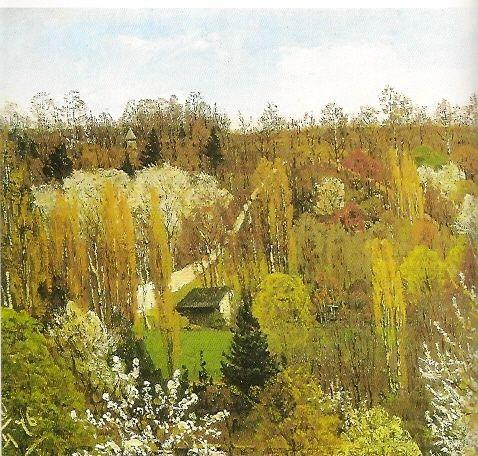 and a detail from Churberg's 1877 Waterfall: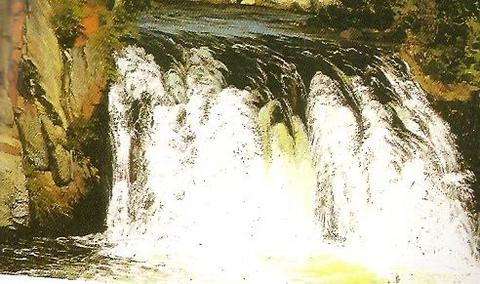 Fanny Churberg (1845-92) was student of Courbet, painted as a member of the Barbizon school en plein air and became an art reviewer. Why was not she nor other women painters who painted by the sea in impressionist style) not in the show?
E.M.
--
Posted by: Jim
* * *
From Kathy:

"Dear Ellen,

What beautiful paintings. Even the copies on your website are gorgeous. And Jim is just as good a writer as you are."
— Elinor    Dec 30, 7:53pm    #
Anny Ballardini:

"It is always a pleasure to "see" (the ones on your blog) some good paintings. I think the inclusion, or better the exclusion of women has to be drawn back to the fiscal rules of the Académie, lots already said about it and especially for their choice of men-painters. Mainly state regulations that suited and pleased the leading class."
— Elinor    Dec 30, 7:54pm    #
From Judy:

"Your blog makes me think that I'd like to see the 'Impressionists by the Sea' exhibition, if it appears on this side of the Atlantic – I do love impressionist painting, although it is a shame that not more women were featured and that Jim was disappointed by some of the works chosen. Also a pity that they chose a bad Mary Cassatt. I find it hard to remember the names of paintings – why do I have such a terrible memory in general?! – but think I have probably seen some of these same paintings in other exhibitions of impressionists."
— Elinor    Dec 30, 7:55pm    #
commenting closed for this article