The film _Cranford Chronicles_: a paean to community · 6 February 08
Dear Harriet,
As promised in my letter yesterday on Jenny Uglow's Elizabeth Gaskell: A Habit of Stories, I today send you a letter about the film, Cranford Chronicles
This January and February we've been reading Elizabeth Gaskell's My Lady Ludlow and Mr Harrison's Confession on Trollope-l as a result of a few of us having watched & then posted about Heidi Thomas, Sue Birtwistle & Susie Conklin's film, an adaptation of Elizabeth Gaskell's Cranford, a well-known book of stories centering on a group of mostly single older women living in a small community in southern England, together with the stories & characters found in My Lady Ludlow & Mr Harrison's Confession. It's these postings I'm sending to you.
Probably it's best to begin with a general reading of the social or political importance of meaning of Cranford Chronicles by Nick:
Two qualifying observations to start. First I am writing about the series as a television series with no reference to Gaskell. This is partly because I think this is the right way to proceed, and
partly because I can – that is to say my memories of the text are sufficiently hazy for me to be able to do so.
Secondly, I stress again that one reason I loved the series
was I because I thought the standards of cinematography, acting, mise-en-scene were so stunningly high. These things are important.
My purpose here is to advance a theory – and it is tentative
and quite possibly wholly wrong – about the underlying theme
or project of the television series. I start with that extraordinary
closing shot.
This is of the entire cast – minus Dr Harrison (Simon Woods) and Sophy Hutton (Kimberley Nixon) who have just driven off on honeymoon – waving – first at the departing couple: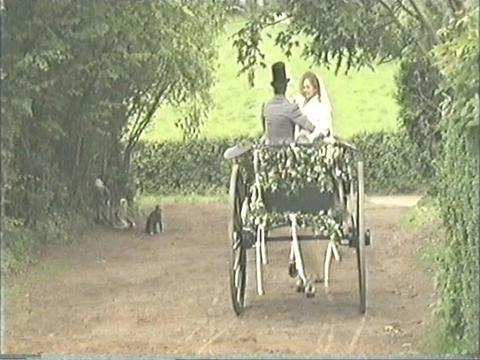 and then at the viewer. Now this seems highly significant to me. It is not with the couple that we are left but with the community. Cranford is a paean to community.
This fits perfectly with certain current social and political concerns in the UK (I have no idea if this is in any way paralleled in the US but this was a UK production). We hear all the time about the need for 'stronger communities' about the damage to the 'social fabric' which is caused by the 'death of communities'. It has been a central part of New Labour's rhetoric and is intended in a way as riposte to Thatcher's claim that 'there is no such thing as society'. This rhetoric has intensified recently.
Well Cranford – to some extent – presented us with an idealised community. This is where all those comic scenes are tied into to the project. When the cow gets stuck everyone joins in to rescue it. When there are supposed burglars about then you can run along to your neighbours and they will take you in. When Miss Matty (Judi Dench) loses all her money everyone chips in to help and comes to the shop. For individuals the question is often how they will bend their personal beliefs for the good of the community or others. So those astonishing scenes when Eileen Atkins as Deborah joins the lonely funeral procession. By the end even – improbably – Lady Ludlow (Francesca Annis) has joined the community and is waving at us along with everyone else.
Now one obvious objection to all this is that small communities
tend to be closed, not to say bigoted and intolerant. Cranford
certainly suggested this with the reaction to the railway (horror
because it will bring the working-class, the Irish into the town).
Then again the sudden freezing out of Dr Harrison suggested
the lynch-mob mentality. But by the conclusion all these things
seem to have been miraculously overcome, and the community
is a happy, perfect place. Class and gender differences are sublimated in that happy band of cheerful people. And earlier we have seen how the community tolerates each other's eccentricities
and foibles.
I am at one with Ellen in agreeing that 'this movie is intended as an antidote to our modern environment,'
but I do not think that love is the central force with which the film is concerned – well not love between two people. Love thy neighbour perhaps. In gender terms I think I would see this as suggesting that women are better suited, better inhabitants, of the community than men. Men are peripheral. After all in the end Dr Harrison is not part of the waving group and Mr Carter has been killed off. The latter was perhaps the most intractable element of all.
We have repeated references to stories in which people put other people's needs – especially those of the family, the respectability of the community – before their own. It is in such stories – especially that of Matty and Mr Holbrook (Michael Gambon) – that much of the greatest emotional power came. But in the end it is all elided. Happiness prevails.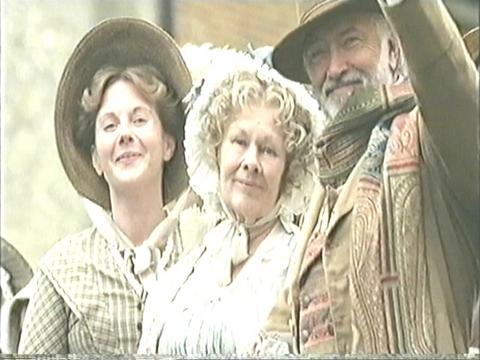 A close-up from the waving crowd
Now it is incumbent on me to remark that, ultimately, I think this is all so much tosh. Class and gender clashes are not soluble by 'all pulling together' for the greater good. But it is a myth which runs very deep in the British consciousness. Cranford tapped into that brilliantly. And movingly because the urge to belong, to be an accepted part of that sun-lit happy group waving out from an idyllic pastoral setting is a powerful one. So I happily wept. But – perhaps sadly – the cold light of day informs me we are being presented with an illusion.
He was (as the quotation suggests) partly responding to my sympathetic critique of the film. I had written
This is a very strange movie. Yes it adheres to the genre mini-series, is an analogously or intermediate faithful adaptation, a familial romance in the quality TV mode. We have time given to small nuances, suggestively developed stories, excellent trained actors, and real attention to aesthetic and historical decor. But it is totally at odds with everything around it.
I suggest this movie is intended as an antidote to our modern
environment.
I'd now like to qualify my assertion that at its center is idea that love matters and is a force to hold people together and make them make choices which hurt them—at the same time as it justifies such choices. I'll modify this to say we see people of different ages, class, and social roles in different relationships valuing one another. Matty (Judi Dench) has apparently (in the movie) rejected Mr Holbrook (Michael Gambon) to live with a rigid inflexible sister who is very ethical but also intensely conventionally hide-bound (this is made into humor), Miss Deborah Jenkyns (Eileen Atkins). The parallel is Jessie Brown (Julia Swalaha) has refused a loving offer of marriage more than once from an man who has to go to India and wants to take her, for the love of her father, the Captain (Jim Carter). In Episode 2 Deborah dies, the Captain says he must begin to travel to make money. Women are central; yes the story of Dr Harrison (Simon Woods), who enacts the heroine's role in most of these mini-series is made central but he is continually at the beck and call of women.
Women are central to the episodes, and their needs and feelings. Here are a series of stills a still from a scene which seemed to me quintessentially womens' art: two women, related and deeply intimately involved with one another read letters from the past, comment on them, and imagine both the past and a possible future (based on what's in the letters) together.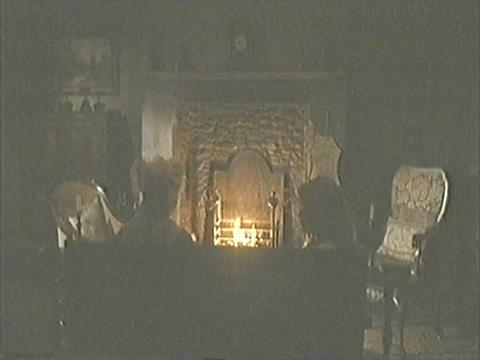 Alas, what they dream of cannot wholly come true: Matty (Judi Dench) is beginning to think after 30 years she may marry Mr Holbrook (Michael Gambon), but he dies before this can happen (this is a mini-series replete with deaths).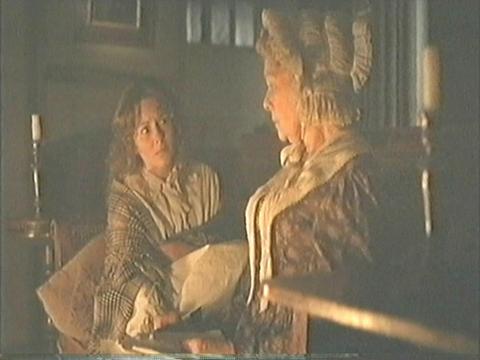 There is a miraculous (and highly improbably return of the long-lost brother Peter. Elizabeth Gaskell had a brother who loved her apparently and wrote to her and whose letters she saved, and who disappeared into India, died, never heard of again. And the deep friendship of the young niece, Mary Smith, who seems to prefer her aging aunt to any lover is idealized: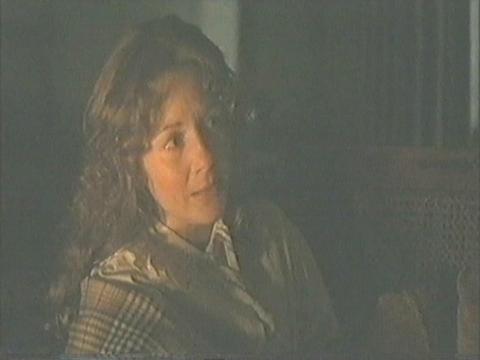 I'm not ashamed to say I wept and wept during this part. The story of Holbrook and Miss Matty is so touching, and Gambon and Dench (particularly Dench who carries it) so moving. They read aloud Tennyson about 3 times (again showing the great strangeness and difference between this movie and just about all others being made at this time).
The film Cranford does seem to me at its best when it rises up from the Cranford material (as in the Peter story, the reading of letters, the epistolarity of the fictions), but the theme or inference (about the cost of sacrifice) is not Elizabeth Gaskell's. It's a modern and contemporary inference. A parallel to Matty's never marrying and Jessie Brown (Julia Sawalha) not marrying is the story of the young boy, Harry Gregson is coerced into poaching with his father, and so loses the respect of Lady Ludlow's steward, Mr Carter [Philip Glenister]); Clare and I talked of where the film failed. At no point whatsoever is the father, Mr Gregson (Dean Lennox Kelly) presented as a bully and his wife (Emma Lowndes) is pure pathetic loving baby-machine. Is this a metaphor for many women's position today: an enigmatic attack on the demand all women have babies and determination to assert everywhere that is what makes them happy? I don't know. Also the great end of all the women's lives is male love: Matty's great act of independence comes when she (unlike her sister Deborah) allows her female servant, Martha (Claudie Blakely) a follower, Jem Hearne (Andrew Buchan).
But the cost of this submission is seen; I'd like to say love too only love is not show to be the ambivalent experience it is. – except perhaps in Lady Ludlow's case over her missing son. I surmize when Peter returns so will the son, and if the series runs consistently, the son will die and Matty will live happily ever after with her brother (though in Gaskell she goes bankrupt). In My Lady Ludlow the heroine has had 9 children, all but one dead and he does return home to die.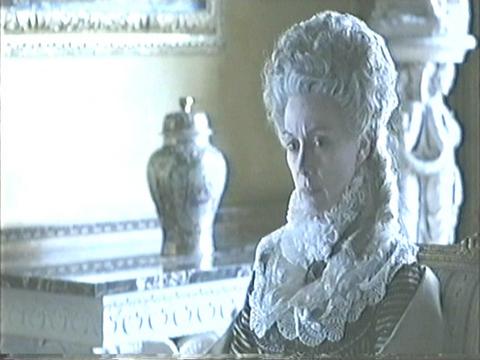 Lady Ludlow (Francesca Annis)
Some objections:
The older single women are trivialized and made fun of; I realize it's comedy but we are kept at a distance from this chorus. Lady Ludlow (Francesca Annis) has hardly appeared; what the film cares about is her steward, Mr Carter (Philip Glenister—a great Doblin in Vanity Fair) and his relationship to a bright boy, Harrry Gregson (Alex Etel) who his family as well as everyone else would not allow to learn to read. Again the boy is central and taken seriously and brought forward. Girls in this series are for baby-making (the Gregson mother). Imelda Staunton takes the lead in comedy, followed by Barbara Flynn.
There is a continual support for familial tyranies: one sees it in
the Gregson household. All under the aegis of love. No one would dream of ridiculing anyone (except mean wicked people who just are not there to do it).
I have yet to see one incident where the mood was not suffused with tenderness somehow or some character being kind somewhere. The modern world is excluded just about wholly: this is made a joke of, as in Cranford we don't have railways. It's pointed out to Miss Deborah that railways are liberating but she cannot hear such comments. The clothes, the attitude towards sex, the mood, just about everything seems to come from outer space as much as any science fiction. I say this because even the 1990s adaptations utterly transformed the original books to be directly allusive to our modern world. The adaptations of the 2000s go much much further.
What's up? Is this some wild post-feminist attack on everything
around it—without admittting this. If so, it has bought into all
the old myths—particularly that of love and family as what will
save us. Then of course we can see women in power—well, not quite as the steward does all, the doctor saves all, the young man with the hurt arm must be saved so he can support the young woman. Contingent power made to seem full power—this reminds me of Alan Plater's Barchester Chronicles, only Plater's movie shows the modern world strongly impinging and the parable is about competition in the marketplace (the allegory can be found in any of LeCarre's spy stories about promotion or any academic satire written in the last 2 decades).
The second episode made a lot of Lady Ludlow's invitation to a
picnic. This is the opening of Gaskell's novel, Wives and Daughters where what happens at a picnic of the prestigious rich family is made to work to show us the world of the novel and start up the important relationship of Molly and her stepmother who is callous and careless of her. The attention to rank was made a joke of. Women's love of clothes and finery are the stuff of harmless jokes.
Don't get me wrong. I prefer this to Sweeney Todd the movie, not to omit much TV (reality shows, a horror called Borat I heard defended in the MLA by a journalist who makes a lot of money), but if that is the point, it's one no one anywhere is acknowledging or critiquing. A spoonful of sugar presented as just? But it isn't because of the deaths.
It reminds me of the world of Emma: an idyll where no harm comes to anyone but the sting of death, disillusion, deep inner hurt for a few characters is there. Alas, in the movie the few characters are too few (Matty, Jessie) and there is nothing astringent to make their tragedies into adult material. The male stories are the usual see how he's earning his place in the world.
Perhaps the team should take three of Gaskell's gothic tales next and concoct an antidote to this film where the women are again central; then we would have a statement to present to the world of another aesthetic which is as valid as the one we have now to endure in programs like Borat, reality shows, the misogynistic and masculinist dramas of high violence, continual exploitative sex and high technology as what we all worship.
I found myself loving the program but would like to see acknowledged somewhere what these people are about. As in most film adaptations, what matters is the other movies surrounding the movie and the contemporary context.
Clare commented in response to mine:
"I thought I was being overly picky when I watched the series, but didn't want to post and spoil it for anyone. I did feel very divided over the film, part of me loved it, the women's silliness, gossip and obsessiveness about lace & pretty clothes, the gossip and the almost saccharine emotions, yet at the same time the very same things rather repelled me. As Ellen points out, it's odd. However, I did feel it was a great antidote to the grey, cold winter. Not a great depiction of the works, but good, lay back and let it wash over you entertainment. On the whole it was probably a missed opportunity. BTW I've started My Lady Ludlow and am finding it an easy read, and almost unputdownable.
Judy also chimed in:
"I must admit I found my response to Cranford fluctuating – I loved the opening episode, but didn't think all the rest of the series lived up to it, although some of it did. I don't remember the book of Cranford all that well, so am not sure how faithful the adaptation was – probably not very, but I suspect more so than the Lady Ludlow sections, which are often quite a long way from the book. I do agree that the Cranford parts often seemed the best, maybe because I love Judi Dench – and agree she and Gambon were very touching together. I also agreed with your comments that there are so many deaths piling up – I remember this was also a criticism sometimes made of Gaskell's books, and is definitely true of the later chapters of North and South. (Dickens once wrote something like 'I could wish her people were firmer on their feet', although, as you'll know, they were friends, he was a great admirer of her writing and I've read an essay arguing convincingly that Hard Times is strongly influenced by
Ruth.)
Getting back to the film Cranford, I do like it very much, despite the problems at times, and it was so lovely to see something like this on television shining out amid all the reality TV and talent contests. Also heartening to see a different work being adapted for once amid all the repeats."
It should be no surprize to you, Harriet, that I've purchased a complete reading by Nadia May of Gaskell's Cranford (on CDs, a used set I found in Amazon Marketplace, originally for rent at Blackstone's). How I look forward to listening. This will be the 3rd novel by her I've listened to beautiful unabridged recordings of: Juliet Stevenson reading all of North and South and several years before twice Prunella Scales reading all of Wives & Daughters. These novels have been adapted for film too, and I own both mini-series. I've written herer about the film, Wives and Daughters, but have yet to watch North and South. A pleasure to look forward to.
I end on a hint in the film (a ephemeral moment just before the last finale when Mary has rejoined Matty) that Mary Smith may find love with another doctor in the community after all:

Dr Jack Marshland (Joseph McFadden) grinning at Mary Smith
Sylvia
Comment by Martina Fuselli:
"Dear Ellen
I enjoyed your 'Cranford Chronicles' blog – certainly an antidote to the views of the NYT's impercipient and humourless reviewer (there's actually far more humour in the original novel than made its way into the adaptation: how could she have missed it?.)
One small point, to which I am probably not the first pedant to draw your attention: Cranford is not a book of stories centering on a group of mostly single older women living in a small community in southern England (although southern England is where the film was shot). Both novel and adaptation are firmly set in northern England; the original of Cranford is the Cheshire town of Knutsford, which is only 20 miles south of Manchester. Manchester was not only a powerhouse of industry and commerce: it was where the railway boom began. Hence the very real fears for their way of life on the part of Cranford's older
residents. (Even today, Cheshire likes to regard itself as a genteel refuge from the rough, masculine world of Manchester.)
Its their northernness that distinguishes Mrs G's characters from
those of Jane Austen—and makes the Cranford Chronicles a welcome break from the usual run of classic adaptations.
Cheers!"
--
Posted by: Ellen
* * *
From Helena S. on Janeites:

"Ellen,

I am writing to you off the Janeities list, to tell you first of all, how much I enjoy your blogs. Secondly, I wasn't able to read your whole review on the Cranford Chronicles. I'm not sure if there's a blip in the system which will resolve shortly. Thirdly, do you have any idea if the BBC will air the Cranford Chronicles in the U.S/Canada? And fourthly, I was wondering if you had any plans to write a review on North and South, as you did with Wives and Daughters.

Thank you,
Helena"
— Elinor    Feb 7, 11:14pm    #
Well that's a fine resume of all that was scattered over the weeks on the mailing list. You've pulled all the threads together, commented and made a record that will be useful in the future. Thanks Ellen. it's uncanny how, as a group, a conclusion is reached as if by osmosis. Often one's view evolves and refines over the period of discussion.This evolution fascinates me almost as much as the discussion itself.The interplay between the various members is what makes this process of interest to me. It's the real strength of group reading and enriches one's response to the book is greatly enhanced.

Clare
— Clare Shepherd    Feb 8, 5:55pm    #
commenting closed for this article