Why study women's poetry · 13 February 08
Dear Harriet,
First, a picture: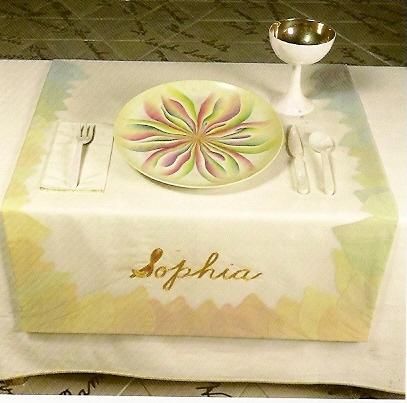 Table setting for Sophia, goddess of wisdom (Judy Chicago's The Dinner Party, 1974-79)
Sophia (writes Chicago in the book which accompanies the installation at the Brooklyn Musuem) stands for "the highest form of feminine wisdom … an entirely abstract symbol that possesses a spiritual wholeness in which the material world is altogether transcended." Chicago writes Sophia was sought of as "providing nourishment and translation of the human spirit …" I put the following poem by Alice Ostricker on WW yesterday because it moved me and I recognized in it a transmutation of my own experiences:
Wanting all
More! More! is the cry of a mistaken soul,
less than All cannot satisfy Man. – William Blake
Husband, it's fine the way your mind performs
Like a circus, sharp
As a sword somebody has
To swallow, rough as a bear,
Complicated as a family of jugglers,
Brave as a sequined trapeze
Artist, the only boy I ever met
Who could beat me in argument
Was why I married you, isn't it,
And you have beaten me, I've beaten you,
We are old polished hands.
Or was it your body, I forget, maybe
I foresaw the thousands on thousands
Of times we have made love
Together, mostly meat
And potatoes love, but sometimes
Higher than wine,
Better than medicine.
How lately you bite, you baby,
How angels record and number
Each gesture, and sketch
Our spinal columns like professionals.
Husband, it's fine how we cook
Dinners together while drinking,
How we get drunk, how
We gossip, work at our desks, dig in the garden,
Go to the movies, tell
The children to clear the bloody table,
How we fit like puzzle pieces.
The mind and body satisfy
Like windows and furniture in a house.
The windows are large, the furniture solid.
What more do I want then, why
Do I prowl the basement, why
Do I reach-for your inside
Self as you shut it
Like a trunkful of treasures?
Wait, I cry, as the lid slams on my fingers.
Two days ago Annie Finch wrote to Wompo:
"On April 5 there will be a one-day conference at St. Francis University in Brooklyn on the topic of "Why Study Women's Poetry." I proposed, for this conference, a presentation on the topic of Wom-Po—a list which seems to me to prove daily the importance of studying women's poetry. The presentation has been accepted."
Annie said she's "love to have our thoughts on this fundamental question. In fact, I'd like to include in the talk a compendium of remarks from all of you, a kind of virtual virtual-world as it were (a real life approximation of the "real" virtual world!)—so I can bring your names and your words to those at the conference (and of course, hopefully some of you will be there in person too!)
So, please let me know. Why is it worth studying women's poetry as a separate field? To quote the original questions posed by conference organizer Wendy Galgan—and probably posted here in the first place, though I can't quite recall if it was, 'Decades after feminist critics began considering women's poetry as a genre separate from poetry written by men, the debate continues as to whether we should study poetry according to the gender of the writer. This conference will explore the question "Why Study Women's Poetry?" by examining (even problematizing) the ways in which women's poetry has been studied as a genre separate from men's poetry."
There were quite number of replies to her onlist, and perhaps even more offlist :) Because I can't attend (or in compensation for not attending) I took up the challenge of answering. I also put my posting on WW where we have a poetry day each Tuesday and have tried to study some women's poetry together (e.g., Anna Akmatova), and discussion Sappho and translations of Sappho and what these have meant to women ("through the Ages") more than once.
Why Study Women's Poetry
We must study women's poetry for the reason we study poetry. I incline to think some forms or genres of poetry are conceived by the poet to be the most complete (in the sense of form coming up to matter) forms of utterance in cultures where we see articulated in a way nowhere else realities and feelings and needs of our lives. Thus it's vital and imperative we study these utterances.
We have to inflect this imperative to say we must study women's poetry because women's poetry hasn't been studied until very recently. When something is not valued, it will not be published, paid attention to and will be lost. Since I've been on the Wompo (over two years) I've seen pronouncements that startle me: women hardly write about their children (what?!); did women write blank verse poems? (of course); why didn't women write epics? These assertions & questions are the result of countless centuries of men not publishing, and no one saving women's poetry; when it's published, it's often misrepresented deliberately. Either it's censored and not published in the original form, the most important lines (because different and disturbing to the public mainstream) omitted; or reframed so it will be understood in a way not intended (condemnation & supposed punisments are substituted for empathy and identification).
I was looking at anthologies of 18th century plays recently (to make up a list of plays to read with members of my small Eighteenth Century Worlds @ Yahoo list); and I discovered slightly to my shock, that still in 2008 were it not for the specifically feminist anthologies where all the plays published are by women, apart from a very few (Broadview Press) huge and expensive volumes where men still outnumber women 10 to 1, there would be no plays by women available for the common reader to read. We identified 4 volumes recently reprinted where not one play was by a woman. So if no one had published anthologies of sheer women and their plays, we'd have basically almost nothing to go on to study the poetry of 50% of the human race.
It is simply so that women's poetry differs from men's. It differs
because women have different experiences. Until recently in the west and in traditional societies still, they are kept out of public life mostly; they are still seen and treated as primarily sexual and familial objects whose central concern is to marry and bear children; their chemistry or biology is made even more central to their character than their genes make them. I can't say whether this leads to a whole psychological difference; it certainly inflects outlook terrifically (consider the effect for centuries of endless pregnancies once you married; the inextricable connection of sexual experience to pregnancy). And study after study of older poetry (and newer too) has shown women do have characteristic imagery different from men's, often do (perhaps in response to their marginalization) take on a self-deprecating or non-vatic stance. I could go into details: they have small animals (birds especially); they turn to certain kind of fairy tales; they develop subjective and private terrains; they gush to release socially unacceptable grief and loss; they have heroines at the center much much more; their experience of sexuality is different because of the social arrangements that shape that experience and they write about this differently. Arachne is an inspiration not fearful.
Not to know your history is not to have an identity. Memory and
self. What are we but what we remember. If we face a blankness, that either denies we exist or at best presents a much skewed, censored and not respected body of work, where are we to know ourselves. People know themselves in context, not in a vaccuum. Oh had I read Mary Piper's Reviving Ophelia at 19; I think to myself how it would have helped to know other women felt as I had, had had experiences as I had—and put sympathetically, not judgementally, not beratingly. All I had were the old classics and a skewed set of books in popular culture. What the women's movement has done is widened the kind of books that are written and advertise them more truthfully (though not enough, no where near enough).
We must go back in time for the reason all people should study
history. The parallels between women today and women in 17th century England and France (an area I know about) are startling, and illuminating. And the contrasts too. It's asked why so much women's poetry seems bad; well what are you judging it by; how do you understand it; what are you looking for? I'll move into the area of art because I recently read an excellent book (by Deborah Cherry) on women's painting in the 19th century. When you look for impressionism and some of the later movements, you come up with inferior women, women copying, but when you study women's paintings apart and in large enough numbers (which you begin to have at the end of the century when they can go professional), you discover they didn't want to paint impressionism as a group: their paintings are about domestic life; they turn to different archetypes; they use colors rather than line; their typical anecdotal subject matter is different (aspects of women's lives and childrens). You have to develop different criteria.
I'd be disgenuous if I left out this problem: the problem of low
expectations and the feeling that if you do something it won't be
valued so why put yourself out. Women face low expectations. Now that can make existence easier in some ways (only if you are lucky and get kind keepers and family members, or are born to money and upper class in some countries where women are allowed separate lives in schools), but it also depresses the person trying to achieve. A familiar example: Austen's two virtuouso books, Mansfield Park and Emma are virtuouso because she had finally had two successes, finally made some money and she knew she was going to get them into print. So there is that. Fear of reprisal, of envy (from other women too who fear they will be seen as inferior and not valued), of disdain twists people and some of the genres women have chosen in poetry (friendship, retirement) come from this.
I did like Alice Ostriker's [a member of Wompo] point: "First of all, there is the discovery that marginality, however painful, may be artistically useful. Some linked motifs announce themselves: the quest for self-definition, the body, the eruption of anger, the equal and opposite eruption of eros, the need for revisionist mythmaking. " But it is hard to put across since people so value triumph and power (women as well as men) and have hard time asserting a different value. I gave a paper in an 18th century conference where I argued on behalf of mordant poetry, morbidity, anger, sadness:
"I hate such parts as we have plaied today". I concentrated on epilogues and what a few women poets managed to say about the typical women characters they had to watch on stage. Needless to say, no one spoke to the topic after I finished. The person heading the panel, a man, looked like he was going to sleep. He prefers cheer I suppose. Now for years even decades apparently Judy Chicago''s Dinner Party languished in a basement. A particular woman (the donor and patron) with a deep pocket persuaded the Brooklyn Museum of Art (which is outside NYC and therefore has trouble getting the attention of the Met or MOMA in Manhattan) to reset up that exhibit. It's celebratory and defiant. Not everyone has it in her to be celebratory and defiant, and also (as she does) get in the sad stories of the tales of women, bad things done and done a lot and then lied about, erased, incessant present to be self-sacrificing (to the point of continual risk in childbirth before the 20th century, and it was painful and awful). The reason we must study women's poetry is put before us in the beauty of this installation and its content.
Now here in 2008, we might say even to have to ask this question as if women's poetry needed particular justification is disturbing. It shows how we have not gotten where we should be. (Yesterday's election in Maryland, Virginia [where I live] and DC was disquieting because of the manner of its reporting, and in that we see why we must study women's poetry). We must reconceive what we must by a career in poetry. One criteria cannot be continual publications or a full-time paid job as writer-teacher of women's writing & poetry. We must look back and when we discover a woman who devoted her life to poetry, & wrote in forms commensurate with her ethic, gender experience, and time available, call her a poet.
I have had women students who have not heard of Virginia Woolf's A Room of One's Own or Three Guineas much less read these. Middle-aged women who need (made to feel terrible about themselves, especially when they've not had any children) who have never heard of Germaine Greer, much less her The Change. But I am getting too excited.
I close with a woman's poem. In response to the poem I found by Alice Ostricker, Judy put this poem by Barbara Crooker on WW:
"I liked the Alice Ostricker poem Ellen posted, with its picture of a couple who still have things to learn about each other after all
those years of marriage.
By coincidence, I'm also posting a poem about a married couple – this one is today's selection from the Writer's Almanac newsletter, and is taken from the collection Radiancc by Barbara Crooker:
In The Middle
of a life that's as complicated as everyone else's,
struggling for balance, juggling time.
The mantle clock that was my grandfather's
has stopped at 9:20; we haven't had time
to get it repaired. The brass pendulum is still,
the chimes don't ring. One day I look out the window,
green summer, the next, the leaves have already fallen,
and a grey sky lowers the horizon. Our children almost grown,
again how to love, between morning's quick coffee
and evening's slow return. Steam from a pot of soup rises,
mixing with the yeasty smell of baking bread. Our bodies
twine, and the big black dog pushes his great head between;
his tail, a metronome, 3/4 time. We'll never get there,
Time is always ahead of us, running down the beach, urging
us on faster, faster, but sometimes we take off our watches,
sometimes we lie in the hammock, caught between the mesh
of rope and the net of stars, suspended, tangled up
in love, running out of time.

Table setting for Sappho (Judy Chicago's The Dinner Party, 1974-79)
Sylvia
--
Posted by: Ellen
* * *
commenting closed for this article