a woman's "novel" to be getting on with · 11 April 08
Dear Marianne,
A line in one of Fleur Adcock's poems stayed with me immediately upon reading it: Adcock says that when she's at home or travelling, she has "quite enough friends to be going on with …"
So I thought I'd frame my latest list of books read through and enjoyed immensely with the thought they were for me an equivalent of near Adcock's wry line: "enough to be getting on with."
There's a certain kind of woman's book I find that is the equivalent of an intimate supportive woman friend. They are not easy to spot since the advertising for books, and particularly women's books, is often so misleading, indeed downright lies (as in the first copy of Mansfield Park I ever read whose blurb called it a "rollicking comedy"). I found this last fall with Rosamond Lehman's The Weather in the Streets and The Echoing Grove and Nicola Beauman's book on women's fiction in Britain from the 1920s to 40s. I crave this kind of book; it need not be fiction, can be in verse, but it often reads like a novel; I seek it out and when I find it, revel in it for the time it lasts.
Since February books of this type I've found & read, with some commentary:
Jane Smiley's Ordinary Love and Good Will
Iris Origo's Wal in Val d'Orcia: An Italian War Diary, 1943-44
Margaret Forster's Hidden Lives: A Family Memoir
Leah Schwartz's the life of a woman who managed to keep painting
Good Will is an ironic title. Smiley's he narrator created an enclosed world he expected his wife to live with him in, one which excluded outsiders. He was very cruel to the son, and I was glad at the end to find that my feeling the stance was ironic (we were not to see the narrator as he sees himself) was correct.
Val D'Orcia is an account of war (in this case in northern Italy in the Tuscan countryside and in Rome) from the point of view of someone who is not an actor of violence. She gives birth in Rome during the time. She has taken in some 24 children extra. She talks of the countless thousands of displaced children across Europe as she details this part of her life and the children, older relatives (mothers too). She can only be a victim or act to help others—from starvation, homelessness, losing all sane perspective and other results of war. She is also an "in" person and very sophisticated so when she listens to the radio, reads the newspapers, or talks to other people (often upper class or "in" and knowing) she can present a persuasive truthful account of what's happening.
There is remarkably little cant in this book. What she has to tell ought to shock—though it doesn't me, at least not quite. She tells of the deliberate bombing, continual and massive of civilians and how the Allied men machine-gunned down women, children, any male civilians, young or old, in many places and continually. She tells of the reactions of the survivors to these horrific incidents: resentment and fear and a kind of determination to try to survive as best you can. The people bombed do not fall over in a desire to cave in: this is known and she brings out how this comes about: anyone who can bomb you from the air and then massively murder you is not someone you are eager to surrender to. Those who have brought this war upon you are not your friends either; they don't care about you except as you serve their purposes.So she talks about shifts in party alliances.
Really this could be a book about what happened in Iraq where a
village or town called Fallujah was massively destroyed in hideous
retaliations, thousands murdered and bombed. And then what was the result among Iraqi people. That is, War in Val d'Orcia has general application.
Forster's is about her grandmother, mother and aunt's and her young life. There's too much to tell so I'll just remark one phase of her mother's life reminded me of Alan Bennet's heroine in Bed Among Lentils. After a couple of decades married to a man much her inferior in intelligence and depth of feeling, one she gave up a well-paying job for, who demanded she live on his small salary, be a domestic slave to him and what children he wanted to inflict on her, she met a vicar who she felt she could have loved, and had a nervous breakdown.
One of the happiest and exulting experiences I had while at Portland, Oregon, was when I sat staring at Leah Schwartz's thick book about her life filled with glorious reproductions of her art. The Arlington Club at Portland, Oregon, had a library downstairs, and seemed to have equipped each room with a small select library itself. We had about half a book case on a quarter of one wall filled with books, mostly good ones, well-picked to be varied, and interesting. It reminded me of Landmark places this way.
When I got home, I ordered myself a copy of Schwartz's book. It came in the mail last week and I have since reread and reperused it. Looking on the Net, I find there's hardly anything about her life. No wonder really: she came from a strong socialist background, led an unconventional life with her parents as a girl, her early years were independent, difficult & unconventional, and she has maintained her strongly progressive politics and feminism until today—all the while being a doctor's wife (luckily he makes money and he also does publish papers on cancer) and mother of two sons (and a third from a first marriage, brought up by someone else). The tone of her book is inspiring without being at all pretentious or schmaltzy.
Her pictures of the real world around us, its real streets, herself, her family, friends, real people as we see them (with kindness and generosity, compassion):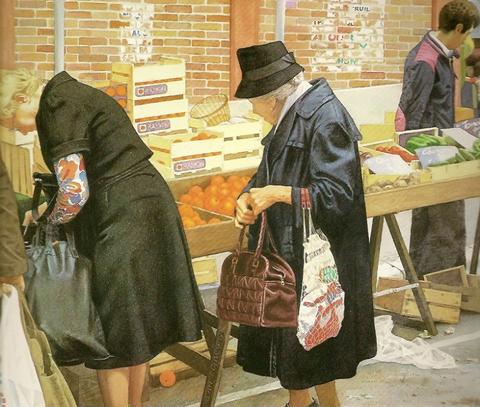 Dijon Market
Still life arrangements & lovely flowers, womanly forms: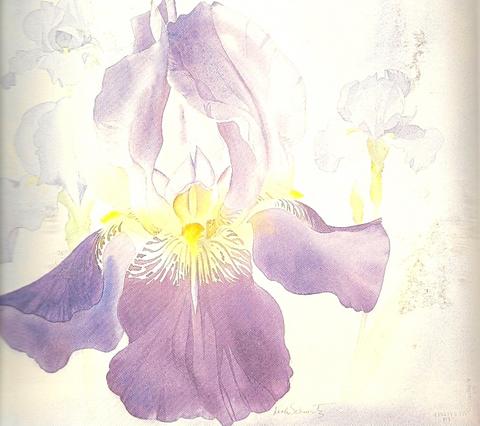 Orchid
Strong political satire from a leftist and radical point of view, feminist, often cartoony and grim: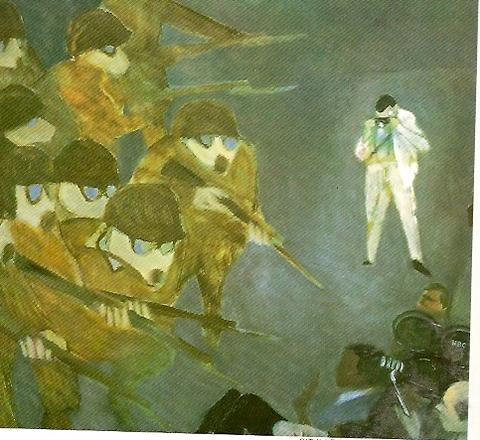 Sit in Demonstrations
Iyllic watercolors of places she's travelled to: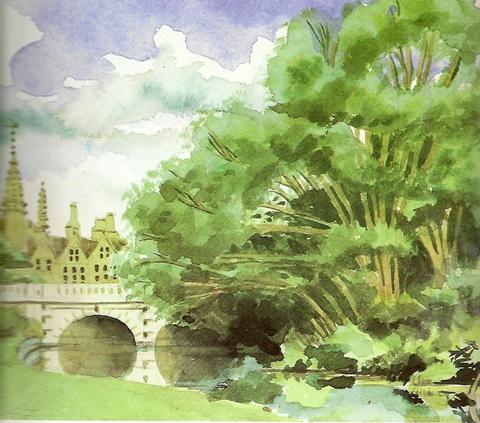 Oxford
and lived and worked in: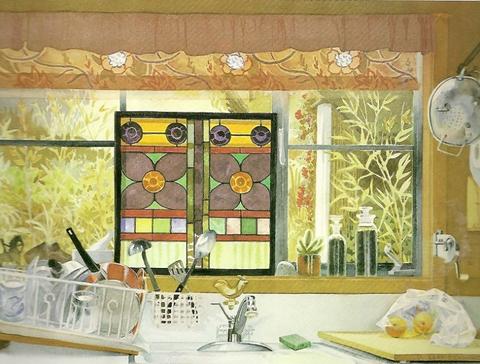 Mill Valley Kitchen
There was an article last week in the Sunday Observer (April 6, 2008) about how Virago imprint has changed the landscape of reading available (to women especially), celebrating Persephone books, and this month the Women's Review of Books was just filled with insightful reviews giving me information about women's lives and books found nowhere else.
Now not all women's books have this quality of lived life and offered deep companionship I seek, and some men's books do (e.g., Henry James and Trollope do frequently; Paul Scott; Orphan Pamuk does [_Snow]); some prize marketplace niches aim at such books (Booker Prize, Whitbread, not American prizes so much which is interesting to me as I often don't like American books any where near the way I can an English, UK, Canada, French or Italian or hyphenated-colonial type one).
I read women's poetry for the same reasons I love the above kind of women's books.
Another Westminster Bridge
by Alice Oswald
go and glimpse the lovely inattentive water
discarding the gaze of many a bored street walker
where the weather trespasses into strip-lit offices
through tiny windows into tiny thoughts and authorities
and the soft beseeching tapping of typewriters
take hold of a breath-width instant, stare
at water which is already elsewhere
in a scrapwork of flashes and glittery flutters
and regular waves of apparently motionless motion
under the teetering structures of administration
where a million shut-away eyes glance once
restlessly at the river's ruts and glints
count five, then wander swiftly
away over the stone wing-bone of the city.
Jeannette Winterson says Oswald's poem is in part a response to Wordsworth's poem.
Elinor
--
Posted by: Ellen
* * *
commenting closed for this article