Anne Hunter, Poet, Songwriter, Wife · 30 June 08
Dear Friends,
Happy cheerful sounds coming from me. The manager of Jane Austen's World has decided one on-going topic for her site will be women writers contemporary with Jane Austen. And she was kind enough to post onto her site—with very good additions in information and pictures
and more poems ("The Mermaid's Song," a "Song" to spring, "My Mother Bids Me Bind My Hair"), a life and works essay on Anne Hunter that I wrote for Wompo, the womens' poets listserv (and site) I've grown to love:
Anne Hunter, Poet, Songwriter, Wife
The piece I originally wrote (quoted in the middle by Ms Place) began with "To Her Daughter Upon Being Separated from Her on Marriage," the beautiful moving poem Anne wrote to her daughter whenher daughter was married (which I have put on both Eighteenth Century Worlds and Women Writers through the Ages at Yahoo). I have two more for you which Ms Place has not included. The first is not appropriate to this fiercely hot summer season, but winter will come again:
Winter: A Sonnet
Behold the gloomy tyrant's awful form
Binding the captive earth in icy chains;
His chilling breath sweeps o'er the water plains,
Howls in the blast, and swells the rising storm.
See from its center bends the rifted tower,
Threat'ning the lowly vale with frowning pride,
O'er the scared flocks that seek its sheltering side,
A fearful ruins o'er their heads to pour.
While to the cheerful hearth and social board
Content and ease repair, the sons of want
Receive from niggard fate their pittance scant;
And where some shed blake covert may afford,
Wan poverty, amidst her meagre host
Casts round her haggard eyes, and shivers at the frost.
1802
The second has the same strong use of generality:
North American Death Song
Written for, and adapted to, An Original Indian Air
THE sun sets in night, and the stars shun the day,
But glory remains when their lights fade away:
Begin, you tormentors! your threats are in vain,
For the son of Alknomook will never complain.
Remember the arrows he shot from his bow,
Remember your chiefs, by his hatchet laid low:
Why so slow? do you wait till I shrink from the pain?
No; the son of Alknomook shall never complain.
Remember the wood, where in ambush we lay,
And the scalps which we bore from your nation away:
Now the flame rises fast; you exult in my pain;
But the son of Alknomook can never complain.
I go to the land where my father is gone,
His ghost shall rejoice in the fame of his son:
Death comes like a friend to relieve me from pain;
And thy son, 0 Alknomook, has scorned to complain.
(Wr. by 1782; pub. 1802)
Anne Hunter's poem is softened in the Thomson and Cowper way: we are invited to remember people within their houses, finding comfort from one another, and the details of misery are from real life. But behind her poem also lies a strong emblematic resonance, grief and loss, which we find in her "North African Song." So I offer as a picture from opening phase of the long 18th century, an austere poetic landscape of winter by Nicolas Poussin (1594-1665):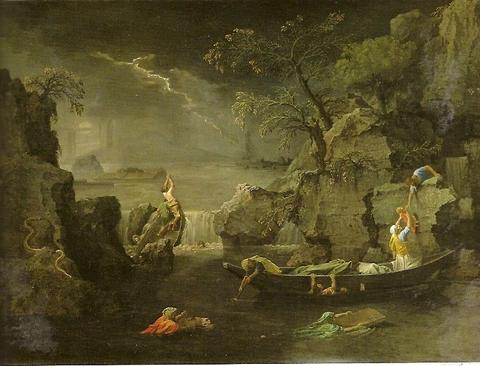 Don't miss Ms Place's interesting anecdotes which link Hunter not only to Austen and her era, (through the restrictions of their lives and time), and other literary people (Burns), but to areas like medicine (her husband was John Hunter, the "reluctant surgeon"), and Haydn, who became a friend and composed songs using Hunter's lyrics. She also included Annie Finch's perceptive commentary on the poem.
She has made the piece so pretty & rich in new information and context, you must go over and look!
Ellen (having a small crow)
--
Posted by: Ellen
* * *
commenting closed for this article