Summer theatre & books: Wolf Trap, Fringe Festival, _The Edge of Heaven_ & _Une Vieille Maitresse_, not to omit _Jenny Wren_ & _Truly, Madly, _Deeply_ · 27 July 08
Dear Friends,
The summer is slipping by. Today I realized I may have to prepare my syllabus for next fall next week in order to go away for a week and get the syllabus into the secretaries on time for xeroxing. I've read a highly original rewrite of a Jane Austen novel by E. H. Young, Jenny Wren, which I enjoyed immensely,. The Admiral, Yvette and I have gone to a number of plays & musical events, & Yvette and I to the startlingly persuasive Turkish film, The Edge of Heaven. For Trollope-l, I'm still listening to a Prunella Scales's wonderful reading aloud of a great masterpiece of a novel, Elizabeth Gaskell's Wives & Daughters; for Eighteenth Century Worlds, reading Stella Tillyard's Aristocrats: Caroline, Emily, Louisa, and Sarah Lennox, 1740-1832 and Illustrated Companion. We ended a really satisfying discussion on Women Writers of Christa Wolf's Cassandra and Medea this past week. And I've not recorded any of this.
I'll start with theatre.

Champagne Sundays from the DC Fringe Festival

7 and 1/2 Habits of Highly Effective Mistresses, also the DC Fringe Festival
We've been to Wolf Trap twice thus far: once to listen to Lyle Lovett and his large band; a second time to hear the National Symphony orchestra play Leonard Bernstein's Candide while some professional opera singers sang in concert. For the Lyle Lovett, we enjoyed a beautiful picnic supper in a wooded area on a blessedly fresh summer's night. Alas, the music was no where as good. For the second time we went to see Lovett he produced a blah concert: too loud, not sufficiently varied, and banal. He is much better on CD. The enjoyment was the beautiful place, the summer's night.
It rained hard the evening Candide was performed so we ate at home; the crowd was much thinner and we were seated well within the theatre. Jason Alexander who played Seinfield was Voltaire/Pangloss our master of ceremonies and teacher—as in so many 18th century novels, we are taught explicitly by a teacher in this adaptation; Anne Carolyn Bird (a strong and pretty coloratura soprano) was Cunegonde and her renditions of "Glitter and be Gay," and the final sentimental moving song about cultivating one's garden with a few friends with Dominic Armstrong (tenor) as Candide was magificent. The satire was turned into a combination of light opera, musical and satiric showmanship opera; the way it's done is not at all realistic (as how could it be unless you spent millions and milloins on a many hour movie) so a concert performance was appropriate. The jokes were made contemporary with references to Bush, Cheney and modern day fanatical religion, nationalism and war. Lots of opportunities for parallels were not missed. On the way home Yvette (who has a good memory) compared what we saw to Voltaire and she thought the adaptation somewhat faithful to the more lighter aspects of Voltaire's satire.
We bought tickets for 5 plays performed as part of the DC Capital Fringe festival. I half-regret that we didn't chose more musical events and lighter sheerly entertaining fare, but we didn't feel attracted to the way most of the plays and music were advertised (hard metal rock seemed to be favored). Many of the plays seeed to be straining for high-minded political content and/or were crude, violent, burlesque, with bizarre characters and stories. So we went to 3 classics: an hour and one-half (so abridged) version of Shakespeare's Coriolanus, a full performance of Peter Weiss's Marat/Sade, and Harold Pinter's One for the Road. All three were intelligently and effectively done. We thought it remarkable how relevant Coriolanus is to us today (the Admiral and I had seen a remarkable production by the RSA at Kennedy Center last years. The Admiral felt Marat/Sade has not at all aged. I saw it as a movie in the 1970s and Glenda Jackson's performance as Charlotte Corday is still in my memory so extraordinary was she. One for the Road seems to be a play centering on a cruel interrogator who bullies, mocks, & scorns the man, woman, and child of a family who the head of the state deems his enemies: the man is traumatized and half-crazed from his treatment; the woman has been humiliated and then raped & is in a state of extreme distress; the child remains calm as yet.
We did manage some cheering fare. Thomas Stephens's Champagne Sundays brought before the audience two retired couples living in Florida; the male of one has just died. It was almost as if you were watching Noel Coward's two couples from Private Lives forty years on. They were unfaithful with the opposite spouse, but they did remain with the partner they had chosen, and by the end of the piece, all, including the ghost of the dead man are sitting on a blanket on the beach waiting for the warmth of the sun. We went to see a 2 woman show called 7 1/2 Habits of Highly Effecive Mistresses. I had been attracted to the title since an adjunct colleague actually assigns 7 1/2 Habits of Highly Effective People to his classes, and the Admiral assured me the language the performer used did eacho and allude to this apparently best-selling guru book. Two women (one on a piano) worked hard to amuse us.
Going to the various theaters was interesting. We found ourselves in neighborhoods in DC we'd not been in before: we were in gentrifying, newly professional, up-and-coming, Times Square type, and very poor (and nearby dangerous) places too. Still we had a better time last year and next year must try for some more fun type events.
************
Turning to movies, Yvette and I have seen two remarkable films. First up: The Edge of Heaven, a film so well-done its important content must not be allowed to be erased as I noticed it has in a couple of online mainstream reviews.

Aytel (Nurgül Yesilçay) and Lotte (Patrycia Ziolkowska) reach out to one another in a prison room, The Edge of Heaven

Susanne Staub (Hanna Schygulla) Lotte's mother grieves on the phone as she tries to reach someone who has some information about where her daughter lived while in Istanbul, The Edge of Heaven
Here is the story. Ali, an aging ill-tempered German man invites Yeter, a prostitute, to come live with him; he murders her in a fit of arrogant disdain when he thought she would just go to bed with him at will; Ali's son, Negat, a professor of German literature, goes hunting for Ayten, the prostitute's daughter in Istanbul, & opens a bookshop there. Ayten, who we see next, is a terrorist and saved from brutal police first by a lesbian young woman, Lotte, and then by Susanne, Lotte's mother after Lotte is also carelessly murdered trying to get a dangerous gun back to Ayten, now in prison perhaps for 20 years in a place which includes murderous terrorists who will kill her if she doesn't tow a line. Susanne had come to the bookshop since Lotte had rented a place to sleep from the German professor turned bookseller as Susanne, Lotte's mother, wants to sleep in Lotte's bed. Negat takes down the sign which would have informed Ayten he knows what happened to her mother, but we are to surmize eventually she will learn this as Susanne is now helping out at the shop and has with her money managed to free Ayten. The last scene shows Negat returned to Germany to make up with his father, to forgive him.
I read the two professional reviews and the two comments on one of them. I agree with one of the comments that it's astonishing how the professional reviewers erase or displace the politics. It is of intense importance that Ayten is a terrorist; much that happens depends on that, and this film is an excoriating exposee of the cruelty, brutality and indifference of people working for the state and the terrorists too. It is ultimately I think very conservative in its locating compassion and the one security you can have in a mother's loyal love to her daughter, though it was that mother who understandably threw the daughter out.
The two reviewers also suggest the film is optimistic. One comment shows the writer to be male and angryy because the young male in this film is not macho and "proactive." He is bitter that the egregious macho male caricatures have taken over and all we have left is bookish gentle males. He forgets the hard mean nasty father—not exactly a caricature though my language is not nuanced. But it's not optimistic. It is gentle and ends on forgiveness by a mother (of the terrorist who was led to her daughter's death—the daughter very naive) and son (the bookshop owner ex professor), but that's because the mother needs someone and the son knows his father is near death and is himself secure from the father's, he is independent.
The Edge of Heaven is an important film for its take on the political cliques in power in most countries today, their vicious underlings, and the brutal militarism which supports all such regimes. It's important for its yearnings to forgive and find consoling love.
Then today we saw the French answer to BBC costume drama: a film adaptation by Catherine Breillat's of Barbey d'Aurevilly's _Une vieille maitresse. Some remarkable images are here
In the US it's titled_The Last Mistress_ but is more correctly translated "An old mistress" (Une vieille maitresse is the French title). It's a remarkable film: it moves very slowly and at first you may get restless, but if you give it a chance, it will suck you into its intensities and irrationalities. The atmosphere is of a bizzare and exaggerated development of erotic enthrallment after an initial murderous hatred between two lovers, the hero, Ryno de Marigny (played by Fu'ad ait Aattou who really looks like one of these dandies in illustrations from the 1830s), a sort of development of Barbey himself blended with Valmont, Lovelace, and a century of Chevaliers (from Manon) and the anti-heroine, Vellini (Asia Argento). We trace the various stages of their madness through flashbacks as Ryno tells his story to the grandmother, La marquise de Flers (Claude Sarraute) of an innocent girl, Hermangarde (caricatured by her visual appearance, your blue-eyed blonde voluptuous innocent who is obedient to all, supervirtuous, Roxanne Mesquida chosen for her looks too).
I thought the film adaptation was a success in the way of apparently faithful ones of English 19th century novels. There was a translation of the madness. You could not have had such a movie done 30 years ago. There were scenes of totally nude love-making with all sorts of athletic poses while having sexual intercourse.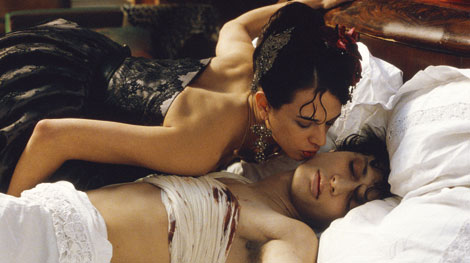 One of the chaster pictures of love-making. Ryno (Fu'ad ait Aattou) has just been shot and we have witnessed close up the ghastly pulling out of a bullet from his body, and Vellini (Asia Argento) is allured by him because of his pain and the blood
At one point Ryno and Vellini go to the desert, have a child and a scorpion kills the child. Vellini grieves extravagantly and won't bury her so we watch the corpse rot until Ryno buries and sets a pyre over it. And then in the middle of the raving mad fantasy the mother goes mad.
The manners of everyone all the while are exquiste, the photography is exquisite, the costumes a caricature in effect of costume drama but right for the type novel. It's as if the French said, move over BBC/WBGH, we have a load of books no one has dared to translate and we are going to do it in the French way—for the dialogue is very subtle and intense and slow moving, super subtle over the psychologies of the different characters. There are many references to the 18th century: the grandmother says she is left over; this reminds me of how George Sand uses the 18th century as a memory and left-over cultural awareness in the early stages of her life. Beyond the grandmother, we have two more aging people who we open with and close with: Le vicomte de Prony (Michael Lonsdale) and La comtesse d'Artelles (?—I"m not sure that's the name of the old woman who looks like a character straight out of a Dickens's film adaptation, as sweet on the surface and old and domestic but hard and disillusioned in this role) they predicted misery for Hermangarde and indeed that's what she ends up with for Ryno quickly tires of her and begins to returns to Vellini again, not that he loves her, for the great insight or witty joke of the piece is love doesn't last and when it's gone, the person who experienced it cannot remember what he or she felt.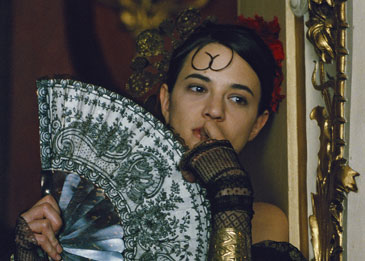 One of the more piquant stills of Vellini (Asia Argento)
I recommend this movie as a kind of introduction to the fiction of the early 19th century in France. I'm sure it's much changed and given a more upbeat presentation. It is also a film by a woman: written and directed by Catherine Breillat and I suggest is meant to show us an intensely aggressive highly sexualized and masculinized Vellini—Vellini smokes cigars, she is violent continually (slashes faces, is a second at a duel), chases the male who shows some the feminine aspects of Dandyism—if you think want to use "feminine" in a stereotyped manner to mean soft, inward, susceptible, emotional and very pretty.
Two good books: Ellen Moers's The Dandy and Margaret Cohen's The Sentimental Education of the Novel in France. Cohen describes books of the 1820s, only she does go for the women's which were far chaster. Cotten rerences Austen more than once as the closest the English came to the subtlety and inhouse feel of the emotions. The English though did close off the area of frank sex and that made the novels have to move into large historical areas and they imitated the Fielding/Scott line for the broad canvass to substitute rather than say Richardson. LaClos, Radcliffe/Austen/Smith (who herself began as a translator of French novels).
When English authors have their characters reading French novels, they are not just thinking of Balzac or Sand whose novels we may call "high end" fiction.
************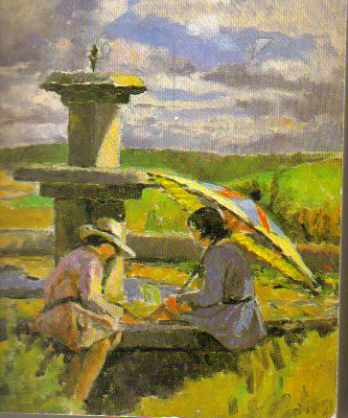 Girls by a Fountain by Mainie Jellett, cover illustration for Virago edition of Jenny Wren (1932) by E. H. Young (1880-1949)
E[mily] H[ilda] Young's Jenny Wren is an effective thorough going but nonetheless quite recognizable rewrite of Austen's Sense and Sensibility in modern terms. You have the two sisters and the mother. In this case the mother is lower class and the father married out of his class and was cut off and ostracized. While he was away in the war, the mother had an affair with someone; this was a relief to her as her husband still looked down on her, and their lives were isolated and to her dull; when the husband came home, he half-realized how barren his life with his wife was an turned to the daughters. He dies and the man she has had an affair with loans her money to buy a boarding house and set up lodgings. This enables her to escape the country for Bristol. But she "owes" him and bad and he wants to marry her now and she doesn't want marriage or him any more. The two daughters have natures which somewhat correspond to Marianne and Elinor, with Jenny the thoughtful and more cultured one who yearns to be part of the upper class, and Dahliah, the pretty and wilder one who is willing to "come down" and enjoy herself. Their natures are complicated. So we have the women in a sort of cottage at the fringes of Bristol. Lodgers come gradually and one is the equivalent of Edward, even a curate, and the sequel to this novel is called The curates' wife, so again Young goes further than Austen in realistic sex life.
There is a Willoughby character! A Mr Cyril Merriman who is much more upper class than our two heroines, and whom Jenny (the Elinor character) meets out in the meadows just outside the "city-like" limits of Bristol (Upper Radstowe it's called in the novel), and while she doesn't fall and he carry her, he does rescue her, and the whole sequence is beautifully romantic. This Willoughby tells the truth about his previous lack of interest in books (as does the Willoughby in the 1971 S&S) and it's obvious from the get-go our Jenny hasn't got a chance with him. A modest serious or melancholy intelligent man who is in the antique furniture business Mr Cummings is the Colonel Brandon character: Dahlia, the Marianne character is slowly and very slowly it is being drawn to him.
There is a harsh older woman, Aunt Sarah, the mother's pushy arrogant sister, who thinks she is all upper class refinement but is a torment to everyone with her continual machinations towards power and control.
Young creates a sense of social milieu and pyschological reality that is more nuanced than Austen's or nuanced in a satisfying different way and yet comments on the previous book too, its themes about displaced women, economic marginalizing, sexual frustrations, social comedy & satire on types of people (there are lodging houses to one side of the women).
The name Jenny Wren is an allusion to a crippled half-crazed character in Dickens's Our Mutual Friend. She is a poignant, if tart, little [growth-stunted], a seamstress-designer of doll's clothing. She cares for/parents a disgraceful alcoholic father [Dickens is big on missing or deceased mothers], who dredges the bodies of suicides [perhaps some murder victims as well] from the Thanes, relieves them of any valuables, then turns them in to the coroner – a dreadful man. As Austen's characters, so these women are displaced. They are crippled by the social attitudes towards them, in danger of utter marginalization, not just the half-way house they have (like the Dashwoods at Barton cottage). I found Jenny Wren in the film heart-breaking partly because she is so justifiably angry and explodes at her alcoholic father the way she does, and then is left alone—but for our heroine! —when he dies. Ultimately Jenny Wren is a character in a nursery rhyme:
'Twas once upon a time, when Jenny Wren was young,
So daintily she danced and so prettily she sung,
Robin Redbreast lost his heart, for he was a gallant bird.
So he doffed his hat to Jenny Wren, requesting to be heard.
"Oh, dearest Jenny Wren, if you will but be mine,
You shall feed on cherry pie and drink new currant wine,
Paul MacCartney picked up the fable character for one of his songs:
Like so many girls, Jenny Wren could sing,
But a broken heart, took her song away,
Like the other girls, Jenny Wren took wing,
She could see the world, and its foolish ways,
How, we, spend our days, casting, love aside,
Losing, sight of life, day, by, day,
She saw poverty, breaking up her home,
Wounded warriors, took her song away,
[repeat chorus],
But the day will come, Jenny Wren will sing,
When this broken world, mends its foolish ways,
Then we, spend our days, catching up on life,
All be-cause of you, Jenny Wren,
You saw who we are, Jenny Wren.
I find comfort in Jenny Wren as it shows the isolated women and how in our world people live in little groups like those in Austen's fiction, at least this level of person in the 1920s or so. Its sequel, Young's The Curate's Wife explores the real lives of women in the era: 1930s – 40s, and especially the mix of unhappiness and alienation that makes up daily life in a community and marriages for women, how they experience the world ultimately through that.
There is a good book on E. H. Young and books like hers: Domestic Modernism, The Inter-war Novel and EH Young by Chiara Briganti and Kathy Mezei. The territory of the home was where women lived and through what they experienced in the home and local spaces around it, private ones, they found metaphors for their experience of the 20th century. This is an alternative serious vision for the high modernism men mostly wrote as the male way of grappling centrally with the issues of our time. Yes the writers are middle class women and the books are for middle class women, but the issues include poverty, the problem of independence, of getting a job (to support that house), commercialization of culture as well as the central erotic and familial interactions women find thrust on them as what they are centrally given to know and cope with.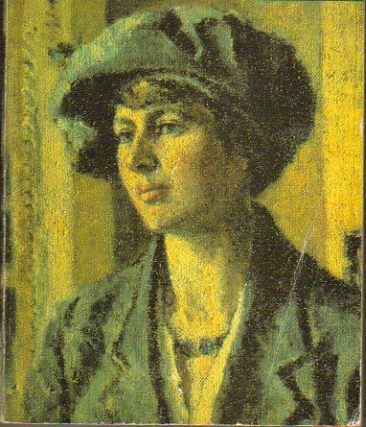 Mainie Jellet portrait on the cover of the Virago edition of Young's 1934 Curate's Wife
I have yet to discuss the great books I read this summer: Christa Wolf's Cassandra, Gaskell's Wives and Daughters and Stella Tillyard's Aristocrats, but I had better leave off for now as I've gone on long enough. Another time I'll get up the ambition and energy for these brilliant beautiful filled with life experiences.
Ellen
P.S. I include a several paragraph commentary on Truly, Madly, Deeply, and there are quite a number of thoughtful comments on TMD there. I couldn't put it in the blog as I watched it a few days after writing it so just added everything on in the comments.
--
Posted by: Ellen
* * *
commenting closed for this article