Filmic women: mirrors, windows, & candles · 6 August 08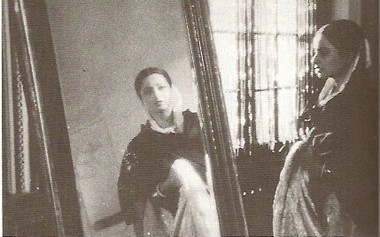 Identity as self-alienation, Umrao Jan, Indian courtesan film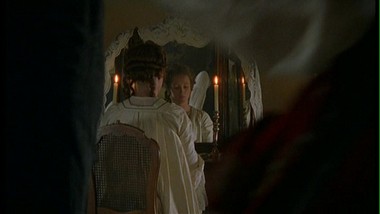 Taken at random from 1999 Aristocrats: Caroline Lennox Fox (Serena Gordon) seen through the mirror and her husband, Henry Fox (Alun Armstrong) as he undresses
Dear Friends,
I've read another book straight through with great enjoyment: Sumitra Chakravarty's National Identity in Popular Indian Cinema highly enough; if possible, it's better than Vijay Michra's Bollywood Cinema: Temples of Desire (outlined briefly as a comment Sunday night). Like Michra's, Chakravarty's book is written in a way that has general application and can shed light on all movies you read: she really is about more than popular cinema because she considers most "art" movies to be commercial products and sees them as negotiating between different audiences, and takes into acount how many intelligent viewers go to movies to experience a Utopian or pleasurable illusion so that for such a person what he or she expects in a lecture or serious book is quite different from what they want in a movie (the discouse here justifies what we see in quality mini-series for example).
I'll take just one instance at length: Chakravarty actually discusses the persistent way heroines in movies are filmed through the mirror (pp. 271ff). (This happened in the new Brideshead Revisited several times, even down to showing us women's faces in the side-mirror of an automobile.) Instead of the camera focusing directly on the actress's face, it focuses on the mirror and we look with her into the mirror. This is so persistent that when a movie does pass the first part of the Bechdel test (i.e., we have two heroines talking together) we see the both of them in a mirror.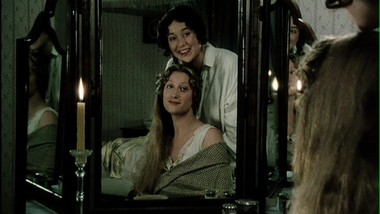 Jane (Samantha Harker) and Elizabeth (Jennifer Ehle) in '95 P&P (whole scene conducted through mirrors)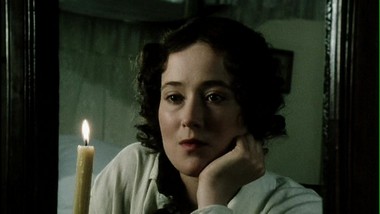 We see her in the mirror
By contrast, rarely is the man seen through the mirror (also rarely is he seen looking out a window sitting there).
As the Austen movies often pass the Bechdel test, so some rare instances are found in these. IN the 1981 S&S there's an uncommon presentation of a male or hero: we at first see Bosco Hogan as Edward looking at himself in the mirror (very twisted expression on his face) just before Irene Richards as Elinor tells him Brandon is offering him a living that he cannot not want (an offer he can't refuse) as it will make him independent even if he finds himself punished with it by being driven to marry Lucy Steele.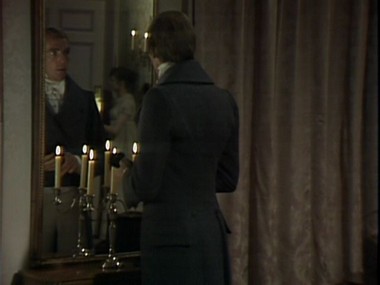 Edward (Bosco Hogan) facing mirror with candles to the side ('81 S&S)
It's only brief and he turns back to look at her and we look directly at him through her eyes, and we feel his self-scorn as he sees himself through her compassionate eyes. It is highly uncommon for males to be presented this way. And on top of this the scene has a burning candle next to him in the dusk—another motif shown with women.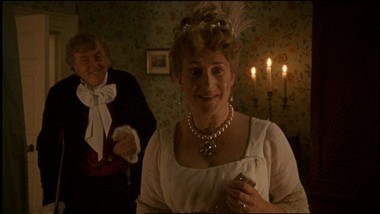 Taken at random from comic moment: Mrs Allen (Sylvestre Le Tousel) watches Catherine (Felicity Jones) at her mirror ('07 NA)
Also rarely do we see a man looking out a window (when this is a ubiquitous image for women). An instance of this occurs more than once in the '95 P&P: Colin Firth may be seen almost regularly standing at a window looking out, brooding: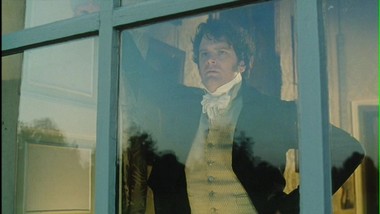 Darcy (Colin Firth) at window ('95 P&P)
This has been noticed more than once and it is even "justified" in the Making of P&P book (as if an embarrassment). But in Austen's P&P Darcy it turns out is sensitive, shy as well as proud and even unsure of himself with others, not easily able to integrate into a group as he tells Elizabeth when she plays the piano before him at Rosings.
I've asked myself why this is? Why do we usually persistently see women through mirrors, even two of them. Chakravarty first quotes Virginia Woolf: "women have served all these centuries as looking-glasses possessing the magic and delicious power of reflecting the figure of man at twice his natural size." In these movies the camera focuses on the male heroes the woman wants and we see them as desirable through her eyes. She herself is the mirror. But what of the mirror presented before her. Well according to Chakravarty she is looking at herself as society sees her; preparing and shaping herself to be observed by others; it shows the alienation of women from herself, and how she is driven to be a creature shaped by the community's eyes. I don't know if this persuades others, but it is an explanation of something hardly ever (=never in Mansfield Park) brought
up. The woman is on a quest to find her identity and when she looks she sees a hollow image reflected back of what society has made her.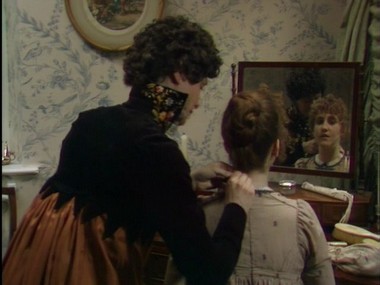 Fanny (Sylvestre Le Tousel) looking at herself in mirror with necklace (Henry's, unknown to her), Mary (Jackie Wood-Smith), encouraging ('83 MP)
Again, in Austen's S&S Edward Ferrars has been disinherited. He is an emasculated male—as is John Willoughby in this curious novel and also Brandon was when young and a second son and helpless to rescue his cousin-sister from marriage to his horror of an older brother and father as her guardian. I noticed in S&S films repeatedly we have Willoughby facing himself near a mirror as he stands looking away from the Dashwood women into a fireplace before he turns to talk.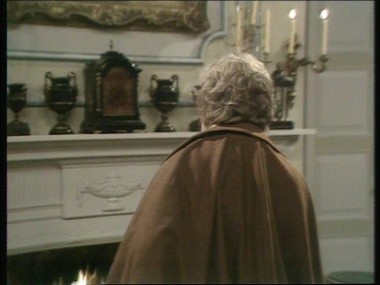 Willoughby (Clive Francis) facing fireplace ('71 S&S)

Willoughby (Dominic Cooper), here an angry thug, still turns back ('08 S&S)
More briefly, Chakravarty describes what's called "realism" in movies as "a heightened emotionalism, the call to an empathic identification with the underprivileged" (p. 81). The country becomes a "privatized fictional space" where characters can recover from modern society (p. 103); there can be a return to the past, to a "mother" or home country, where the urban place is where characters confront pain, temptation, joblessness, anonymity, worldliness. Acts of renunciation function as moral codes of rejection (p. 105-6). Women's social and even individual identities are conferred by marriage (p. 117). The way in which powerful politics are presented is throgh showing conflicts between family and private identity and what is demanded by public roles; so too corruption in business is revealed through these conflicts (p. 143). This reminded me of the BBC 1974 Pallisers.
Historical films, costume dramas emerge as a relatively elite form (p. 157). Popular audiences go for here and now, today, partly because representing history usually means political commentary, meditation on national identity and real crises in the here and now mirrored through famous events or romantic periods and landscapes (pp. 157-59). It is a dwelling on public memories, and a means of resolving tensions over problems today. (Longitude is about class and politics today even if set in the 18th century and early 20th.)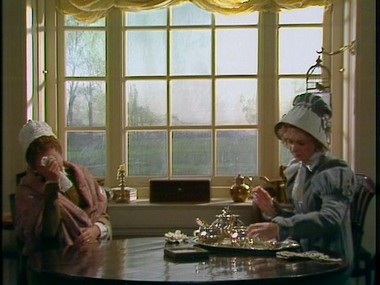 Even in comedy the window (and here bird in a cage) dominates: Mrs Bennet (Priscilla Morgan) and her sister, Mrs Phillips (Shirley Cain) hilariously confer (the woman-centered '79 P&P)
From the sixties on. there has been a sharp turn to male-oriented movies in India and elsewhere, growing stronger in the early 1990s, the Oedipal story, the young man making his way (which is how Edward is presented in I Have Found It), and in movies set in the present the hero stands for an underclass (pp. 204-6). A new presentation of naturalness and a new kind of hero is seen. The clown takes on the mask of universal love (p. 224). This reminds me of Pucini' Pagliacci, but also the real hero of I Have Found It, Bala who finds himself (as the mythic heroine of the Mahabharata does) and is played by an actor who often does poignant comic roles (a mega-star, Mammootty).
Sexual sublimination continues for all but the "honest-hearted" courtesan in films where she is the romantic focus, and the courtesan film abounds far more densely with mirrors as the outcast glamorous victim looks to see how society sees her, and its hollow or hypocritical gazes. Heroines act out their duties to their families; they show self-sacrifice, waiting and longing. They are rewarded for their faith and constancy by the return of their lovers. Again this is seen in I Have Found It. Sowmyra does succeed in getting a job, but both she and Meenu had the courage to leave their village to build a life, and the desire to return back to domestic life with beloved husbands. Apparently in Indian cinema young women regularly want to be loved for themselves not the money they will inherit: this is suddenly asserted by the Elinor and Marianne characters in I Have Found It without much motivation.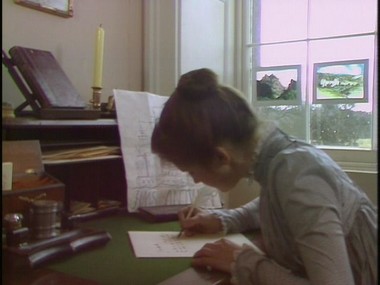 Fanny (Sylvestre Le Tousel) recounting the story through letters: windows, mirrors, candles, chosen at random ('83 MP)
Ellen
--
Posted by: Ellen
* * *
commenting closed for this article