Foremother Poet Essay-Postings · 15 September 08
Dear Friends,
Much work to do today, culminating in the later afternoon when I sent off the first eight foremother poet postings for the Wompo Festival site in November. I don't know where this is, and must ask :)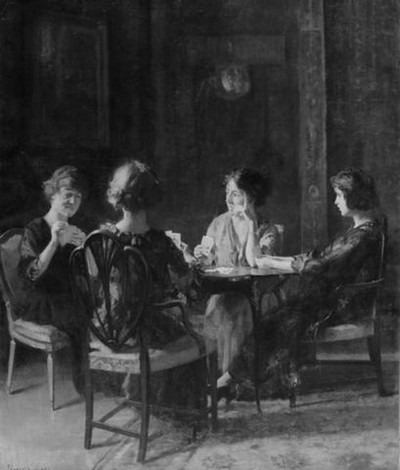 Frances Coates (1857-1932), Perplexed Players, 1923 (in the Brooklyn Museum of Art)
I compiled a list of all the women poets I've written foremother poet postings about thus far on Wompo:
Premodern:
Ava
Sappho
Medieval through Renaissance (early modern):
Anne Askew
Castelloza
Christine de Pizan
Beatritz, Countess da Dia
Elizabeth of York
Gaspara Stampa
Isabella Morra
Laura Battiferri Ammanti
Louise Labe
Marie de France
Marguerite de Navarre
Mary Sidney Herbert, Countess of Pembroke
Mary Sidney Wroth
Sor Juana Inez de la Cruz
Tullia D'Aragona
Vittoria Colonna
Veronica Gambara
17th century:
Anne Wharton
Anne Killigrew
Aphra Behn
Elizabeth Thomas
Elizabeth Wilmot, Countess of Rochester
Katherine Philips
Lucy Hutchinson
Margaret Cavendish (Duchess of Newcastle)
Mary Chudleigh
Sara Fyge Egerton
18th century
Anna Barbauld
Anne Grant
Anne Hunter
Anne Kingsmill Finch, Countess of Winchilsea
Anna Louisa Karsch
Anne Lindsay Barnard
Agnes Maclehose
2 Anonymous, "A Female Hand" (flourished really briefly, mid-18th century); second Anon: A Farewell to London on setting out for Wales By a Lady Written several Years ago.
Anne Radcliffe
Anna Seward
Anne Yearsley
Caroline Bowles Southey
Catherine Jemmat
Caroline Keppel
Caroline Oliphant, Baroness Nairne
Charlotte Smith
Elizabeth Carter
Elizabeth Hands
Elizabeth Tollett
Frances Greville
Frances Seymour Thynne, Lady Hertford
Georgiana Spencer Cavendish
Helen Maria Williams
Jane Austen
Karoline von Günderrode
Laetitia Pilkington
Mary Alcock
Mary Chandler
Mary Collier
Mary Hays
Mary Robinson
Mary Whateley Darwell
Mary Wortley Montagu
Mehetabel (Hetty) Wright
Selections of bird poems
19th century
Adela Florence Cory
Anne Lynch Botta
Alice Meynell
A. Mary F. Robinson Darmesterer Duclaux
Amy Levy
Amelia Opie
Adelaide Anne Procter
Ann Taylor
Augusta Webster
Bettina Von Armin
Mrs B. Finch
Charlotte Bronte
Charlotte Mew
Caroline Norton
Christina Rossetti
Dora Sigerson Shorter
Dorothy Wordsworth
Edith Wharton
Elizabeth Barrett Browning
Emily Bronte
Emily Dickinson
Emma Lazarus
Emma Roberts
Frances Brown(e)
Frances Ellen Watkins Harper
Felicia Hemans
Fanny Holcroft
Fanny Kemble
Helen Hunt Jackson
Joanna Baillie
Jane Taylor
Judith Gautier
Lady Jane Wilde (Speranza)
Louise Colet
L. E. Landon
Menella Bute Smedley
Mary Elizabeth Coleridge
Michael Field (Katherine Bradley & Edith Cooper)
Mary Howitt
Mary Lamb
Mary Weston Fordham
Rosamond Marriott Watson ('Graham R. Tomson')
Susan Evance
Susanna Moodie
Selections of animal poems
20th century:
Amy Lowell
Alice Dunbar Nelson and Babette Deutsche
Barbara Guest
Carol Ann Duffy (on WWTTA)
Carolyn Kizer
Dorothy Parker
Elizabeth Bartlett
Elizabeth Jennings
Elise Lasker-Schüler
Elinor Wylie
Florence Kiper Frank
Grace Paley
Hilde Domin
Hannah Weiner
Ingeborg Bachmann
Isabella Gardner
Joyce Anstruthers (Placzek Maxtone Graham) (aka Mrs Miniver)
Jaleh Esfahani
Josephine Miles
Louise Bogan
Louise Guiney
Liz Lochhead
Laura Riding
Marcia Nardi
May Sinclair
Muriel Spark
Magda Szabó
Marina Tsvetaeva
Nelly Sachs
Rosario Castellano
Sara Teasdale
Stevie Smith (on WWTTA)
Sylvia Townsend Warner
Vita Sackville-West
Virginia Woolf
Willa Cather
Selections of (anti-) war poems
As I've said here, Annie Finch and Jilly Dybka put six of my Friday postings on the official Wompo site sometime ago: Foremothers Corner:
I've put a few of my own up on this blog too (e.g. Mary Chandler Hetty Wright (recently), Louisa Labe, Elizabeth Wilmot, and Vic (Jane Austen's World) has been kind enough to put one there too (Anne Hunter, nee Home). This omits the many poems by women I've put on individually, and essays on women's poetry (motifs, typical imagery, moods, types, e.g., women's counter-universes) with poems as examples, and celebrations of new editions of favorite poets (Stevie Smith, Fleur Adcock, Anne Stevenson—use the search engine to the left) too. and also the sections on my website on Anne Finch, Katherine Philips, Veronica Gambara, and many other women writers, gothics and etexts (by, e.g., Isabelle de Montolieu, Sophie Cottin, Anne Halkett) galore.
Well, today, I've added for dissemination on the World Wide Web, at the Wompo Festival Website, eight more (from the above) for the Renaissance: two women troubadours, Castelloza and Beatriz, Countess of Dia; two medieval women poets, Marie de France and Elizabeth Plantagenet or of York; and four Renaissance women poets: Marguerite de Navarre, Vittoria Colonna, Isabella di Morra, and Mary Sidney, Lady Wroth (with a link to the poems of Anne Cecil de Vere, Countess of Oxford). When they are put up, I will send along the URLs here.
I await the request of Louisa Howe and Moira Richards for some eight to ten 17th and 18th century women poets.
************
Back from Jill's boat and house (in Ohio) last night. We had a good time, very refreshing for me. We ate out and watched two movies on the boat: agreed that Ruby in Paradise is wonderful (especially as it climaxes on a "mother-daughter" pair coming together again). Saturday night with a splendid group of friends was especially jolly and intellectually fun too. I hope to visit her again.

The loving sisters come together again (Serena Gordon as Caroline and Geraldine Somerville as Emily Lennox, Harriet O'Carroll's Aristocrats, 2001, from Stella Tillyard's non-fiction book, a climax and turning point)
In the long mornings I read over 100 pages of Ann Radcliffe's The Mysteries of Udolpho and fell in love with its extraordinary visual depth and beauty: it's the next best thing to movies in the 18th century. Also a wonderful anthology of poetry chosen by Annie Finch: A Formal Feeling Comes, of which I hope to quote more poems from over the following months.
I suffered the worst stress about the travelling itself.
On WomenWriters Through the Ages, we're discussing the stunning film, Brief Encounter (David Lean directs, Noel Coward wrote, Celia Johnson and Trevor Howard starred). On Eighteenth Century Worlds alas have finished Aristocrats books and film, but now turn to Lucy Hutchinson (who beyond the memoir of her husband wrote beautiful Donnian poetry); and on Trollope-l, Ellen Wood's Mrs Halliburton's Troubles, which turns out to be effective: about all those women well below the middling classes and privileged, those whom Trollope omits in his books. Mrs Halliburton opens on a church scene where 12 loaves of bread are given away each week to nearly starving women, and once every so often a shilling. They better not get at all difficult or they find themselves with nothing. London late at night in the early 19th century is caught or glimpsed too.
Ellen
--
Posted by: Ellen
* * *
P.S. Francis Coates' picture was on our groupsite space on WWTTA this weekend. She was an American woman painter, her style stems from Joshua Reynolds as sifted through the lens of 19th century women painters (see blog on Deborah Cherry's book on 19th century women painters).

We see a group of upper class women, and they are dressed up. Perceptive expressions on the womens' faces makes for real; the real life common occupation, a way of passing time really, tension and psychological interaction. It comes from the Brooklyn Museum collection of American art I've seen a couple of times: there is a curator there with decent taste.

E.M.
— Elinor    Sep 15, 8:37pm    #
commenting closed for this article