In Search of Lost Time:
General Bibliography for Children's Imaginative Literature: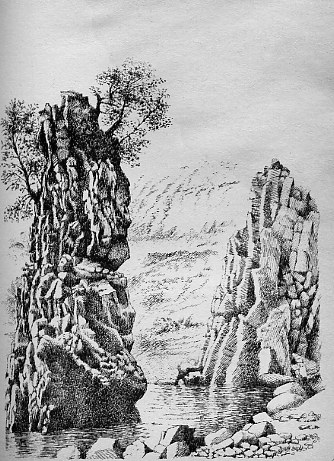 Randall Jarrell, The Animal Family, Illustrations Maurice Sendak
Adams, Bess. About Books and Children: Historical Survey of Children's Literature. New York: Holt, 1953.
Adler, Patricia A. Peer Power: Preadolescent Culture and Identity. New Brunswick, New Jersey: Rutgers University Press, 1998.
Adler, Felix. "The Use of Fairy Tales," the American Journal of Nursing, 1:11 (1901):811-12.
Agosta, Lucien. H. E. B. White: The children's books. New York: Twayne, 1995.
Anderson, William and Patrick. A New Look at Children's Literature. Belmont, Cal: Wadsworth Pub, 1972.
Arbuthnot, May Hill and Zena Sutherland, ed. Children and Books. NY: Harper Collins, 1991.
Attebury, Brian. Strategies of Fantasy. Bloomington: Indiana UP, 1992.
Baer, Ted. Narnia Beckons: C.S. Lewis's The Lion, the Witch and the Wardrobe and Beyond. Broadman and Holdman, 2005.
Baker James R. and Arthur P. Zeigler, Casebook on the Lord of the Flies NY: 1964, see especially Clare Rosenfield, "Men of Smaller Growth: A Psychological Analysis of William Golding's Lord of the Flies", pp. 261-76.
Bane, Mark. Myth Made Truths: The Origins of the Chroncicles of Narnia. Online, "Into the Wardrobe," December 8, 2009.
Bang, Molly. Picture This: How Pictures Work. Seastar Books, August 2000.
-----------. Picture This: Perception and Composition. Bullfinch, 1991.
Bechtel, Louise Seaman. Books in Search of Children. London: Macmillan, 1969.
Beckett, Sandra L, ed. Reflections of Change: Children's Literature Since 1945. Conn.: Greenwood Press, 1997. An excellent compendium. Includes: "Theory and children's literature. Fear of children's literature: "What's left (or right) after theory?"/ Perry Nodelman. "Is this the promised end?": fin de siecle mentality and children's literature"/ John Stephens Ramona. "The underestimated : the everyday-life story in children's literature"/Deborah Stevenson. "Shifting boundaries between children's and adult literature. The disappearance of children's literature (or children's literature as nostalgia) in the United States in the late twentieth century"/Jerry Griswold. "Literature for all ages?: literary emancipation and the borders of children's literature"/Anne de Vries. "The changing status of children and children's literature"/Eva-Maria Metcalf. "Experimental writing and postmodern trends. From grand narrative to small stories: new narrative structures in recent Scandinavian children's literature"/Asfrid Svensen. "The status of sequels in children's literature: The long secret and Beyond the chocolate war / Bettina Kummerling-Meibauer. Gillian Cross Wolf: "Aan exploration of patterns and polarities"/ Susan Clancy. "Paradigm shifts. Reflections of change in children's book titles"/ Maria Nikolajeva. "High and wild magic, the moral universe, and the electronic superhighway: reflections of change in Susan Cooper's fantasy literature"/ Carole Scott. "Terror is her constant companion" :the cult of fear in recent books for teenagers / Roderick McGillis Suburban scenarioes in Simon French's All we know: the emergence of the suburbs as the spatial framework for Australian children's fiction"/Beverley Pennell. "Reading children's literature multiculturally"/Daniel D. Hade. "National literatures. The journey inward: adolescent literature in America, 1945-1995"/Anne Scott MacLeod. "The novel for adolescents in Quebec: stereotypes and new conventions"/Danielle Thaler. " Realistic stories in the Federal Republic of Germany, 1970-1994: Features and Tendencies"/Dagmar Grenz. "Text and context:Factors in the development of children's literature in Taiwan, 1945-1995, and the emergence of young adult literature"/Shu-Jy Duan. "Reconceptualizing the past. An awfully big adventure?: representations of the Second World War in British children's books of the 1960s and 1970s"/Dieter Petzold. "Topsy-turvy world : New Trends in Modern Russian children's Literature"/Olga Majeots. "Children's literature in totalitarian and post-totalitarian society"/Vincas Auryla.
Bell, Elizabeth, Haas, Lynda, Sells, Laura, edd. From mouse to mermaid the politics of film, gender, and culture. Bloomington : Indiana University Press, 1995. On Disney products.
Berger, Laura S., ed. Twentieth Century Young Adult Writers. Detroit: St James 1994.
Bettelheim, Bruno. The Uses of Enchantment. New York: Knopf, 1976.
Bingham, Jane and Grayce Scholt. Fifteen Centuries of Children's Literature. Westport: Greenwood Press, 1980.
Blount, Margaret. Animal Land: The Creature of Children's Fiction. NYWilliam Morrow, 1975.
Briggs, Julia. A woman of Passion: The life of E. Nesbit, 1858-1924. NY: New Amsterdam Books, 1987.
Brooker, Will. Alice's Adventures: Lewis Carroll in Popular Culture. New York: Continuum, 2004.
Brookshire, Jamye, Lauren T. V. Scharff and Laurie E. Moses, "The Influence of Illustrations on Children's Book Preferences and Comprehension," Reading Psychology, 23:4 (2002):323-39.
Brown, Joanne and Nancy St. Clair Declarations of Independence: Empowered Girls in Young Adult Literature, 1990-2001. NY: Scarecrow Press, 2002.
Butt, Bruce, "He's behind you: Reflection on Repetition and Predictability in Lemony Snicket's A Series of Unfortunate Events," Children's Literature in Education, 34(2003):277-86.
Campbell, Alisdari. "Ronald Dahl," The School Librarian, 29:2 (1981): 108-14. Children's Writers series.
Carpenter, Humphrey and Mary Prichard. Oxford Companion to Children's Literature. Oxford UP, 1984 (very good and very useful)*
Carpenter, Humphry. Secret Gardens: The Golden Age of Children's Literature. From Alice in Wonderland to Winnie the Pooh. Boston: Houghton Mifflin, 1985.
Carter, James. Talking Books: Children's Authors Talk about the Craft, Creativity, and Process of Writing. New York: Routledge, 1999.
Clark, Beverly Lyon. Kiddie Lit : The Cultural Construction of Children's Literature in America. John Hopkins, 1004. ISBN: 0801881706.
Commire, Anne, ed. Something About the Author. Detroit: Gale Research, 1981.
Cooks, Timothy E. "Another perspective on political authority in Children's Literature: The Fallible Leader in L. Frank Baum and Dr Seuss," The Western Political Quarterly, 36:2 (1983):326-336.
Cuddigan, Maureen and Mary Beth Hanson. Helping Children Deal with Everyday Problems through Reading. Chicago: American Literary Association, 1988.
Darton, Harvey. Children's Books in England. London: 1933 (updated by Briane Anderson, 3rd edition, 1982; Darton was a family member of one of the major publishing firms of children's literature in the 19th century and had a great deal of amusing and practical or real-world first-hand knowledge about children's books before WWII).
Des Vallieres, Natalie. Saint-Exupery: art, writing, musings. NY: Rizzoli International, 2004.
Dick and Jane as Victims: Sex Stereotyping in Children's Readers, anonymous. Attributed to Women on Words and Images Society. Princeton: Princeton UP, 1972. 58 page pamphlet.
Dixon, Bob. Catching Them Young: Sex, Race and Class in Children's Fiction. Pluto Press, 1981.
Dyer, Carol S. Rediscovering Nancy Drew. Iowa City: University of Iowa Press, 1995.
----------. Catching Them Young: Political Ideas in Children's Fiction. Pluto Press, 1981.
Egoff, Sheila. Thursday's Child: Trends and Patterns in Contemporary Children's Literature. Chicago: American Library Association, 1981.
Ehlers, Mary and Mary Tighe, Sharon Creech, "The Words we Chose to Say," The Lion and the Unicorn, 30 (2007)
Ellerby, Janet Mason, "Fiction Under Seige: Rushdie's Quest for Narrative Emancipation in Haroun and the Sea Stories, Lion and the Unicorn, 22:2 (1998):311-20.
Ellis, Alec. How to Find Out About Children's Literature. Pergamon Press, 1973 (good guide on where & how to find information).
England, Sheryl. "Reading the Author in Little Women: A Biography of a Book, ATQ, 12:3 (1998): 199-219.
Estes, Angela M. and Kathleen Margaret Lant, "Dismembering the Text: The Horrof of Louisa May Alcott's Little Women, Children's Literature, Volume 17, ed. Francelia Butler, Margaret Higgonet, and Barbara Rosen. Yale UP, 1989: 98-123.
Estes, Glen E.,ed. Writers for Children Since 1960. Includes various volumes on types of books and literary biographies. University of Tennessee Press, 1986.
Fadiman, Anne. Ex Libris: Confessions of a Common Reader. NY: Farrar, Straus and Giroux, 1998.
Fenner, Phylllis, ed. Something Shared: Children and Books. New York: Day, 1959.
Fensch, Thomas. The Man Who Was Dr Seuss. Woodlands: New Century Books, 2001.
Fenwick, Sara Innis. A Critical Approach to Children's Literature. Chicago: University of Chicago Press, 1975.
Fish, Margaret. Who's Who in Children's Books. New York: Holt Rinheheart & Winston 1975.
Flibbert, Joseph T. "Dickens and the French Debate over Realism: 1838-56," Comparative Literature, 23:1 (1971):18-31.
Folklore and fable: Aesop, Grimm, Anderson. New York: Collier, 1999. A compilation of introductions, notes, and illustrations.
Foerrestell. Most Frequently Banned Books in America. Greenwood Press, 1990.
Foster, Shirley and Judy Simons. What Katy Read:Feminist Re-Readings of 'Classic' Stories for Girls. Univ of Iowa Pr, 1995. ISBN 0333626737.
Fraser, James H. Society and Children's Literature. Boston: Godine, 1978.
Gamel, Irene and Elizabeth Epperly. L. M. Montgomery and Canadian Culture. Toronto: University of Toronto Press, 1999.
Gangi, Jane. Encountering Children's Literature. Boston: Pearson, 2004.
Garber, Marjorie B. Vested Interests: Cross-Dressing and Cultural Anxiety. NY: Routledge, 1977.
Georgiou, Constantine. Children and Their Literature. NJ: Prentice Hall, 1969.
Gordon, Mary. Good Boys and Dead Girls: and Other Essays.. New York: Viking, 1991.
Greenwald, Marilyn. The Secret of the Hardy Boys: Leslie McFarlane and the Stratemeyer Syndicate. Athens: Ohio UP, 2004.
Griswold, Jerry. The Classic American Children's Story. Penguin, 1996.
Gross, Melissa, "Prisoners of Childhood: Child abuse and the development of heroes and monsters in Ender's Game, Children's Literature in Education, 38 (2007):115-26.
Gruner, Elizabeth Rose. "Cinderella, Marie Antoinette, and Sara: Roles and Role Models in A Little Princess, The Lion and the Unicorn, 22:2 (1998): 163-87.
Guide to Research: Literature for Children and Young Adults. Solid bibliography of reference and central books from Western Washington University, Bellingham, WA.
Guroian, Vigen. Tending the Heart of Virtue: How Classic Stories Awaken a Child's Moral Imagination. New York: Oxford University Press, 1998.
Halsted, Judith Wynn. Guiding Gifted Readers: from preschool to high school. Ohio Psychology Publishing, 1988.
Harris, John. Chaos, cosmos and Saint-Exupery's pilot hero: a study in mythopoeia. Tonawanda, NY: University of Scranton Press, 1999.
Heiferman, Marvin and Carole Kismaric. The Mysterious Case of Nancy Drew and the Hardy Boys. NY: Fireside, 1998. See Kismaric.
Henckle, Roger B. "The Mad Hatter's World," The Virginia Quarterly Review, Winter (1993): 99-117.
Hendrickson, Linnea. Children's LIterature: A guide to the Criticism. New York: 1987
Hettinga, Donald R. Presenting Madeleine L'Engle. New York: Twayne, 1993.
Hillman, Judith. Discovering Children's Literature. New Jersey: Prentice-Hall, 1995.
Hoffman, Miriam and Samuels, Eva. Authors and Illustrators of Child's Books: Writing on Their Lives and Works. R. R. Booker Co. 1972
Hildick, Wallace. Children and Fiction. NY: World Publishing, 1970.
Holbrook, David. Nonsense Against Sorrow: A Phenomenological Study of the 'Alice' Books. London: Open Gate Press, 2001.
Holt, John. How Children Learn. NY: Addison-Wesley, 1982.
Holtze, Sally Holmes, ed. Sixth Book of Junior Authors and Illustrators. New York: H.W.Wilson, 1989.
Hunt, Peter. Criticism, Theory, and Children's Literature. 1991.
-----------, ed. Understanding Children's Literature: Contemporary Criticism. London: Routledge, 1999.
Hurlimann, Bettina. Three Centuries of Children's Books in Europe. 1967.
Inglis, Fred. The Promise of Happiness. New York: Cambridge Univ Press, 1981.
James, Kathryn. Death, Gender and Sexuality in Contemporary Adolescent Literature. New York: Routledge, 2009.
Jenkins, Henry, ed. The Childrens' Culture Reader. New York University, 1998.
Jones, Jo Elwyn and Gladstone, J. Francis. The Alice Companion: A Guide to Lewis Carroll's Alice Books. New York: New York University Press, 1998.
Jones, Steven Swann. The Fairy Tale. New York: Twayne, 1995.
Keith, Lois. Take Up Thy Bed and Walk : Death Disability and Cure in Classic Fiction for Girls New York: Routledge, 2001.
Kincaid, James. "Laughter and Oliver Twist," Modern Language Association, 83:1 (1968):63-70.
Kismaric, Carole and Martin Heiferman. Growing Up with Dick and Jane: Growing Up and Living the American Dream. NY: HarperCollins, 1996. See Heiferman.
Klass, Perri. Reach Out and Read: Literary Promotion in Pediatrics. An Online Lecture.
Kohl, Herbert. Should We Burn Babar? Questioning Power in Children's Literature. New York: The New Press, 1995.
Langbauer, Laurie. "The Ethics and Practice of Lemony Snicket: Adolescence and Generation X," PMLA 122 (2007):502-21.
Larrick, Nancy. A Parent's Guide to Children's Reading. Philadelphia: Westminster Press, 1982.
Latham, Don. "Discipline and Its Discontents: A Foucauldian Reading of The Giver, Children's Literature, 32 (2004): 134-51.
Latrobe, Kathy H and Judy Drury, edd. Critical Approaches to Young Adult Literature. New York: Neal Schuman, 2009.
Lebduska, Lisa. "Rethinking Human Need: Seusss' The Lorax," Children's Literature Association Quarterly, 19:4 (1994):170-76.
Lee, Betsy. Judy Blume's Story. Minneapolis, Mn: Dillon Press, 1981.
Lesser, Wendy. Nothing Remains the Same: Rereading and Remembering. Boston: Houghton Mifflin, 2003.
Lewis, Claudia. Writing for Young Children. Garden City, NY: Anchor, 1981.
Lewis, C. W. C. S. Lewis: Letters to Children, edd. Lyle W. Dorsett and Marjorie Lamp Mead. NY: Touchstone, 1995.
Lurie, Alison. Boys and Girls Forever: Children's Classics from Cinderella to Harry Potter. New York: Penguin, 2003.
-------------. Don't Tell the Grown-ups: The Subversive Power of Children's Literature. Back Bay Books, 1998.
Lukens, Rebecca J. A Critical Handbook of Children's Literature. New York: Longmans, 1999.
Macdonald, Ruth. L. M. Montgomery. New York: Twayne, 1992.
Malinowski, H. Robert. "A Feminist Look at Children's Books," Feminists on Children's Media. A reference guide: Z1037.9 F45. 1974. See Literature for Children and Young Adults
Marcus, Leonard. The Wand in the Word: Conversations with Writers of Fantasy. Cambridge: Candlewick, 2006.
Mason, Bobbie Ann. The Girl Sleuth. Athens: Univ of Georgia Pr, 1995.
Martell, Nevin. Looking for Calvin and Hobbes: The story of Bill Watterson and His Revolutionary Comic Strip. London: Continuum, 2009.
May, Jill P. Children's Literature and Critical Theory. 1995.
McClure, Amy & Janice V Kristo. Children's Responses to Literature; Books that Invite, Talk, Wonder and Play. Urbana, Illinois: NCTE, 1996.
McGillis, Roderick. The Nimble Reader: Literary Theory and Children's Literature. New York: Twayne, 1996.
-----------------, ed. Voices of the Other: Children's Literature and the Postcolonial Context. NY: Garland, 2000.
------------------. A Little Princess: Gender and Empire. New York: Twayne, 1996.
McGinty, Alice B. Walk Two Moons. NY: Rosen Publishing, 2006. A biography of Sharon Creech.
McQuillan, Julia; Pfeiffer, Julie. "Why Anne makes us dizzy: reading Anne of Green Gables from a gender perspective," Mosaic: a journal for the interdisciplinary study of literature (University of Manitoba, Winnipeg), 34:2 (June 2001): 17-32.
Megaliff, Cecile. The Junior Novel: Its Relationship to Adolescent Reading. New York: Kennikat, 1964.
Meigs, Cornelia, Anne Eaton, Elizabeth Nesbitt,and Ruth Viguers. A Critical History of Children's Literature. NY: Macmlllan, 1969
Menand, Louis. "Cat People: What Dr Seuss Really Taught us," The New Yorker, 23 December 2002, pp. 12-18.
Mercier, Cathryn M. Twentieth-Century Children's Writers. Washington DC: St James Press, 1995
Mitchell, Sally. The New Girl: Girls' Culture in England, 1880-1915. Columbia University Press, 1995.
Monseau, Virginia R. Foreward by Chris Crutcher. Responding to Young Adult Literature. New Hampshire: Boynton/Cook, 1996.
------------------- and Gary M. Salvner. Reading Their World: The Young Adult Novel in the Classroom. NH: Boynton/Cook, 1992.
Morris, T. You're only young twice: Children's Literature and Film. Urbana: University of Illinois Press, 2000.
Nodelman, Perry. The Pleasures of Children's Literature. New York: Longman, 1992.
Nye, Russell. The Unembarrassed Muse: The Popular Arts in America. New York: Dial Press, 1970.
O'Keefe, Deborah. Good Girl Messages: How Young Women Were Misled by Their Favorite Books. New York: Continuum, 2000.
Oppenheimer, Mark. "Children's Books: Why Judy Blume Endures," New York Times, November 16, 1997.
Pollack, William. Real Boys: Rescuing Our Sons from the Myths of Boyhood. Owl Books, 1991. Introductory essay by Mary Pipher.
Prager, Arthur. Rascals at Large: the Clue in the Old Nostaglia. New York: Doubleday, 1971.
Pugh, Tyson, "What, Then, Does Beatrice Mean? Hermaphroditic Gender, Predatory Sexuality, and Promiscuous Allusion in Daniel Handler/Lemony Snicket's A Series of Unfortunate Events, Children's Literature, 38 (2008).
Pyle, Wilma J. "Sexism in Children's Literature," Theory into Practice, 15 (1976):116-19.
Pyles, Marian. Death and Dying in Children's and Young People's Literature. London: McFarland, 1988.
Quindlen, Anna. How Reading Changed My Life. NY: Ballantine Books, 1998.
Reed, Arthea J.S. Comics to Classics: A Parents Guide to Books forTeens and Preteens. International Reading Association, 1988.
Reichstertz, Ronald. The Making of the Alice Books: Lewis Carroll's Use of Earlier Children's Literature. Canada: McGill-Queen's UP, 1997.
Roberts, Donald and Ulla G. Foehr. Kids and Media in America. Cambridge: Cambridge UP, 2004.
Roberts, Lewis. "Nightmares, Idylls, Mysteries, and Hope:" Walk Two Moons and the Artifice of Hope in Children's Fiction," Children's Literature in Education, 39:2 (2008).
Rostankowski, Cynthia, "The Monastic Life and warrior's quest: The middle from the viewpoint of animals in Brian Jacques's Redwall novels," The Lion and the Unicorn, 27:1 (2003):83-98.
Frank Rogers's Guide to Children's Literature on the Web. Includes bibliography, multi-cultural children's literature, folklore and fairy tales.
Rose, Jacqueline. The Case of Peter Pan, or The Impossibility of Children's Fiction. University of Pennsylvania Press, 1993.
Rudman, M. K. Children's Literature: An Issues Approach. London: Longmans, 1984.
Rushdie, Salman and Davia Nelson, "Salman Rushdie and the Sea of Stories," American Theatre, 20:3 (2003):26-40.
Russell, D. L. Literature for Children: A Short Introduction. New York: Addison Wesley Longman, 2001.
Sale, Roger. Fairy Tales and After. London: Harvard Univ Pr, 1978.
Saxby, Maurice. Books in the Life of a Child. South Melbourne: Macmillan Education Australia, 1997.
Schakel, Peter J. Reading with the Heart: The Way Into Narnia. Grand Rapids: William B Ferdmans Publishing, 1979.
Schwartz, Lynne Sharon. Ruined by Reading: A Life in Books Boston: Beacon Pres, 1996.
Schultermandl, Silvia. "Rewriting American democracy: language and cultural (dis)locations in Esmeralda Santiago and Julia Alvarez," Bilingual Review, 28.1 (2004):3ff. This is narrative and study which dissects and compares When I was Puerto Rican by Esmeralda Santiago, An American Childhood in the Dominican Republic, and How the Garcia Girls lost their Accent, both by Julia Alvarez in relation to where youre from? and where youre at? This is an analysis of the three books taken from an anthropological and sociological viewpoint.
Silvery, Anita. The Essential Guide to Children's Books and Their Creators. New York: Houghton Mifflin, 2002.
Smith, Lillian. The Unreluctant years. Chicago: American Library Ass, 1953.
Smith, Mark. Aslan's Call: Finding Our Way to Narnia. Intervarsity Press, 2005.
Smoodin, Eric. Disney discourse : producing the magic kingdom. New York : Routledge, 1994. On Disney films, books, and other products.
Sprague, Marsha M and Kara K. Keeling. Discovering Their Voices: Engaging Adolescent Girls with Young Adult Literature. NY: International Reading Association, 2007.
Spufford, Francis. The Child that Books Built. New York: Metropolitan, 2002.
Sutherland, Zena and May Hill Arbuthnot, edd. Children and Books. New York: Harper Collins 1991.
Stafford, Jane, "Tell Fairy Stories to Your Children," The Science Newsletter, 26:708 (1934):278-79.
Steinberg, Shirley and Joe L. Kincheloe. Kinderculture: The Corporate Construction of Childhood. Westview Press, 1997.
Stephens, Sharon, ed. Children and the Politics of Culture Princeton University Press, 1995.
Stubbs, Gordon, Ralph Ashley, Egoff, Sheila, et alia, ed. Only Connect: Readings in Children's Literature Chicago: American LIbrary Association, 1981.
Szadiuk, Maria, "Culture in Transition: Becoming a Woman in a Bi-ethnic Space," Mosaic 32:3 (1999):109-29. The House on Mango Street by Sandra Cisneros, When I was Puerto Rican by Esmeralda Santiago and Loving in the War Years by Cherries Moraga are analyzed.
Townsend, John Rowe. Written for Children. 4th edn. 1992.
Trites, Rebecca Seelinger. Power and Repression in Adolescent Literature. University of Iowa Press, 2004.
-------------------------. Waking Sleeping Beauty: Feminist Voices in Children's Novels. University of Iowa Press, 1997.
Tucker, Nicholas. The Child and the Book. Cambridge: At the University Press, 1981.
Viguers, Ruth H., Dalphin Marcia, and Miller, Bertha A. Illustrators of Children's Books. Boston: The Horn Book, 1958.
Vandergrift's Readings in the History of Children's Literature. Excellent bibliography. Includes

Allen, Ruth. Children's Book Prizes : An Evaluation and History of Major Awards for Children's Books in the English-speaking World. Aldershot, Hants, England ; Brookfield, VT: Ashgate, 1998.
Avery, Gillian E. Behold the Child: American Children and Their Books 1621-1922 Baltimore, MD: Johns Hopkins University Press, 1994.
Avery, Gillian E. Childhood Patterns: A Study of the Heroes and Heroines of Children's Fiction, 1770-1950. London: Hodder and Stoughton, 1975.
Billman, Carol. The Secrets of the Stratemeyer Syndicate: Nancy Drew, The Hardy Boys, and the Million Dollar Fiction Factory. New York: The Unger Publishing Co., 1986.
Cadogan, Mary, and Craig, Patricia. You're a Brick, Angela! A New Look at Girls' Fiction from 1839 to 1975. London: Gollanez, 1976.
Carpenter, Charles. History of American Schoolbooks. Philadelphia, PA: University of Pennsylvania Press, 1963.
Companions of Our Youth: Stories by Women for Young People's Magazines 1865-1900. Edited by Jane Benardete and Phyllis Moe. New York: Frederick Ungar, 1980.
Darling, Richard L. The Rise of Children's Book Reviewing in America, 1865-1881. New York: R. R. Bowker Co., 1968.
Frey, Charles and John Griffith. The Literary Heritage of Childhood: An Appraisal of Children's Classics in the Western Tradition. Westport, CT: Greenwood Press, 1987.
Gumuchian, Kirkor. "From Piety to Entertainment in Children's Books," American Scholar. Volume 10, No. 3 (Summer 1941): 337-350.
Lundin, Anne. "In A Different Place: Feminist Aesthetics and the Picture Book," in Ways of Knowing: Literature and the Intellectual Life of Children. ed. By Kay E. Vandergrift. Lanham, MD: Scarecrow Press, 1996, pp. 203-231.
MacCann, Donnarae. White Supremacy in Children's Literature : Characterizations of African Americans, 1830-1900. New York : Garland Pub., 1998.
Neuburg, Victor E. The Penny Histories: A Study of Chapbooks for Young Readers Over Two Centuries. New York: Harcourt, Brace and World, 1969.
Rahn, Suzanne. Children's Literature: An Annotated Bibliography of the History and Criticism. New York: Garland, 1981

Walkerdine, Valerie. Daddy's Girl: Young Girls and Popular Culture. Harvard University Press, 1998.
Waller, Alison. Constructing Adolescence in Fantastic Realism. New York: Routledge, 2009.
Walvin, James. A Child's World. New York: Penguin, 1982. There is one chapter on children's books.
Westfahl, Gary. Science Fiction, Children's Literature and Popular Culture: Coming of Age in Fantasy Land. Westport, Conn: Greenwood Press, 2000.
Weeks, Linton. "The Bear Essentials: Berenstain Philosophy Sells, Even If Some Don't Buy It, " The Washington Post, May 13, 1996.
Weston, Drew. Psychology, Mind, Brain and Culture, ed. Christopher Rogers. 2nd Edition. New York: John Wiley, 1996. This book examines learning methods and behavioral patterns.
Wojcik-Andrews, Ian. Children's Films : History, Ideology, Pedagogy, Theory, Children's Literature and Culture, Volume 12 . Garland, 2000.
Wood, Michael. "The Confidence Man", New Society, 50 (December 20-27, 1979): xiv-xvi. Focuses on Roald Dahl.
Wullschlager, Jackie. Hans Christian Anderson: The Life of a Storyteller. Chicago: Univ. of Chicago Press, 2002.
Zipes, Jack. Happy Ever After: Fairy Tales: Children and the Culture Industry. New York: Routledge, 1997. This book also examines the impact and uses of fairy tales in popular film versions.
----------------. The Brothers Grimm. New York: Routledge, 1988.
Literary Databases at GMU
Go to the George Mason University Library's Article Database. Click on "Arts and Humanities". Scroll down and click on "Literature Resource Center" Type in your password. Then click on "authors by type." Then type your author's last name. You can also type in keywords (subject) and titles of books (i.e., children's literature, detective stories, boys' books, girls' books). There is an MLA Bibliography to click on too.
---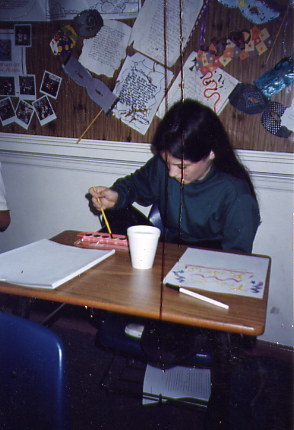 Izzy, Painting in Middle School
---
Contact Ellen Moody.
Pagemaster: Jim Moody.
Page Last Updated: 30 March 2005.