Ghosts and l'écriture-femme
Phantom Coach
by Amelia B. Edwards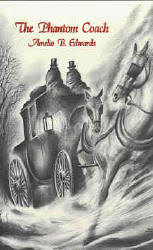 Reply-To: trollope-l@egroups.com
Subject: [trollope-l] Amelia Edwards's 'The Phantom Coach'
Ellen, thanks for the recommendation of Amelia Edwards' "The Phantom Coach," and thanks to Wayne for finding it on line for us.
There is a current mystery series set around the 1890s-1900s about a female archeologist and her family. The heroine is named Amelia and I have heard that this was an homage to Amelia Edwards. The author is shown as Elizabeth Peters (also writes as Barbara Michaels) and is an Egyptologist herself.
Dagny
Date: Tue, 19 Dec 2000
Reply-To: trollope-l@egroups.com
Subject: [trollope-l] Amelia Edwards's 'Phantom Coach'

People might like to know that this story was written for the Christmas market: it was first published in the Christmas number for 1864 in Charles Dicken's popular journal, All the Year Round.
Like Gaskell's "Old Nurse's Story," the cold snow and death everywhere are central to it. Vulnerability of people, their frailty. A world of cold whiteness.
But it differs considerably from Gaskell's story -- and A Christmas Carol. It's not about families. It's about an isolaed individual and projects an anti-scientific perspective. At its center is a scientist who has cut himself off from society. As in Frankenstein, one 'moral' that can be inferred is that a single minded pursuit of anything which cuts you off from others you are bonded to is dangerous, perverse, will make you inhumane.
However, as a ghost story it is typical in its rejection of the scientific mind. Oliphant has a lot of sardonic fun with physicians in a couple of hers (e.g., "The Open Door"). She scares her poor character out of his wits, though, realistically, by the end of the story he is back to his complacencies again. The nervous apprehension passes.
What's odd about 'An Engineer's Story' is its emphasis on the modern and technological. Dickens's 'The Signalman' turns the train into a fearful embodiment of a force, the signalman into a sort of deeply troubled, disquieted troll. In Edwards's story it is all daylight mind. Actually I agree with Gwynn: the interest of the story is in the implicitly homosexual (homosocial is nowadays the preferred word) relationship between the two men. I have wondered whether Edwards was a lesbian; she likes to identify with men characters, and women don't appear in her fictions very often or very flatteringly. She's very like Willa Cather in this regard, and Cather was lesbian.
I suggest the story paradoxically emerges from a learned woman who travelled much alone and studied much across vast landscapes.
Cheers to all,
Ellen Moody
Reply-To: trollope-l@egroups.com
Subject: [trollope-l] Amelia Edwards
Dear Trollope-l friends,
A little more on Amelia Edwards.
In John Sutherland's The Stanford Guide to Victorian Fiction: you learn about her realistic fiction, career as a journalist, and how she came to be passionate Egyptologist. She lived with a female friend for many years, and supported female suffrage. In The Penguin Encyclopedia of Horror and the Supernatural edited by Jack Sullivan, you learn about her as a master of the Victorian ghost story who wrote 1 novella and 16 short stories. Sullivan picks out as her piece de resistance 'The Phantom Coach (sometimes called 'The Death Coach' or 'The North Mail').
I first read it with a class this summer; it's reprinted in M. Cox and R. A. Gilbert's Oxford Anthology of English Ghost Stories. The one also talks of 'An Engineer's Story' (another name for 'An Engineer'). The one collection is A Night on the Borders of the Black Forest.
Edwards is superb at the creation of atmosphere, a sina qua non of the supernatural. She often also tells of how emotions persist, meaning people don't forgive nor forget what they deem to be harm done to them very easily. Like other women writers of ghost stories, she is keenly psychological in her approach.
Fom perusing anthologies of ghost and supernatural fiction: you often find a story by her in such volumes. One reason her stories often have different names is there has been no collected edition. Gothic and ghost stories are still not quite respectable you see.
Cheers to all,
Ellen
From: Michael Flowers


2 of Amelia Edwards's novels should still be in print - "Barbara's History" and "Hand & Glove" (Rubicon Press). They are still listed on amazon uk. The former has similarities to both "Jane Eyre" and "David Copperfield" & follows the fortunes of a young female allied to a fashionable bigamy plot. I haven't had chance to read "Hand & Glove" yet, but it apparently contains an erotically charged portrait of a dangerous young man, quite unique for its time. I've also read "In the Days of His Youth" which contains a vivid bathing scene where the male narrator expresses disgust at the naked male bathers - described in some detail for the time! Edwards was a fascinating character, but unfortunately gave up novel writing for founding the Egypt Exploration Fund (or something similar). Her brilliant ghost stories have been collected fairly recently as "The Phantom Coach & Other Ghost Stories" (Ash-Tree Press)

Re: Travel Writing Women who are into ghost stories also travel a lot :).

I took out of GMU library a richly illustrated edition of Edwards's A Thousand Miles Up the Nile, London, 1890. It's publish on heavy paper and looks ripe with information and what before Said would once have been called as oriental romance :).

Ellen

From my class lecture in "Ghosts and Gothics, Romance and the Supernatural:"

THE PHANTOM COACH

Biography-critical: Amelia Edwards.
Her years are 1831-92. We begin to move into the mid-, and later 19th century when we read her tales. She was a novelist, short story writer and Egyptologist. Late in life she travelled to Egypt and was so thrilled, she became passionate enthusiast and founded important archaelogical and exploration societies.

She is a woman writer. Very common that women writers turn to ghost stories and gothics. She wrote them for Christmas market. Her novels are realistic with believable characters against a backdrop of historical and social realities.
'Phantom Ghost' was a Christmas story, first published in Christmas number of of Charles Dicken's popular journal, All the Year Round, in 1864.
Who is the scientist in the house who at first seems to rescure and succour the narrator, but then sends him out on a fool's errand? How many people died in the coach accident? Four. How many are in there? Three.

Note how the house comes rising out the mist, how solitary. Important theme in Frankenstein is idea that single minded pursuit of anything which cuts you off from others you are bonded to is dangerous, perverse, will make you inhumane. Frankenstein, p. 'A selfish pursuit had cramped and narrowed me, until your [Clerval's] gentleness and affection warmed and opened my sense.' Frankenstein looking back, 'A human being in perfection ought always to preserve a calm and peaceful mind, and never to allow passion or a transitory desire to disturb his tranquillity. I do not think that the pursuit of knowledge is an exception to this rule. If the study to which you apply yourself has a tendency to weaken your affections, and to destroy your taste for those simple pleasures inwhich no alloy can possibly mix, then that sutdy is ceritnaly unlawful, that is to say, not befitting the human mind', Penguin, p. 54. There speak Mary Shelley jealous of Shelley's passion for poetry; but it is an impossible demand; what are these simple pleasures? Family life? Still attitude here is that of Shelley's Frankenstein. Distrust of solitary self. Distrust of learning.

Very effectively written. What is narrator's name? We are only told once. We could keep a record of how many stories we are going to come across where we are not told narrator's name. What is effect of this? Why? Makes it more impersonal and yet closer as we have no barrier between the self speaking and us. Imagery of hell juxtaposed to imagery of ice and snow ('far off cries'). Wonderfully achieved atmosphere. But climax of seeing corpses again is misleading; corpse was man in whose house he sat and ate. Where did he come from?

Seems a strong punishment for our poor narrator who simply stayed out too late?
---
Home
Contact Ellen Moody.
Pagemaster: Jim Moody.
Page Last Updated 31 January 2005