Ghosts and l'écriture-femme
The Lost Ghost
by Mary E. Wilkins Freeman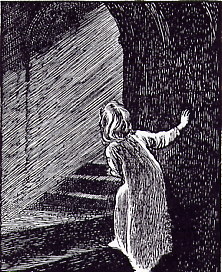 (from Forrest Reid, Illustrators of the Eighteen Sixties, 1928, p. 89)
To Trollope-l
Re: Mary E. Wilkins Freeman
December 14, 2001
Mary E. Wilkins Freeman wrote our next ghost/Christmas short story. She is not primarily a ghost story or gothic writer and would be a wonderful candidate for one of our Victorian reading groups. With the feminist movement, her work has happily had a revival -- and stayed in print. She is sometimes found reprinted in the same volume as Sarah Orne Jewett. Both are American women who wrote realistic fiction -- very much in the spirit of Hamlin Garland whose Main Travelled Roads was once a famous book. If you have read Main Travelled Roads and liked it you have some feeling for Freeman. One reason Freeman does not cross the threshold into "popularity" is her best work is in short fiction, especially the short story. The later 19th and early 20th century is a period of prolific magazines and therefore much short fiction.
Freeman's years are 1852-1930. She was extremely poor when young, married very late in life and prized the security of a financial home. She told stories of middle aged women which might not sound appetizing but her novels sold. She is a compassionate realist with a strong simple style and really entered into the psychological imprisonment and longings of women's lives. She won a bunch of awards for her depiction of New England life. Her first success was a novel called A Humble Romance; she favors titles like Silence and Other Stories, The People of our Neighborhood.
My students really liked her "The Lost Ghost".
If I ever could find time to do a subgroup myself I would do her short stories together with Sarah Orne Jewett's The Country of the Pointed Firs which exists as a Signet paperback.
I know we've had one perhaps two people join our list this week; I wonder if they have the time could they be good enough to introduce themselves. Ellen
Date: Sat, 15 Dec 2001
Re: Mary E. Wilkins Freeman
To Trollope-l
Dear all
Following Ellen's introduction on Mary E Wilkins Freeman, here is a little bit more information which I've taken from the excellent LitGothic site, which is also the site which has the etext of the story :
Freeman is often regarded (read "devalued") even today as a New England regionalist, perhaps because so much of her work was staunchly realist in its depiction of life in decaying New England hill towns. Her reputation went into decline for much of the mid-C20, for her "feminine" subjects were often dismissed by critics as simply unimportant in the context of larger world events. More recent scholarship has argued convincingly for the importance of Freeman's work, which often does feature spinster heroines or—especially in some of her more well-known ghost stories—abandoned children (this "forlorn child" theme is widely thought to be Freeman's working out of her own feelings regarding the death, at age seventeen, of her sister). Freeman's ghost stories have only recently begun to attract appreciative critical attention, and there remains considerable opportunity for further investigation of these works, which in their combination of pragmatism and supernaturalism are very much in the tradition, going back to Charles Brockden Brown, of an "Americanized" Gothic. More particularly, these stories are powerfully illustrative of the claim that many female writers of the time used the ghost story as a means of examining, indirectly, many of the social, personal, and economic pressures which often silenced or devalued women and their concerns.

A few of Freeman's ghost stories are still anthologized, perhaps most notably "Luella Miller" and "The Wind in the Rose-Bush."
Here's a link to the LitGothic site http://www.litgothic.com/Authors/f.html#freeman
You can follow a link from there to a site about a film version of 'The Lost Ghost' which was made in 1995. Has anybody seen this adaptation? I haven't heard of any of the cast, but the colour stills on this site look beautiful and full of atmosphere.
I also found another site with links to many e-texts of Freeman's short stories. The site includes several photographs of her and a link to a radio play of another of her stories, 'Louisa'.
http://www.gonzaga.edu/faculty/campbell/enl311/freeman.htm
Bye for now
Judy Geater
Re: Mary E. Wilkins Freeman: A Grand Website
I went over to the website Judy recommended -- and thank you to Kristi too. I see that a large number of Freeman's works are on the Net in the form of good etexts.
So Freeman is today regarded as a equally a ghost story writer. Her list of supernatural tales is not short. For those who have read the story, the stills from the film adaptation are lovely -- even if you've not, the film-makers have captured scenes of late 19th and early 20th century America, especially the rambling Edwardian house. I have never heard of the film. All my information came from that old-fashioned source: a book :)
One qualification: the site calls "Luella Miller" a famous ghost story. Famous it is; a ghost story it's not. It's a fierce vampire tale; I read it with my students this past summer in The Penguin Book of Vampire Tales. It's chilling and bloody -- and at the same time reveals the frustrations of women at the time, cut off from sexual fulfillment and inwardly raging.
Ellen
Re: Mary E. Wilkins Freeman's "Lost Ghost"
Here are a few thoughts to start us off:
Judy talked about the parallels between Bascom and Skeggs and last week we had a triple figure of Jenning/Hesselius/& an unnamed narrator who-has-had-two-fingers-bitten-off-one-hand.
"The Lost Ghost" is intricately structured as stories within stories, parallels within parallels, calling to mind our ladies' crocheting:
We begin with two women who sit down in rocking chairs to sew and to talk together. Mrs Rhoda Meserve tells Mrs John Emerson a story connected with a fine house, the Sargent place. It's been let. We hear that the house is haunted. One might think the story behind this haunting would now emerge. Not so. Instead Mrs Meserve begins to tell us how when she was a young girl she was taken to live in the house and tells us the story of another pair of ladies: a Mrs Amelia Dennison and her sister, Mrs Abby Bird. We are going to be told what Mrs Meserve experienced long ago -- not the sotry behind this haunting -- or at least we are not going to be told it yet.
So we go backwards in time (a mild long ago) to before Mrs Merserve was married. She tells of her she lost all her family (every one it seems) and then witnessed a young child ghost take away the kindest and most vulnerable of the three in the house: Mrs Abby Bird, herself childless. Not until three-quarters of the way through the story do we hear how this child ghost came to be in the house and why she can't find her mother. There's a slightly bewildering moment when the first person narrative twists into unreality as the voices of Mrs Bird and Mrs Dennison (as recited by Mrs Meserve) in the past intermingle with those of Mrs Meserve and Mrs Emerson in the present. Wheels within wheels -- like Le Fanu's procedure. Or in Frankenstein where one narrator is telling us what another narrator told him and along the way letters are quoted (whole). Umberto Eco has great fun with this endless regression in the opening of The Name of the Rose.
In this story it throws our attention on Mrs Bird and Mrs Dennison who certainly did nothing to deserve their fate. It deflects us from the dark tale in the center -- and the dark Rebecca-like figure (I refer to Daphne DuMaurier's book) who was the child's mother.
Another angle:: The story becomes interesting if as in Le Fanu's tale and Hesselius, you begin to wonder about the ghost, where it came from, and why it should want to take Mrs Bird away? Is it a spirit of health or a goblin damned? Now Mrs Dennison is alone; Mrs Bird is dead. Cold gusts of air accompany the child.
My guess is the film did two things: as most film adaptations do it unravelled the time scheme to some extent, made it move progressively forward with say but one flashback. And it presented the child simply sympathetically. To do that is to lose sight that it is not a child. It is a chilling nagging fearful presence who took Mrs Bird away.
Non sequitor not without interest in getting a feel for the "milieu" of this middle class village in New England 'The Lost Ghost' was first published in 1903.
Cheers to all,
Ellen
Date: Sun, 16 Dec 2001
Re: Freeman's "The Lost Ghost"
To Trollope-L
Dear all
I'd written most of this posting last night but waited until today to finish it off, and have just seen Ellen's introduction - many thanks for this. I hadn't read anything by Mary Wilkins Freeman before 'The Lost Ghost' and have to say I found it truly chilling - more so than many other Gothic tales I have read. I think this is because the story's deepest horror is the death of a young child, something unbearable to think about.
To be honest, I can't say I really enjoyed it, because the subject matter is so dark, but I certainly found it compelling and had to read the whole story at one sitting. Did other people see it in the same way?
At the start it seems deceptively gentle and humorous - Ellen and Dagny mentioned Sarah Orne Jewett's 'Country of the Pointed Firs', and I can see there are similarities in style. But all the gossip and warmth of the opening fade into the background when Rhoda gets into her story. This is yet another ghost story which is not presented to us straight, but filtered through second-hand, as we hear Rhoda speaking to her friend. It seems as if very few ghost stories are simply told in the first person - normally we need this sort of complicated surrounding narrative to help us to suspend our disbelief.
The tale reminded me of Gaskell's 'The Old Nurse's Story', which we read last Christmas on the list, because there is the same truly haunting image of the child/spirit in thin clothing, trying to get into the warm but apparently doomed to remain forever out in the cold. In Gaskell's story the child is always seen outside, through the glass - in this tale, by contrast, the child is in the house and almost in Rhoda's grasp. Almost, but not quite. She slips through the fingers of the kindly women who would like to help her and soothe her cries.
Usually, if children die in Gothic stories, or at least in those I've read so far, it is clear that their mothers have fought all the way to save them. There are quite a few cases of infanticide, but it is unusual to see a mother kill an older child.The mother in 'The Old Nurse's Story' tries to keep her child warm and alive, until eventually the two are both killed. And in the long central dream sequence in Dickens's 'The Chimes', which we're currently reading over on Inimitable-Boz, the desperate mother jumps into the river with her baby in her arms - again, they die together.
By contrast, in 'The Lost Ghost,' it is the mother who heartlessly abandons her own child, leaving the little girl at home alone to die. I have a feeling this sort of callousness is probably very unusual in 19th/ early-20th-century fiction (indeed, in fiction of any period), and it is certainly disturbing. I'd say this is probably every parent's darkest nightmare, the idea of causing the death of your own child.
It's striking (and again disturbing) that the mother kills her daughter in order to go off with her married lover. I wonder if this is pushing to a terrible conclusion the idea that a good mother was not supposed to be sexually active. Many mothers in novels and stories of the period refuse any sex life in order to protect their children - for instance, the heroine of Gaskell's 'Ruth' becomes almost a nun, devoting herself to her son almost as a religion. The unnamed mother in 'The Lost Ghost' does the opposite, leaving her child to die so that she can be sexually active.
Another disturbing detail is that the mother forces the little girl to do all the housework. This relates back to the wicked stepmother in fairy stories like 'Cinderella' (this story would somehow be easier to take if the wicked mother were not really the girl's mother). But it also again shows the mother rejecting her domestic role, foisting it on to her child, her victim.
Towards the end of the story, I found myself thinking it was throroughly depressing and too dark to bear. However, unusually, it has a potentially happy ending - or, at least, an ending which can be seen as satisfying on one level. This is when Abby dies and becomes the surrogate mother of the little waif, who does not have to search for her mother any more. The little girl stops haunting the house after Abby takes her hand and they are seen walking along together.
This reminded me of 'Wuthering Heights', where Cathy - another ghost who wants to come in from the cold - only finally finds rest when she is reunited with Heathcliff. However, as Ellen pointed out, there is a question mark over whether the ghost is really a child at all, whether she/it is "spirit of health or goblin damned". Either way, the ghost draws away Abby to her death, and seen in this light, the ending is not happy at all.
Do others have views on this story?
Bye for now
Judy Geater
Re: Freeman's Story of the Transgressive Mother

When Judy analyzes what she finds disturbing about this story as usual she goes to the heart of the matter. She first suggests it is the cruelty to the child -- yet she knows this is a common motif in 19th century fiction. So she goes on to contrast the usual portrayal of such cruelties (in David Copperfield it is Mr Murdstone who is the nightmare figure and we are to console ourselves that the mother would have protected the child had she the rpower) and thinking a bit more she writes:
"By contrast, in 'The Lost Ghost,' it is the mother who heartlessly abandons her own child, leaving the little girl at home alone to die. I have a feeling this sort of callousness is probably very unusual in 19th/ early-20th-century fiction (indeed, in fiction of any period), and it is certainly disturbing. I'd say this is probably every parent's darkest nightmare, the idea of causing the death of your own child.

It's striking (and again disturbing) that the mother kills her daughter in order to go off with her married lover. I wonder if this is pushing to a terrible conclusion the idea that a good mother was not supposed to be sexually active. Many mothers in novels and stories of the period refuse any sex life in order to protect their children - for instance, the heroine of Gaskell's 'Ruth' becomes almost a nun, devoting herself to her son almost as a religion. The unnamed mother in 'The Lost Ghost' does the opposite, leaving her child to die so that she can be sexually active."
This sort of callousness is not unusual in later 18th through 20th century gothic. At the heart of the gothic is the sexually active transgressive woman and she is continually portrayed as a cruel mother figure. She is often displaced and becomes the child's aunt. Behind it is a fear of the sexually active woman: she is presented as a devourer. The ultimate female in this fantasy in our 20th century literature who has become famous is the first Mrs de Winter, Rebecca. Note too how she is marginalized: we have to go deep into the story and finally about 2/3s of the way through are finally told of her at second hand by the man who murdered her because he could not stand her sexuality.
The two most famous gothic romances of the later 18th century are Radcliffe's Mysteries of Udolpho and Lewis's The Monk. People endlessly mock the curtain behind which Emily finds a skeleton: they fail to tell the story which is of a woman who was sexually transgressive until she found her punishment -- which is terrible. They mention as if it were by-the-bye that Emily's aunt turns her over to Montoni. In The Monk, the monk is led astray by a sexually devouring female who turns into a fiend. The first gothic play is Walpole's Mysterious Mother: guess what? she's incestuous, mean cold and malicious to her children.
This motif has been written about by Freudian critics, but what can be left out is that this female enacts what the passive female wishes she could enact. The second Mrs de Winter longs to be what Rebecca was, and she ends up imprisoned by her husband, slave to his guilt and his repressed existence, a way of life Rebecca refused. As the males in gothic let loose their sexual aggression, so the females. A corollary of the sexually aggressive female is not only the passive masochistic one, but the father/daughter pair. Van Helsing in Dracula is father to Mina who serves Dracula; Lucy is punished, becomes a devouring vampire because she was sexually aggressive inherently. In Gaskell's story after all the women were fighting over a man; the child was a bye-blow of what happened: only the elderly unsexualized nurse cares. If you begin to go through these gothics you find this dark female matching the more prominent dark male repeatedly, and one could argue that Dickens's way of presenting Mrs Murdock is a front. After all is she not enjoying herself with this male? What are she and Mr Murdstone getting up to at night?
One of the more painful statistics that are sometimes printed in studies is the connection between severe child abuse and a woman who goes to live with a man who is not father to her children. I rush to say that by no means are couples where the father is not the biological father going to abuse a child, but the statistics here point to a pattern Dickens first dramatizes in DC.
I do hasten to say that anedotal evidence (sometimes all you can have) suggests that in real life today young women stay because if they bring their children to an abuse center, the children are often removed from their care. They may themselves also be treated as suspects. They do not get respect. I remember that Mrs Clinton in her hypocritically pious book would take children away from welfare mothers as not worthy these children, as throwing them away. Mrs Clinton spoke of children as an "investment." The helpless powerless woman who is the abused type is caught inbetween these inhumane or obtuse points of view. Young women in such situations in hospital commit suicide.
Back to the later 19th century: Then the young woman would hide out of shame.
Often times Victorian fiction is far more conservative, especially when realistic than 18th century fiction. We could ask, Why should a woman have to give up her sex life to be a good mother? Thackeray apparently never asked himself this question when he invented Helen. While there is a real conflict of interest between a woman and her child -- one our society likes to pretend is not there but is seen most strongly in childbirth -- most of these stories show the child as not endangering the mother but rather her husband enraged at her and murdering her. Which is what happens at the dead's-eye center of "The Lost Ghost"
I also don't see the mother as deliberately killing the child. We are not told that. She just abandoned her -- it's indifference or even a shrug, thinking she will be found. There is a long history of such "infanticide" in Europe: when women had children out of wedlock they abandoned them for they would be ostracized, punished and end up very poor. (Not everyone can write a Harry Potter to get off welfare.) Today in the US with abortion becoming more difficult and teenage pregnancies very common stories abound with teenagers giving birth to a child anywhere and leaving the baby somewhere or other. It's the story of Hetty at the heart of Adam Bede -- she came back; she was only half-conscious when she buried it. We should after all remember we never hear the woman at the center tell her story.
This kind of gothic has been called the female gothic; once again people have a way of concentrating on the passive member of the doppelganger (the second Mrs de Winter) and saying aloud how they despise this wimp or feel sorry for her (Mrs Bird) without ever mentioning how in their heart they enjoyed the aggressive half (Rebecca) who they longed to be, whose life they longed to enact.
This story is about the woman, the enigmatic sexually active mother who chose the boyfriend and free life over the child and being someone's self-sacrificing wife -- and she is contrasted to Mrs Abby Bird who couldn't have a child and who is clearly not sexually active any more. To me the most disturbing element in the story is the treatment of Mrs Bird. She is the Maria, the Mr Jennings of this story. I didn't see the ending as potentially happy: Mrs Bird dies; she has been terrified by this ghost. Mrs Dennison is left alone. Mrs Meserve doesn't tell us what happened to Mrs Dennison. And remember the house is still haunted. Apparently this child-goblin was not satisfied with her prey. We don't know that Mrs Bird or Mrs Dennison found rest -- in Wuthering Heights it's left ambiguous; the film adaptation does show us the spirits going off together in exultation.
It is very common to have the gothic core of the story kept from us at several removes: this story resembles "Green Tea" in that way. There is some affirmation here -- as there is in "Shadow in the Corner" and I find it in the kindness and sensitivity of Mrs Bird -- but as with "Shadow in the Corner" it seems precisely these qualities upon which peace and security and kindness and all that could make life worth living are precisely those which make the person vulnerable to the grasping of the dead who come back to obsessively repeat a pattern of behavior which showed them longing for something which was not satisfied.
I didn't find the story so dark and depressing probably because it's so aestheticized; because it is fantasy -- I don't believe in ghosts and see fantasy of this type as continually balancing between belief and disbelief. If I were to mention a story I did find almost unbearable it would have to be one which was direct, aggressive, not shaped to delicate patterns (which this is) and which was utterly believable at all points. My example would be Edith Wharton's Ethan Frome which I never want to reread again.
Ellen
Date: Tue, 18 Dec 2001
Re: Freeman's "The Lost Ghost"
I really loved this story. The fact that the story is told mainly in the form of dialogue (monologue, really) and that the speech is utterly convincing, made the story all the more intimate and real. I felt as if I were "settin' by the fire" doing some crochet work or tatting, listening to a friend telling a story. (As an avid sewer, I must say that part of the fun of doing needlework is sitting with a group of women and chatting. I hate the derogatory way in which the phrase "sewing circle" is used. Communal sewing lends itself to intimate story telling - something Trollope uses by the way. Think of the petticoat sewing ladies!)
Let us consider this paragraph from "The Lost Ghost:"
"Well, I opened the door and the first thing I noticed was a draught of cold air, as if the front door downstairs was open, but there was a strange close smell about the cold draught. It smelled more like a cellar door that had been shut up for years, than out of doors. Then I saw something. I saw my coat first. The thing that held it was so small that I couldn't see much of anything else. Then I saw a little white face with eyes so scared and wishful that they seemed as if they might eat a hole in anybody's heart. It was a dreadful little face, with something about it which made it different from any other face on earth, but it was so pitiful that somehow it did away with a good deal with the dreadfulness. And there was two little hands spotted purple with the old, holding up my winter coat, and a strange little far-away voice said: 'I can't find my mother.' "
This paragraph was striking. The voice of the narrator rings entirely true. The mode of speech, the colloquialisms, the rhythms, all made me feel as if this was a real turn of the century woman trying to tell a bizarre story. The ghostliness of the story is made more intimate by the fact that we feel we are eavesdropping on two ordinary women. The fearfulness of the ordinary is more powerful than the graphic gore spattered all over film screens these days. The story reminded me of a short story we read in High School, A Jury of Her Peers. Does anybody else know that story? A short film was made of this story. I saw it on PBS and it was marvelous - very simply and inexpensively done.
The use of regional dialect in The Lost Ghost reminded me of Steve King's short stories. King uses the dialogue and settings of rural Maine (where I spent a couple of summers in my college years.) King captures the speech patterns perfectly. Part of his skill in weaving tales of the macabre is having the reader "eavesdrop" on people recounting the unexplainable. King gets the names, the verbal tics, and the mannerisms of his characters down so well, that you feel as if you know these folks. By the way, I think King and Trollope have a lot in common. Both were prodigious writers - almost addicted to the act of writing. Both produced best sellers, but in King's case, he has been written off as a "horror writer" a term that does not do him justice. Both men were generous with talking about the craft of writing, and to an extent, both men's literary reputations suffered from it. Both men wanted to "get into show biz." Trollope wrote a couple of unsuccessful plays; King has made some unsuccessful forays into film as a director. Both men had long stable marriages and happy home lives.
Well, that's enough rambling for me, for one night. I wonder if I shall be able to sleep tonight?
Catherine Crean
To Trollope-l
Re: Freeman's "The Lost Ghost"
In response to Catherine's vivid post, I'm made nervous by these stories -- just a bit. I may not believe in the literal reality of the supernatural, but I'm with Samuel Johnson (who we are reading on EighteenthCenturyLiterature so I have him in mind) I am intensely aware of how powerful the mind is, how it can be seduced into conjuring up visions, plays tricks with itself. The unnerving effect of the film adaptation of The Woman in Black played upon this -- so does M. R. James in his stories.
Catherine brings up the craft in this story: so too were the other two highly crafted. That combination of dreadful, there is something fearful and dreadful on the face of the child-like being, but at the same time pitiful. And then the repeating phrase: "I can't find my mother." Repetition is a manifestation of psychic obsession and it too is unnerving. Ghosts in ghost stories repeat actions over and over; they say the same thing over and over. If you start to read slowly each paragraph you will see how very careful and quietly intense is this art of ghost-story writing. The art of the ghost story -- and the importance of creating the atmosphere -- has been discussed by many ghost story writers.
That too is interesting. Not many realistic novelists discuss their art. Trollope does, but many do not. The self-conscious awareness of the ghost story writer is another element that makes the genre the multi-fold mode it is.
I certainly would have liked to see the film imaged on the site Judy led us to.
Ciao,
Says Ellen going off to bed but only putting off the lights behind her as she retires, in other words, not walking through and into the dark without something shining nearby --
And Christmas is a holiday of ancient supernatural rituals
Date: Thu, 20 Dec 2001
Re: Freeman's "Lost Ghost"
I loved your post on the Lost Ghost Catherine and wish I had been in my pyjamas at home when reading it instead of on the Docklands Light heading to Greenwich. Not atmospheric at all, but I do have a sort of ghost story of my own which is being caused (I am convinced) by a fault in my burglar alarm. I've been woken up once by the alarm which flashed at me that the front door was open - it was not. At the second time I came home and the reading informed me that the front rooms had been visited - but no signs of any entry. Shiver - is this a ghostly visitor in a modern setting which can be detected by alarms? There's a story here! And coincidentally, my computer screen has become suffused with pink but I am betting this is damage done by my cats, sitting on the computer, dropping hairs into its circuits. Even so, good ingredients for a modern gothic, don't you think?? Next I will post that the alarm engineer could find no faults.......
As to the Lost Ghost, I thought it was very well done indeed. I also thought of the ghost in Wuthering Heights (it was Ellen who mentioned this, I think) and that also was a ghost story which we had told to us by a character narrating to another character. It is a powerful method for letting your imagination roam.
I've also got ahead with the Stalls of Barchester Cathedral and will post on this next.
Angela
Date: Thu, 20 Dec 2001

Re: Freeman and Gaskell
To Trollope-l
Dear all
I've enjoyed reading all the postings about 'The Lost Ghost' and can definitely see I really need to read more general/historical information about Gothic stories to get a fuller picture. Can I ask if anybody has read a good book on the development of the Gothic genre which they could recommend? Ellen mentioned one a little while back, called 'Elegant Nightmares', but I have not been able to track it down so far.
I must agree with Catherine that I too love Freeman's writing style and would like to read more of her stories, preferably in a proper book rather than online so that I can linger over her dialogue and lovely descriptions.
'The Lost Ghost' does remind me quite a lot of 'The Old Nurse's Story' - I've just re-read Gaskell's story and there are quite striking similarities, in the way in which the child is abandoned by her own family and left to die in the cold, then returns to re-enact what has happened and seek some kind of belated poetic justice.
Also, the child is a little girl in both stories - I'm not sure why this is, but wonder if it means that the child somehow represents an alternative self for the mother in each case.
Ellen wrote
At the heart of the gothic is the sexually active transgressive woman and she is continually portrayed as a cruel mother figure. She is often displaced and becomes the child's aunt. Behind it is a fear of the sexually active woman: she is presented as a devourer.
After reading this, I was struck by the thought that in Gaskell's story we have both a mother and an aunt, sisters who look similar and who between them bring about the child's destruction. The mother in Gaskell's tale seems to love her child in a fierce sort of way, and dies cradling her in her arms below the tree. But she does nothing to protect her - she keeps her in the house where she is in danger, and then they die out in the cold together. In this story there seems to be a fear of both the sexually active and the sexually inactive woman - the aunt, who loses the battle for the one attractive man to enter their isolated world, takes vengeance on her sister and the little girl.
The aunt here is definitely jealous of the mother and wants her life, which is why she takes it from her.
I find it interesting that the cold is so important in both tales, as in many other ghost stories. Both child-ghosts are pictured as half-frozen, in their flimsy nightclothes, trying to get back into the warm.
In 'The Lost Ghost', Abby actually dies of cold - after the other two women see her ghost "out this bitter cold morning", walking over the snow, they run upstairs and find her dead in her bed, dead of another type of cold. We have just been told that she was feeling "sort of chilly".
Here her own fate echoes that of the nameless little girl, who was also found frozen in her bed, although it is uncertain whether she died of cold or starvation. In a disturbing image, we are told she was covered in warm bedclothes - yet the cold still got through to her, as it gets through to Abby.
I'll just quote a little more of Ellen's posting:
To me the most disturbing element in the story is the treatment of Mrs Bird. She is the Maria, the Mr Jennings of this story. I didn't see the ending as potentially happy: Mrs Bird dies; she has been terrified by this ghost. Mrs Dennison is left alone. Mrs Meserve doesn't tell us what happened to Mrs Dennison.
Yes, I have been thinking about this more after writing my previous posting, and realise it might seem distinctly odd for me to see this ending as "happy" at all - probably I chose the wrong word. It's hard to find any happiness in the loving sister being taken away from her family and friends, frightened and haunted to her death.
I suppose, though, I was looking at it from the point of view that it brings a satisfying outcome for the child-ghost (if indeed this is a child and not a goblin, for of course the ambiguity is there). The image of the happy child breaks through in this sentence, nearly at the end of the story:
"For we were both looking out, and we saw, as plain as we ever saw anything in our lives, Mrs. Abby Bird walking off over the white snow-path with that child holding fast to her hand, nestling close to her as if she had found her own mother."
The comforting word "nestling" suggests that the child is warm at last, even on the white snow-path. It also seems as if the lost ghost has found peace - we are told that the haunting of the house ends with Abby's death:
"Was the child ever seen again?" asked Mrs. Emerson in a shaking voice. "No," replied Mrs. Meserve; "that child was never seen again after she went out of the yard with Mrs. Bird."
So what does the ending mean for Abby? I've been struggling to think of some reasons as to why she is the one doomed to die at the end of the story. At first reading I felt as if she had suffered somebody else's fate - none of what has happened is her fault; she is not the mother who left her child. But perhaps it is more complicated than this and the child also represents her own unfulfilled longings.
Early in the story there are glimpses of her trying to warm all those around her, as she will try to warm the ghostly child.
There was a fire in my little wood-stove. Mrs. Bird made it, I know. She was a real motherly sort of woman; she always seemed to be the happiest when she was doing something to make other folks happy and comfortable. Mrs. Dennison told me she had always been so. She said she had coddled her husband within an inch of his life. 'It's lucky Abby never had any children,' she said, 'for she would have spoilt them.'
Mrs Dennison might think it is lucky Abby didn't have children, but she herself might think differently. I wondered if the child might represent her own yearning to become a mother, something which was denied her in life.
There is a stark contrast in the story between the resentful mother who cannot cope and does not want her child, and Abby, who "would have spoilt" the child she never had.
Of course the ending is tragic, but perhaps there is a suggestion of some kind of resolution embedded within that tragedy.
However, I don't mean to say that I think the story is in any way sentimental or idealistic about motherhood. Through the dark tale of the "transgressive mother" who abandons her daughter, we get a glimpse of the real hard work involved in bringing up a child - this is a mother who can't cope, who lets the housework slip and lets her home become a "pig-sty". Some authors of the period, often male writers like Dickens and Thackeray, can sometimes tend to give a rosy image of domestic life. That word "pig-sty" suggests how different the reality often was, together with the details of the tasks the child had to carry out, such as washing dishes and collecting firewood - trying to keep warm, again.
Looking at the story again, and perhaps reading a little against the grain, I noted that it seems to be only the mother who gets the blame for the domestic squalor and misery - not the father, who is a "real nice man", even though he is never there and has apparently washed his hands of them. Freeman tells us:
"The father was away most of the time, and when that happened he had been away out West for some weeks."
He is not there to help his wife or his child, and he doesn't come home find the child in her bed before she dies. Yet there seems to be no stigma against him, and he is the one who takes revenge on the mother by shooting her dead.
It's very cold in my part of the world (Suffolk in England) tonight, and there are even thoughts we might have a white Christmas - not very common in Britain these days. The snow more often comes around February. Does anybody know if there was really more snow at Christmas in Victorian times, or if it was just a popular motif in stories?
Bye for now
Judy Geater
looking forward to Barchester Cathedral...
Re: Freeman and Gaskell
Judy makes excellent qualifying points in her posting on "The Lost Ghost". Indeed there is that word "nestling"; throughout the story we are how Mrs Bird yearns to comfort and to mother people. The two women take Mrs Meserve in after she has lost her family. The point is made more than once that Mrs Bird is childless; we're told the child was not seen again -- though the house is nowadays once again haunted by what we are not told.
I was perhaps over-emphasizing the ambiguity because I have found that this is one of those stories that lull you into not thinking. "The Old Nurse's Story" does not present the child as yearning and a victim; it is endangering another child whom it longs to take out into the wintry world with it; it ends on a fierce savage scene. The transgressive mother and distant father -- I agree with Judy that here is another story where the father is not expected to shoulder any home burdens -- kept at a distance; the murder scene is half a sentence. So the ambivalent nature and intentions of the child-goblin are more to the fore; on the other hand you don't notice the fiercely sexual women and how they may be said to be contrasted with our narrator, the selfless old nurse.
I can recommend two different kinds of books on gothic. Despite its title, Richard Davenport-Hines: Gothic: 400 Years of Excess, Horror, Evil and Ruin concentrates on the 18th and 19th century. Its particularly good on non-literary things: pictures, paintings, milieu, and has lovely illustrations. His theses are also sophisticated. If Judy can find this in a paperback (the hardcover might be high), I'd recommend this for liveliness and insights.
A more general study, one which is more cautious and reads more like a survey is the two volume The Literature of Terror by David Punter. This one has a chapter on Dickens; it also has a chapter just on the Edwardian period (Dracula, Stevenson, M. R. James), and one on ghost stories. It is solider than Davenport-Hines. I sometimes felt D-H had not read beyond one book of each author and maybe not the whole of that. Punter has chewed all he bit off and he bit off a lot. He has a much better bibliography; the final two chapters of volume two are about modern gothic transformations and mutations (including an interesting discussion of theory, and he is very perceptive often). I suppose what's wrong is his hobbyhorse: he has this idea that terror is the central key of the genre and rides that too much.
Punder doesn't discuss sex anywhere near enough or frankly, and only goes tangentially into the darker metaphysics of these tales: for the metaphysics you can't do better than the very slender, easy-to-read Elegant Nightmares by Jack Sullivan. My basic understanding of this genre comes from the above three books; I have read others on specific aspects (female gothic, characteristics of ghost stories &c), but these three cover the ground.
And yet when one time I asked Rictor Norton (who is on C18-l and wrote a biography of Radcliffe and edited an excellent anthology called Gothic Readings) if you had to read one book on the gothic what would it be, he said: Coral Ann Howells' Love, Mystery, and Misery: Feeling in Gothic Fiction. I bought and read it and it's superb. It's about the intensities of feeling we find in gothics especially as practiced by women writers. There was a novel published in the 1810s called Love, Mystery and Misery.
We are very cold here in Virginia tonight too: no snow is promised but the winds are high and chilling, the frost is in the air. Our days are very short and the nights very dark. I see black out my windows tonight. As usual since September 11th the planes patrol the skies. I think of the Christmas celebration as a festival of lights against the darkness, an attempt to keep the darkness away and reassert the coming of light by light. The tree tells us spring will come again -- an evergreen. The festival is an ancient one going back before the Romans, and its association with things supernatural is rooted in our apprehension of moods, presences, the uncanny.
I'll end on an late 18th century sonnet; it's by Anna Seward and called
A December Morning.
I love to rise ere gleams the tardy light,
Winter's pale dawn;--and as warm fires illume,
And cheerful tapers shine around the room,
Through misty windows bend my musing sight

Where, round the dusky lawn, the mansions white
With shutters closed, peer faintly through the bloom
That slow recedes; while yon grey spires assume,
Rising from their dark pile, an added height,

By indistinctness given.--Then to decree
The grateful thoughts to God, ere they unfold
To Friendship, or the Muse, or seek with glee

Wisdom's rich page!--O, hours! more worth than gold,
By whose blest use we lengthen life, and free
From drear decays of age, outlive the old.

(wr1782, pub 1799)
I too am looking forward to "Barchester Cathedrale". I've never read it before. The illustrations in my copy are the wintry picturesque.
Ellen
On "The Hall Bedroom" by Mary Wilkins Freeman
From GothicLiterature@Yahoo:
Date: Sun, 08 Sep 2002
From: Kaye_Temanson@ndsu.nodak.edu

Lisa,
Another story you might take a look at, sorry the title escapes me right now, but it is written by Joseph Sheridan Le Fanu. The story is set at a boarding house, and there is a painting in a room without windows, and when the person in the room turns off the lights to go to sleep he enters the painting. This is a very abridged summary, and hopefully I didn't mix it up with another story, but does it ring a bell with anyone? Can you help with the title? It has been awhile since I read it, but I found it very effective, as many of his works are. He reminds me a lot of E.T.A. Hoffmann, but I like Le Fanu more.
Kaye in ND
Date: Mon, 09 Sep 2002
From: "Jack G. Voller"


I believe the story you're referring to is "The Hall Bedroom" - not by LeFanu but by the underappreciated Mary E. Wilkins Freeman (American, 1853-1930). This story, published in 1905, is available as one of the Freeman etexts I created for The Literary Gothic; see http://www.litgothic.com/Authors/f.html#freeman.

Best-- Jack Voller
---
Home
Contact Ellen Moody.
Pagemaster: Jim Moody.
Page Last Updated 11 February 2005