Gothics, ghosts, and and l'écriture-femme
The Romance of the Forest
by Ann Ward Radcliffe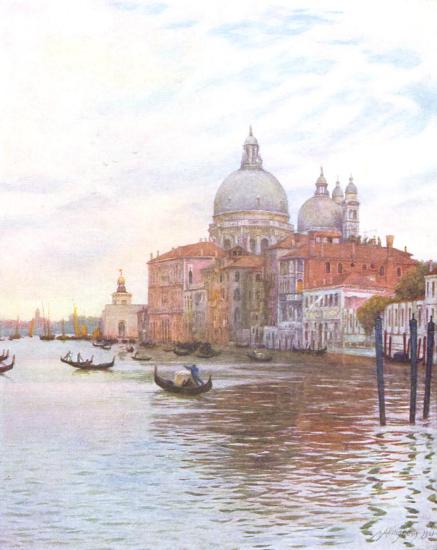 Helen Allingham (1848-1926) S.Maria Salute, Venice (1901- 2)
The Rationalization? Snow White and Dreams and Still Pictures; The Explanation: Long Complicated Unravelling
To ECW
March 28, 2004
Re: Romance of the Forest, 3:21-23: The Rationalization? Snow White and Dreams and Still Pictures
In these chapters Radcliffe (like a nun in a satiric play -- I'm not sure that was her first name) explains it all. Perhaps one way to take this is to look at it as Levy suggests: Radcliffe couldn't care less about how it all came about literally but entranced throws herself into these labyrinthian pictorial visions of terror and horror, sex (with sidelights of incest), violence, intense idyllic reveries (which Allingham's painting a full century later captures beautifully) and keeps it up for as long as she can whence at long last she has to stop and then come up with some explanation. This probably won't make the novel work for the modern unsympathetic reader. An historical act of the imagination can make many of the details vivid (prison, torture, the utter inequality among individuals, how various realities at the time led to murder, gambling, desperation, putting women into convents, abandoned children and infanticide). it is interesting that Radcliffe is against capital punishment, even for the Marquis.
Unravelled and told straightforwardly (which is not how it came to Radcliffe's mind), Philippe de Montalt was the younger brother of Adeline's father who was the eldest son, the heir, and hence the real Marquis, rich and powerful by inheritance. His name was Henri. But he was not strong, cunning, aggressive, and amoral. Montalt had his older brother captured, bullied, tortured and then murdered. He first tried to make Adeline his mistress; when he instructed Pierre to kill her, he had found out who she is. The man in the manuscript was Adeline's real father (tortured and then murdered). The man who Adeline thought her father was not her father, but one D'Aunoy an apparently ruthless mercenary; Du Bosse was the man who forced Adeline upon Pierre de la Motte. This is very much a Snow White tale as Du Bosse's unwillingness to murder Adeline recalls the hunters whom the wicked queen hires to murder Snow White in the forest. This is the romance of the forest.
Pierre was terrified of the Marquis because it appears in his desperation for money (his misspent youth in gambling), during his roaming at the Abbey he attempted to murder a chevalier, this man was Montalt whose servants defended him. Thus when La Motte was so startled at the appearance of the Marquis and clearly afraid of him and angry at his wife, it was that the Marquis could by that point accuse him of attempted murder (there were witnesses).
We are still waiting to see if Theodore will be killed. We are not sure the Marquis will or will not commit suicide. Pierre de La Motte expects to be hanged. What will happen to Madame de La Motte we cannot say.
I see an important structural resemblance to many romances of the period and will instance Austen's Sense and Sensibility: both novels depend upon flashbacks which bring us back to another generation and are told to us in histories or letters. In Austen's S&S to tell the history of Brandon and Willoughby as what is important and central to the novel, what it exists for would be to undermine and misrepresent the whole feel of the books and what is actually emphasized and presented at length. The difference between the two novelists is partly that Radcliffe has piled it all in too quickly, left it too much to the very end of the book (not placed it in climactic niches like Austen). Radcliffe also seems less aware of some of the psychological implications of her texts -- she is much concerned (probably) to criticize much in French ancien regime.
I've left out a lot of the atmosphere and some powerful psychology and pictorial impressions, as well as liberal Whig rhetoric of the era.
Cheers to all,
Ellen
I've included some excellent summaries of the story line from another discussion of the book on another list (EighteenthCenturyNovels@Yahoo) so the reader can see just how long, complicated and confused the story has become -- very difficult to unravel because Radcliffe didn't care about it.
Message: 1
Date: Wed, 31 Jan 2001
From: Aysin Dedekorkut Subject: ROTF: Volume III Chapter 7 (20)


Chapter 20 takes us back to La Motte and Marquiz de Montalt. The Marquiz was expecting to find Adeline easily but her predictions were right. His men didn't think of following the river. The Marquiz could not spend much time and effort following her because he had to attend to La Motte's trial in Paris. Here we finally learn what hold the Marquiz had on La Motte.

During his stay at the abbey La Motte realized his money was decreasing rapidly. One day, while walking in the woods he saw a lonely chevalier and decided to rob him. He was the Marquiz. Knowing that his men were near he resisted and La Motte used the pistol he was carrying and got his money and valuables. He hid these in the tomb. But he thought he murdered him and his mood became melancholy. His wife didn't know their money troubles, therefore she didn't realize anything that happened.

La Motte is of course shocked the day the Marquiz shows up at the abbey, but he tells him his sad story emphasizing the parts that would induce pity, and the Marquiz, who took a fancy to Adeline immediately, thinks he will gain if he doesn't send La Motte to jail. The bargain is Adeline's virtue for La Motte's freedom. La Motte convinces the Marquiz not to be harsh on Adeline but try to gain her affections first.

At the trial, La Motte's counsel pleads not guilty saying that if indeed his client committed the said crime why did the Marquiz not turn him in earlier? They were good friends between the time of the said crime and the trial. It doesn't make sense. He says the marquiz made this all up when La Motte refuse to murder Adeline. The Marquiz cannot explain because that would reveal his plans regarding Adeline. After the first day there is a break on the trial because they are waiting for two witnesses of the Marquiz. When La Motte is being taken to his cell another inmate that looks familiar sees him and asks his name, after learning asks an interview with him. He is there on charges of debt so they let him.

In the meantime because La Mottes don't know of the change of residence of their son none of their letters are received by him.

La Luc arrives in Paris to plead to the king for his son's life and he returns to Vaceau the day before Theodore's execution with an unfavorable answer. Unfortunately, when the king received La Luc's plea the marquiz was present and when asked about the nature of Theodore's crime he said the worst. Had he not been there it might have been different for the king really pitied the father.

He is not able to go to the prison that night, but sends Louis with the bad news. Theodore asks Louis to spend the night with him saying that he won't be able to sleep. They spend an uncomfortable night. La Luc tells Adeline that he promised his son he would bring Adeline and asks her to exert herself.

The interview is hard on everybody and tearful. It is hard to take leave of Theodore forever, but at this moment Louis shows up with good news. He was able to postpone the execution until the king will decide in the light of new developments which Louis learnt from a letter from her mother that finally found him. He is to leave for Paris immediately and tells Adeline would want to go as soon as she can since these events concern her intimately.

Here we get the story of the man who approached La Motte in prison at the first day of the trial. The man is the person who forced Adeline on La Motte way back at the beginning of the book, his name is Du Bosse. He says he has a secret about the marquiz and will testify against him if La Motte can get him leave and condition from the judge not to incriminate himself by his testimony. He wants to get revenge because the marquiz didn't pay his debts and get him out of prison after all his services to him.

Aysin Dedekorkut

Message: 9
Date: Wed, 31 Jan 2001
From: Aysin Dedekorkut
Subject: ROTF: Volume III Chapter 8 (21)


When I started chapter 20 I thought there was only 3 chapters left (the usual 40 pages each). Instead here we have a series of shorter chapters. I also finished the book last night and will try to finish the summaries as soon as I can, but the second half of the volume is full of events; things and identities keep changing, all the loose ends tied, and previous mysteries explained.

At the court, the marquiz is confused to see Du Bosse who starts telling his story that dates back to the year before when a Jean D'Aunoy offered to ease his poverty in exchange of helping him serve a nobleman (Marquiz). The charge was to take a young girl from a convent to house. Du Bosse and his brother (who is since deceased) agree to help. They learn that the girl is the illegitimate child of the marquiz with a nun, brought up by D'Aunoy's wife as their own child until being placed in the convent. The girl refused to receive vows when the time comes (this book reminded me of _The Italian_ so many times already - It's the recycling of the same story) so the marquiz decides to get rid of her to prevent her discovery and the ruin of her mother.

Marquiz's counsel tries to interrupt the story but fails. Du Bosse proceeds to say that D'Aunoy was unable to kill the girl himself because he brought her up, and when he writes this to the marquiz he tells him to find people who would do it. That's where he asks Du Bosse's help. He pleads that they tried to soften the marquiz's heart and ask him to reconsider. At this point Radcliffe interjects and says that, of course Du Bosse is trying to show himself in a good light. However, their order is the same. But instead of killing her, they forcibly give her to La Motte.

La Motte is amazed to find out that Adeline is the marquiz's daughter. He continues the story from this point on. Tells the marquiz wanted him to kill Adeline also and his present prosecution of himself is after the marquiz discovered his help in Adeline's escape. He says the marquiz sent people after Adeline so he may have succeeded in getting her murdered.

La Motte's sentence is suspended until Adeline and Jean D'Aunoy are found, the marquiz is arrested. Madame La Motte finally discovering his son's whereabouts asks him to fetch Adeline. He does that and gets postponement for Theodore's sentence in the light of these developments.

Aysin Dedekorkut

Message: 2
Date: Thu, 01 Feb 2001
From: Aysin Dedekorkut
Subject: ROFT: Chapter 22


Adeline decides to go to Paris immediately, realizing that both La Motte's and Theodore's lives depend on her testimony.

Back in Paris, the search for D'Aunoy both by the law and by marquiz's men to shut him up, is fruitless. At prison the marquiz has time to reflect on his crime and repent, but he does not. The only thing he repents is his urge to revenge La Motte and out himself in this situation. He knows that if Adeline cannot be found they would decide he got her killed. But what he feared more was D'Aunoy to show up.

Madame La Motte visits Adeline at her hotel as soon as she arrives in Paris. Adeline has no hard feelings for the past because she knows madame did not mean harm to her, but she was terrified to act otherwise. Still M. La Motte is embarrassed. She invites Adeline to stay with her in her lodgings, and Adeline, knowing the impropriety of staying in a public hotels, accepts gladly.

When Adeline learns from what La Motte had saved her, her gratitude increases. He cannot think of the marquiz as her father. (By the way, is anybody else struck by the implication of incest here? I know it's a common theme in the books of the period and genre, but how was is received coming from a woman's pen? Is that way she changes identities in the ending?)

With Madame's insistence Adeline goes to visit La Motte that night (I found this very strange, considering she didn't visit Theodore because of her indisposition for days, but now after all the fatigue of a long journey, she goes to visit La Motte?) The prison reminds her of Theodore. La Motte is very happy to see her. Adeline thanks him for saving her life.

A few days later the trial resumes. Du Bosse confirms her identity. Adeline testifies and Peter confirms her testimony. This was enough to prove the marquiz's intent of murder but without D'Aunoy's testimony, not enough to save La Motte who is sentences to death. He faints and is carried back to his cell.

Just at that moment D'Aunoy shows up (too late to help La Motte). He was found in the prison of a neighboring town on account of some debts. He doesn't know how much the court already knows, so spills out a crime nobody even suspected of!

This crime is the murder of half brother of the marquiz, who was the marquiz until his death. He was the man killed in the Abbey of St. Clair whose remains La Motte found in a box, and whose manuscript Adeline had read with tears and pity. What is more, the late marquiz was the real father of Adeline! She was put in a convent ignorant of her identity, so that she could not claim her inheritance. That's why marquiz wanted her killed when she refused to take the veil.

Du Bosse and his brother told D'Aunoy that they killed her when in reality they just sent her away with La Motte. (D'Aunoy deceived them about her true identity with the marquiz's orders). When he realizes the others lied, he goes along with their lie. The marquiz eventually realizes she is alive and asks D'Aunoy where she is, but he doesn't know.

So the marquiz is charged with murdering his brother, D'Aunoy is under arrest. Here we get a piece about hoe nice Adeline's father was and how different from her uncle. The motive for his crime was the title and the money which came from Adeline's mother.

The marquiz runs into La Motte accidentally in St. Clair, because he usually doesn't spend that much time there. The night he was staying at the abbey and abruptyly got up and left is explained: it is the scene of his big crime that haunted him there. He never spent a night there again.

He realizes Adeline's identity from the note she wrote to Theodore. If you remember, his first instinct was to tear it up in jealousy, but then he folded and saved it. The reason was his recognition of the seal which bore the arms of Adeline's family. This is when he writes to D'Aunoy and asks where Adeline is.

The story of the seal is a little far fetched: It was stolen with some other items from the late marquiz by D'Aunoy (why the guy carries his dead wife's seal I don't know) and given to his own wife as a present. When she died Adeline kept it believing that woman to be her mother.

Aysin Dedekorkut

Subject: ROFT: Chapter 23


I don't understand some of the language in this chapter:
"From an orphan, subsisting on the bounty of others, without family, with few friends.."
She did not know she was an orphan all this time!!!!! She though D'Auney was her father and his wife was her mother.

Anyway, now she is heiress to an estate and fortune (I forgot to say that as soon as she thought she was the current marquiz's daughter there was a mention of she wouldn't be suitable to marry with Theodore). She thinks about the manuscript and her poor father. She learns that La Motte forgot it at the abbey. When La Motte learns Adeline's father's story he mentions his wife of the skeleton he found.

Clara's letters talk about the declining health of La Luc. Adeline is visited by M. Verneuil who turns out to be related to her mother and gives Adeline her mother's miniature.

The break in the marquiz's prosecution is to gather all the witnesses.

Aysin Dedekorkut

From: Aysin Dedekorkut
Subject: ROFT: Chapters 24-25

The marquiz doesn't show up at the trial. There is some commotion. Adeline sends M. Verneuil to inquire. Of course, a la _The Italian_ Schedoni, the marquiz has committed suicide with poison and asked for confession before he died.

Now that the villain is dead, the rest of the chapter ties up all the loose ends. Adeline is restored to her title and fortune. She pleads to the king for Theodore and La Motte's lives. Theodore not only receives a pardon, but is promoted for his good deed. La Motte cannot be completely saved, but sent to exile, but happy because of Adeline's financial support. He even reforms and gets rid of his bad habits.

Louis leaves because he is still in love with Adeline. She is introduced to more relatives by M. Verneuil among who is the completely unnecessary M. Amand whose wife was her cousin (that's why she reminded him of her). Adeline gives a proper burila to her father and observes 3 months of mourning (strange so many years after his death). She recovers the manuscript. In the meantime M. Verneuil courts Clara and at the end of 3 months the two couples marry. La Luc's health is restored and he wants to go back to his parish, so everybody goes with him and buy houses around the area. Even Luis returns and settles there marrying a local girl.

Aysin Dedekorkut
---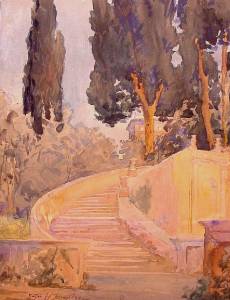 Susan (Hinckley) Bradley (1851-1929) Italian Villa




---
Home
Contact Ellen Moody.
Pagemaster: Jim Moody.
Page Last Updated 22 April 2005