Vampires and l'écriture-femme
Mr Jones
by Edith Wharton
and
Pages from a Young Girl's Journal
Robert Aickman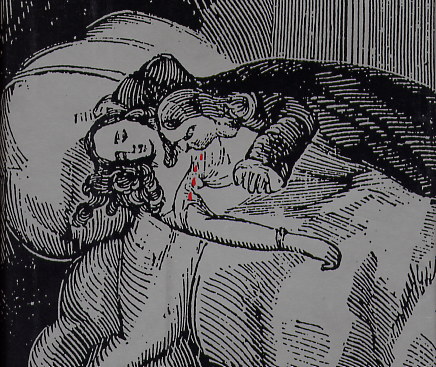 My argument is Wharton and Aickman's tales are unusual attempts to combine the vampiric with écriture féminine, and you can see this best when you read "Mr Jones" in the light of "Pages from a Young Girl's Journal." Both owe much to Ann Radcliffe especially in her earliest phase of The Romance of the Forest.
MR JONES
Brief Biography:
Edith Wharton. Her years 1862-1937. Fine writer of novels, travel books, criticism, ghost stories. She spoke of them very well. Numbers of her novels have been made into films, Ethan Frome; Age of Innocence; Buccanneers. Born to a distinguished (old wealth) and wealthy New York family; went to expensive private schools; spent last years in France. Many of her novels are novels of manners in the English way; she travelled on the continent and wrote books on Italy, Italian gardens, the Decoration of traditional houses. She married in 1885, at the age 23; no knowledge of the world nor sex; incompatible with husband who eventually went mad; she suffered depressions. She did have a close male friend who was a support to her all her life emotionally and as a writer: Walter Berry, intelligent, well-read lawyer; he was skilled in several languages; rad science, history, biograhpy, travel, and archeology. They read together; he went over her manuscripts of all her books. One brief physical love affair with one Morton Fullerton which she never forgot. She was heavily involved in war-work in World War One (as a nurse); took charge of 600 refugee children. Wrote about the war.

Basically, she lived a life of writing and travel which she shared with Berry. She also became very close with another writer, Henry James, who also wrote a number of ghost stories. She discussed her work with him too. She made good money from her work.
"Mr Jones" was first published in Certain People, 1930.
Things to notice.
What gives it its shuddering horror is it's a vampire story. Mr Jones is alive in his grave in the vampiric way and he has been living off the vulnerable women imprisoned by him. Inside the modern tale of a woman visiting an old house and seeing the terror and deaths of the women servants (one of whom may become a vampire at the close of the story) is the Radcliffean tale of a heroine who does not escape but leaves her manuscript to hint at the tale.
The suggestive psychology is what makes it: things are suggested about Juliana Viscountess Thudeney; about the Viscount; their relationship that are chilling. And again we have this story within a story as if we have to go through layers of an onion to get to some core and then all we have left are few glittering remains of clues. I suppose it's the artistry of the piece too.
It's a story about an oppressed woman: she had some disability; she was imprisoned; Mr Jones was her keeper. Her husband went his way, perished of plague at Aleppo. Like Radcliffe's Adeline St Pierre, Lady Jane Lynke finds a manuscript which gives us fragment of story. Poignant and painful; Radcliffe's Philippe de Montalt had also imprisoned a sensitive man, Henri. Aleppo an Eastern place in 1790s highly romantic, seen as sexy because of seraglios. Mr Jones now keeps two women in tow. Lady Jane Lynke comes from outside world, slowly brought in. Terror of Mrs Clemm and Georgiana is terror of vampire who goes for brutal assault, not just invading someone's spiritual life.
A reflection of Wharton's relationships with men seen in Lady Jane's relationship with Edward Stammer the novelist. Again it's all indirect.
There's a painting: a motif for gothic and women's writing. Our poor little present brought into this archaic realm of inheritance and older patterns of life.
PAGES FROM A YOUNG GIRL'S JOURNAL
Brief Biography and Critical Commentary:
Robert Aickman. His years are 1914-1981. Son of an architect who he said 'was the strangest man I've ever known'; his grandfather was a Victorian writer of ghost stories, Richard Marsh. Starting in mid-1960s he produced 11 short-story collections, two novels, an autobiogrpahy and two book on England's waterways. An interesting fact about him is that he is widely credited with saving the British canal system for coming generations. He was trained as an engineer, founded Inland Waterways Association of England. Two further modern writers who were interested in canals and railways: R. T. C. Bolt whose ghost story takes place around a canal; and Christopher Woodforde.

Aickman is often compared to M. R. James because he works through suggestion, strangeness and the idea is supernatural danger lurks on the edge of consciousness, so too despondency and madness. All his stories seem expressionistic; that is, they are a single kind of symbol; some individual is trapped within a group of forces over whom he has no control. He said 'the good ghost story gives form and symbol to themes from the enormous areas of our own minds which we cannot directly discern, but which totally govern us'. Poetic projection of something inside our own consciousness. Things are seemingly normal, but vaguely threatening and implicitly violent. That is very like M. R. James. Except again and again the protagonist is received into nature through death. There is a similar kind of piece in the early part of our volume, by Vernon Lee, a woman, takes place in Venice. Aickman liked to write stories set in Venice. City upon the waters. This story seems to have first been published in a collection called Cold Hand in Mine (1975).
Things to notice:
Title comes from a famous essay by Sigmund Freud: "Pages from a Young Girl's Journal": about a deeply introverted patient. In a typical story of his the protagonist who is isolated, and feels alien to his or her world finds herself encountering an apparition or different dimension. At first the experience is idyllic, paradisal, but soon he or she finds herself received into nature through death.
Ultimate adolescent rebellion given a quietly sardonic twist.
It is an exquisite imitation of early 19th century style: she is reading Ann Radcliffe, Walter Scott, meets Byron and Shelley.
The imitation of a specific form of consciousness: the person who is sensitive, who is not humorous or gay; a kind of sharp imitation of the sort of heroine Adeline and DuMaurier's second Mrs de Winter present.
She's not really sympathetic. She is too emotionless towards others. She doesn't care for her parents' problems; doesn't attach herself to anything.
Gradual movement into vampirism, and it is sexual. The imagery of blood is a metaphor for semen; slowly she is taken over. I said horror was disgusting; there are light touches. For example, when she sucks her mother's wound, p 404. A peculiar yuk.
We are not sure what role the Contessa plays; the Contessina. Her parents do seem indifferent to her: often when you go on a trip with your parents you end up left alone in empty rooms.
She longs for death throughout. There is sympathy too.
These are two rare attempts to write vampire fiction through the mode of female gothic romance and écriture féminine.
---
Home
Contact Ellen Moody.
Pagemaster: Jim Moody.
Page Last Updated 23 January 2005