L'écriture-femme
Cranford
by Elizabeth Gaskell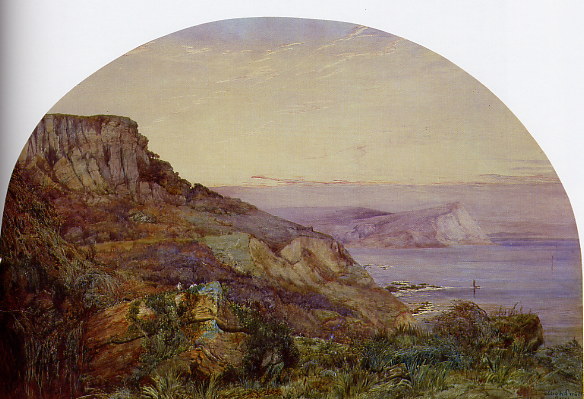 Barbara Bodichon (1827-1891), Ventnor, Isle of Wight, 1856, watercolor
To Trollope-l
April 4, 1999
Re: Cranford: A Gathering of Stories
To begin with, so we can all read the same stories at the same time, the wisest thing seems to be to share with others the original names of the stories keyed to all the chapters as I have them in the Oxford World Classics paperback series (in the hope that the divisions into chapters are traditional or conventional). I will also include the names of the stories, which are in my book printed as 2 separate appendices because these were printed in other magazines and at far intervals of time:
Chapters 1 & 2 = 'Our Society at Cranford', 13 Dec 1851, Household Words (a Dickens periodical)
Chapters 3 & 4 = 'A Love Affair at Cranford', 3 Jan 1852, ditto
Chapters 5 & 6 = 'Memory at Cranford', 13 Mar 1852, ditto
Chapters 7 & 8 = 'Visiting at Cranford', 3 Apr 1852, ditto
Chapters 9,10 & 11 = 'The Great Cranford Panic', Chapters the First
and Second', 8 and 15 Jan 1853, still Household Words
Chapters 12 & 13 = 'Stopped Payment at Cranford', 2 Apr 1853, ditto
Chapter 14 = 'Friends in Need, at Cranford', 7 May 1853, ditto
Chapters 15 & 16 = 'A Happy Return to Cranford', 21 May 1853, ditto
For the continuations:
Appendix 1: 'The Last Generation in England' by the Author of Mary Barton, an autobiographical piece, 5 July 1849, Sartain's Union Magazine, an American periodical (Gaskell knew Mary Howitt who wrote for Sartain's because Mary Howitt's husband was editor of another American periodical, Howitt's Journal and he had published several of Gaskell's earliest stories)

Appendix 2: 'The Cage at Cranford', November 1863, All the Year Round (a Dickens periodical)
Ellen Moody
April 4, 1999
From: John Mize
Subject: The Coming Cranford Read

I've almost finished the first installment, and I like the stories I've read so far. I wouldn't call them sentimental either, maybe affectionately ironic. The characters exhibit an interesting mixture of sweetness, snobbery, knowledge and knowledge. Gaskell does a good job of showing what is good and bad about small towns. I thought it was interesting that there are no gentlemen in Cranford, at least in the early stories. The two that do show up in the early stories are quickly killed off. In one of Gaskell's letters which I quoted from in an earlier post to the list, she tells a male friend how much she likes being controlled by her husband and assumes the same is true for Charlotte Bronte. Maybe that was part of the truth for Gaskell, but not quite the whole truth.

John Mize

Dear All,

Well I cannot tell a lie and must admit I am almost finished.

Further on there are more men or at least a minimum number. Gaskell cannot think of a plot which does not include love -- and that must mean men. However, the emphasis is on women. My introduction tells me she is telling of her childhood when she was brought up in a town something like Cranford by women.

What I find fascinating is how realistic the decor is. I really feel what it's like to live in the 19th century in tiny ways. I also like the delicacy of the tones, so many and individualised. The stories are beautifully artful.

Ellen

Reply-to: trollope-l@onelist.com
Subject: [trollope-l] Trol: Cranford: The Amazons

April 4, 1999

From: John Mize

I've really enjoyed Cranford so far. Gaskell clearly likes the inhabitants of Cranford and sees their good points, but she is also aware of their provincialism and snobbery. Even though I agree with Andy Warhol that the only good thing about growing up in a small town is that you hate it and you know that one day you will leave, I enjoy reading about Cranford. Gaskell grew up in Knutsford, a town apparently much like Cranford, and she always missed living in the country. Gaskell's narrator also misses Cranford, but she isn't blind to the drawbacks of the little town.

I especially liked the war of the books between Miss Jenkyns and Captain Brown. Both were convinced that there must be something seriously wrong with a person who cannot appreciate Samuel Johnson or Charles Dickens, respectively. For the rest of her life Miss Jenkyns seems to have been convinced that Captain Brown's death was divine punishment for his having liked Dickens too much.

I also really enjoyed Miss Mattie Jenkyns' attitude toward Johnson and Tennyson. She fell asleep while Mr. Holbrook read Locksley Hall to her and then told him that the poem reminded her of one of Samuel Johnson's poems which her sister used to read to her. She couldn't tell him why the Johnson poem was similar to Locksley Hall or even remember the name of the poem, since the real reason was that both Tennyson and Johnson bored her and put her to sleep, but since both poets were favorites of a person she loved and respected, she thought both must be good, although she couldn't say why.

My copy of Cranford is a 1972 Oxford University Press edition, and the editor notes that Dickens edited Gaskell's text when the stories first appeared in Household Words. He had her change all the references to The Pickwick Papers to Hood's poems. He told her it would be inappropriate to have his name in her text since he was one of the editors of Household Words. Gaskell is highly complimentary to Dickens, and she even seems to suggest that Dickens is superior to Johnson. Deborah Jenkyns, the Johnson devotee, is a little too stiff, a little too pompous and affected, a little too snobbish, while the Dickens man, Captain Brown, is more down-to-earth and genuinely kind.

Gaskell's apparent preference for Dickens seems to be based on her seeing the new man, Dickens, as more in tune with real life and with women's concerns than were the old-fashioned men of the previous generation. When the narrator and Matty read her family's old letters, the narrator prefers Mrs. Jenkyn's letters to those of the men. Her letters deal with real life, while the men write to show off. They demonstrate their classical learning or give useless, but impressive sounding advice. When Mrs. Jenkyn's writes her husband for some advice about killing a pig, he sends her Latin poems with her as the heroine, even though the poems are all Hebrew to her. Deborah Jenkyns has obviously adopted her father, and not her mother, as a model. The narrator can find little sense in her Johnsonion letters, except when fear of a possible French invasion shocks her into writing in "pretty intelligible English."

I'm not suggesting that Gaskell was a feminist; she certainly did not think that women should do the same work as men, but there is a suggestion that women are naturally superior to men. Men posture, preen, strut and engage in ritual conflicts, while the really important work is done at home by those best able to do that work.

Perhaps that is why Gaskell has no gentlemen in Cranford. The only gentry in the town are shabby genteel older women. They try to keep the young men away from their maids and pretend that they aren't poor. The only two men who might have been gentlemen had they wished to be are Captain Brown and Mr. Holbrook. They are quickly killed off. In an 1854 letter to John Forster, Gaskell said "Mr. Shaen accuses me always of being 'too much a woman' in always wanting to obey somebody..." Of course Gaskell doesn't actually say she wants to obey men. She says that Mr. Shaen thinks that's what she wants. Maybe Gaskell also wanted things she wouldn't dream of telling Mr. Shaen, Mr. Forster or Mr. Gaskell. The dying men in Cranford make me think of one of Norman Mailer's poems. In the poem the wife is constantly trying to kill her husband by psychic energy, but nothing works. The poem ends something like "Everyone said they were the perfect couple, but their children kept dying." Gaskell seems to have had better psychic aim than Mailer's poetic wife.

John Mize

From: "Judy Warner"

I also thought about how sad it was that Miss Matilda was living in a house with Martha, but they were so cut off from each other because of class and status, that Miss Matilda felt and was virtually alone. I'm not suggesting that this was unusual-(the 'quality' didn't really think of the servants as people, as recently as my late mother-in-law,) but how sad to think of it.

I agree too that the tone of these stories is very sweet, and although there's some irony, it's very fond and gentle. More like the Lucia stories, though not so sharp, than Austen to my mind.

Judy Warner

To Trollope-l

April 4, 1999

Re: Cranford, Chs 1-4: Astringent and Sweet

I'm reading the book in the later novel form and liked the opening chapters.

I've surprised by it since I had been told it resembles Austen's Emma. I have to admit both take place in a small town or village, both have women at the center of the story, but dwell on nuances of feeling; still, the overall effect of this novel and Emma seem to me so different. Emma is much harder. There is something intensely sweet and kind in the depiction of the Browns; there is deep feeling in the Captain for his daughter; words like warm, affectionate, and phrases like the yearning heart come to mind when I'm referring to his daughter Jessie, her marriage to Gordon (engineered by the apparently dried-up "old maid" Miss Jenkyns). The deep sense of nostalgic loss that Matty feels when she grasps how much she has lost by not having married the supposedly vulgar (really human) Mr Holbrook whose love for Tennyson is supposed to reinforce his sensitivity is not Austen-like; when she says "'God forbid . . that I should grieve any young hearts'" (Oxford Cranford, ed. EPWatson, p. 40) we are in a different emotional universe. The concluding passage of Chapter 4 has great beauty. Lines about the Captain's older daughter's "trembling nervous hands" (p. 6) are not to be found in Austen. It's too frank, too openly filled with heart.

John quoted the line about how the place is in possession of Amazons, but look how important the men are in each story. In order for the opposition of tastes over books to occur one must have the man's taste: Dickens versus Johson is Captain Brown versus Miss Jenkyns. The point of Chapters 3 & 4 is how much Matty lost by not marrying. Miss Jessie Brown is saved from desperate poverty by a man. Jem Hearn is necessary to Martha. There's a lot of sex here. Also there's something pointed about the women's discomfort with men one doesn't find in Austen. The first page of the book quotes one woman saying "'A man is so in the way in the house!'" (p. 1). Paradoxically the Captain is respected or felt as a presence because he is a man, because he speaks in a voice too large for the room." The line which described in as a "tame man, about the house" (p. 4) is somehow unAusten.

At the same time the word for the opening chapters is satiric-astringent. Gaskell is showing us how small irritating tyrannies and hypocrises really control people's existences. The snobbery is stultifying. "Elegant economy" (p. 3); sour-grapes says the narrator made "us very peaceful and satisfied" (p. 4) It's funny in Chapter 1, but there is an undercurrent about a disconnect between human emotion and incessant phony ceremonies which cut people off from one another and can make them very cruel to one another. Matty is unmarried and Holbrook dies without companionship because he was not considered good enough, yet his taste is his own, books chosen because he likes them, a comfortable house.

There are lots of little exquisite details building up the community, a delicacy of apprehension that is associated with women's books. Gaskell is an artist with words. There's so much here as a result.

Here is when the stories were gathered together. Almost immediately: they appeared as a book in 1853 (of course without the later story or early autobiographical piece). In her introduction to the Oxford paperback, Charlotte Mitchell says Cranford is Gaskell's best known book. I wouldn't have guessed it. I'd have thought Mary Barton or North and South as social commentary would be much better known; also The Life of Charlotte Bronte because of the Bronte connection and its passion and beauty. Then before Mitchell launches into what is an excellent essay on the stories, she finds it necessary to excus Cranford because it's about the female world, is not rebellious, and according to her can be read as denigrating women, especially spinsters as eccentric, muddled, and absurd without men. Mitchell then stretched a point when she tried to counter this criticism by calling the book 'a comic fantasy of conformity' whose 'unexpectedness' made it 'more challenging to modern feminist reading than the great Victorian novels of female rebellion than Jane Eyre, The Mill on the Floss, and The Story of an African Farm. How so? Because CranfordMitchell's essay is actually very good. She picks good lines from the stories, such as the one about Mr Holbrook's contempt for 'every refinement which had not its root deep down in humanity. She says one moral inference of this week's two stories is that "realty and the sensual world should defeat culture and formality."

I found these stories touching and appealing.

Ellen Moody

From: John Mize

April 4, 1999

I expected to like Cranford, since I like Gaskell's biography of Charlotte Bronte, but Cranford is funnier than I expected. I think Gaskell was a little too earnest in her defense of Charlotte to allow a lot of humor into the biography.

I wonder what Gaskell really thought about Dickens. When I first started reading about the book war between Miss Jenkyns and Captain Brown, I thought Gaskell was subtly mocking her editor, suggesting that Dickens was a lightweight compared to Johnson. I later decided that that was my opinion, not Gaskell's, and that she preferred Dickens to Johnson, or maybe she was only trying to flatter Dickens after all.

John Mize

April 5, 1999

Expectations: Gaskell really in her work

I had a high opinion of Gaskell's ability as an artist. She is too conventional in her outlook in some ways, and this book suggests why the vision of the novelist or her matter is finally more important than the artistry. She is more in control of her work than the Brontes, but theirs are the great great novels while hers are "merely" superlatively good :). Not that I've read that many by Gaskell. I loved the reading of Wives and Daughters in the cover-to-cover by Maureen O'Brien.

I am impressed by John's perceptive reading the self-reflective nature of this text and its place in the marketplace imagination of Gaskell. This is not just cynical appreciation of her praise for Dickens. Of course all this is there. Dickens is the editor of Household Words. I too doubt that she admired Dickens that strongly to oppose him to Johnson. Her art is realistic; she is not radical for her age.

I hadn't thought of it. One must always think this way -- it makes these books come alive.

Cheers
Ellen

Reply-to: trollope-l@onelist.com
Subject: [trollope-l] Trol: Cranford: Mr. Holbrook

April 5, 1999

From: John Mize

I find it interesting that Gaskell suggests that one reason Mr. Holbrook is rejected is because he won't call himself a gentleman. He has enough property that he could get away with calling himself a squire. Holbrook refuses to let people address him as Esquire, and he refuses to act the part of the gentleman. He possibly could have married Mattie if he had agreed to act like a gentleman, but his pride is such that he cannot do so. Of course, even if he had tried to act like a gentleman, that might not have been enough, since his family were only yeomen. The Jenkyns family may have less money than Holbrook, but they persist in clinging to gentility despite their relative poverty. He might have degraded himself by pretending to be something he was not and still have been rejected in the end.

John Mize

Re: Cranford: Delicate Perceptions

In response to John's comment on the curious place pride plays in the behavior, self-framing, and thus fate of Mr Holbrook: there are lots of curious continual observations Gaskell makes about her characters which don't fit into the conventional moral inferences we are to make. We are to see how cruel is snobbery, formalism and obtuse way people have of judging one another from categories, also how silly is the mechanical way they go about life, almost not life-like except that they do it. Yet those who writhe in the grasp of these things let them control them. Later in the book we meet an aristocratic Scots woman who seems singularly free of all sorts fo things: however, we don't get a close look at her.

One thing that struck me about most of the women Gaskell sympathises with is how often she uses the word "nervous" about them. They have nervous hands; their hands tremble; they are nervous from anticipating the calls of others. They are actually very vulnerable, fearful of life in a way. The artificial schedules, the hierarchies are then carapaces, ways of protecting and masking themselves. Miss Deborah Jenkyns lives as much on the edge of some emotional breakdown as Mattie, and numbers of the males are just as "bad." It's such intimations continually noted by Gaskell that makes the characters so appealing, lovable (so to speak).

I liked the lines of poetry chosen too. In numbers of the cases they seemed to resonate right. Actually off-list John told me something I'd like to share with everyone because it strikes me as so true. We ought to remember that when Gaskell favors Dickens over Johnson, Dickens was her editor. If you think about Dickens's fiction, his techniques are quite different from those of Gaskell. There is probably a strong dollop of flattery going on in her elevating Dickens over Johnson.

Ellen

Reply-To: trollope-l@egroups.com
Subject: [trollope-l] Cousin Phillis -- the very wicked French influence
From time to time on the VictorianFiction list we have noted the attitudes of characters regarding the reading of French novels. It tends to denote loose morals, and even if the person reading those dreadful French novels is totally innocent, their reputation can be virtually ruined should their reading tastes be discovered. Now, apparently one cannot travel to France either and hope to return to this small village with reputation intact. :-)
And as Cranford would seem to suggest, France not only kills reputation, it kills people as well! Miss Matty's long-lost love Mr. Holbrook's death is directly attributed to his visit to Paris: "he might have lived this dozen years if he had not gone to that wicked Paris, where they are always having revolutions."

ZUBAIR AMIR
zsa1@cornell.edu

Reply-to: trollope-l@onelist.com
Subject: [trollope-l] Some questions on Cranford

April 9, 1999

From: Marian Poller

My copy is the Penguin ed. Chapter 5 has a reference to India rubber rings. What are they? Also who is the narrator? She sounds so masculine.

I especially love the crochet and knitting references throughout the book. They are absolutely correct and show me our authoress must have enjoyed the activity. Anyone know for sure?

Marian Poller
Herzlyia, Israel
mpoller@netvision.net.il

R: The Narrator of Cranford In response to Marian, the ambiguity with which the narrator is at first presented can be seen as evidence that the book evolved out of two stories that Gaskell did not suppose would have a continuation. She did not in fact rely on continuing her material until she got well into the stories. For example, the opening of Story 2 (Chapter 3 of the novel) reads: "I thought that probably my connection with Cranford would cease after Miss Jenkyns's death" (Oxford Cranford, ed. PGWatson, p. 23). The end of first story has a finality in Miss Jenkyns's death and the marriage of the Captain's daughter. Other of the openings have the feel of starting all over again with a new theme or device or added characters.

We also don't get much about the narrator. Until we are told the narrator is a young woman related to Miss Matty, and that the narrator lives with an aging father in Drumble, one feels the narrator could be male. There is a dearth of detail about the narrator until Story 5 (Chapter 10 of the novel). Then we hear of a sick father; it is slightly after that we get a feeling the narrator is a young woman under Miss Matty's care who also comes to care for Miss Matty In the first story (or Chapters 1 & 2) of the novel, the narrator only tells us he or she is on a visit to Cranford and lives in nearby Drumble (Oxford Cranford, p. 12). We might suppose that someone with such an intricate appreciation of tiny gestures who is expected to obey the small tyrannies of genteel women must be a woman. But we don't know this. In fact I too got the feeling the narrator could be a man. There was something neutral or neuter about the presence, something down to earth, and when the narrator says Cranford is run by Amazons, I felt this to be a man's way of laughing. Yet in Story 4 (Chapter 7), we are told that narrator and Miss Matty "sat at our work" (p. 66). Men don't sit and sew.

Gaskell did not make up her mind what sex to make the narrator until Story 4, and did not think to fill in details about the narrator's background and life until the third installment. Then she invented details which fit the needs of her story. (When Miss Matty's bank fails, the narrator is given a father who can advise Miss Matty what to do.)

This is interesting in trying to understand the changes in tone between the early and later stories. It's also interesting in thinking about why women writers would write as impersonal male narrators. Towards the end of Oliphant's Autobiography and Letters when we are into the 1890s Oliphant suddenly says to her publisher, how times have changed. Her publisher had apparently been suggesting to her that she present herself as a female in something she is writing because that's what's wanted and appeals. Oliphant says when she first began to write women often presented themselves as males (and she did) because males were taken more seriously. If you wanted your story to have an impact and its point of view to be accepted, you were a male and not a female narrator. So maybe we see Gaskell not being able to make up her mind: she is at first not sure, and then later opts for a female because it makes more sense for a female to be under Miss Matty's care and to go visiting for tea, play cards, keep people company than a male. Men were freer, could ignore the routines of women's small habits, and they also would have been expected to be at school or work.

Mrs Gaskell spent time crocheting and knitting. Most women did not sit still when they sat; there were no vast manufacturers to make or mend people's clothes. Mrs Gaskell had children, a husband. I like all the small details of daily life we are given: what candles people use, how they make their small economies. One really gets a feeling of the physical milieu of the Victorian world & the technological limits or bases of every day life. It's been said repeatedly too that women's literature continually brings up sewing, knitting and imagery for these occupations.

I too surmised rubber rings were rubber bands.

Ellen Moody

To Trollope-l

April 11, 1999

Re: Cranford, Chs 5 & 6: Story 3: Memory at Cranford

In this story the tone of the volume begins to change. While the other stories have warmth, sweetness and kindness towards the vulnerabilities of the characters, they are by-and-large continually astringent with a strong satiric thrust. These two chapters or this story takes a turn into the a more emotional terrain as Matty emerges as the heroine for the first time. We are told some peculiar incidents in the story of Peter Jenyns.

There is something rich in and of itself about old letters. Thackeray has a half-satirical but half-nostalgic meditation on this in Vanity Fair. The story of Matty's parents' courting and young marriage would have touched Gaskell's readers as in her time it was just that far away in time as to evoke longing for the past. The incidents told in the letter are such as people would tell one another. Having Matty go over them now her sister is dead too, and the brother gone invests them with a preciousness they would not have to someone else. Then she wants to burn them and does. Heart-breaking. This is what was done to letters at the time. Inner worlds were to be hidden lest they be held against people. The trifling and trivial circumstances are the lives of these people.

Everything is seen through Matty and that accounts for a good deal of the sentimental and humble mood of what's told in the letters too. Perhaps those who like the book are those who are capable of liking Matty without shame; perhaps those who get irritated by the book are those Matty embarasses. In the introduction to the novel, Elizabeth Porges Watson says one reason Cranford makes modern readers squirm and not want to go over it, is 'we assume a gendered hierarchy of value. The public world of social reform is still more important than the private female sphere'. Worse yet, Matty is self-abnegating, sweet, repressed about sex, kindly, gentle, all the traits which today are not exactly those which are admired in the public press.

I assume that by Chapter 6 or the second part of this story Gaskell realised she was going to write on. She sends Peter away and doesn't tell us what happened to him. He is to come back or be used later in some way.

This is a curious story and it's not easy to know how Gaskell meant us to take it. Peter is his mother's boy; he is always irritating his father. He loves to hoax people, to play games. One day he dresses up as his (now dead) Aunt Deborah. He goes out in public and parodies her. Well the father sees him and floggs him. Peter runs away. The family is terrified because they fear he has committed suicide. The father is desolated, Matty wild and white, comfort nowhere. They search for him by dragging the ponds; the mother writes to him. No sign at all. We are told this leaving of Peter traumatised the family and maimed its destiny for ever. It is eventually discovered that Peter has gone to sea, but it is too late The mother dies, Deborah the older sister assumes the part in the family Peter might have played. She will never leave her father, be his housekeeper. As for Matty, 'I knew I was good for little, and that my best work in the world was to do odd jobs quietly and set others at liberty.'

We are probably not to see this as a story of transvestism -- I don't feel what is being explored is sexuality, though there is a direct battle between father and son over what is manly and unmanly behavior. The father flogs the son for being unmanly. Yet it feels like a prank and one that is simply mocking of the world's solemnity and Deborah. Peter is jealous of Deborah and doesn't want to grow up to be the kind of man his father is.

What we have here also is a knotted plot. Events are set up which are to be explained later. Except of course in the next three stories, Peter is dropped, and only brought back to resolve the novel into a part fairy tale, part qualified happy ending.

So lots of knitting and lacery everywhere: in the structure, in the content.

Ellen

Re: Cranford, Chs 5 & 6, Story 3: Memory at Cranford

How real Gaskell makes the world of the 19th century to me. In descending to tell us of the daily small economies her characters variously practices (the talk about the candles, the amounts of sugar and butter people eat, how they shop, how they make up their fires, what they wear to warm themselves), she captures a level of life at which people literally exist. In her Chronicles of Carlingford Mrs Oliphant delineates the same real details and obstacles and things of life's daily routine.

Might we say this is a mark of women's fiction (écriture féminine).

Ellen

Re: Cranford: Poor Peter

I agree with John that Peter is defying his father and refusing to become the sort of man his father is, but it is an obscure kind of revolt, one not well understood by Peter himself. He also doesn't know what to revolt for or how else to live. The story does capture the difficulty of finding some way of life which in the end does not coopt you. Peter revolts against a cult of manliness on shore, only to end up a sailor on a ship. The great problem for rebels has ever been to find what it is they really want to do.

Ellen

To Trollope-l

April 12, 1999

Re: Cranford, Chs 7-8: Story 4: Visiting at Cranford

We modern readers may be inclined to hurry over this story; however, as all societies have ever been unequal, and the people in them have ever wanted to behave in ways that represent their superiority to those beneath them, the intricate details of snobbery and caste- arrogance are here set forth with delicate verve. After Matty, my favorite character in the book is Lady Glenmire. She is in fact a standing rebuke to fringe people. Of course, it's not fair to blame them and praise her, since her sense of self-worth is assured by her rank. It frees her -- to, among other things, not lie about her money or her things. She is always a cynosure of present sexual fulfilment among the genteel classes. Thus far the only women to have a fulfilling sexual relationship in front of us are servants. She marries one of the best men in the place, Mr Hoggins, who is himself considered a trifle coarse -- while he has the finest heart and solid common sense and gentility of soul.

There is a motif throughout about sexual sublimation -- or shall I say repression. On Victoria not long ago we got to talking about the sudden decrease in numbers of children born to middle class parents in England at mid-century. At the opening of the century Trollope's mother has 9 children; his wife has 2. Tennyson's mother has something like 12; Tennyson's wife has 2. It was suggested that the change was one of behavior and abstinence was the way it was done. Well late in this book it is interesting how when we are told Thomas's wife is pregnant (a servant), the women in effect "upbraid him" for making another "likely to make an appearance" (p. 119). The sense is he should have abstained.

Tiny details throughout about lace, about forms of address signifying levels of hierarchy and respect (as we have talked on this list before), on who speaks first, and so on -- all capture a real sense of solid milieu and mores.

Ellen

From: John Mize

I also really liked Lady Glenmire. As Ellen said, it was easy for her to ignore her rank, since she had the security of her rank. I especially enjoyed how the Cranford ladies were so concerned to use the proper terms when addressing her. That part of the story reminded me of a story about Dustin Hoffman and Lawrence Olivier. Hoffman was worried that he might offend Olivier if he did not address him properly when they were working on the movie, Marathon Man. Hoffman finally asked Olivier how he should be addressed. Olivier said, "You can call me anything you want, but my name is Larry." Even though Olivier mocked Hoffman's question, I suspect that if Hoffman had not bothered with the question and had called Olivier Larry to begin with, Olivier would have considered Hoffman to be an arrogant, rude, American punk.

John Mize

Reply-to: trollope-l@onelist.com
Subject: [trollope-l] Gaskell's Cranford: Visiting

From: Oldbuks@aol.com

There is a kindly quality to Gaskell's writing I find disarming. Imagining Miss Matty, in a flutter at receiving a visitor at an unusual morning hour, descending the stairs, one cap atop the other, and without her glasses, made me smile, as well as the fact that the visitor, Miss Betty Barker, a retired milliner, was so intent on her mission that she did not notice.

Her errand? To invite Mary Smith (our narrator) and Miss Matty to an exclusive tea at her home. It could be considered exclusive because Mrs. Fitz-Adam was to be excluded. She was the sister of the town surgeon Mr. Hoggins, and since the man she married was not known to have any aristocratic connections, Mrs. Fitz-Adam was considered to have remained in her lowly station. Ellen has already mentioned how Gaskell shares with us the contrivances of the genteel poor. Miss Betty Barker must give every appearance of a grand aloofness with the servant with whom she was ordinarily on such intimate terms, and had to resort to pretending to give Mrs. Jamieson's dog tea, to provide the needed cover for some urgent conferences. None of the ladies would admit to being hungry, but compelled themselves to make "the heaps [of delicate eatables] disappear" (Penguin Cranford/Cousin Philis, ed. Peter Keating, p. 111) to insure the hostess's feelings would not be hurt by an apparent lack of appetite.

Cards were evidently played with a rather unladylike passion in Cranford, and it was with great relief that the ladies saw the "Baron's daughter-in-law" Mrs. Jamieson (p. 112) begin to snore, taking care of the problem of an awkward number of players. Mary was given some old fashion-books to read; "I know young people like to look at pictures", and Miss Betty began to juggle the arduous task of speaking loud enough to overcome Mrs. Forrester's deafness, while not waking the slumbering Mrs. Jamieson.

After the card playing, the lucky ladies were again feasted, this time with "scalloped oysters, potted lobsters, jelly, a dish called little Cupids ... In short, we were to be feasted with what was sweetest and best. " (p. 113) Finishing with the alcoholic beverage known as "cherry brandy" which we see Arabella imbibing in TAS!

The loosened up Mrs. Jamieson shared some spectacular news; she was soon to be visited by a grand relation, her sister-in-law, Lady Glenmire. All the partiers did a mental survey of possible attire suitable for such an event. New caps would be the rule of the day!

Jill Spriggs

Reply-to: trollope-l@onelist.com
Subject: [trollope-l] Cranford: Lady Glenmire and Sir Larry

From: "Robert J Wright"

This sort of thing is still important to some people today. Little has changed.

The chairman of our company was knighted this year, and during a recent visit we had to decide what people were to call him. I have always known him as Stuart, but everyone was told he was to be called Sir Stuart, or "Chairman" in addressing him. As usual, in these matters, the wife is the more touchy and where the person with the honour might overlook an error, his wife (who inherits the title without having done anything for it) is the more likely to point out a gaffe.

In our church, we have many lords, sirs and whatnots, living in Kensington which has many expensive residences. When I first met Sir Richard O'Brien, I foolishly called him "Sir Richard" which was of course correct. He replied and said his name was Richard, and if I ever called him Sir, he would never speak to me again. That is class.

I once called his wife Lady Ailsa and also got admonished for my pains. In fact, the reason was rather different. As the honour was Richard's, I should have called her "Ailsa, Lady O'Brien". The reason is that she is "Lady O'Brien" because Richard was knighted, and would only be Lady Ailsa if she received the title in her own right. Lady Thatcher (being a Baroness) is a case in point.

So, you see, we Brits have not changed so much.

These things may be more evident in the UK, but every country has its methods of honouring people. Last week I visited the marvellous Ingres exhibition of paintings, and many of the subjects of the portraits sported a pink ribbon in the left lapel depicting the French medal of honour. Even the painter's self portrait in later life.

As for Americans, money may be the key, but the US is as class ridden as any society, maybe more than most. My friend Warren Elliot who is a bigwig attorney in Washington politics once took Vicky and me to the open air opera near Washington. I think it is called the Wolftrap or some such. Anyway, we had a blue card which I was instructed to wave at any jobsworth who controlled traffic in the car park. We parked right by the entrance. It seems the more you subscribe, the closer you get to park.

Robert J Wright
from work in Reading, Berks UK


To Trollope-l

April 12, 1999

Re: Cranford, Chs 9-10, Story 5: The Great Cranford Panic

I liked this story for a different reason than John -- or at least I saw it differently. First, I should make a confession right here: when I was young, very like Matty, when I would go to bed I was often frightened there was something or someone underneath my bed. I would not have admitted this fear to anyone at the time, but I knew it was my business to get into bed without letting either of my arms or feet hang over the bedside. You see the thing under the bed was not a creature out of nature, but was some hideous monster, mysterious, who needed to be ignored and given no opportunity to swallow me up. When Matty dove under her bedclothes, she was enacting a time honoured ritual

There was also a time I needed a nightlight before I went to sleep, and then once the light went out it was important there be no shadows.

What I'm getting at is in this chapter about how the citizens of Cranford have their deep irrational and uncanny fears aroused Mrs Gaskell has them tell of dreams, fears, panics, and desires that are universal and still with us. What is piquant about her treatment is that usually Victorians who play with this material, work it up, use it in the context of a serious ghost story which ultimately meditates some loss of religious faith (through popular seances). Gaskell is sharp enough to present it through an outright absurd charlatan who we learn is not at all omipotent but inclined to get sick, and leans on his wife. Signor Brunoni is a wonderful portrait in its quiet skepticism.

The panic aroused can be related to crazy mob fears and xenophobia which lead to pogroms, but I think the feel here is much closer to that which we find in Emma. It was in this chapter that I did begin to find at least one tone in the book that reminded me of Emma. The fear the chicken coop will be broken into is pure Mr Woodhouse; later in the book Matty's anxiety lest everyone overeat is again Mr Woodhouse. It's more the sort of delicious shiver children work up when they go to frightening movies, except it goes on too long. Gaskell got a lot of humour out of the characters who were scared stiff and refused to show it too. Darkness Lane where Jenny sees a lady in white made me think of Collins and I wondered how much we had in Cranford a quiet parody of the kinds of superstitions Collins played upon.

Again there seemed to me to be something curiously original in Gaskell's approach to superstition, magic, charlatans, fear and the dream world of the characters mind. Mountebanks really did come to small towns; doubtless the people in them were haunted by their own little understood anxieties and fears too.

Ellen

Reply-to: trollope-l@onelist.com
Subject: [trollope-l] Trol: Cranford: Peter and the Panic

From: John Mize

Although I didn't think Gaskell was implying that Peter Jenkyns was a homosexual, he was using cross dressing to defy his father and to insist that he would never be the sort of man his father was. He identified with his mother, while Deborah identified with their father. It seems that he was using the strongest weapons he could use against his father to show his absolute hatred and contempt for the man. Maybe he told himself he was simply joking, but I am convinced that in most cases when someone tells you, "Lighten up. It was just a joke," he is lying either to himself or to you. Peter all but provoked the flogging so he would have enough justification to say, "Daddy, you bastard, I'm through." Fortunately for him, he didn't have to wait until after his father was dead to tell him off. When he left, Deborah stepped in and became the replacement son, which was probably what she and her father both wanted, although neither probably admitted the fact, even to themselves.

Peter reminds me a little of the late Kurt Cobain. Cobain's father tried very hard to force Kurt to become a real man, although Cobain's definition of a real man wasn't quite like the Reverend Jenkyns' definition. Cobain's definition apparently had a lot to do with hunting and sports. Kurt refused to get out of the truck when his father forced him to go hunting. His father made him play little league baseball, but Kurt deliberately played poorly. When Kurt became famous as the lead singer for Nirvana, he occasionally posed for pictures in drag. I had the impression that his cross dressing. like Peter's, was motivated by defiance of his father and his father's values.

I enjoyed Gaskell's panic story, and I especially liked the way she is sympathetic to the women's fears, while, at the same time, laughing at them. The story is almost a case study of how provincial ignorance and the fear of outsiders can combine to create imaginary conspiracies. The real fears that we have are easily seen to be caused by those nasty other people. You just can't trust them. They are evil, they are not like us, they hate us, and the only thing they understand is force. Believing that the French are behind a few possible attempts at burglary in a small English town is little different from believing that witches killed your cow, that the United States government invented AIDS to reduce the numbers of homosexuals and minorities in America or that the confrontations at Ruby Ridge and Waco, Texas were engineered by the International Jewish Conspiracy.

John Mize

Subject: [trollope-l] Cranford: Poor Peter

From: "Angela Richardson"

Wasn't this story moving? It had all those elements of pathos the Victorians knew how to manage
- missing the farewell at Liverpool
- the shawl arriving too late
but it is not mawkish and Gaskell doesn't wallow.

Thinking about the story - doesn't it seem absurb that any suspicion could be cast at Deborah who suddently appears cuddling a baby, I mean, wouldn't you just think a baby was visiting? It reveals just how much sex and birth could be hidden, more than seems credible now.

Angela

Reply-to: trollope-l@onelist.com
Subject: Cranford: The Fools of Cranford

April 14, 1999

From: John Mize

I agree with Ellen that the Cranford stories are very moving. Gaskell has a very appealing mixture of cynicism and sentimentality. She almost seems to be a quieter, gentler Thackeray. Both she and Thackeray know that we are a silly, pretentious species, but they feel sorry for us and for themselves, even though we probably only deserve scorn. Everyone in the small world of Cranford is a fool. Gaskell knows that the great world outside of Cranford is also composed of fools. The bigger, grander fools might have more money and more power than the Cranford fools. Their follies might lead to direr consequences, but they aren't different in kind, only degree.

John Mize

Re: Cranford: A Kinder, Gentler Thackeray

Just to register that I think John Mize's comment that Gaskell is a kinder, gentler Thackeray is inspired. It works for a number of novels for both writers. Perhaps some of the harlequin illustrations for Vanity Fair could fit into the capitals of the opening chapters of each of the stories.

Ellen

Reply-to: trollope-l@onelist.com
Subject: [trollope-l] Trol: Cranford: A Little Credulity Goes a Long Way

April 18, 1999

From: John Mize

When Miss Matty tells Mary Smith not to be completely scared away from marriage by Miss Pole's warnings, she says that "a little credulity helps one through life very smoothly." That seems to be Miss Matty's credo in life. She expects the best from people and is usually not disappointed. Mary Smith's father, a practical hard-headed realist, expects people to try to cheat him, but despite his wariness, he is cheated much more often than is the credulous Miss Matty. When the Town and County Bank fails and Matty is ruined, her friends band together to save her. Mr. Smith is impressed despite himself. He reflects that Matty is being rewarded for her good, innocent life, although later on he adds that a life such as Matty's might be practicable in Cranford, but it would never do in the great world outside Cranford.

Gaskell is extremely hard on aristocratic pretensions throughout Cranford. She prefers the "degraded Lady Glenmire" to the "Honourable Mrs. Jamieson," even though Lady Glenmire gives up her title to marry the unashamedly vulgar Mr. Hoggins. At one point Gaskell says that the main problem with Mr. Hoggins is that he failed to read Lord Chesterfield's advice to his son while Mr. Hoggins was still young enough to change his manners accordingly. With all of the references to Samuel Johnson in Cranford, Gaskell obviously wants us to remember that Johnson considered Chesterfield's ideal man to have "the morals of a whore and the manners of a dancing master."

Gaskell also mentions that Mrs. Forrester is descended from the Tyrells, Walter Tyrell who supposedly murdered William Rufus and James Tyrell who supposedly murdered Richard III's princely nephews. Both killings are in dispute, and it is also not completely accepted that the two Tyrells were actually related. Mrs. Forrester, however, seems to be perfectly happy to accept the two alleged murderers as ancestors, since the killings were done long ago by well-born men.

In bringing up the Tyrells, Gaskell also seems to cast doubt on the legitimacy of hereditary kingship in Great Britain. One famous Tyrell apparently killed a king, and the other, the two heirs to the throne. Those weren't the only instances in British history when the succession was determined by a killing. Edward II, Richard II and Charles I were all killed by their successors. Queen Victoria herself owed her own reign to the successful military coup in 1688 which ousted James II.

Trollope once criticized Thackeray as being too hard on the rich and wellborn, suggesting that, at bottom, Thackeray was a republican. Maybe. Perhaps Gaskell was also a republican, closet or otherwise. I suspect both Thackeray and Gaskell would mock any social and political leaders, no matter how they were chosen. I think that hereditary kingship is a ludicrous system, but I'm not sure it is more ludicruous than our current system in the US where we choose people to govern us based on how well those persons tell us what we want to hear. Of course only those people who have made their peace with the true owners of the country are able to gather together enough money to get their message across, a no doubt salutary check on our apparent democracy.

John Mize

To Trollope-l

April 18, 1999

Re: Cranford: 'Stopped Payment', 'Friends in Need,' 'Happy Return'

Some scattered thoughts in response to the stories and John and Jill and Robert:

I wonder if the reason Gaskell seems more republican and less supportive of hierarchy than Trollope is that she takes us into a lower echelon of people. She also takes her heroine someone who is just managing to live on the gentry level (£250) and who can lose it all by one failure at a bank. Margaret Oliphant takes her chief characters from a similar echelon of society below that of the squirearchy or secure gentry. In The Rector and The Doctor's Family we meet one Nettie Underwood who is lives on the edge of bankruptcy, supported by a sum not quite £250 which she has to stretch to cover her ne-er-do-well sister, brother-in-law (until he commits a form of suicide -- while drunk he jumps over a bridge) and three children. If someone really lives on the edge, it gives them real sympathy for those at the mercy of the capitalist flow and periodical breakdowns of cash.

What seemed to me most noticeable about Matty in this story is how she was indeed a heroine. She suddenly seems to grow in strength, purpose, and stalwart rectitude when she is told she is bankrupt. She pays for Mr Dobson's presents to his family; she immediately begins to retrench. This is part of Gaskell's dislike of pretensions and phoniness throughout the stories. Matty does not identify her worth with what she owns or can pretend to. When Matty is told she can make it if she turns the bottom floor of her house into a shop, our narrator writes:
'I could see it was rather a shock to her; not on account of any loss of personal gentility involved, but only becuase she distrusted her own powers of action in a new line of life, and would timidly have preferred a little more privation to any exertion for which she feared she was unfitted' (Oxford Crandford, ed EPWatson, p 142).
Gaskell's use of Mr Dobson's finding out he has nothing right in front of us is effective. We can feel with him the shock of a lifetime. Not long ago in nearby Maryland a bank stopped payment; it got about and we heard of it in Alexandria. The name of the bank was listed in stores so clerks would not take the check until the Federal Government stepped in.

Gaskell has a gift for the exquisite turn of phrase to capture an outward delicate physical manifestation of intense inward life. Very beautiful her portrait of Lady Glenmire upon marrying Mr Hoggins:
her face seeme to ahve alsmot something of the flush of youth in it; her lips looked redder, and more trembling full than in their old compressed state, and her eyes dwelt on all things with a lingering light, as if she was learning to love Cranford and its belongings . . . (p. 117)
And what can one say of the happy return of Peter and his deep goodness and common sense and lack of pretension and kindness? Yes it's a fairy tale, but done with such taste one doesn't mind at all. I think the language of Friends in Need and Happy Return, just that sleight of hand which signifies something not quite real lets us know this is the old world people dream of, the one where people help each other out. Throughout I have seen a strong vein of nostalgia and peace -- the characters respond with affectionate trust to one another. It's true all the main characters are old, but that helps us believe it. They are tired and weary and when they are rewarded, we can better accept it than the unself-conscious fatuous fairy tale which gives us a young hero and heroine happy for life. They have suffered, and in this book suffering is connected directly to repression of one's passions and the tyranny of hierarchies, distinctions and their routines. The sympathy for the mountebank comes from Gaskell's siding against the rigid life-denying establishment.

When Gaskell gave her narrator the name of Mary Smith, it seemed to me she lays bare the reality that the name and character and circumstances of her narrator are all an afterthought. 'Smith' also seemed to signal to most 19th century no body. Why this name seemed more common than Brown or Jones, I don't know, but it seems it was so regarded.

Ellen Moody

Reply-to: trollope-l@onelist.com
Subject: [trollope-l] Trol: Cranford: The Last Generation in England

April 19, 1999

From: John Mize

My edition of Cranford has a copy of an essay, The Last Generation in England, which Gaskell wrote for an American magazine, Sartain's Union Magazine, in 1849. She later used almost all the incidents in the essay in Cranford, with one significant exception. A group of young punks used to amuse themselves by stopping and whipping ladies who were returning from card parties. Gaskell says that they whipped the women as one would whip a small child. Does that mean a spanking rather than an actual whipping with a whip? When the punks went too far and whipped a woman belonging to a prominent family. the magistrate intervened and put a stop to the their activities. That episode was obviously a little too rough for the tone of Cranford, which is probably one of the reasons men, especially young men, have little place in the novel.

By the way doesn't the bank failure remind you a little of It's a Wonderful Life? Was Frank Capra a Gaskell fan? The editor of my edition of Cranford suggests that the bank failure episode, which does not appear in the essay, had its origin in Emily Bronte's putting her and her sisters' money in railroad stocks which subsequently went bad. Of course by the time the stocks failed, Charlotte was receiving royalties from Jane Eyre. She, like Matty, was helped out by her friends, even though, unlike Matty, she didn't know most of them.

John Mize

Re: Cranford: 'The Last Generation' & 'The Cage'

I too found the description of the young punks of small town England 40 years earlier the most memorable element in this essay. Its hardness is one of the things that distinguishes it from the stories. Here is one paragraph:
'There were the usual respectable and disrespectable poor; and hanging on the outskirts of society were a set of young men, ready for mischief and brutality, and every now and then dropping off the pit's brink into crime. The habits of this class (about forty years ago) were much such as those of the Mohawks a century before. They would stop ladies retrning from the card-parties, which were the staple gaiety of the place, and who were only attended by a maid- servant bearing a lantern, and whip them; literally whip them as you whip a little child; until administering such chastisement to a good, precise old lady of high family, 'my brother, the magistrate', came forward and put down such proceedings with a high hand' (Oxford Cranford, ed PGWatson, pp. 162-63).
Statistics suggest that the most violent part of our population are still young men from the ages of 19-29. I remember in some Islamic countries women who walk in the street without a complete black veil over them are beaten by streetgangs. When I travelled through Spain and Portugal with a girlfriend, we found we were harassed by young men (remarks made, gestures, attempts to pinch) because we were unaccompanied by men.

The paragraph previous to the above includes talk of professional men and their wives, of doctors, of housekeepers, widows of stewards. Both together demonstrate the Gaskell deliberately limited the kind of people she would present in her Cranford to the gentry. She wanted something gentle, playful and ultimately idyllic: like Austen, Gaskell tells us only about the gentry and their doings. When she says there are no men, she means no men of family. She has left out the disrespectable poor. I couldn't find my editor's comments on the above paragraph, but it seemed Watson wanted to dismiss it because she wants us not to read Cranford as too idealising or limited. A little disturbed by the broad comedy of 'The Cage at Cranford'. I don't know how many people have this story written 10 years later. It makes fun of the characters in Cranford and makes one wonder if there is not more unrecognised mockery in the original Cranford stories than is usually seen. I hope not. I like the delicacy of the emotional approach which both keeps its distance and yet allows us to identify with Matty, her brother, Peter, and all the characters we meet whose vulnerability and real sorrows in life allows us to sympathise with their caste-arrogance as a shield and compensation. John says Gaskell's based the behavior of Matty's friends towards her on Charlotte Bronte's experience. It would not happen now, and the gracious charity of Matty's people also makes us warm to them. There is a Latin saying which means he who gives graciously -- without emphasising, reminding the recipient, asking for some pay-back or even telling of it -- gives twice.

Ellen Moody

From: pmaroney@email.unc.edu (Patricia Maroney)

I am enjoying Cranford and the postings on it. The only Gaskell I had read was Ruth, and this is worlds better. About a world of women: one of the footnotes in the edition I am reading mentions that it is to some extent a female Pickwick Papers, and I can see the truth in that. It also reminds me of the world in Barbara Pym's novels of women in immediate post _WWII England. The nostalgia, the shortage of men, the importance of place, rank, routine, and all the minutiae (am I spelling that correctly?) of daily life, the general sense of trying to cope as best one can but an occasional sense of sadness that not all of life's possibilities are being lived here.

April 26, 1999

Reply-to: trollope-l@onelist.com
Subject: [trollope-l] Women

From: "Robert J Wright"

Cranford is about women. Women in a closed society of other women. It is about how women act without the influence of men, knowing each other so well that the works of normal intercourse are so well oiled that only an outside influence can disturb their everyday lives which in every degree revolve around each other.

I have never read a book which is so exclusively about women and by a woman. No other book seems so devoid of male characters. The doctor is admired as a good doctor (for a man) but his masculine and coarse words and ways disturb the even flow of social contact. Most of the male characters are quite incidental to the plot, and in any event are often threatening or undesirable.

Even for one (like me) who works in an almost exclusively feminine environment, and has more reason that most me to be regarded as an honorary woman and to understand what so many men find baffling, Cranford tells me a lot about women, not only in the time it was written but even today.

Are these women happy in each other's company as spinsters? Ostensibly yes. Take for example this passage (p96):
"Well Miss Matty! men will be men. Every mother's son of them wishes to be Samson and Solomon rolled into one - too strong ever to be beaten or discomfited - too wise ever to be outwitted. If you will notice, they have always foreseen events, though they never tell one for one's warning before the events happen; my father was a man, and I know the sex pretty well."
So men get a pretty bad press. You can't trust 'em. If they're not robbers, they shorten Preference to Pref (cards are like a religion - that would be like calling Christ Chris, to you and me!), or they pretend to be Italian conjurers and can't even manage a horse.

But underneath, all these women say one thing and think quite another. Only in Miss Matty's most unguarded moments with her young friend would she admite to having wished she had been married. A poignant moment, as her eyes fill with tears for what might have been. What might have been, that is, if she had been strong and had followed her own desires and had ignored the pressure of men who dominated the world as it then was and instructed women what to think, how to act, and how to decide. Once our Signor became vulnerable, all the invisible fears were forgotten and he became a target for mothering, for charity, or to fill time. The Archdeacon was more a target for matrimony than a prelate.

One feels Cranford could have been more of a book had some cad like Crosbie turned up on the scene, and disturbed what is a soporific, but hugely enjoyable read. Trollope would not have treated these characters with such understanding and love. I suspect also the narrator would have been fleshed out and played much more of a part had the book been by Wilkie Collins.

As a man, I did not feel badly for my sex. Oh no, this is not a misogynistic read. We can see below the veneer and read the minds of the women. How sad they have so much time to kill, so little excitement, so many economies to make. But how much I admired the fact they felt so comfortable with each other, they rarely argued, they agreed in public (even if in private they felt quite a different way). Times past, but although we might not mourn what women endured in those days, there were many things which were desirable and right about society in England in those days, and we have no reason now to be sniffy about what was deficient back then.

Robert J Wright

RE: Men & Women in Cranford

In response to Robert,

While I agree that women dominate this series of stories, and the atmosphere has a delicacy of intuition and concern with nuances that we identify as feminine, in each story a man was brought in to make a story. The women don't have stories without men. That is, Gaskell cannot write a story about women in and of themselves as apart from men. Perhaps the action of life as she saw it revolved around men?

Does it still today?

The first story depends upon Captain Brown. We are told he is 'a tame man, about the house' (Oxford Cranford, ed PGWatson), but he has all the signs of the species male: 'he spoke in a voice too large for the room' (p. 5). His death precipitates a crisis from which his daughter is saved by the appearance of Major Gordon. In the second story we given the poignant story of how Miss Matty didn't marry Mr Holbrook and his death counterpointed with her allowing her servant to have a sexual life. Old letters tells of a courting couple and their first years of marriage (children are born to Matty's mother). The next story brings us Peter. I agree 'Visiting' lacks males, but the next brings the mountebank. When Miss Matty goes bankrupt, her kindness to a bankrupt old man is important because he is a man; Mary Smith's uncle helps her; Peter saves her.

In other words, Gaskell tried to but, except when delineating women visiting one another (daily life), couldn't imagine a story for women without men. Even that visiting introduces Lady Glenmire and the point about her is she marries a coarse but good man, Mr Hoggins, showing the importance of earthy male presences.

Still, men are in this book most frequently seen as a necessary evil. They are often characterised as nuisances. They are described as speaking in loud voices; they slam doors. There was a line somewhere in the book where one lady tells another she is going to be married, and the first replies something to the effect, Why? now you will have such noise in the house. And untidiness. Men also make women pregnant (remember Miss Jenkyns upbraiding Thomas). I don't know that Gaskell's women in _Cranford_ are that happy in one another's company since there is a great distance between what they really feel and what they profess to feel, and they are in endless competition with one another over their status and manners; however, men are still seen as useful because they provide money, home, security, prestige. For all but young housemaids and sexy Scots ladies, they are a disruptive necessary evil.

How far is this the result of the de-sexing of these women. The way people used to see these stories was as a reflection of the way single spinster ladies living on small incomes in Victorian England really felt. It would be assumed they were virgins and not sexually awakened. But were they? Think of Anne Lister. At least not all spinsters were de-sexed. Trollope manages to suggest his spinster aunts have an appreciation of what the female heroines want out of marriage sexually.

Yet it could be true that a certain group of women were kept innocent -- or ignorant and repressed during the day (what they dreamed of at night no one can know). I had aunts who would swear women didn't like sex until married and then unless the husband worked at it not much after marriage either. (The aunts in question were born in the early 1920s). These women assumed women didn't have sexual feeling until it was aroused by men; no marriage, no arousal, for after all, what 'good' middle class women would have sex without marriage.

At any rate some of the sweetness of the atmosphere is due to the lack of sexual aggression or passion we feel in these women. Matty looks back with sweet nostalgia at what she missed and longs for tender affection. She has no urge to copulate. At the story's close, she is safe with her brother, who is also unmarried.

There is nothing misogynistic here. The men are all good, kind, sweet, and mean well. Not a brute among them. Even the father who flogs Peter does it for his own good, feels remorse, and was no tyrant before that or afterwards.

I see the novel as a celebration of an older world of bonds, of village life and family networks, which is undercut or darkened by an attention to the repression and snobbery such a static hierarchy entails. I liked it as a retreat which was not fatuous but astringent. Have I ever read a book like this? One so womanly even if one cannot get along without men. Yes. To me Little Women was a book like this. Growing up, I remember there were other books like Little Women, books meant for girls about an all-girl or all-women world. I believe there are a couple fo 18th century books (one by Sarah Scott and one by Sarah Fielding) about all female worlds (a governess's academy, a female utopia). How about The Prime of Miss Jean Brodie? It's very much a female world, though men intrude themselves a good deal and are necessary evils. So Cranford is not alone. This kind of book is not looked upon with favour by 'the establishment' (heavily male and male-oriented values) because it is so feminine in sense defined-above, so unaggressive, so nostalgic for an old world.

I am glad we read it. New Grub Street and Cranford are the best non-Trollope books we have chosen thus far. Now this may be my taste for real sensitivity as part of one's psychological makeup.

NB: I didn't notice any references to teeth in Cranford. In New Grub Street we hear about the difficulties of maintaining clean underwear for a lady living on her husband's tiny income in an apartment in London. But nothing on teeth. I must keep a look-out in Lady Audley's Secret.

Cheers,
Ellen
---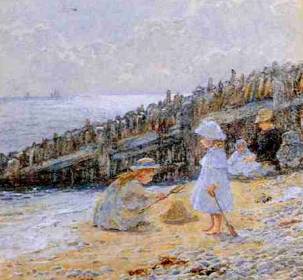 Helen Allingham (1848-1926), Young Girls at the Beach
---
Home
Contact Ellen Moody.
Pagemaster: Jim Moody.
Page Last Updated 23 January 2005