© Ellen Moody. No part of this website page may be reproduced without express permission from the author and website/blog owner. All uses of information or evaluative commentary should be acknowledged and documented. Linking is encouraged.


A Reading of Mansfield Park
Stoneleigh Abbey, Warwickshire: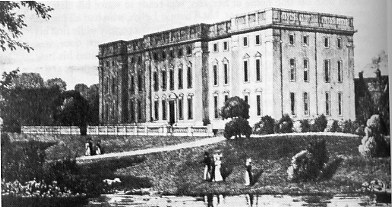 A few years ago, there were "group reads" of Mansfield Park on two different listservs--one on Austen-L, the listserv hosted by McGill University, owned and managed by Michael Walsh; the other on Litalk-L, the listserv hosted by Middle Tenessee State University, owned and managed by Elvira Casal. The interested reader will find my essay-postings written during more than one read and discussion or thread on Mansfield Park below. I have also included some of the essay-postings I wrote while a group of us also on Austen-l and Janeites read Austen criticism together. As with all the other group conversation and single essays I have placed on the Net, I have altered the postings slightly so as to make for continuity and have occasionally rearranged them or rewritten a header so the reader can follow the conversation as one would a story. Read as a series they form a close reading of Mansfield Park for the common reader and against a scholarly critical background.
For an excellent edition of Elizabeth Inchbald's Lovers' Vows based on the 5th edition (1798), click here; and for the calendar which undergirds the patterning and structure of the plot-line of Mansfield Park, click here.
For two reviews of the 1999 film adaptations of Mansfield Park by Patricia Rozema click here.
Introduction
Gard's Art of Clarity: The Underdog, Vulnerable, & Nervous; Flaubert & James; Caroline Austen
Tanner: "Quiet Thing": Fanny as the Cynosure of MP
Trilling on Mansfield Park
Volume I, Chapters 1-2
The Opening Phase
Edmund and Fanny when young
Jane Austen and Fanny Price as Fringe People
Volume I, Chapters 1-3
Problems with the Narrator
Volume I, Chapters 1-4
The Problem of Edmund
Volume I, Chapters 1-7
Lady Bertram A Cleverer Lady than one thinks
Volume I, Chapters 2-4
Fanny Gets Used To It: Emotion and Consummate Artistry
Volume I, Chapter 3
Sir Thomas's Trip to Antigua and Elizabeth Inchbald's Simple Story
Volume I, Chapters 3-4
The Understated Cinderella
Volume I, Chapters 3-5
'Fanny Must Have a Horse'
Mary and Henry Crawford Are Introduced
Volume I, Chapters 3-7
The Lady and Her Harp, the Gentleman's Desire to Work as A Clergyman
Volume I, Chapter 6
'Does not it make you think of Cowper?'
Mary Crawford's Harp and Slavery, with more on Mrs Norris, not so favorable
Mary Crawford No Slave Woman
'God made the country, man made the town' or the 'Active' Rich Lady and Her Harp
Volume I, Chapters 6-8
Visual Beauty in Mansfield Park, with a good word for Mrs Norris thrown in
Volume I, Chapters 8-10
The Visit to Sotherton: The Gay and Sober Couple of Restoration Comedy Changed
Volume I, Chapters 9-10
Nabokov's Lecture on Mansfield Park
Volume I, Chapter 10
A Visit to Sotherton: The Emblematic Gate
'I cannot get out, as the starling said:' Maria's allusion to Sterne
Volume I, Chapters 11-14
The Pascalian Vision behind Austen's Objections to Play-Acting
The Autobiographical Perspective on Austen's Objections to Play-acting
Volume I, Chapters 14-16
Henry Crawford as a Rewrite of LaClos's Valmont and Richardson's Lovelace
Volume I, Chapters 14-18
Lovers Vows: A Mirror of Mansfield Park (The Characters)
Lovers Vows: Nabokov, Wollstonecraft, & A Recent Feminist Reading
Volume I, Chapter 15
The Orphan of the Castle, the Recluse of the Lake, Emily St Aubert, and Fanny
It's easy for the relatively cool and powerful to be kind: Mary Crawford
Volume I, Chapters 15-19
The Scene from Lovers Vows: A Mirror of the Whole Novel
Volume I, Chapter 16
On Fanny's 'Nest of Comforts': a Relevant Poem by Emily Bronte
Volume I, Chapters 16-18
The Cold in the East Room and the Calm Night Sky
Volume I, Chapter 17
Julia
Volume I, Chapter 18
Couples and Antitheses
Volume II, Chapters 1-3
Sympathy for Maria
Volume II, Chapter 3
The Unloved Maria and Lady Bertram's Cunning Awareness of Her Indifference to Maria
Volume II, Chapter 3
A Commentary on Brian Southam's exegesis in TLS (sent to C18-L 2/25/95)
'Did you not hear me ask him about the slave trade last night?'
Slavery in Austen compared to Darwin
Volume II, Chapters 4-6
Poisoning Her Existence: Mrs Norris & Fanny and Jenkins on Maria Williams & Lady Greville
A Novel One of Whose Themes is Ordination
Volume II, Chapters 7-9
Fanny Brings Out the Best in Henry
Volume II, Chapters 10-12
The Complexity of Love: Fanny Price as Trophy Wife
Volume II, Chapter 13 and III, Chapters 1-3
Henry Woos Fanny: Our Credulity is Strained, Yet Austen Carries It off
Volume II, Chapter 16
It's easy for the relatively cool and powerful to be kind: Mary Crawford
Volume III, Chapter 1
Why Doesn't Fanny Simply Explain Her Motives to Sir Thomas
Fanny as an Antigone and a Clarissa, but not a St Teresa
Volume III, Chapter 3
Henry Crawford as Actor
Volume III, Chapter 3
Henry VIII: Fanny as Shakespearean and Maria as 18th Century Fallen Heroine
Volume III, Chapter 4
The Education of Sir Thomas Bertram
Volume III, Chapters 5-16
Epistolarity in Mansfield Park: Mary's & Edmund's letters to Fanny
Epistolarity in Mansfield Park: Mary's & Edmund's letters to Fanny (II)
Volume III, Chapter 7
18th Century Siblings and Some Johnsonian Reflections
Volume III, Chapters 7-15
Portsmouth: Two Voices
Shame in Austen and Juliet McMaster's 'God Gave Us Our Relations'
Henry's Visit to Portsmouth
Volume III, Chapter 9
Fanny Becomes a Renter and Chuser of Books: Rejoicing with Fanny Using Eva Sedgwick
Volume III, Chapters 9-14
Epistolarity in Mansfield Park: Lady Bertram's Letters to Fanny
Volume III, Chapter 13
Epistolarity & Point of View into Steam of Consciousness: From Elinor to Emma to Fanny
Volume III, Chapters 15-17
The Elopement: A Welter of Circumstance
Volume III, Chapter 16
Fanny Delivers the Last Blow to Edmund's Illusions About Mary Crawford
Volume III, Chapter 17
Endgame
Synthesis
---
Freshwater Bay, near Portsmouth [photo taken before 1949]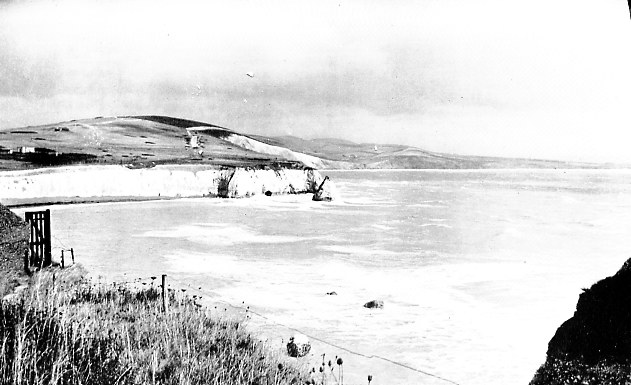 ---
Home
Contact Ellen Moody.
Pagemaster: Jim Moody.
Page Last Updated 16 March 2003