A Wagner Weekend: _Parzival_ in West Virginia · 4 June 06
Dear Anne,
The Admiral and I returned from Cacapon Resort State Park, a large beautiful green area of lawn, wood, lake, beach, mountain view, plus golf course, picnic, boating, and rock-and-roll area in the which may be found a large hotel-inn which hosts package weekends for groups of people. The park is just on the edge of West Virginia. From our room's window in the lodge, we could see part of a golf course, and on Saturday afternoon we took a walk into the park to the beach.
The Wagner package included all meals (with wine if you wanted to pay for it) in a large airy (many windowed) dining room looking out over a sweeping green landscape (lots of differently hued blue in the moving skies), and a party in a large corridor on Saturday night after the Wagner society group did a dramatic reading of this year's Wagner opera under consideration: Parzival. The food was mostly fine, and the members of the society friendly people who love opera, particularly Wagnerian opera. I much enjoyed talking to the different people at breakfast, lunch and dinner each day. Jim and I met quite a number of people like-minded to ourselves in ways beyond a love of music: play-goers, readers, people interested in politics (I had the most leftist conversations with anyone face-to-face that I've had in years), people in middle management jobs, teachers too. Most were part of middle-aged couples. Caroline had teased most of the people would be gays: there weren't any visible at this conference. There were some parent-child pairs, where the parent was in his or her 70s and the child in her or her 50s. Lots of single older people (in their fifties mostly). One interesting friendly man had spent years in Africa as a US ambassador for the State Department in Kenya. He told me this upon noticing my carrying around John LeCarre's The Constant Gardener.
The highpoints of the weekend were the lectures, the dramatic reading aloud of the script, and the Saturday night party talkfest afterwards. Simon Williams, Chairman of the Drama Department at the University of California at Santa Barbara, and Jeffrey Swain, an articulate knowledgeble pianist from New York City, gave 3 each and most of them lasted well over an hour and one half. I didn't understand Jeffrey's (everyone was on first-name basis immediately) all that well so will leave aany detailed description to Jim—who this evening took down from our shelves amd read some of Wagner's essays on music in three volumes of prose by Wagner I didn't know we had.
I'd like to remember something of what Simon spoke about. He may have lived in the US for many years, but he retains an articulate clipped English accent—only the sounds come from deeper and lower in his throat than once they did. His lectures were thoroughly analytical and thoughtful, brilliantly insightful, yet delivered in a lucid natural easy English style that was engaging and stimulating. So here is a transcription of my notes.
Simon's first lecture was on the thematic archetypes in Parzival. He argued sexuality and spirituality were at the core of the opera. By the time he finished it seemed that the opera was a kind of enactment of Freud's Civilization and Its Discontents, with male abstinence from sexual intercourse with women the central necessary repression. Yes this was an interpretation where the control and extinguishing of women's sexuality, power, presence, was the necessary step for male bonding and some minimal peace, joy, stability. More than once he referred to how Kundrie longs for just an hour of Parzival's fucking. Of course he did not use that frank a word. Parzival bravely rejects her as she is promiscuous. He did not put it so that we would hear too explicit ly that a bad woman and bad mother is the heart of evil in this play.
We happened to be reading Carlyle's Past and Present on Trollope-l, and, lo and behold, Simon suggested that the most influential texts on Wagner for this opera were by Schoepenhauer and Thomas Carlyle (particularly the essays on heroes and hero worship, and Past and Present). After these writers' texts, Freud's could be used to explicate it.
He explained Schopenhauer thus: the world is created by our will, and much that we claim as a rationale for doing things is not at all. People are strong in vain, much that they seek is vain and does not bring happiness. The relief is gotten through aesthetic experience. Wagner's music is an unmediated expression of the will to power and to retreat. Art saves and consoles us.
Carlyle comes in since he tried to hail and use hero worship and he assailed the modern world which he is said to have disliked. It seems to be a play where the mesmeric heroes are saved by acts of compassion (except of course Kundrie who is harshly judged—the professor did not say that, I did, Anne). You might say Parzival is a course in Abstinence I.
In Parzival sex is a destructive force. Parzival is threatened by the bad mother figure whom he must throw over. The lecture was closed with an exegesis of the play paradigm which came out of Oedipus Rex. The problem again is the professor never thinks of Jocasta. I would've liked to turn what he said on its head, and suggest we can read Parzival as a woman's nightmare. (I didn't have the nerve to do more than ask a question on the third day: has film at all influenced the stagings of opera—the answer was no?) I felt better the third day when I saw the modern productions Simon describe took the ending as pessmistic, with the final landscape of one having a railway track to Auschwitz.
In one production of La Traviata, the heroine turns around, pulls out a pistol, and shoots her male tormenters (father and son) before expiring herself. None of the Parzival productions go that far. Alas.
I was dismayed at how no other woman semeed to make any protest against this reading of Parzival as uplifting. Later on Saturday night talking to some of them I discovered that indeed they were not keen on the way Kundry is condemned and dismissed. Some men too made fun of the sexual hang-ups of the opera. Still this was a work centered in hegemonic masculinity, where the phallus was supreme, and the notion that female sexuality is real power was never questioned, all the while the interest of the thematic talk was in the top numinous male: Parzival and his quest.
Parzival has a number of marks of last or late works: abstraction, figures who are larger than life, sparse dialogue, long speeches, less sense of communication between characters, reliance on symbols, and an address to what is beyond life; little story, static action (little sense of an unfolding story), an unknowable universe. Tragic heroes tend not to end in suffering in such works.
He did describe the music eloquently: strongly and strangely evocative, echoing a sense of far distant places, sad, about resignation, anxiety and an urge for triumph, with a continual touch of the neurotic. The listener must allow it to seep in. The story of the play is non-existent, and there is a (how shall we put it) soporific tendency in the very static quality of the non-action on stage. It seems Parzival was a long-time coming: from the time of Tannhauser, and a reading of Wolfram's Parzival in 1845, Wagner wanted to write an opera about Parzival. Some inner private traumatic experience in 1857 was hinted at as giving rise to this and other of Wagner's late mythic operas. It was performed 37 years after Wagner originally conceived it.
In Simon's second lecture, "To clap or not to clap," he argued that Parzival is more ritual than drama. He really seemed to feel the audience should not applaud at its close. He distinguished ritual from drama. Ritual is an act of worship. The people who attend are participants. They must act in apparent agreement. Repetition, a connection to the past, a assertion everyone is enacting a timeless set of acts, that some eternal truth is revealed, that the past is of immense value and must not be marginalized from our consciousness in any way. It assumes human nature should not betray what is asserted about the people and their relationship through the ritual.
By contrast, drama is about change, ephemeralness, individual lives, the moment, chance, with the audience the watchers and the actors the illusionists.
He tried to distinguish spirituality from religion: spirituality is the state of mind that religions based their dogmas and specific rituals on. His idea was that in our era we are so much in danger from how religion may be exploited for brutal political ends, that we may wish to avoid all religious rituals and doctrines. He was candid and honest, for after the dramatic reading of the Parzival libretto he fully admitted that the words of the text were so saturated in and so many of them came directly from Catholic rituals, that it is hard to deny the opera is not enacting the Christian religion. Nonetheless, it's clear that's just what he wanted to do so as to make the opera's beauty and meaning humanely available to us today.
What struck me forcibly is he offered me an explanation for why I so dislike most rituals. He said rituals when imposed and enforced from outside and felt by the individuals participating to be assertions of what is not true feel like violations. Yes. So that's why I dislike weddings and am so charmed by the Sondheim song, "I'm not getting married today."
He had some intriguing ideas on why people clap at the end of live plays and operas. He seemed to feel that we are not applauding the actors so much as ourselves. I'm not sure. If this were so, would we not also applaud a movie? We don't applaud at the end of most movies because there are no actors on the stage, only a screen.
The last day he gave a lecture on the production history of Parzival. I was expecting a slide show chock-a-block with photographs for an hour straight. Instead he produced something more interesting: the pictures came only in the last half-hour of his presentation, and they were selected to represent his argument. He presented a strong case for unconventional productions of not only Parzival but all operas in the classic opera repertory still done because since we have so few operas we do, if we stayed with a single conventional staging, soon no one would go to an opera.
Again he tried to think out the kind of thoughts which underlie in this case human taste. First he conceded that those people who do not like innovative productions do so because they don't understand them, have invested much of their ego or identity with particular agenda embodied in the conventional staging. He defended the impulse to reject the new and radical. People go to opera for its rituals, and are seeking to put back into their lives their pasts. A new staging violates their sense of self. Music is a powerful, primary language, and where music occurs loudly or strongly, the words become relatively much less important; directors provide images to go with the music; blocking comes well before words in importance. Since music is so important, we require the director to justify an unusual treatment.
He talked about the impulse to de-heroize in modern productions. Modern productions are also symbolic, simple, and have moved away from literal representations of fragments of realism in our lives. Modern day productions use lighting to paint the stage and to convey the emotional experience the particular scene involves.
The one thing he cannot abide in productions is trivialization of the great work. I agree.
He then moved on to discuss theatre as such as opposed to opera (or film). He alluded to Peter Brooks's Empty Space, which he said is the best book on productions ever written. Brook said theatre is perishable experience whose productions should not be permitted to continue past 5 years. Theatre is perishable experience, and the stage has to be treated symbolically. Even living rooms decked out to look like a TV show are symbolic. This perishability and quick obsolescence of costumes and clothes and gestures is true of film too. I know screening films for my students is sometimes an eye-opener for me, because through their eyes and presences while we watch films, I began to gauge the distance between the manners and surface behaviors and repertory of social selves of their age and mine. Simon said that one generation's naturalism becomes the next generation's artificiality.
Finally, he got to Wagner and romantic realism, the basic mode of the 19th century: this may be defined as literal so-called probability or the usual we see and much detail from such concoctions in our minds put on stages and written up in books.On the stage this earlier style of presentation increasingly lacks credibility. In particular, Parzival and Tristan and Isolde quickly revealed the inadequacies of romantic realism. The problem in staging these two operas is, how does one represent spiritual experience in physical terms? Now the power-point presentation (slide show) began.
He suggested that a particular Swiss artist, Adolphe Appia (1862-1928) was central in the transformation of staging in theatre. Appia was a visionary who drew remarkable pictures of what he imagined the theatre could project if only the expressionist capacities of its square space were liberated. He dreamed idyllic natural and abstract designs.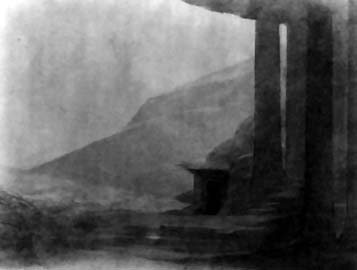 Adolphe Appia, design for Parzival
It seems that Cosima Wagner rejected Appia's designs, but since that time, as the earlier style of representation increasingly lacked credibility and for Wagner especially was all wrong, the mainstream of staging has become symbolic. Wagner is done in Brechtian terms, which skirt near absurdism. Parzival's circularity becomes the idea at the heart of modern staging.
To the clutter, stodginess and detailed ornate luxury (=oppression) of the Christianized production we saw of Parzival with Klingsor dressed like a spaceman from Star Trek, at the Kennedy center, and symbolic phallic points,spears, and plases, I certainly prefer Appia:
As to Jeffrey's lectures on the music itself, the first night he suggested that the music of Parzival is made up of highly disparate kinds of music historically and thematically. On the second day in the afternoon he showed the way leitmotifs are discussed is misleading. No piece of tune stands for a specific idea, thing, or event in Wagner. Rather Wagner uses leitmotifs as a way of structuring his music as a story unfolds: he is trying to write music for operas in the structured or patterned way composers write symphonies or forms that come in specific pre-set patterns. On the last afternoon (today), he showed how the music written for Parzival was influenced by the physical plant of the Bayreuth building, and how it anticipates modern music of the atonal type, of the later 19th century French opera and symphonic composers (Debussy) and also resembles French impressionism, e.g., Claude Monet's Sunrise: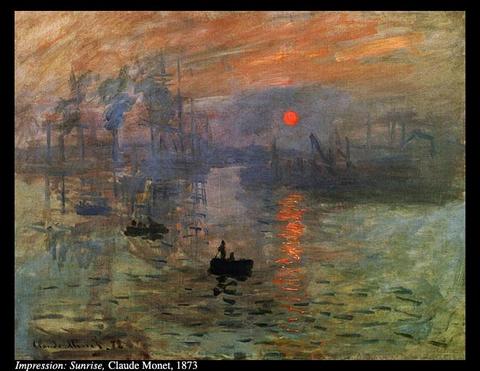 Intermittently during all three lectures, Jeffrey would play snatches of the opera to illustrate what he meant. The music often substituted for words. He had a way of changing his mind, of ever qualifying and altering what he had just said, so sometimes he came round to saying the opposite of what he had first set out to say.
Jim was enjoying these lectures and the atmosphere of the weekend so, he was as reluctant to leave as Jeffrey was to end any of his lectures. Simon also appeared to enjoy intensely, indeed relish speaking. As we walked out, some people bid us adieu and waved. I said to one man I hoped we would meet again soon. There is a Wagner concert for "Emergent Singers" in McLean in less than 2 weeks, and the Wagner Society is going, so we have bought tickets; next year they will be another weekend meeting at Cacapon: the opera will be Lohengrin. If we went again, we'd begin to solidify some friendships and probably learn a good deal in this very pleasant way.
Sophie
--
Posted by: Ellen
* * *
commenting closed for this article